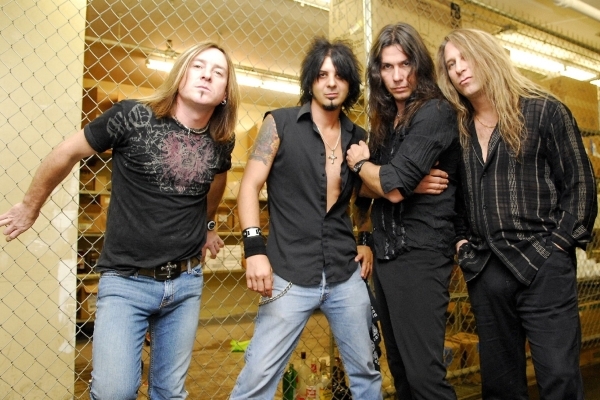 "Up All Night"?
Well, not unless the baby is sick, or you're working the graveyard shift.
"I accept the fact that the person who went to a concert when they were 23 has had a whole lot of life unfold on them by the time 20 years have gone by," says Dana Strum of Slaughter. The quartet was Las Vegas' first breakout rock band with hits such as "Up All Night," "Fly to the Angels" and "The Wild Life."
Slaughter caught the end of the '80s "hair band" era, and Strum agrees it wasn't the kind of band anyone thought would still be around.
Yet here they are, playing Friday with Vixen and Steelheart outdoors at the Downtown Las Vegas Events Center.
"The last really four years for Slaughter, every year has grown more and more," producer and bassist Strum says of the band fronted by Las Vegas native Mark Slaughter.
By the time the year ends, the group will have played more than 60 shows, most of them weekend "fly-out" dates for single-night gigs. All four band members live in different cities. Slaughter has lived in Nashville, Tenn., for years, while Strum still resides in Las Vegas.
Strum attributes some of the group's resurgence to satellite radio niche stations and to streaming services such as Spotify and Pandora. And, he says, the general zeitgeist of pop culture, including the Broadway hit "Rock of Ages," has shifted back to friendlier memories of '80s rock.
"The one thing about the style of music, it's real purpose was to light you up and make you feel good," Strum says.
And it still does for Slaughter and Strum.
"There's something to the thing that we've done, it's very rewarding, it keeps me young," says Strum, 56.
"It's very rare that two people would know each other as long as Mark and I have," Strum says. "We're talking about two people who have known each other now for 31 years."
"I've worked with a number of bands (as producer) and it's very rare to see that friendship carry forward," he adds.
— Read more from Mike Weatherford at reviewjournal.com. Contact him at mweatherford@reviewjournal.com. Follow him @Mikeweatherford.
Like Neon Las Vegas on Facebook: