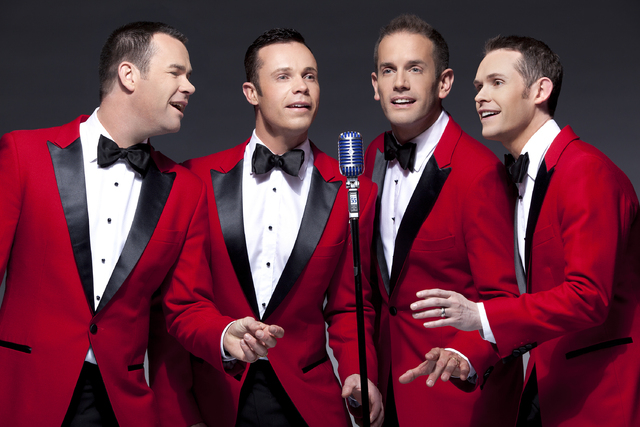 If you think Christmas in Las Vegas is a long way from a winter wonderland, try spending one Down Under.
"People don't quite understand how different Christmas is in Australia," says Michael Tierney of the vocal group Human Nature. "People on the beach drinking beer and having barbecues."
"The most bizarre thing is we still sing the same carols and Santa still wears the big red overcoat," adds Phil Burton, vocal partner in the quartet that includes Andrew Tierney and Toby Allen.
"The whole theme is still very wintry. It's very weird that it's 95 degrees outside and we're singing 'Winter Wonderland,' but it actually happens and no one seems to question it," Burton says.
"A lot of Australians have a 'Christmas in July' celebration to take advantage of the wintry weather in some of the country's colder regions," he adds. "I suppose it's our little way of trying to see what it's like in the Northern Hemisphere."
But this year, the Venetian headliners can find out for themselves, provided the Strip is cold enough for them to tell the difference. For the first time since they settled down in Las Vegas, Human Nature is staying in town to offer a holiday edition of its show. (The group already went to Australia in October to promote a new album, "Jukebox.")
"Christmas, Motown and More" runs Friday through Dec. 24. The band upsizes to 11 pieces with strings, allowing the quartet to showcase tunes from its holiday release "The Christmas Album," which was released in Australia last year and the United States last month.
Human Nature does a Motown-themed show the rest of the year. The Christmas album "has that soul element and a kind of doo-wop flavor to it," but it didn't try to copy vintage Motown releases such as "The Temptations Christmas Card," Mike Tierney says.
And fear not: "We made a deliberate choice. We're not doing 'Six White Boomers,' which is an Australian Christmas song (by Rolf Harris)," Tierney adds.
Robin Meade, the spirited host of HLN's "Morning Express with Robin Meade," joins the Christmas shows as a special guest after teaming up with the quartet to sing "Sleigh Ride" on the album.
"We don't need more guys onstage," Tierney says. "She's quite a good country singer in her own right. Just having that energy and bringing that to the show would be a nice kind of change from seeing us onstage."
Contact reporter Mike Weatherford at mweatherford@reviewjournal.com or 702-383-0288.
Preview
Human Nature "Christmas, Motown and More"
7 p.m. Dec. 12-Dec. 24 (dark Wednesdays and Thursdays)
The Venetian, 3355 Las Vegas Blvd. South
$49-$140 (702-414-9000)