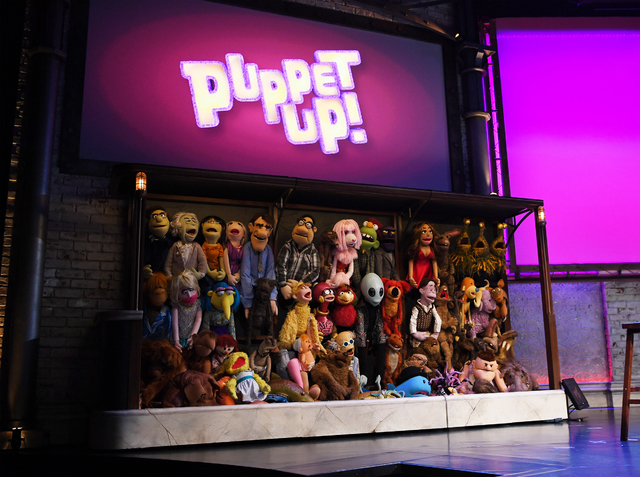 We have dirty minds.
No judginess. We're in Vegas, after all. Where better?
But are we keeping "Puppet Up!" from being all that it can be?
Brian Henson, son of Muppets legend Jim, wants us to go there when we yell out sketch suggestions for this odd show, which puts raunchy improv comedy into the cute mouths of Henson puppets.
Patrick Bristow serves as host and intermediary between the audience and six comedian puppeteers, who choose puppets for short sketches based on audience input.
So the first one involved a hooker. With, if I heard it right, the novel twist of asking her for the money. Bristow threw us an arched eyebrow and announced with mock surprise, "So we're starting right there."
It wasn't just this crowd, on the official opening night with Brian Henson in the house — and even on stage once — and arguably more puppeted up by an open bar than paying customers on a regular night. More than once, Bristow had to veto a suggestion because someone had yelled it the night before and "I want to challenge my cast."
So a police station scene involved a cop, a translator, and a drunk Greek accused of unspeakable deeds with a horse, rather than masturbation in a public space.
Many of the comedians have toured with this show since it was called "Stuffed and Unstrung" and can finesse any suggestion into something at least a little smart or unexpected. Here, Colleen Smith as the police translator managed to give the bit a nice ending by explaining the Greek had a "big heart."
"He was gonna make an honest woman outta that horse."
And so it went. We asked for and received elevator sex, the game show "I Want a Divorce," and a training video for aspiring porn camera operators.
The good and bad of "Puppet Up!" is its split focus. Improv is generally a low-budget vehicle, but part of the appeal here is seeing the Henson magic and how it's created.
You can watch the video screen as a stoner's delight: What looks just like children's TV, but with R-rated audio. That trio of cute bunnies? Tripping on acid.
Or you can watch the main stage to see real human faces, as you will want to do when they are voicing computer-animated fish on the big screen.
But it seems like improv, by nature, produces more singles and doubles than home runs. (Or on this night, potential doubles that weren't given time to land). And if you can get that same ratio from shows with far lower budgets, two of the only non-improvised bits, re-creating Jim Henson's pioneering, pre-Muppets work, suggest we should all get our minds out of the gutter more often.
Some scenes are only half improvised, such as Peggy Etra singing a James Bond theme, or a film noir detective spoof. They could be places to deliver more proven laughs, as The Second City guaranteed for years on the Strip when it alternated the improv "games" with scripted material.
Still, a lot of us will root for these puppets as the diversity Vegas shows need, a "cult" alternative to, say, ventriloquist Terry Fator across the street. But cheap raunch doesn't mean a cheap show. If this one's going to spend the money, you'd think it would want that cult to be as big as possible.
Read more from Mike Weatherford at reviewjournal.com. Contact him at mweatherford@reviewjournal.com and follow @Mikeweatherford on Twitter.
Review
What: "Puppet Up!"
When: 7 p.m. Sundays and Mondays, 9 p.m. Tuesdays and Thursdays-Saturdays
Where: The Venetian, 3355 Las Vegas Blvd. South
Tickets: $69-109 (702-414-9000)
Grade: B