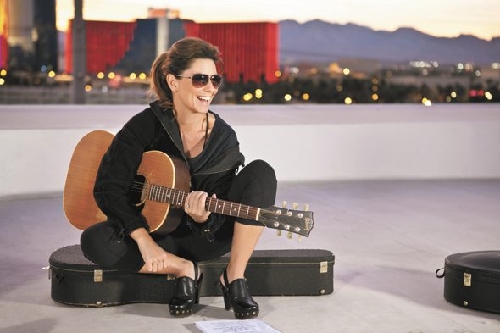 Shania Twain is back in the public limelight after vocal problems sidelined her career, but there's no need to rush things.
"Certainly putting pressure on me is not going to help it," she says.
The country-pop superstar of the 1990s has a tangible goal, and her fans have a reason to wait: a Caesars Palace showcase that will debut Dec. 1, 2012.
Wednesday's announcement from Nashville, Tenn., was timed for a flurry of activity from the singer: a new single, an appearance with Taylor Swift on Wednesday's CMT Music Awards and a reality series on the Oprah Winfrey Network, which made public her fight to regain her voice.
The reality show "Why Not? With Shania Twain" chronicles the singer's battle to overcome the vocal condition dysphonia. Twain's vocal problems ran concurrent to upheavals in her personal life, including a high-profile divorce from Robert John "Mutt" Lange, the record producer who helmed the singer's career and crafted signature hits such as "Man! I Feel Like A Woman" and "Any Man of Mine." (She has since remarried.)
Twain will become a recurring headliner in the Colosseum schedule, starting during the National Finals Rodeo week of 2012. She will do 60 shows a year in a two-year contract. Tickets are available now through an American Express presale; general public sales begin June 19.
The unusually long lead time between the announcement and the actual shows will give Twain time both to continue her vocal recovery and to design her Las Vegas showcase.
"It's important to eliminate the pressure while I'm going through the initial stages (of rehabilitation)," the 45-year-old singer said by telephone Wednesday. "Also, I want to really milk this and make the most of it artistically. It's been a long time since I've put a show together, and I just want to make sure I have fun with it and not be so pressured that I make compromises."
The long career break was "very frustrating and scary," she said. "I needed a break anyway when I did take it, but I wasn't expecting to not have the option of coming back into it when I wanted to and being limited by my voice."
Twain's first Las Vegas concert was in early 1999, and she returned for another arena date in late 2003.
In the media room of the Billboard Music Awards of 2003, the Canadian star was asked whether she would consider a Las Vegas headliner deal.
"If I ever did that, it would be because I'm old or something," she answered.
Her remark drew an audible response, to which she replied, "What was so controversial about that?"
Reminded of that now, she laughed and said, " 'It was too early' maybe would have been a better answer.
"I really did mean that," she added. "I am older and I am different, and Vegas is different and so much has changed all the way around. … That's exactly what I thought then, and this is exactly what I think now."
Twain's genre blending hits crossed from country to pop charts and set a precedent for today's hits from Carrie Underwood and Swift, with whom she spoofed "Thelma and Louise" on Wednesday's awards show.
Swift is "a lot younger at the height of her career than I was," Twain said. "I do think of her a lot and how difficult that must be at times. I had more maturity just because I was older. … There's a giant age gap between us, and it took me back like this fast rewind," she said with a laugh.
"It's hard for me to even think about what I thought in my early 20s. It's fun for me to connect with someone that I related to in that sense, at such a different stage in both our lives."
Contact reporter Mike Weatherford at mweatherford@
reviewjournal.com or 702-383-0288.