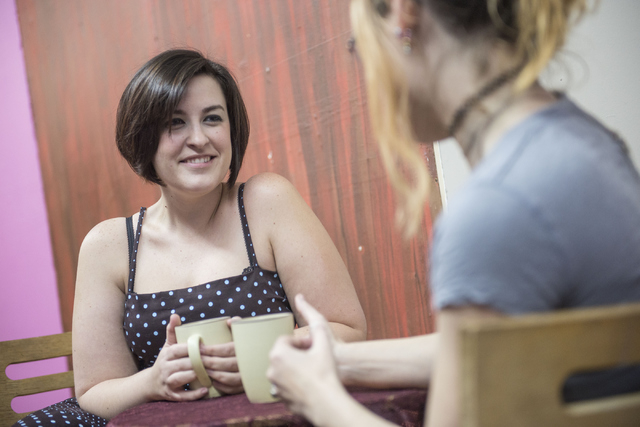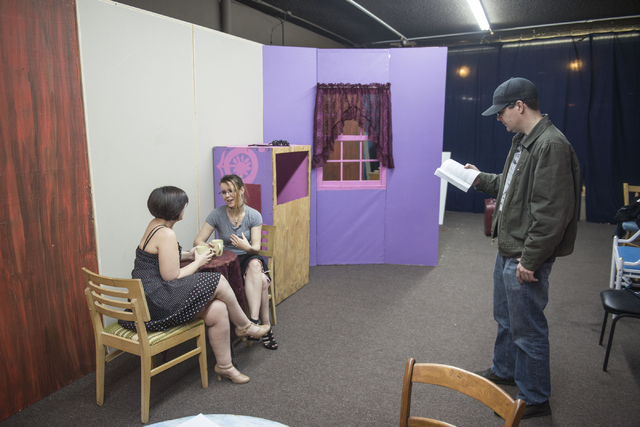 To someone who's not actually directing it, its small cast and relatively static set would seem to make "Wally's Cafe," the upcoming production of Theatre in the Valley, an easy play to direct.
But, it turns out, it's exactly those things that will present director Shane Cullum and the play's three-person cast with a few challenges. That's because the effectiveness of the bittersweet comedy hinges on sharp dialogue delivered well and the cast's ability to depict aging over the course of several decades without relying on heavy makeup or costuming tricks.
It's a tall order (excuse the phrase) and one that will be served up (again, apologies) this weekend and next in Theatre in the Valley's new playhouse at 10 W. Pacific Ave. in Henderson.
The play will be presented Friday and Saturday and Jan. 30 and 31 at 8 p.m. and Sunday and Feb. 1 at 2 p.m. Tickets are $15 for adults, $12 for seniors and $10 for children. For reservations, call 702-558-7275 or email tivrsvp@gmail.com.
Friday's premiere marks the kickoff not only of Theatre in the Valley's season — its next offering, "Love Letters," is scheduled for Feb. 6, 7, 13 and 14 — but a homecoming of sorts as the company moves into its new permanent venue, a former storefront retail space.
"We're really excited," says board member Megan Riggs, "and, as with any new thing, kind of scared, I guess."
The company was formed in 1992 and performed in several venues in and around Henderson before going on hiatus in 2011.
"We just kind of realized that, A, we didn't have enough people participating and, B, all of our sets, props and costumes, we just couldn't keep moving them around constantly," Riggs says.
The company last year took out a lease on the Pacific Avenue location. It's a small space — it can seat a maximum of 50 at one time, Riggs says — and the company staged its Christmas show there. However, "Wally's Cafe" will mark, in a sense, an official introduction of the space as Theatre in the Valley's new permanent home.
"Wally's Cafe" ran on Broadway in 1981 and starred James Coco, Rita Moreno and, in her Broadway debut, Sally Struthers. It centers around an expatriate New Jerseyite and his wife who purchase a small cafe on a lonely road between Las Vegas and California.
"It's really just kind of about the trials and tribulations of running this little cafe over the span of about 40 years," Cullum says.
"The premise is that this cafe is not very successful. They move out there from New Jersey to start this dream cafe, which turns out to be not the great dream they planned for."
The span of time the play covers is one of its most interesting aspects, Cullum adds. "It starts in the '40s and goes to the early '80s, so the characters age in it, which is fun. The actors get to play different ages."
Cullum says that, to mark the different eras, "there's a menu we're going to have. We haven't quite figured out how we're going to do this, but, obviously, prices will increase as years pass, so the menu will have changed for each scene."
And depicting the characters' aging? That, Cullum says, will involve "minimal costume changes, and (actors will) really focus more on the physicality and their behavior to symbolize their aging."
In general, he says, "the thing I'm really just focusing on is the acting. I think audiences can forgive a minimalist set and minimalist costumes if the writing and the acting are good. I think it's good writing and good acting that are going to carry a show more than the set and costumes."
"Wally's Cafe" is, he adds, "really interesting" in that "there's not a lot of action. Really, it's about the dialogue and the interaction between the characters.
"Even if (a play is) two characters just sitting at a table, that can be engaging for an audience as long as the dialogue is interesting, which 'Wally's Cafe' is."
The cast includes Aaron Barry as Wally, Anastasia Valentine as Janet and Rebecca Kernes as Wally's wife, Louise. In casting the play, Cullum says he "wanted actors who kind of bring their own personalities to the character.
"They also have to deal with being physical actors. So I was really looking for actors who could handle the dialogue and bring their physical talents to it and be interesting to watch."
Riggs says "Wally's Cafe" is a great way to reintroduce Theatre in the Valley to Southern Nevada, and even encourage local residents to become involved with the nonprofit company.
"We'd love to get more volunteers in here, more people to help out and people who can do things like fundraising and marketing," she says.
"That's all the future, obviously, but since it's a permanent space, it's almost unlimited possibilities."
Contact reporter John Przybys at jprzybys@reviewjournal.com or 702-383-0280.
Preview
What: Theatre in the Valley's "Wally's Cafe"
When: Friday, Saturday, and Jan. 30 and 31 at 8 p.m.; Sunday and Feb. 1 at 2 p.m.
Where: 10 W. Pacific Ave., Henderson
Tickets: $15 adults, $12 seniors, $10 children (tivrsvp@gmail.com or 702-558-7275)