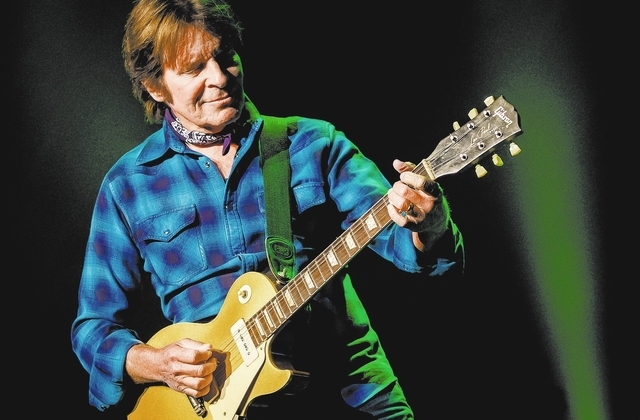 John Fogerty
We all laughed when "The Simpsons" showed us a Branson, Missouri, marquee with the Moody Blues opening for their own tribute act. But Wednesday, you can choose the real John Fogerty at The Venetian, or the Fortunate Son tribute to Creedence Clearwater Revival at House of Blues at Mandalay Bay (Tickets are $12.50 for the 8 p.m. show; call 702-632-7600). But don't agonize over the choice. Backward though it may seem, the tribute is a one-nighter while the real Fogerty is also here at 8 p.m. Friday and Saturday, and through Oct. 1. Tickets are $59.50 to $800; call 702-414-9000.
Ray Romano and David Spade
Chalk it up to the eternal popularity of "Vinyl" and "Roadies." No, we know it's the 20th anniversary of "Everyone Loves Raymond" you'll be celebrating when Ray Romano teams with his deep-cable "Rules of Engagement" co-star David Spade at 10 p.m. Friday and Saturday at The Mirage. Tickets are $87.19 to $119.89; call 702-792-7777.
Ottmar Liebert
You think new-age flamenco guitarist Ottmar Liebert's got no rhythm? Think again. The Santa Fe, New Mexico, chillster's latest album, "Waiting n Swan," celebrates the music of Bob Marley. It's all variants of mellow when Liebert plays at 8 p.m. Saturday at Club Madrid in Sunset Station. Tickets are $22 to $42; call 800-745-3000.
Hall & Oates
If we hear you asking what happened to Daryl Hall, we know you cut your cable cord or your thumb got tired before you channel-clicked all the way to MTV Live and found "Live From Daryl's House," where Hall jams with just about everybody. Friday's 7 p.m. concert at the MGM Grand Garden keeps that vibe going with opening act Trombone Shorty & Orleans Avenue. Tickets are $45 to $125; call 888-929-7849.
The Lettermen
Not synonymous with Las Vegas, yet very true to their (gambling) school, are The Lettermen. The vocal group still headed by 77-year-old Tony Butala visits almost every year to take us back to 1961 and "The Way You Look Tonight" and "When I Fall in Love." Swoon at South Point at 7:30 p.m. Friday through Sunday. Tickets are $25 to $35; call 702-797-8055.