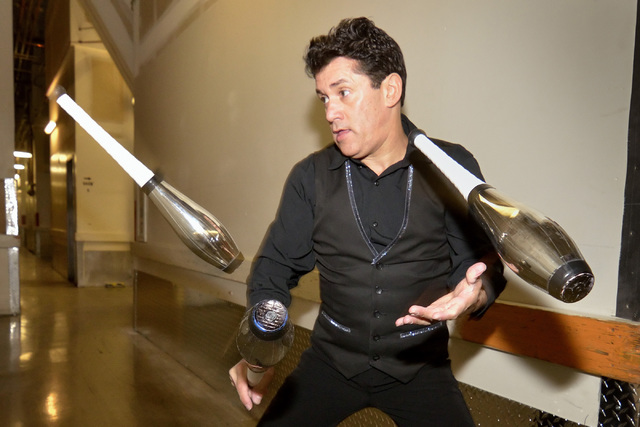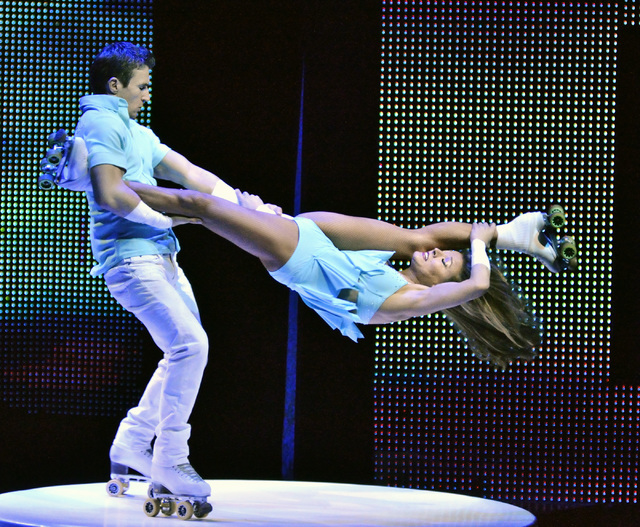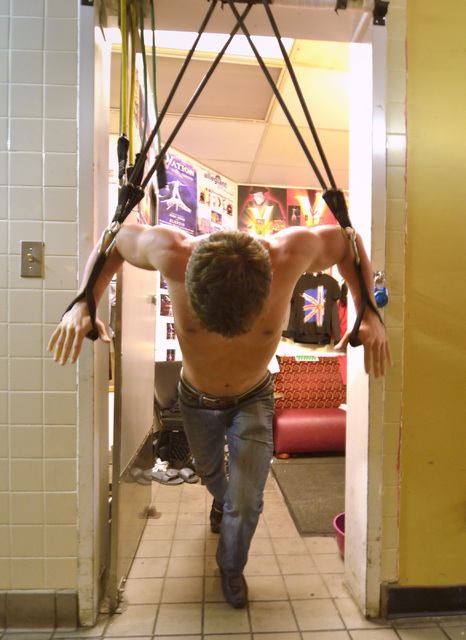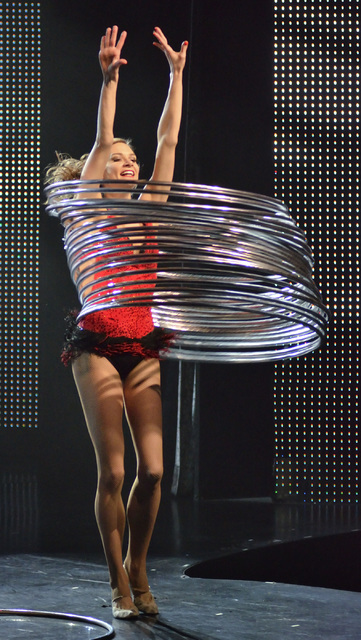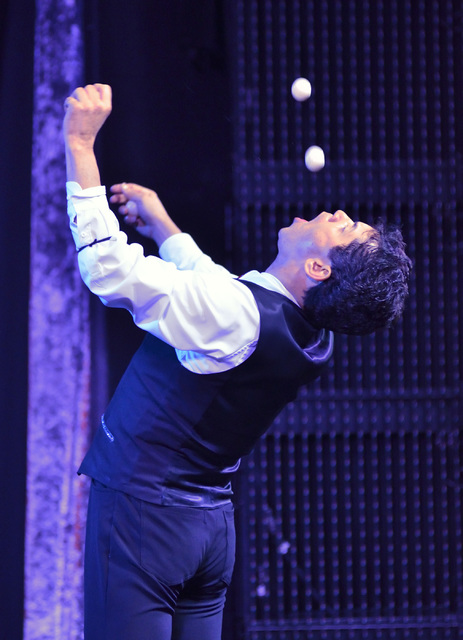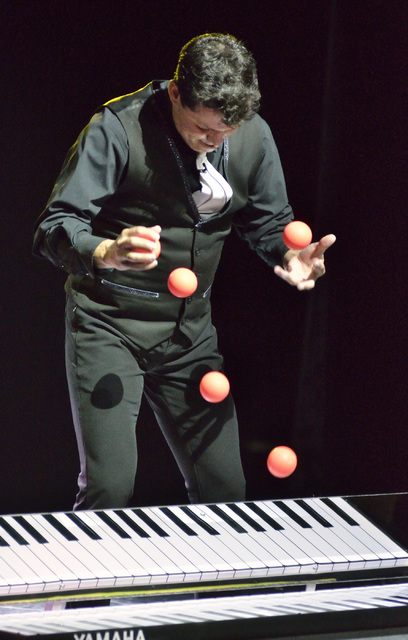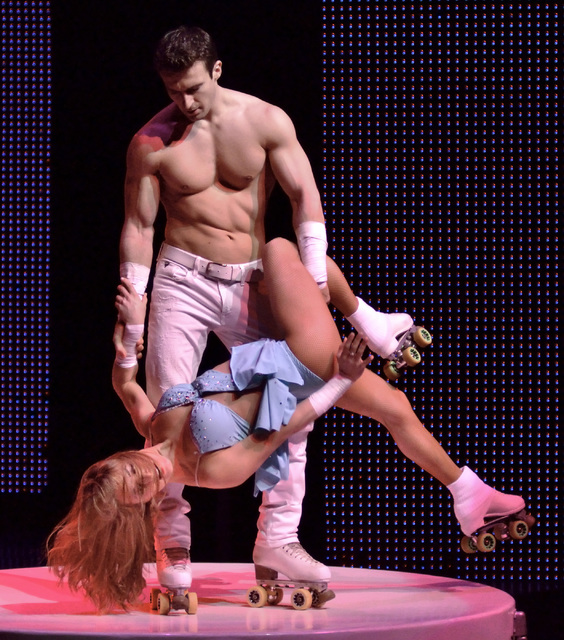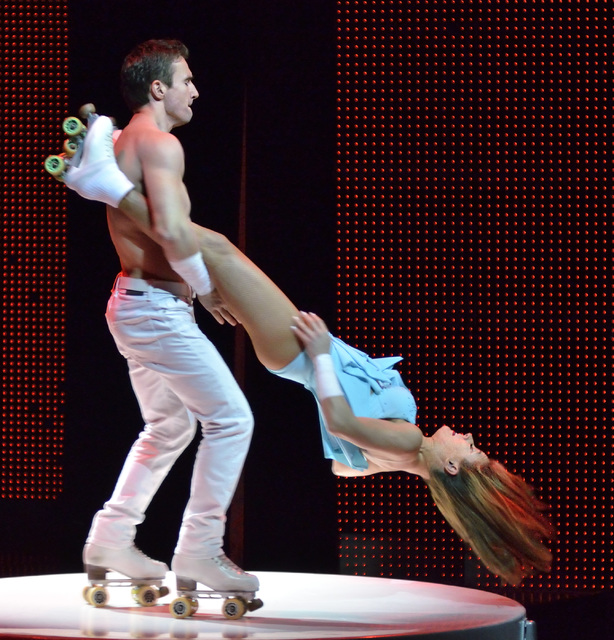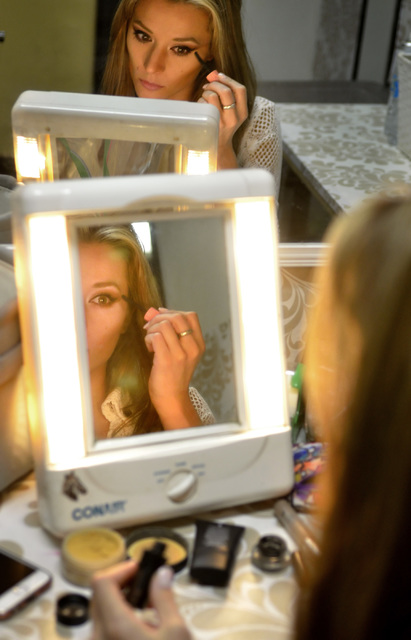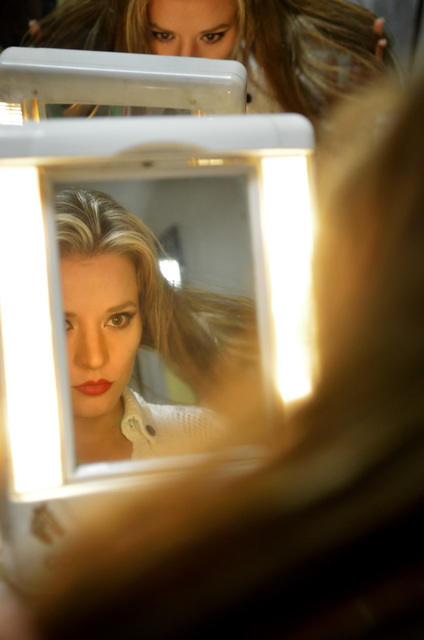 How does Wally Eastwood spend Christmas? He points to a calendar on his dressing room wall.
"There you go. Three shows. On Christmas we normally we have three shows. That's what I do," he says.
The juggling host of "V — The Ultimate Variety Show" isn't complaining. No one is. Shows have been closing all over town, and "V" celebrated its 14th anniversary this year.
"The town used to be full of long-running shows. But now, we're kind of it," Russ Merlin says.
If you've seen "V," odds are you've seen Merlin: He's the comedian who pulls people from the audience, puts masks on them and provides comic commentary. Simple, yet oddly effective.
"In show business, we work when other people don't," Merlin says. Working Christmas or Thanksgiving is "kind of normal to me."
He's single and misses so many get-togethers with his extended family in Long Island, New York, that "when I am there, the reaction I get would not be the reaction you'd expect. The reaction I always get is, 'What are you doing here?'
"You're kind of like a phantom they always talk about."
The surrogate family of "V" is a mix of nationalities, and of old-timers and relative newcomers. Producer David Saxe recruited the "front-of-curtain" acts that used to spell big production numbers in the old-Vegas era and combined them into one enduring formula.
There's the Ukrainian rhythmic gymnast, Tamara Yerofeveya. The comedic Argentine gauchos, Hugo Latorre — one of the longest-tenured variety performers on the Strip — and Eduardo Lome. And Las Vegas' own Kris Saly. Maybe you saw him on "America's Got Talent" as half of the KriStef Brothers. Or even as a boy in "EFX" with Rick Springfield.
On this night, Saly is in "V" as one of the comedic acrobats of The Quiddlers. "I'm ecstatic to do three shows on Christmas," he says. "I got mouths to feed (a 3-year-old boy and a 4-month-old daughter)."
Merlin goes to play pingpong at the Henderson home of Victor Arata, a 28-year-old who grew up in a British circus family and nightly performs the heart-stopping roller-skating act in which he spins stage partner Ashelen Magrini by the ankles, in a tight circle over the heads of the front row.
"This is the first place I've ever had a family like this," Arata says.
"I spend more time with these guys than I do with anyone else, that's for damn sure," says the show's contortionist, Alonzo "Turf" Jones.
Odd couple
Merlin and Eastwood never knew they'd spend so many years in the same backstage hallways, although there was foreshadowing.
Eastwood has juggled in every show in town since the '80s, and was in three of the big production shows: "Splash," "Jubilee" and "Folies Bergere." The running banter that goes with his juggling made for a natural transition to host during the early days of the "V" show.
He has a contagious laugh on stage and off, and it's hard to tell where the stage bit ends and real life begins.
"Juggling is like a sport. You have to constantly warm up and practice," he says as he sends the juggling pins airborne in his dressing room. "I do the warm-up, but sometimes not the practice."
Eastwood also is from a six-generation circus family; his mother was a trapeze artist. But he sold his 40-foot trailer in 1987 to declare Las Vegas home. "These knees are old," the 50-year-old says. "When I first came to town all the girls would go, 'I just got a new boob job.' Now all the same girls go, 'I just got a new hip. Look at my new hip!' "
Eastwood and Merlin first met on a cruise ship in the '80s, when both were in their 20s. Merlin says Las Vegas always seemed like "Mecca" to him. "I'd seen the whole world twice, but all I really wanted to do was come here."
He still remembers seeing Eastwood in his favorite show of the era, the Riviera's "Splash." The show had an in-joke: During a street-dance sequence, a special guest's name would be spray-painted onto a wall every night. Eastwood saw to it that Merlin's name went up there.
"That to me was one of the greatest things ever," he says.
Merlin didn't end up here until "V" opened in 2002. But he rented a room from a friend for the first four years. "I was afraid this was going to end and I'd have to move back."
The lucky few
When Merlin started working in the "V" show, "All the entertainers were saying the same thing: 'Oh my God, I gotta get off the road. What do I do now?'
Las Vegas had so many steady jobs for performers for so long that the recent spate of closings is a collective wake-up call, he says. When "Jersey Boys" closed after eight years in town, "I really felt bad, you know? They made a life here, put some roots down. This town kind of makes you feel like, OK, this really is it. This is home."
Arata now counts himself among the lucky few who live "like normal people. His wife, Jenny, is even taking a break from performing. "It took us time to get used to this life," he says, and they missed the exotic places. "When you're on tour, all your tour managers are doing everything for you, baby-sitting you."
Arata has a theory on why everyone gets along so well backstage at "V."
"Whoever's lasted this long in Vegas and done this kind of show … it's because they're very good people," he says. "If you're not a great guy or great girl, you're going to snap eventually or somebody's going to see a bad side of you. All these people don't have bad sides. They know what life's about. And they know what show business is about."
This weekend they know it's about running the family-friendly "V" at full capacity. Three shows on Friday and Saturday, two on Sunday. In the old days, "Folies" and "Jubilee" had an hour and a half between shows. "We turn it over in 15 minutes," Eastwood says.
You'd think that would burn off some turkey and dressing, but Eastwood would rather time-shift. "Do you really want to go to the gym after you eat a big Thanksgiving dinner?" he says.
"Whatever my day off falls on, that's when we celebrate it," he says. "We do the full dinner." His mother and his wife's both live in town, "so we get quite a bit of people and do a big family Thanksgiving."
He even records the football game for extra authenticity.
His friend Merlin doesn't burn so many calories on stage. "Do I want to rush down Thanksgiving dinner at 2 o'clock because I have to run and do a 4 o'clock show? No, but yes, I do. What better way to spend your holidays than to be working and making money doing something you love to do?"
Read more from Mike Weatherford at reviewjournal.com. Contact him at mweatherford@reviewjournal.com and follow @Mikeweatherford on Twitter.
Preview
What: "V — The Ultimate Variety Show"
When: 4, 7 and 8:30 p.m. Friday-Saturday, 7 and 8:30 p.m. Sunday, 8:30 p.m. Monday-Thursday
Where: V Theater at Planet Hollywood Resort
Tickets: $69.99-$89.99 (866-932-1818)