Whoopi Goldberg shares love for Las Vegas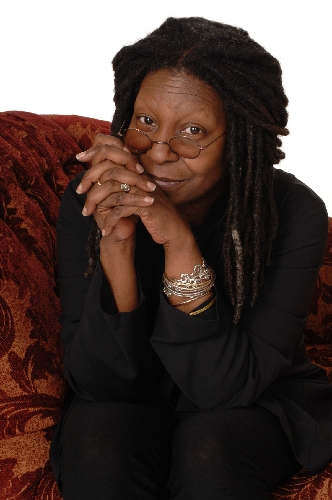 Whoopi Goldberg and I are on the same page: Enough with the crying babies in Vegas, already.
Whoopi is a gambler, you see.
"To be sitting at a table and hear some little kid crying is, like, wow. I'm trying to hit this — and your kid is crying."
Little kids aren't allowed to mingle on the casino floor.
"But you can still hear them," she says. "We need to build some stuff, so when parents bring their kids, there's a better place for the kids to be hanging out."
Agreed and agreed.
There are a few businesses where parents can drop off their little bundles of wah, such as the arcade-sitter Kids Quest at the Palms and various Station Casinos. But parents don't use Kids Quest enough.
Parents also take kids to Adventuredome, "Tournament of Kings" and other fun family spots. That's great. I'm all for that. But plenty of families with young children meander close to adult action late at night. If I see one more stroller at midnight at Mandalay Bay …
Anyway, I told Whoopi about a family-friendly Ferris wheel that's slated to go up across from Mandalay Bay.
"A what? A Ferris wheel? Are you gonna be able to gamble on it? Will there be slot machines? Because I'd ride it, if it had that," she says.
Whoopi and Vegas go way back.
"Yes, I like to gamble," she says in a coy, low voice.
Like any good Vegas veteran, she fondly recalls Old Vegas, when she could get a great $3 filet mignon.
"When it was a gambler's paradise, you ate well and you thought you were a big shot."
People ate, then went back to the tables. Everything was designed to get folks back to betting.
"That's what it was — big shows and gambling. And the shows weren't too long, because they wanted people back out there.
"Now they have to serve a different purpose aside from just the gambling. They have to make it family friendly and keep people's attention."
Is she a high roller?
"It's hard to gauge what a high roller is these days. You sit next to people at a baccarat table with people playing with $30,000, $40,000. I'm playing with, like, $50. So I'm rolling as high as I can and still be able to roll all night."
She's mostly a "slot girl," and she also hits blackjack and craps on occasion, she says.
"People hate when I play at the craps table, because I like the no-pass line. I want to play with the house. You know, if seven is the number they (the casinos) have, it's because seven comes up more often!"
Whoopi never struggled in the early part of her comic career here. By the time she was getting booked in casinos, she was a known property from her first HBO special. So she arrived in Vegas "fully formed," she says.
She befriended Frank Sinatra and Steve Wynn while filming a commercial for Wynn's then-next project, The Mirage. That's her favorite memory of the city.
"I was just thinking to myself, 'Oh my God, I'm out in the middle of the desert with Frank Sinatra and Steve Wynn, and we're shooting a commercial!' "
She was pretty happy to become friends with Sinatra, suddenly.
"It's not a friendship most people would have thought would occur."
She still considers Steve and Elaine Wynn to be her "Vegas dad" and "Vegas mom."
"Frank is gone, but he's like my Vegas uncle," she says. "I have a whole relationship to Las Vegas."
And it turned out she dug the thrill of betting.
"It's fun to do. Some people like to buy clothing and stuff. I burn money in a different way."
She shot a movie here once (she doesn't mention which one) when she lucked into her best betting story.
"I was on my way to the set. I was waiting for the car. I sat down at a machine and put in $3 and won, like, $10,000. That was pretty good. It's never happened since, which has sort of been a drag for me."
I told her I was upset with President Obama when he told the world not to spend their hard-earned money on the Strip — even though Obama himself gambled much of his 2008 campaign time to win Vegas' votes.
"I didn't listen to him," Whoopi says.
Good call, Whoopi.
Doug Elfman's column appears Tuesdays, Thursdays and Fridays. Email him at delfman@reviewjournal.com. He blogs at reviewjournal.com/elfman.
Preview
Whoopi Goldberg
8 p.m. today
Treasure Island Theatre,
3300 Las Vegas Blvd. South
$86.90-$108.90 (894-7722)