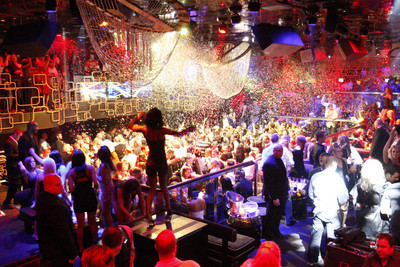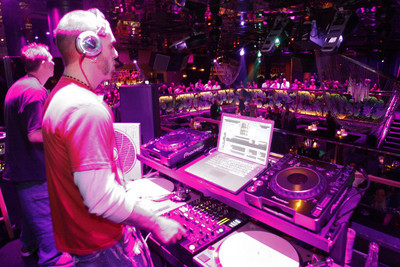 If you walk into The Bank nightclub at Bellagio feeling like you're in for one of the richest nights of your life, then Jodi Myers, the club's original managing partner and current president of customer development for Light Group, has done her job.
From the moment you enter The Bank, the groundwork for your experience is laid, through the name of the club to the walk through the foyer lined with Cristal bottles.
"Everything is very rich and elegant," says Myers, who came up the name. "It flows with the Bellagio" and evokes the idea of that place where people keep their precious things.
At 6,600 square feet, it's a smaller space compared to other Light Group clubs, so "we're able to be more exclusive," Myers says.
The club is laid out in three tiers, with the bottom floor serving as the dance floor and the focal point of the club. VIP is on the second level and only accessible to those who have a table reservation. The two bars are located on the third floor, which is accessible to anyone.
"The energy in the place is really amazing with the different levels like that," Myers says. "It's a great spot for celebrities and VIPs," because they can go to the second level and have some privacy.
The Bank opened in January 2008 and mainly caters to Bellagio's clientele. They're a little bit older than the guests found at the megaclubs, Myers says, and they're a more discerning audience. They tend to be more of an international crowd, too.
But, The Bank has a strong local following, as well. Sunday nights are industry night, and "we always like to take special care of our locals," Myers says.
Locals get in free on Sundays, and bottle specials usually are offered. Management often brings in a guest DJ as a special treat, Myers says.
The club features three resident DJs, Eddie McDonald on Thursdays, David Christian on Fridays and Saturdays and DJ Karma on Sundays. They spin mostly hip-hop, with some mashups and dance music.
The average price of a cocktail is between $14 to $16, while bottle service starts at $475 for every three people. There is a two-bottle minimum per table.
The dress code is casual chic. Jeans are allowed, but athletic wear isn't. Cover charge is $30 for men, free for women.
The Bank is open 10:30 p.m.-4:30 a.m. Thursdays through Sundays at Bellagio, 3600 Las Vegas Blvd. South. For more information, call (693-8300).
Contact reporter Sonya Padgett at spadgett@reviewjournal. com or 702-380-4564.
Las Vegas Club Scene