Trump remarks lead Mexico to withdraw from Miss Universe pageant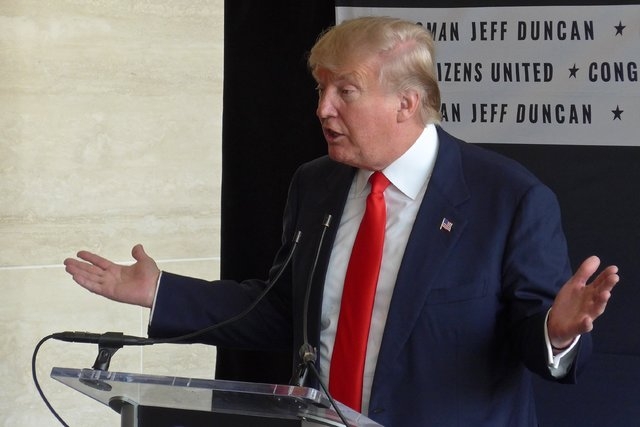 Donald Trump warned earlier this month that unsavory individuals are crossing the border from Mexico. Now the country won't be sending anyone to Trump's beauty pageant.
The Mexican media company Televisa said it will not have a representative in the next Miss Universe pageant. Trump is a partial owner of the Miss Universe Organization, which oversees both the Miss Universe and Miss USA pageants.
Televisa and former Miss Universe Lupita Jones help run Nuestra Belleza Mexico, a national pageant that determines the country's contestant for Miss Universe.
Jones lashed out at Trump for his "racist comments."
"As a Mexican I feel very offended and outraged, like everyone else – as Miss Universe I think Donald Trump is harming the organization," she wrote on Twitter.
Trump has suffered considerable fallout for remarks he made about Mexican immigrants at his presidential campaign launch event. Spanish-language broadcaster Univision said last week that it will not broadcast next month's Miss USA pageant. On Monday, NBCUniversal made the same decision.
The lack of a broadcasting partner notwithstanding, the Miss USA pageant will go on as planned on July 12 in Baton Rouge, Louisiana. Trump, for his part, hasn't shown much contrition for his inflammatory remarks.
On Tuesday, the reality television star and real estate mogul said on Twitter that the United States must "have strong borders and stop illegal immigration."
"I love the Mexican people, but Mexico is not our friend," Trump said.
MISS USA CO-HOST BACKS OUT
The co-host of the Miss USA pageant has withdrawn, saying that after Donald Trump's recent comments she cannot "in good conscience" take part in the show.
Professional dancer Cheryl Burke announced Tuesday that she will no longer serve as co-host of Miss USA next month, citing both Trump's recent comments about Mexican immigrants and NBC's decision to cut ties with the billionaire.
"In light of the recent statements made by Donald Trump and the subsequent decision by NBC to cut ties with Mr. Trump, I cannot in good conscience move forward with participating in this year's Miss USA Pageant as its co-host," Burke wrote on Facebook. "Effective today I have withdrawn from my duties with Miss USA."
This was going to be Burke's first year as co-host. The status of the pageant's other host, MSNBC anchor Thomas Roberts, is unclear. NBC did not immediately respond to requests for comment.
CONTESTANT BACKS PAGEANT
Miss Kansas USA Alexis Railsback, said that the pageant was "kind of taking the brunt for Donald Trump's speech."
Railsback, a third-generation Mexican-American, told the Kansas City Star that Trump "does not organize the pageant, he does not run what goes on."
"That's a personal decision that he made to make that speech and to run for president, and I don't think it is really related to the pageant in any way, other than the fact that he is the co-owner," Railsback said.
RELATED
6 of the most offensive things Trump has said