'Flip or Flop Vegas' star Aubrey Bristol talks Las Vegas design and real estate
Updated April 4, 2017 - 12:12 pm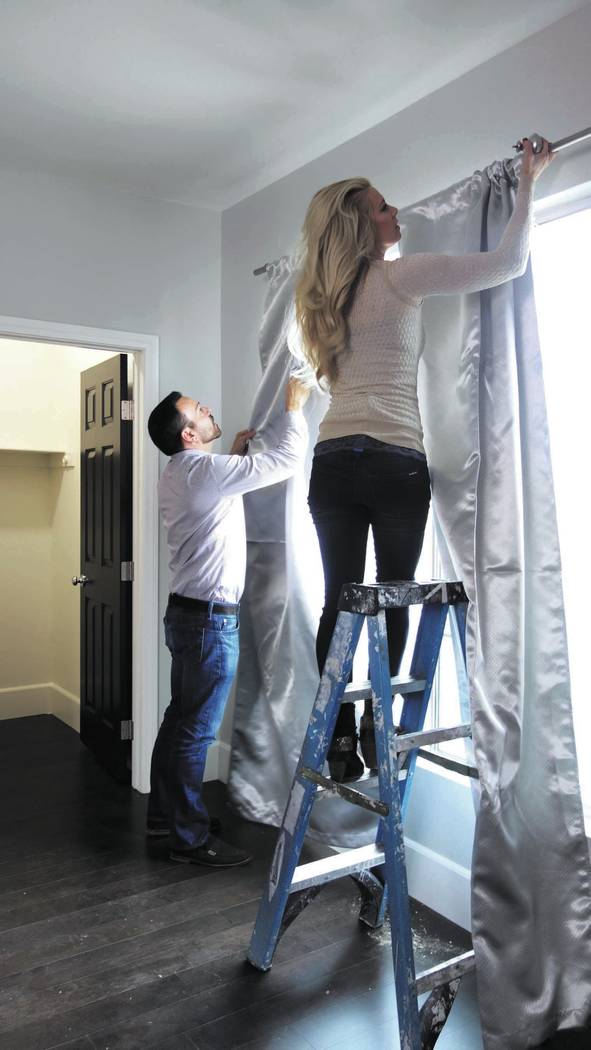 Vegas Voices is a weekly question-and-answer series featuring notable Las Vegans.
"Flip or Flop" is the latest HGTV show to get the spinoff treatment, and this time a Vegas couple, Bristol and Aubrey Marunde, are the stars.
The couple began flipping houses in 2009, using Bristol's contracting know-how and penchant for demolition — viewers won't be surprised to learn that he moved to Las Vegas to be an MMA fighter — and Aubrey's real estate expertise. Since then, they've completed more than 140 projects throughout the valley.
HGTV producers tapped the couple for a show after coming across Bristol's Instagram profile, where he posted before- and after-shots of their projects and video clips of the renovation process. That show was originally "High Stakes Flippers," of which only one episode aired last summer.
They're back for a full 13 episodes of "Flip or Flop Vegas," which debuts Thursday at 9 p.m. on HGTV. The duo takes on projects from a 3,000-square-foot home in Green Valley with a $40,000 budget to a bachelor pad in Southern Highlands with a tight deadline.
On top of house flippers, real estate broker and MMA fighter, the duo can add TV star to their resumes. The Review-Journal talked with Aubrey Bristol about how she ensures her renovations aren't a flop.
Review-Journal: How did you begin house flipping?
Aubrey Marunde: I got my real estate license in 2006. Bristol moved to Las Vegas to train and fight and as soon as we met it was just like the stars aligned. Bristol was looking to buy a house, and I found the first house for him. He decided, hey, let's try to fix this up and see where it goes so we did.
(It) took us about four weeks to finish all the renovations on the house. And it sold in a day. We made quite a bit of money on that first project, and we took all that money and we rolled it into the next and the next and the next and here we are about nine years later, "Flip or Flop Vegas."
So you bought that first house intending to actually live in it yourselves?
Bristol had planned on moving into the property but I just saw a huge opportunity. I told him, 'You can move into the next one, and the next one, and the next one,' but that never happened.
Have you ended up flipping a house for your own family?
We keep talking about it but it never happens. It seems that we put the house on the market and it's gone in a couple hours or a day so we never have had a chance to do that. We really fell in love with one of the properties we did, it was a horse property on half an acre — we actually shot it for the pilot. Bristol said every day, 'I could just move here.'
Is there anything you specifically have to keep in mind flipping in Las Vegas?
Vegas is a very, very fast-paced market. There are so many opportunities and they present themselves daily. You have to be ready to jump on them, because if you don't, somebody else is going to. So our fast-paced market here is much different than other places around the country and I think that people watching are going to see that. Our properties sell in hours, rather than days or months here. That's very unique to the show.
The Las Vegas market in general, with buyers, they're very savvy. They want high-end finishes, they want open floor plans. The casino business and industry really runs this town and buyers are in there, they see the new nightclubs, they see the finishes, the chandeliers, the crystals that they're using.
I get to get a little bit of a piece of that. A lot of the products that we get are remnants that come in from the casinos; they over-order and I get to use some of those in my projects. For example, we just did a really cool kitchen island and there was a nightclub in town that had some blue antique mirrored glass that came in that they had extra of. I bought it for 200 bucks. … So those are the kind of unique features that you're going to see with a Vegas glam twist. All of my designs have kind of a Vegas glam twist to it.
Contact Sarah Corsa at scorsa@reviewjournal.com or 702-383-0353. Follow @sarahcorsa on Twitter.
Getting to know Aubrey Bristol
Favorite movie: "I don't watch movies, I'm not a movie person. I do love documentaries though … whether it's financial documentaries or history documentaries, that's kind of what I love."
Last show you attended: "Backstreet Boys."
Favorite spot to take visitors: "I love to have nice dinners. I love to sit out and watch the fountains at the Bellagio at Mon Ami Gabi."
Food you could eat everyday: "Steak."