Former Las Vegas news anchor Paula Francis happy in retirement
April 17, 2017 - 11:26 am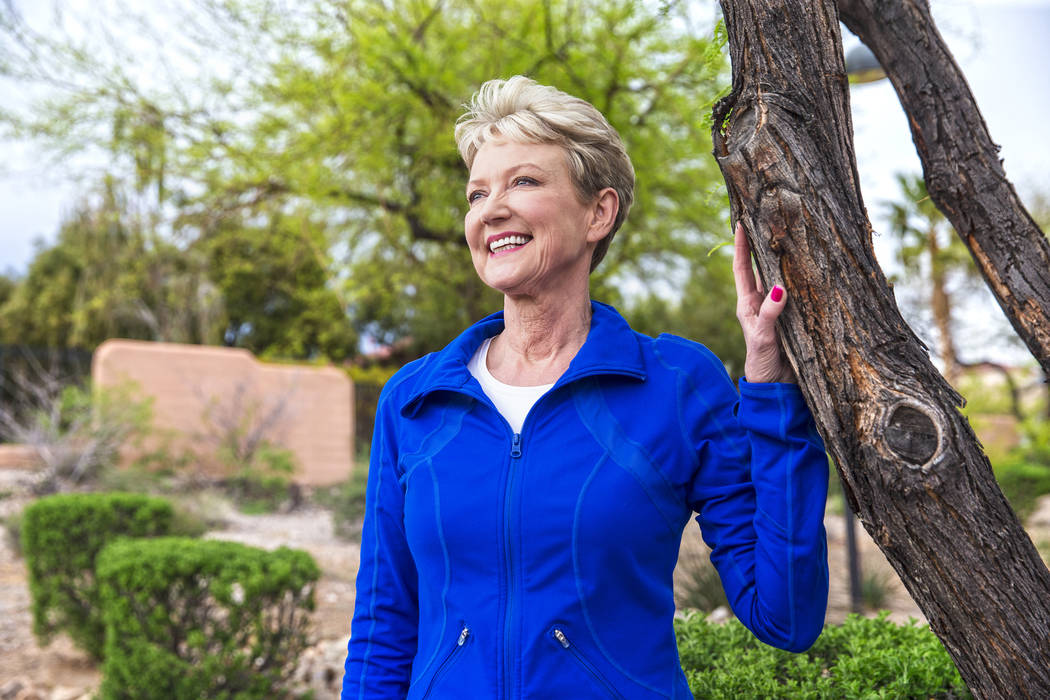 Vegas Voices is a weekly question-and-answer series featuring notable Las Vegans.
After graduating from the University of Wisconsin-Madison, Paula Francis moved to Las Vegas in 1985 to work for KTNV-TV, Channel 13. She was fired before the end of her three-year contract.
Thankfully for valley viewers, she was scooped up almost immediately by KLAS-TV, Channel 8, where she remained a fixture until her retirement from the anchor desk last April.
Francis, 65, recently took some time to look back on her first year of retirement, talk about the changing perception of the media and to look ahead at a possible future in politics.
Review-Journal: So what's this past year been like for you?
Francis: Well, it's been great, actually. It was a really good time to retire from the news business. It was such a contentious election that it really would have been upsetting to me to report on it.
What's been the best part of retirement?
It's freedom from deadlines. In the news business, there's nothing but deadlines. So feeling as though my husband and I can pretty much do whatever we want at any time that we want is a great freedom. … Yeah, my time's my own, which is a great, great feeling. I urge everyone to save their money so they can retire, too, one day. I think it was Einstein who said the two most powerful words in the universe are "compound interest."
What's a typical day like for you now?
We're exercising a lot. I always did Pilates. I've done that for about four or five years, and I really love that, but I didn't have time for a lot of other things. So we took swimming lessons. Even though I know how to keep myself alive in the water, I wasn't an efficient swimmer. So we learned the actual strokes and how to be an efficient swimmer and do laps. And I just love the water. And then what we're really into is bicycling. … It's just a great, great feeling of freedom when you're on a bicycle. There's so many great bike paths, especially in the city of Las Vegas. I wasn't really aware of how much bike path infrastructure the city had done.
Since you retired, the media has been demonized more than ever. How does that make you feel?
First of all, "media" as a lump is meaningless to me. I think news outlets are all different, and you can't paint us all with the same brush. Newspapers are different among themselves. TV stations are different among themselves. And certainly cable news is very different. …. You know, the stories that you pick and your editorial decisions and how long you're going to talk about a subject, all those things belie what your context is, what your political agenda is. So I think all the major cable outlets have that. And I do think they should be held responsible for the election. Because, frankly, every time I turned on the news, and I used to love watching cable news, I found they were treating it like a ball score, like a game. And they reported on the things that I didn't think were real important, and they didn't get much into the issues.
I know you've been approached to run for office in the past. Is that anything you're thinking about?
Lots of people from all walks of life, who never thought about politics before, I think they're thinking, "Well, maybe I do need to do something for public service." So if somebody approached me now, I would think about it more seriously. It was not as good an alternative as my TV job when I was approached before (in 2003).
So you're not throwing your hat in the ring, but you wouldn't necessarily say no.
Right. Yeah.
Are you talking a local level? A state level? A national level?
I don't know. … I'm trying to be more independent. I'm nowhere near as partisan as most people, although I am passionate about what I believe in. But I think both sides have kind of gone crazy. … I just want people to return to the center. Sort of the way they used to be, like, 20 or 30 years ago.
You dedicated your life to journalism. How do you feel when pretty much any story somebody doesn't agree with is dismissed as "fake news."
That's unfair. That's really unfair. Fake news is the sort of thing you read when you're standing in line at the grocery store. "Aliens land in Denver and start selling pot." … Fake news is not news that's negative or not your point of view. To call that fake news is detrimental to journalism, and journalism is essential to democracy.
We've talked in the past about how much it means to you when fans come up to you and say hello. Have those interactions changed now that you're a civilian?
Well, yeah. People say we miss you. And some people linger and say, "Oh, it's just not the same." "Oh, we really loved you." "Oh, they're still a great station, but we miss you." And, boy, that means a lot to me. … The favorite thing that I still hear is, "I grew up watching you." I mean, what could be better than that? It's great. And it never makes me feel old, because I don't feel old.
Contact Christopher Lawrence at clawrence@reviewjournal.com or 702-380-4567. Follow @life_onthecouch on Twitter.
Getting to know:
Paula Francis
What's the last concert you attended: "I see Bob Dylan every time I can, and last year I saw him in Nashville. I'm just a die-hard Bob Dylan fan. … We had tickets to the Rolling Stones at the new arena, but they canceled. We were relieved, because we regretted spending so much money on the tickets. I saw the Rolling Stones in 1966 for $5.50 at McCormick Place in Chicago, so paying $750 a ticket suddenly struck me as ridiculous."
What's your favorite vacation destination: "The U.K., and we're going there again this year. I have relatives there, and I've been going to England since I was 7, I think."
What's the most recent movie you've enjoyed: "Oh, I saw 'Get Out'! Fantastic. I highly recommend that everyone see it. Not only is it fun, and it has a couple of actual shriek-out-loud moments because it's a horror movie, but it has some really important things to say about race relations in the U.S., which is kind of an obsession of mine."
If you hadn't gone into journalism, what other occupation would you have pursued? "Originally, I was going to be an art teacher. But, I must say, looking back on my life, I wish someone had suggested that I go into medicine."
What book are you reading? "I'm reading a book of short stories by Alice Munro called 'Runaway.' And the reason I picked it up is because there's a movie by Pedro Almodovar called 'Julieta,' and he based it on three stories in that book."