Retiring Paula Francis looks back on her three decades at Channel 8
February 17, 2016 - 9:23 pm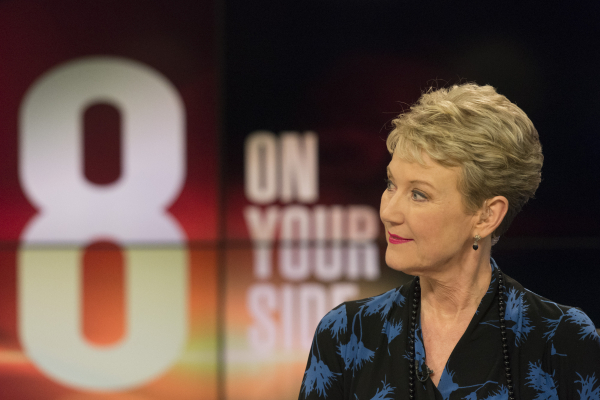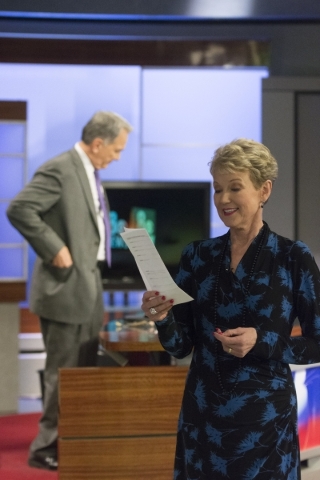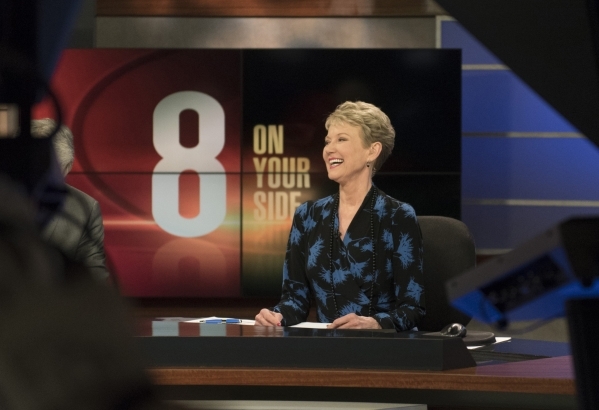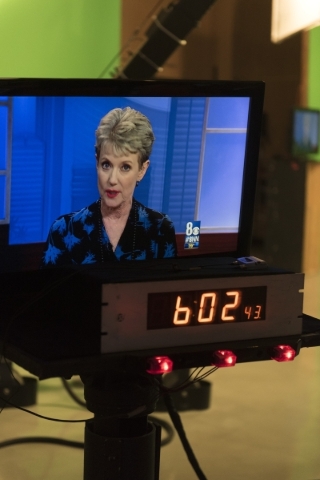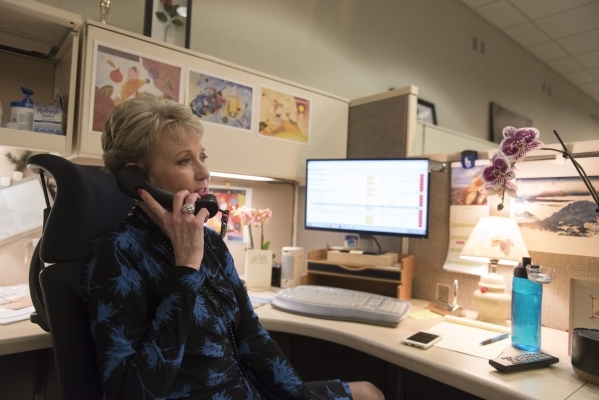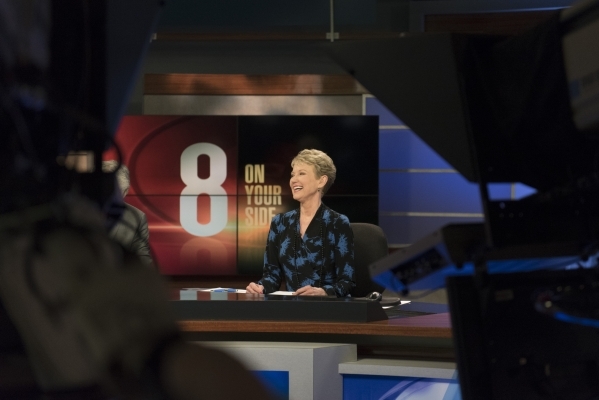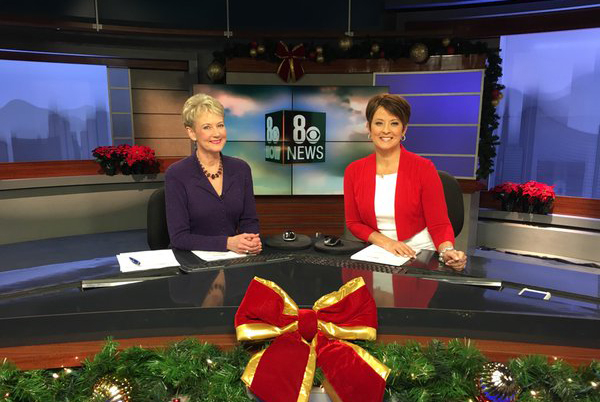 Over the years, she's become as much of a fixture in your living room as the pile of remote controls and that carpet stain you keep trying to cover with a plant.
But after a 30-year career on the valley's airwaves, Paula Francis is retiring from KLAS-TV, Channel 8, effective April 1.
"I'm going to get into things that I just never had time to do," Francis said Wednesday while preparing to anchor the 5 p.m. newscast, as well as the ones at 6 and 11. "I'm sort of an amateur photographer. I'm going to start riding a bicycle much more. Hiking. Seeing the country. My husband (Steve) has been retired for a year, and he's just been bugging me to quit. So, finally, I did."
Hours later, news of her pending departure was still sinking in with colleagues. "It's hard to imagine her not being here," said investigative reporter George Knapp, who's worked with Francis since she joined KLAS in 1988. "She's been the face of Channel 8 for so long."
A graduate of the University of Wisconsin-Madison, Francis moved to Las Vegas in 1985 for what would be an inauspicious debut: She was fired from KTNV-TV, Channel 13 before the end of her three-year contract.
"They told me at the time, 'Don't even bother calling the other stations, because they won't want you either.' It was really awful," Francis recalled, able to laugh at the bitter memory.
"I remember hearing the news that she'd been let go from Channel 13," Knapp said. "And my immediate reaction was, 'Are they out of their minds?' "
Bob Stoldal, the longtime Channel 8 news director who left the station in 2008 after 36 years, said he couldn't get Francis on the phone fast enough and hired her almost immediately. "Looking at her, listening to her talk, her whole body language — from our first meeting, I had decided she's going to be an anchor. This is a person that is going to get on camera, and the audience is going to like her immediately."
They did, honoring her frequently in the Review-Journal's annual Best of Las Vegas poll.
After her stint as a health reporter, Stoldal moved Francis into the anchor chair next to Knapp. "It was apparent from the beginning that she was a lot better at anchoring than I was," Knapp recalled. "It was apparent to me, anyway."
She can laugh about it now, but Francis' abrupt departure from Channel 13 stuck with her, Knapp said. "I think it kept her humble, even though she was the gold standard for anchors in this market."
Knapp's time with Francis lasted only a little more than two years, a veritable blip compared with her 21-year pairing with Gary Waddell that ended with his retirement in 2012.
"People would call up and ask if we were married, we were so close and so convivial on the air," Francis said of their two decades together. "In this business, there aren't a lot of anchor teams that have that kind of rapport, so I was really lucky."
The feeling was mutual.
"Day after day, night after night, she was there as this steady force that you could count on," Stoldal recalled. "Part of it was longevity, but part of it was the sort of naturalness she brings to the screen. … When people would meet her in person, it was the same Paula Francis that they would see on the air."
A three-decade career in a market this size is a remarkable achievement — even more so for a woman.
"The thing about being a woman in this business, when I started out, people didn't last past 40," Francis said. "And, gee, I'll hate to see this in print, but I'm 63, and I'll be 64 next month. So I even missed retiring early."
According to Knapp, that sort of age discrimination isn't a thing of the past. "That's probably true in most TV markets in the country still," he said. "There's a short window for women. It's unfair, but it's true. After a certain age, (stations will) find something else for them to do and casually show them the door."
That was never the case with Francis.
"Paula had plenty of offers to go to different places. But this was her home. … And I think people recognized that," Stoldal said. Democrats even wanted her to run for Congress, he said, after their polling revealed she was the most-trusted person in Clark County. "She thought about that for about a millisecond."
Reflecting on her legacy, Francis remained humble. "I never thought I would have a career on-air this long. And I think that says a lot about the viewers more than me. It says that they want someone who knows something about the town they live in, and that a few wrinkles don't bother them, which is great."
Her mother passed away a week ago at age 93, but Francis insisted she'd already made up her mind about retirement while taking care of her in Wisconsin. For the first time in decades, Francis realized, strangers didn't know who she was. "And I didn't mind. I didn't miss it a bit.
"Don't get me wrong, when people stop me on the street and say nice things to me, it's wonderful. And I get a thrill out of that to this day. But I was worried that that would bother me when that stopped. But the last few weeks out of town showed me, no, I'm really not bothered by it."
"I just realized," she added, "there's so much more to life than just working."
On April 2, the news will go on in Las Vegas, but with what Knapp described as a vacuum. "You can't replace (her) kind of knowledge. Eventually, I guess, somebody else will grow into that, if they stick around long enough. But it really is irreplaceable."
Until then, there's the long farewell. If it's anything like the one the station gave Waddell, Francis is prepared to spend her final week in tears.
But she's grateful to have had the opportunity to earn them.
"I'd like to thank all the people who have been so nice to me," Francis said, wistfully. "I really, really, really always wanted to be a hometown anchor. And I never thought it would happen here. I really thought back in Wisconsin, but that didn't work out. And then Channel 13 didn't work out. But something about Channel 8 and me was just magic."
— Contact Christopher Lawrence at clawrence@reviewjournal.com. On Twitter: @life_onthecouch