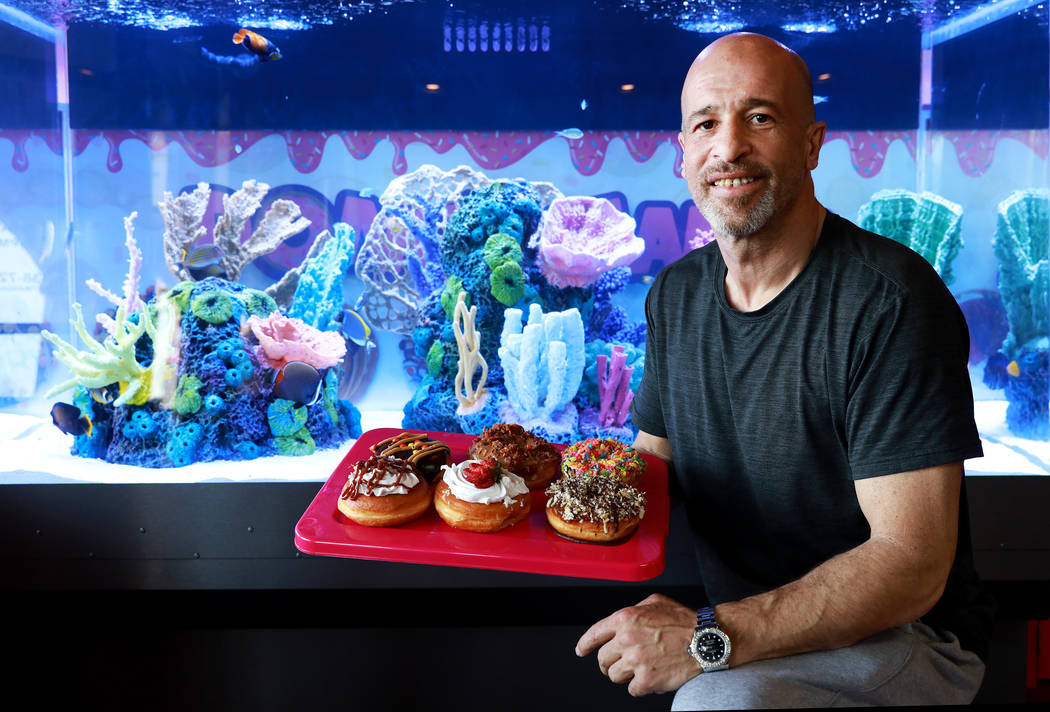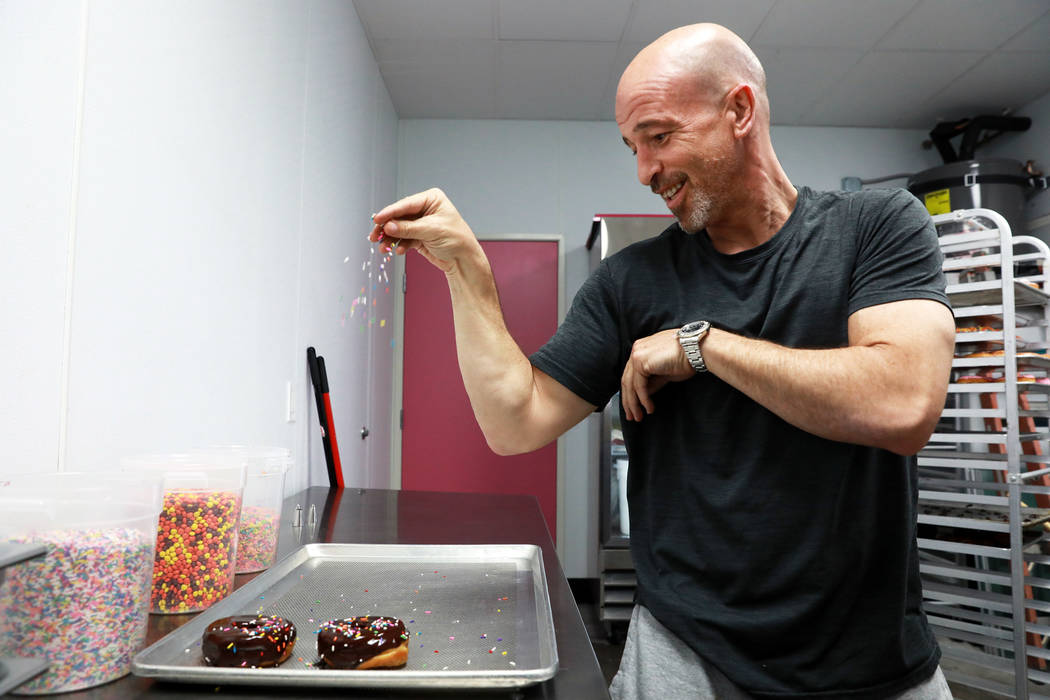 Vegas Voices is a weekly series featuring notable Las Vegans.
Reality TV fans know Brett Raymer as one of the stars of the Animal Planet hit "Tanked," now in its 13th season. On the show, he and his brother-in-law Wayde King create custom aquariums for customers around the country.
But Raymer recently became a partner in local doughnut shop chain Donut Mania.
Since becoming involved, he's expanded Donut Mania to four locations, with plans for 10 more in the next three years.
We spoke to Raymer about aquariums, TV, doughnuts and other plans for the future.
Review-Journal: How did you end up turning an aquarium business into a TV series?
Raymer: When the economy was bad, and things weren't going good in my life, I used to watch "Orange County Choppers." And I used to come in to these guys and say 'Dude, we could be on TV right now. These guys from "Orange County Choppers "aren't really that funny. They're just kind of abusive to each other. But they make a great product and turn motorcycles into rocket ships. We could turn fish tanks into rocket ships.
So I went out to the UNLV film school and found a professor who showed me the ropes on how to do it. And it took me three years to film the pilot. And we shopped it. And here we are nine years later.
You don't produce the show yourself. Are you comfortable with how you're portrayed on the air?
I love what (the producers) do. The show is not scripted. Everything that comes out of my mouth, comes out of my mouth.
When we first got the show started, we had Animal Planet producers. And I make fun of Wayde a lot, but I don't really ever call him fat. I use other terminology with food, and this and that. But I don't call him fat. And they came to me in the beginning and said 'You really need to stop with the fat jokes.' And I said 'I'm not going to stop. Did you ever watch "Sanford and Son"? Did Fred ever stop calling Lamont dummy? That's the exact same reason I'm never going to stop with Wayde. That's just who we are.' This show is genuine.
Do you have a favorite tank or tanks that you've created over the years?
My favorite tanks are the ones we do on the show, because I get to see the client's reaction. We send out thousands of aquariums a year, and never get to see the client. But when we make something spectacular (on the show), and I see the face on that kid or that family member who's been waiting for the aquarium for a long time, that makes it special.
You have hundreds of tanks in Las Vegas, and even provide visitors to your factory with a map of where to find many of them. If you had to choose three to send people to see, what would they be?
The first one I'd send them to would be my Summerlin doughnut shop. Obviously I want them to see my shop.
And they haven't seen (that tank) on television yet. I would probably also send them to the Silverton casino, the Bass Pro Shops. We installed the windows in there. And then I would probably send them to one or two local restaurants (that have our aquariums).
Probably Rollin Smoke or Crab Corner, because I like the food there. Plus, it gives them the chance to get some local food, to support some local businesses, and see some of our aquariums.
What got you into the doughnut business?
I've been doing this for 22 years now. I wrote the show nine years ago. I wanted some excitement in my life. I'd gotten to the point where this business was monotonous.
How do you bring your creativity into Donut Mania's products?
I'm not the actual baker … but I'm a social media guru. I'm all over social media. I've checked out every doughnut company. I'm getting ideas, and we're putting different twists on them. It might be something in another country I bring back to my partner. We want to create excitement, and that's what I'm all about.
There was also talk of you opening a full restaurant. What's the status?
The restaurant is 100 percent going to happen, and it's going to happen on Las Vegas Boulevard. The funding didn't happen as quickly as I thought. Our first restaurant is going to open in Minnesota, hopefully by the end of 2018, or if not, the beginning of 2019. And then sometime toward the end of 2019 we're slated to open on Las Vegas Boulevard.
Personal Motto?
Fail to plan, plan to fail.
Everyday ritual?
I wake up and jump out of bed immediately, get dressed and go right to work.
Pets?
A dog, Bailey, and American bulldog. She was born on St. Patrick's Day. And fish.
Hobbies/Collections?
Sports memorabilia. Anything I can get athletes or celebrities to sign.
Food I could eat every day?
Chicken parm. I love chicken parm.
Contact Al Mancini at amancini @reviewjournal.com. Follow @AlManciniVegas on Twitter.