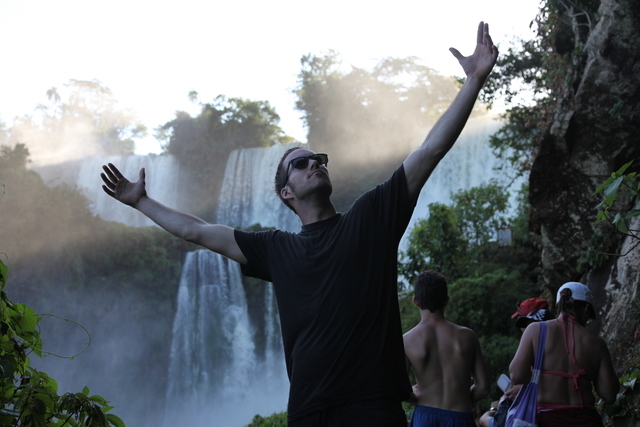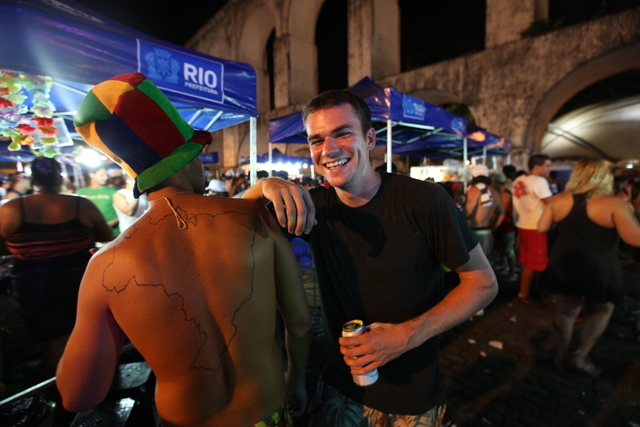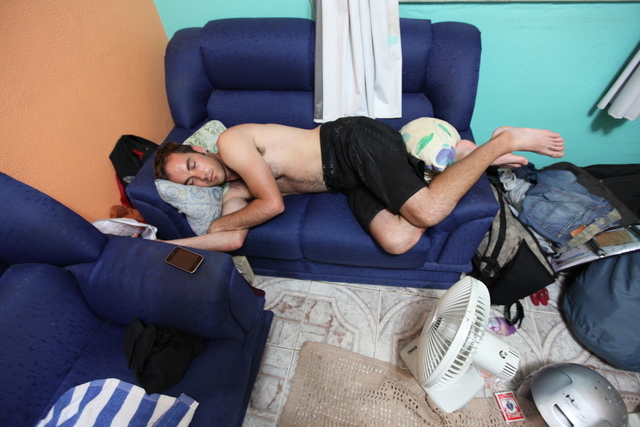 Two friends from UNLV film school decided they should ride motorcycles 10,000 miles to Rio de Janeiro's Carnival, and film their road trip. Now they have a subtly compelling documentary coming out Tuesday during World Cup week.
In "Ride Report," Tiernan Turner and Matt Kendall bungee jump, get lost, get found and hook up with pretty people.
They do all this while riding motorcycles across interesting terrain (a practice known as "adventure riding") and shacking up with people who make their homes available for travelers (via "couch surfing" websites).
The vibe of their journey is akin to the classic surfer flick "Endless Summer," as "Ride Report" shows us subcultures (adventure riders and couch surfers) in first-person, meditative discovery mode.
When I began watching my press copy of their movie, I naively thought, "Is this a safe idea for them to go long-hauling on bikes?"
Their friends expressed similarly uninformed concerns.
"People were thinking we'd be attacked or robbed," Turner told me Wednesday. "They don't know much about Central or South America, other than what they've seen in Chuck Norris movies.
"I knew better because I had read ride reports from other riders who had done similar trips," Turner said.
All the strangers they meet in "Ride Report" bend over backward to help their journey. Well, almost everyone.
"In just about every country south of Mexico, police tried or took our money. Regular people were never a problem," Turner said. "But with uniforms and power, those people were hungry to take our money, left and right."
Couch surfing looks sexy at times. Here are some guys on bikes. Here are some women with couches. Yada. I asked Turner and Kendall about this.
"It's like-minded people, so you'll find a lot of travelers into their 20s," Kendall said. "They're not married. There are no expectations. If you meet somebody, and you like somebody, things can happen. But nobody expects it."
Here's the weird part. This movie was filmed in 2009. It has taken this long to go public because the guys aren't rich. They edited footage years ago. Then they had to learn about film distribution, which finally happens on Blu-ray and DVD Tuesday through Cinema Libre Studio.
Turner got the idea for directing a documentary when he hated his job as a production assistant in Hollywood. ("People treated me like dirt because they could.") He moved back to Vegas, saved money, sold his car and other possessions.
Kendall was influenced by Ewan McGregor's motorcycle series, "Long Way Round." He brainstormed with Turner. They bought bikes and learned how to fix them. They used cameras to film each other and do set shots and selfies.
Kendall said his mindset was, "If the movie sucks, we'll still have the adventure."
They were left with a good movie and a deeper experience.
"My outlook is much more hopeful now than before I left," Kendall said. "No matter what country you went to, there were always local people looking to give you a helping hand.
"We couldn't even get into too bad of trouble because there would be somebody who'd be, like, 'Oh, here, I've got you.' "
"If they let us in, they didn't hold back," Turner said. "They'd give us a key to the house, no matter where we went, even if it was a nice house or a shanty."
These days, Kendall is in Puerto Rico as a crew member for an MTV reality show. Turner works freelance in TV and film. They both still call Vegas home. They're happy you can see their film at last (Facebook.com/ridereportmovie).
"I just read 'Zen and the Art of Motorcycle Maintenance,' " said Turner, who recently spent a month of soul-searching in India. "What it's got in common with that is, if you do something you care about, and you do your best to do a good job, it's probably not going to suck, but something you can be proud of. That's more valuable than doing something for the paycheck."
Doug Elfman's column appears on Tuesdays, Thursdays and Saturdays. Email him at delfman@reviewjournal.com. He blogs at reviewjournal.com/entertainment/reel.