Vegas night life scene sparkles
March 31, 2010 - 11:00 pm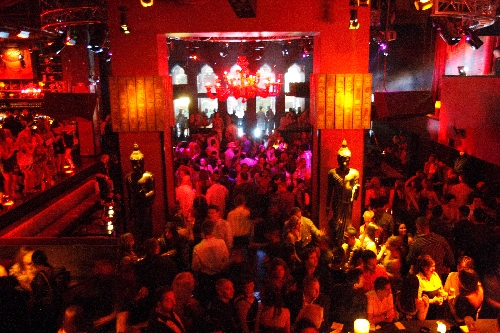 Like the bubbles in the thousands of bottles of champagne that get guzzled here annually, the Vegas night life scene is steadily on the rise.
The appeal is simple: beautiful people, booze, settings that sparkle and gleam like freshly cut gemstones.
It's not an entirely new development: Ever since Studio 54 at the MGM Grand and Ra at Luxor opened a little more than a decade ago, high-end nightclubs have become more and more prevalent in Las Vegas.
But it has been only in recent years that the town has been able to lure in big name DJs such as Paul Oakenfold for extended residencies and become more of a destination spot for serious clubbers.
So what's changed?
"For the longest time it was so shiny and polished and Backstreet Boys, now it's getting a bit more gritty and raw," says renowned mash-up DJ Z-Trip of the evolution of the Las Vegas night life scene.
"I was playing at Moon, maybe a year and a half ago, and I remember that was the first time I ever played drum 'n' bass in Vegas, and they ate it up," continues Z-Trip, who kicked off a residency at Rain at the Palms last fall. "There were four or five DJs in the house who came up to me afterwards, and one of the DJs was like, 'I can't believe this is working right now.' That was one of the first times where I was like, 'Wow, I must have hit this place at the right moment.' "
Indeed, at the recent Nightclub & Bar Awards at the Las Vegas Convention Center, local properties racked up a massive 15 nominations. By comparison, New York and the Los Angeles area, the two next best represented markets, scored four nominations apiece. (Las Vegas dominated the nightclub categories, with XS winning Mega-Club of the Year and New Club of the Year; Tao winning Nightclub of the Year; Blush Boutique Nightclub winning Ultra-lounge of the Year; and Oakenfold winning as Resident DJ.)
"I think a lot of it has to do with how Vegas as a city has marketed itself and the type of developers it's attracted," says Donna Hood Crecca, publisher and editorial director of Nightclub & Bar magazine, which puts on the awards. "There was a point where Vegas tried to be family friendly, and we all know how that went. That had a lot to do with why the night life jet-setters were not perceiving it as the place to see and be seen. Once Vegas backed off of that, then things changed."
Of course, with the heightened draw of Las Vegas nightclubs and increasingly long entry lines, getting into the hot spots can be daunting.
"It's intimidating for me, and I work here," says David Krause, chief marketing officer for Pure Management Group, which oversees such Las Vegas properties as Pure, LAX, Christian Audigier The Nightclub and others.
As such, several nightclubs have attempted to make themselves a bit more approachable by hosting music events at earlier hours when the clubs normally would be vacant, bringing in a different crowd who can then stay at the venue after the show, if they wish.
In the past year, properties such as Pure, LAX and Haze have had concerts by the likes of Third Eye Blind, Train, Robert Randolph and the Family Band, One Republic and other bands that you'd normally only see play traditional rock clubs.
"It humanizes the clubs and gets rid of that mystique that you have to tip somebody $1,000 to get in and out," Krause says. "It really shows what we do. You don't have to be there at 2 in the morning. You can be there at 7 p.m. We've gotten more positive reviews after a concert, 'Wow, this place is great, we've never thought of coming here.' "
Broadening their audience can only pay further dividends for the already booming local night life circuit. This city has increasingly become a national trendsetter when it comes to the club ranks, meaning Vegas is no longer staying in Vegas.
"Of course, New York and Miami have extremely vibrant night life scenes, but (Vegas) has done it in a different way," Crecca says. "New York has always been really innovative, very independent. Miami's got a very cutting edge, sexy scene. You've got a lot of hot clubs going into Miami, and a lot of them have a Vegas feel."
Contact reporter Jason Bracelin at jbracelin@
reviewjournal.com or 702-383-0476.
Las Vegas Club Scene