One Las Vegas high-rise gets improvements
September 18, 2015 - 4:29 pm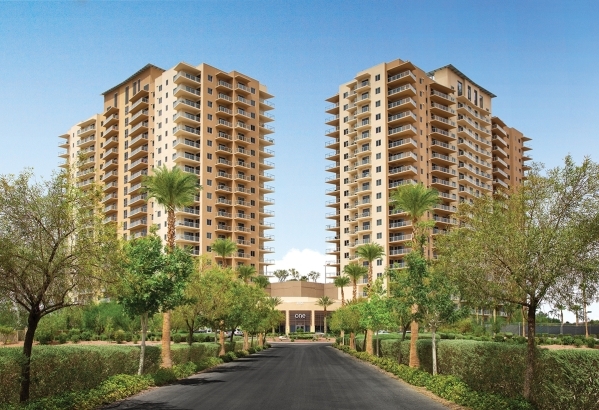 One Las Vegas, a high-rise condominium with a Las Vegas Boulevard address at 8255 Las Vegas Blvd. South, is being reimagined with several significant aesthetic and lifestyle enhancements, thanks to Atlanta-based LBID, LLC and Las Vegas landscape architect JW Landscape Architecture.
According to Uri Vaknin, a partner at KRE Capital LLC, whose company, in partnership with Dune Real Estate Partners, purchased in 2013 as DK Las Vegas the twin 20-story towers, his plan includes elevation of the building from both a physical and lifestyle perspective.
"Once the property enhancements are complete, One Las Vegas will not only look different, it will feel different via a number of amenities and programs designed to enhance quality of life for residents."
According to Lee Bryan of LBID, LLC, the tone of the property starts with the lobby, which is being redesigned to feature a tranquil water wall complementing the stunningly high ceilings. The silver and blue color scheme will be accented with oversized, custom art pieces created by Atlanta-based artist and photographer, Marilyn Suriani. Her work will also adorn the property's many elevator lobbies for a well-curated artistic touch.
LBID has also created new spaces to enhance residents' lifestyle. These include two private treatment rooms for massages and other spa remedies, a business center with cooperative workspaces, a conference room complete with state-of-the-art AV equipment and a library. The outdoor pool area was also given a restorative makeover complete with four cabanas and sun-protected beach daybeds.
Outdoor environmental enhancements include a complete landscape redesign. According to Wayne Salom, project manager at JW Landscape Architecture, "we are creating a more inviting oasis by showcasing the pool at the epicenter of One Las Vegas' outdoor attractions," Salom said. "When buyers are looking at potential homes, the exterior living quarters are just as critical as the interior spaces. We've coupled our strategy with the interior designers' plans to present a complete indoor/outdoor lifestyle."
Through upgraded landscaping and increased security features, the pool will offer additional palm trees to provide residents more privacy and a cool getaway, just outside their front door. New pool furniture correlates with interior pieces and décor and increased lighting better illuminates walkways. Upgraded dog park amenities, recreational areas and increased outdoor activities will encourage residents to explore their surroundings. While Salom and his team are working with an aggressive timeline, their work is expected to be complete by year-end.
Of the twin 20-story towers, DK Las purchased 295 of the project's 359 residences. Homes range from 831 to 2,857 square feet with many floor plans offering spectacular views of the mountains and the Strip. One- bedroom homes are priced from the low $200,000s; two-bedroom homes from the high $200,000s; and three-bedroom homes from the low $400,000s. The penthouse, offering 3,000 square feet of sweeping views, is priced at $1.1 million.
One Las Vegas is close to Interstate 15, 215 Beltway and the McCarran International Airport. Town Square, just a few blocks north of the property, provides one-stop shopping and scores of dining and entertainment options right in the neighborhood.
For more information, visit the One Las Vegas onsite sales center at 8255 S. Las Vegas Blvd, Las Vegas, NV 89123; or online at info@theonelv.com. The sales center is open 10 a.m. to 6 p.m. Monday through Friday; 10 a.m. to 5 p.m. Saturday; and noon to 5 p.m. Sunday.