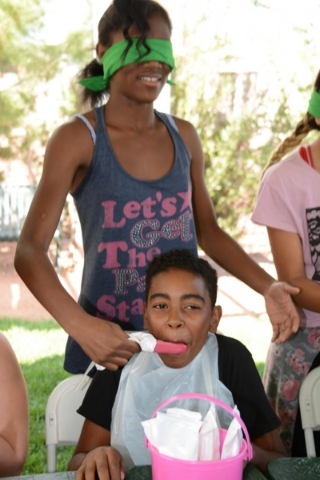 Free ice cream, a new park, a petting zoo. These are just a few things that will provide a great way to spend the day with family and friends Sunday. The setting is the 14th annual Sunny 106.5 Ice Cream Sunday and the grand opening of Huckleberry Park in Providence, and the public is invited to attend.
Festivities begin at 10 a.m. with brief remarks from local dignitaries and master plan developer Focus Property Group, celebrating the new neighborhood park — the third in Providence — and paying tribute to fallen police officer and Providence resident Igor Soldo. Ice Cream Sunday and other activities continue until 2 p.m.
"We couldn't think of a better way to introduce Huckleberry Park than with the fun that always has been a part of our Sunny 106.5 Ice Cream Sunday event," said Deonna Stocker, manager of the Providence information center. "A part of Providence for the past five years, this event complements our small town America ambiance and is a perfect way to bring our residents and the community together. And free ice cream is the cherry on top! We look forward to welcoming everyone to Providence tomorrow."
Stocker added the event also provides a wonderful opportunity to honor and remember Officer Soldo. "Igor was not only a beloved member of our Providence family but also of the valley's law enforcement community and the entire Las Vegas Valley. We're dedicating a park bench in Huckleberry Park to honor him and create a lasting tribute," she said.
Continuing with Providence's vision of building a stronger community, attendees also are invited to bring new or gently used books for Spread the Word Nevada, which promotes literacy. Providence's long-standing partnership with the nonprofit organization parallels the community's theme of celebrating Americana and the literary legacy of the country's greatest writers. The new park's name was inspired by the classic Mark Twain character Huckleberry Finn, and its sister Knickerbocker Park was named for Washington Irving's "Knickerbocker Tales."
Meadow Gold is providing the event's free ice cream. In addition to the individually frozen treats, perhaps the most anticipated activity will be the ice cream-eating competition, presented by the Providence Master Homeowners Association. Contests will alternate between children and adults with prizes awarded to winners.
Other activities include bounce houses, a petting zoo, face painting, entertainment by Amazing Clowns, food stands, and other booths and exhibitors. Available park amenities are large and small dog parks, a multiuse events field, full court basketball, outdoor stage area, swings, picnic area and shade ramada.
Now in its sixth year at Providence and 14th overall, Sunny 106.5 Ice Cream Sunday is presented by Sunny 106.5, Meadow Gold, Providence and its master homeowners association.
Huckleberry Park is at 10325 Farm Road, off the I-215 North Beltway and Hualapai Way. For information, stop by the Providence Information Center at 7181 N. Hualapai Way, Ste. 150, visit www.providencelv.com or call 702-433-5084.