Summerlin welcomes holiday season
November 9, 2018 - 3:44 pm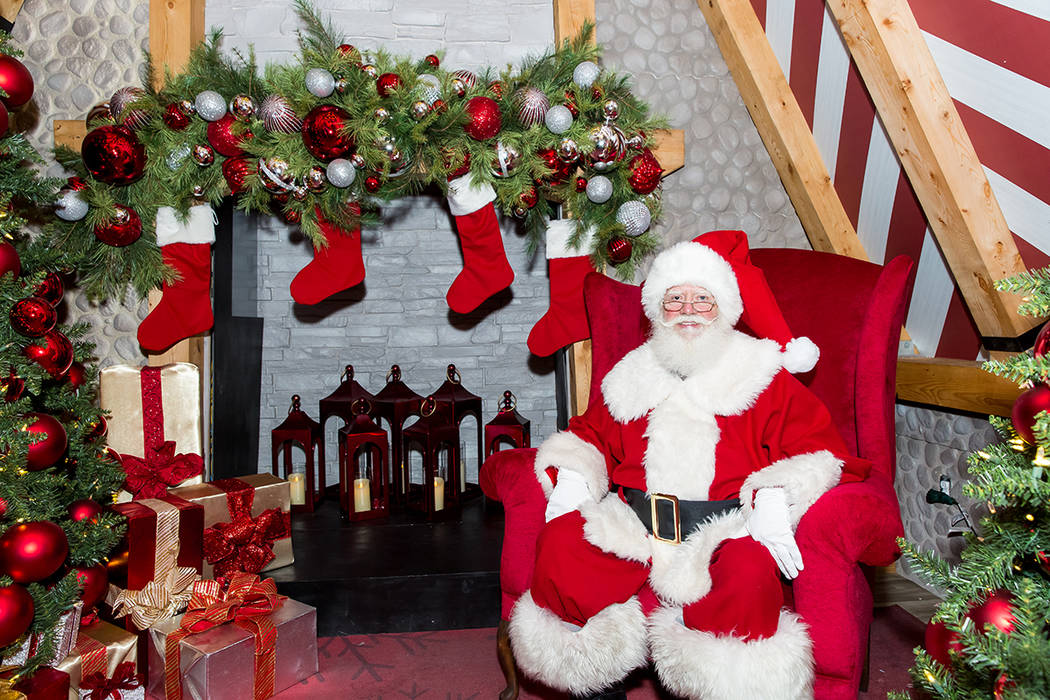 Summerlin officially kicks off the 2018 holiday season Nov. 16 at 6 p.m. at Downtown Summerlin with the arrival of Santa Claus; the debut of an all new holiday parade; and the opening of Rock Rink, an outdoor public ice-skating rink. A special Hanukkah celebration in partnership with Jewish Nevada and the JCC is slated for Dec. 9 at Downtown Summerlin.
The parade, which runs every Friday and Saturday night through Dec. 22, is inspired by traditional holiday themes with fan-favorite and family-friendly holiday music, dance, colorful costumes and spectacular visuals that make the parade a must-see. All shows are free and open to the general public, and festivities take place on Park Centre Drive. Parade-goers are encouraged to arrive a few minutes early to secure a viewing spot.
Santa Claus' Chalet, presented by Pardee Homes, is in the Macy's Promenade through Dec. 24. It features a forest of mountain pines and playful deer, sculpted in hues of winter white, red and green that transform the location to a magical mountain chalet, creating a festive environment for children and adults to whisper their holiday wishes to Santa. Photo packages start at $24.99. Santa offers photos with pets on Tuesdays through Dec. 18 between 7 and 9 p.m.
Rock Rink, the premier ice-skating rink near the Pavilion on The Lawn, also opens Nov. 16. Through the holidays, it is open nightly from 4 to 9 p.m. Monday through Thursday; 4 to 10 p.m. Friday; 10 a.m. to 10 p.m. Saturday and 11 a.m. to 8 p.m. Sunday. Skate rentals start at $15, and all ages are welcome. A festive holiday train runs through Jan. 21. Rides are $4 per adult and child.
Downtown Summerlin will partner with Jewish Nevada and the JCC to host a one-night Hanukkah celebration Dec. 9. Family-friendly festivities include the lighting of the Menorah, family skate night, entertainment, kid's activities and hot cocoa with lite bites. For more on Downtown Summerlin's holiday events and offerings, visit downtownsummerlin.com.
"Downtown Summerlin is the place to be this holiday season," said Halee Harczynski, director of marketing for Downtown Summerlin. "There is so much to see and do, and it's the perfect place to gather with family and friends to create holiday memories — regardless of how you celebrate the season. This year's festivities, which include a partnership with Jewish Nevada and the JCC, once again provide a strong celebratory opportunity for the Jewish community in Las Vegas."
Summerlin is the only master-planned community in Southern Nevada with its own downtown. Downtown Summerlin is a popular shopping, dining, entertainment and sports destination that is home to more than 125 retail and restaurant brands, City National Arena — practice facility of the Vegas Golden Knights — and, coming soon, Las Vegas Ballpark — future home of the Las Vegas 51s.
The community offers nearly 100 floor plans in 35 neighborhoods in eight villages: The Ridges, The Cliffs, The Paseos, Reverence, Summerlin Centre, South Square and Stonebridge. Homes are available in a variety of styles — from single-family homes to town homes, from 874 to more than 5,000 square feet, priced from the high $200,000s to more than $1 million. Visit www.Summerlin.com for more information.