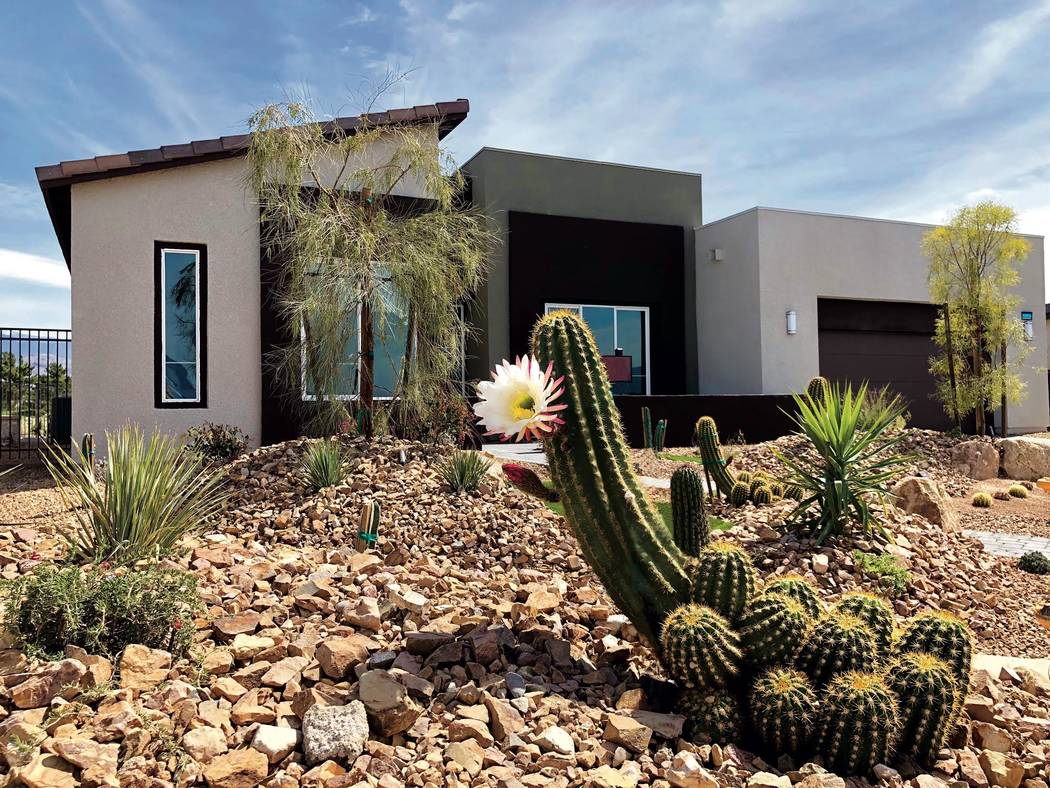 The grand opening of the 55-plus Ovation at Mountain Falls is to be held April 21, with fanfare and food to highlight the debut of William Lyon Homes' first age-qualified community in Southern Nevada.
The event begins at 10 a.m. and will feature barbecue-style food — grilled chicken, hamburgers and hot dogs, plus fresh fruits and desserts.
Guests can preview the model homes and take advantage of pre-grand opening pricing listed below that ends April 20.
But the big story is really about this builder's visionary concept of taking age-qualified living to the next level. At Ovation — a Lyon Active Lifestyle Community — the next chapter becomes one where the living is vibrant, active and offers unimagined opportunities.
"First, 30 was 'over the hill.' Then 50 was the new 40, which morphed into 'Life Begins at 60,' and on it goes," said Kim Chitwood, vice president of sales and marketing for William Lyon Homes. "During each stage in life, we experience different goals and responsibilities, but when we get past those big hurdles of career, kids and security — then it can turn into a whole new ballgame. That must be why each generation keeps moving the goal posts farther down the line.
"And that's great. Today, we're living longer and healthier lives, we're more active and engaged, and many even have second or third careers planned. At William Lyon, we put a lot of energy into seeking inventive ways to accommodate this change of expectations, while realizing that the solutions needed to address both present and future needs of the 55-plus generation. With Ovation, we hit the bull's-eye. That's why the grand opening of Ovation at Mountain Falls is making such huge waves in the industry, and we're proud to be an innovator of this lifestyle rejuvenation."
That's no exaggeration. In fact, this new interpretation of private spaces, social community and active living made Ovation at Mountain Falls the "2018 Gold Award Winner for Best 55+ Independent Living Community, On the Boards," as presented by the National Association of Home Builders.
By incorporating modern architecture, feature-rich style and ambiance, and extraordinary amenities into Ovation at Mountain Falls, William Lyon Homes further enhanced the existing foundation of the overall master-planned community. The stunning geographic setting ringed with mountain ranges, vast views and open skies, along with the perk of a short 45-minute drive to one of the most exciting cities in the world, has made Ovation enticing on many levels, not the least of which is the home prices that begin at $209,000.
Onyx, Jade and Topaz are the three distinct neighborhoods offered at this gated golf course community. Each features three single-story floor plans, with many of the homesites accompanied by golf course, desert or mountain views. Homes are designed to offer private living spaces, smart technology and a fresh, contemporary style. Of particular note is the open concept interior of main gathering areas that effortlessly weave indoor and outdoor spaces into a seamless environment.
Onyx leads the trio of communities with homes from two to three bedrooms and two to 2½ baths, and each design includes a welcoming foyer that leads to a spacious great room and kitchen area. Homes range from 1,462 square feet to 1,732 square feet, with pricing from $209,000.
Jade steps up in both size and flexibility, with homes from 1,982 square feet to 2,152 square feet and pricing from $269,000. Two to four bedrooms are available with up to 2½ baths and include a number of optional room configurations per plan.
Topaz is the largest of the collection and is priced from $298,000 for homes ranging from 2,337 square feet to 2,494 square feet. Buyers can choose from two to four bedrooms and 2½ baths and up to three-car garage (per plan), with a number of area configurations available.
The Recreation Center is for the private use of Ovation residents. The facility is under construction and will sync outdoor fun with indoor enjoyment. It will include a pool, spa, fire pits, outdoor barbecue areas and fitness, billiards and creativity rooms. Beyond the Ovation gates, fun and wellness continue with easy access to the Mountain Falls' trail systems' smooth path to the golf club, pro shop, Grill Room and the resident's facility. Here, recreation, gathering, event, socializing and wellness areas are shared by the Mountain Falls community as a whole.
Those familiar with William Lyon Homes will recognize the painstaking attention to every detail in the selection of finish materials chosen and quality of construction. At Ovation at Mountain Falls, these include granite or quartz kitchen countertops, soaking tubs, designer plumbing fixtures and quality cabinetry. Buyers can visit the William Lyon Design Studio to enjoy this award-winning builder's full Design Center experience.
To visit Ovation, take Blue Diamond Road/Nevada State Road 160 west about 45 minutes from Interstate 15. Before reaching Pahrump, turn left onto Mountain Falls Boulevard. As the road ends at the golf course, turn right onto Mountain Falls Parkway, then travel approximately 1.5 miles to Ovation Boulevard. Turn left at the main gated entrance. For more information call 702-766-1860, or visit www.OvationMountainFalls.com.