Celebrating midcentury architecture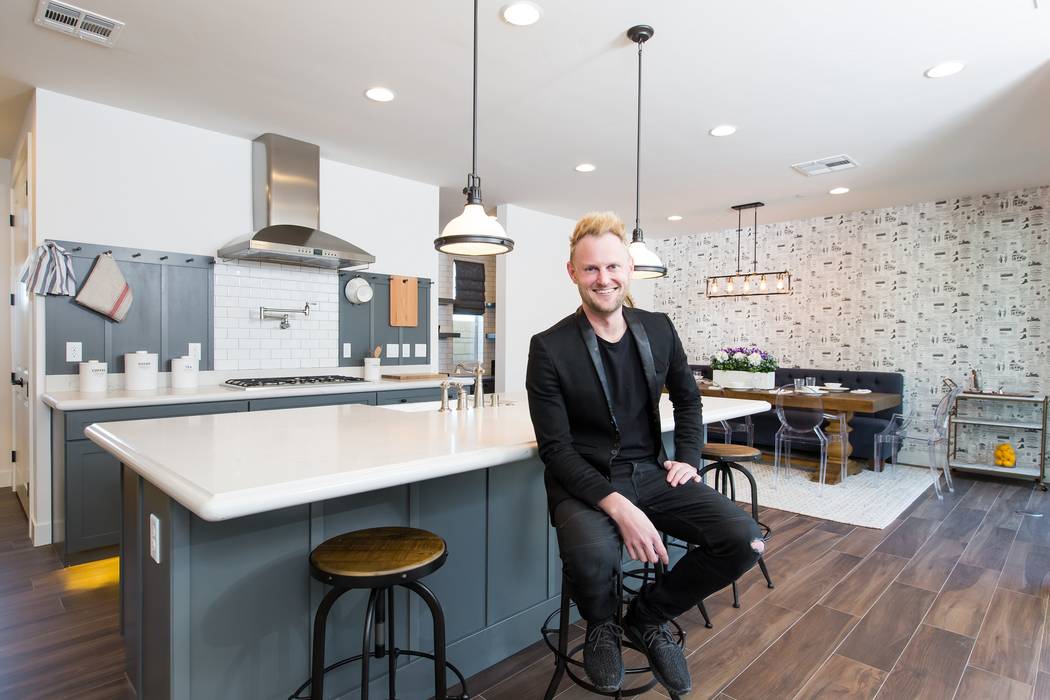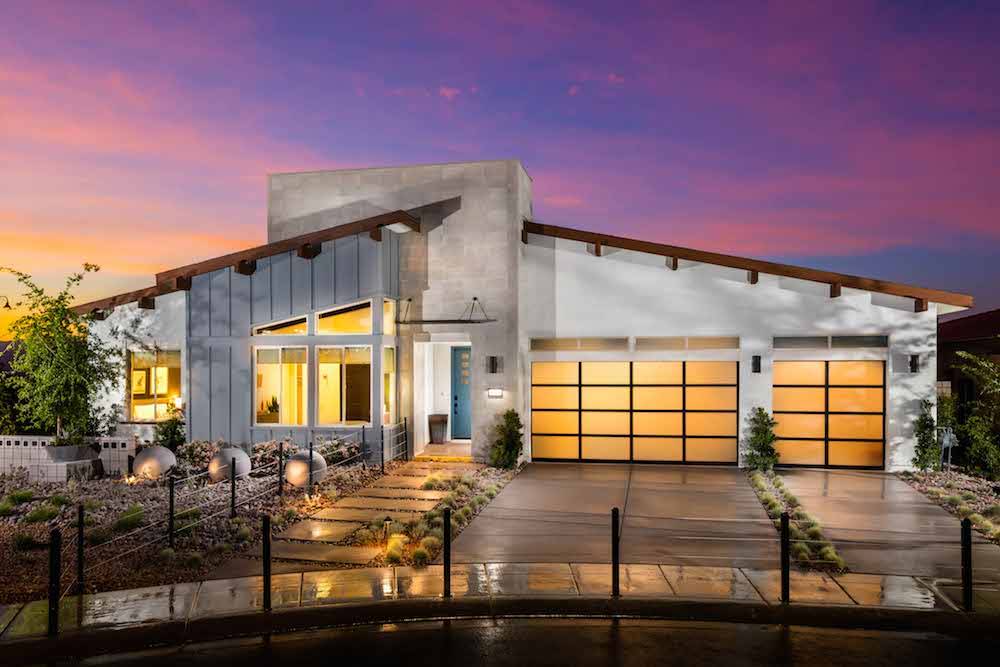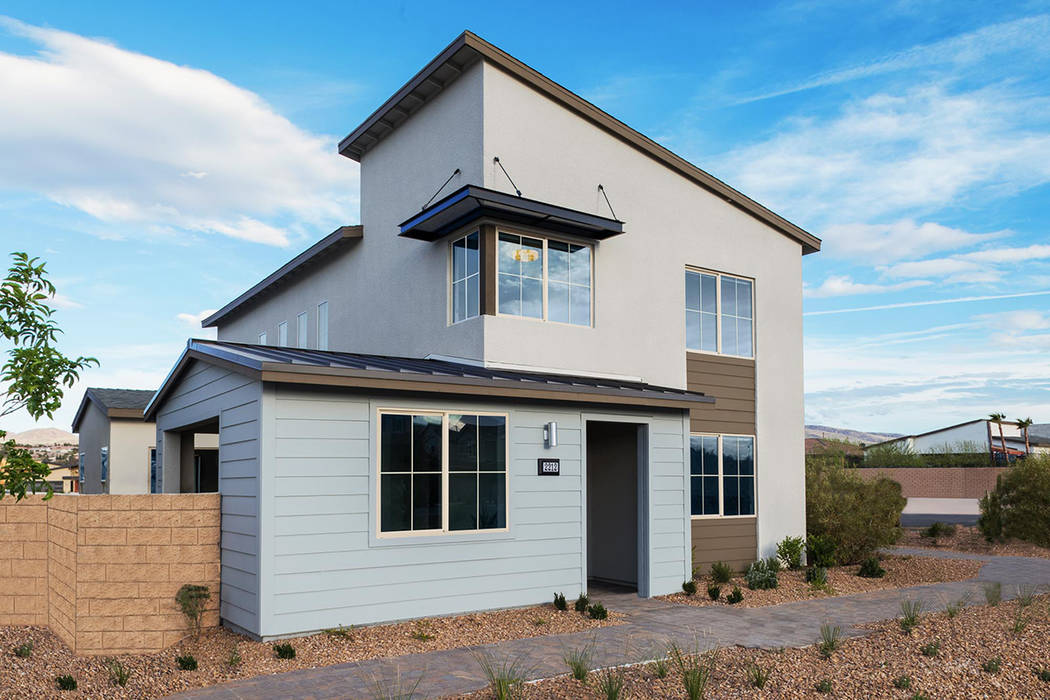 A historic iconic design trend is experiencing a resurgence.
"If you think about architecture in Las Vegas," Blue Heron Design Manager Logan Ziegler said. "It's midcentury architecture that was truly notable in our history. We want to pay homage to that."
Throughout the Las Vegas Valley, Blue Heron and other builders are including distinctive, midcentury modern exterior elevations and interior design elements emerging in high-end, new-home communities.
"Midcentury design has had a huge resurgence in the last 10 or so years," celebrity designer Bobby Berk said. "In light of the tough economic years many countries have experienced just recently, many people have simplified their lives — much like people did after World War II. That's why fuss-free midcentury designs have made a strong comeback."
Berk is the owner of Bobby Berk Home (an online retail store) and Bobby Berk Interiors + Design, and reality star of Netflix's "Queer Eye."
Berk has been instrumental in designing midcentury modern interiors for Pardee Homes, who was one of the area's first builders to reincorporate midcentury design into its modern homes. Pardee started in its Meridian community in 2015. It is now incorporating the design in five other communities: Escala and Strata in Inspirada, Keystone and Cobalt in Sky Canyon and Nova Ridge in Summerlin.
"Pardee was actually building midcentury modern homes in Vegas in the 1950s," said Klif Andrews, division president of Pardee Homes. "We're reaching back, reviving some of our own history."
Blue Heron Design Build is designing midcentury-styled custom homes in its new Midtown Modern community near the valley's historic midcentury modern neighborhoods.
"We're looking at (Midtown Modern) as the appropriate response to where we are building," Ziegler said. "We are building in the heart of downtown."
Blue Heron is giving a subtler nod to the design in its other communities throughout the valley, including MacDonald Highlands.
Richmond American chose to build midcentury modern-inspired homes in response to a request made by Summerlin when designing homes for its new development at Onyx Point.
"We were looking at updating our elevations and doing different finishes," said Nicole Bloom division president of Richmond American. She recently opened Onyx Point, the builder's first midcentury community. "When we got the parcel in Summerlin it happened to fit in really well with their requirements, which was communicated as rugged, modern look."
Midcentury modern became popular during the post-World War II era, spanning from 1945 until the early 1970s. It not only refers to the architecture, but also the furniture, accessories and materials popular during that time period.
"The design style is all about clean lines and a less-is-more approach," Berk said. "Combining yesterday's influence with today's design, you'll truly have the best of both worlds; simplicity, clean lines, bold colors and a back-to-basics connection to nature and our natural state of existence.'"
Local midcentury inspired designs incorporate period elements such as thinner rooflines and distinctive slopes, extensive use of glass and natural materials such as wood siding and smooth stone finishes.
"The overall architecture design is fantastic," Bloom said. "There is a real wow factor inside and outside the home."
Blue Heron is incorporating the butterfly roof, which slopes in the middle incorporating a unique gutter for the water drainage.
"There's a lot of distinct lines and forms that are midcentury modern," said Blue Heron owner and founder Tyler Jones. "The butterfly roof is a great example."
Midcentury modern design offers simplistic lines, exposing structural elements of the home.
"In some ways, we're celebrating the structure," Ziegler said, who gave the example of exposed ceiling beams running through glass to the exterior of the home. "The actual components of the building and turning them into decorative elements instead of hiding them away.
"You don't see a lot of that in contemporary design," Ziegler continued. "Because it's difficult to do but we're using some on that in these designs to highlight midcentury features or references."
Midcentury's extensive use of glass maximizes the indoor-outdoor relationship and encourages a connection to nature through large windows and doors. A distinctive open floor plan further capitalizes on the connection.
"You wouldn't do midcentury design without it," Andrews said. "True midcentury was all about the relationship between the indoor and outdoor (areas). They described it that way back in the 1950s."
The exterior becomes an extension of the interior is how Bloom describes Richmond's open floor plan and use of its main living space.
"There is a lot more outdoor living," Bloom said. "A 3,300-square foot house can feel like a 3,800-square-foot house because of all the outdoor living space."
The use of natural materials such as wood siding, concrete and smooth stone finishes complement the midcentury feel both in the interior and exterior.
"You can really have a no-holds-barred relationship to materials with mixed metals, and colorful schemes, or more controlled palettes that are more tonal or restricted to a single accent color or metal finish," Berk said. "There are really no rules, and that is what makes contemporary design so limitless and enjoyable.
"Modern minimalism has become less strict over time with a wider range of textures and materials, with other cozier layers," Berk continued. "Homes in the 1950s often incorporated stainless-steel, chrome, and lacquered plastics and veneers. I think our designs today are more inviting and blend a wider array of styles into creative new design concepts."
The interesting use of color is another significant element in midcentury design.
"There's almost always pops of color," Andrews said. "Typically, our midcentury exteriors will have brightly colored doors, orange, aqua or bright green. It's pretty fun. You'd think it's risky, but its widely accepted. That is part of what I think people like about it."
Modern midcentury homes vary in construction from their historic counterparts by incorporating energy-efficiencies required in today's building environment.
"We're going to build it with the highest possible standards of what is available for energy-efficient design," Jones said. "And sustainability, of course, has come a long way since the 1950s."
Today's midcentury modern home also uses higher-quality construction methods.
"The homes that were built in the 1950s were made out of cinder block," Andrews said. "And a lot smaller than what we have today. We range from 2,500 to 3,500 square feet."
Area builders see the midcentury modern design not as a passing fad, but rather a long-term trend in new-home design. According to Bloom, the buyer profile for midcentury design is a mix of professionals, families and empty-nesters. Andrews said 25 percent of its new-home inventory is midcentury and he estimates more than 250 midcentury homes have sold.
"I think people are looking for contemporary design," Andrews said. "And (midcentury) is a great contemporary style. The style is fresh and optimistic. It's often our most popular design."
He said the design is popular among new Nevada residents. Though exclusively introduced in Pardee's Las Vegas market, he anticipates it eventually being integrated into its California communities.
"When we think about the trends that millennials are taking toward simplicity," Berk said. "I think it's indicative of a cultural shift toward less of the "more is more" for materialism sake, and more of an emphasis on efficiency, value and sustainability.
"The world is such a fast and crazy place today, and I think people are really craving serenity and a respite from the pressures of modern life," he continued. "I think midcentury and minimal contemporary design really supports this lifestyle and desire."