January 29, 2016 - 4:25 pm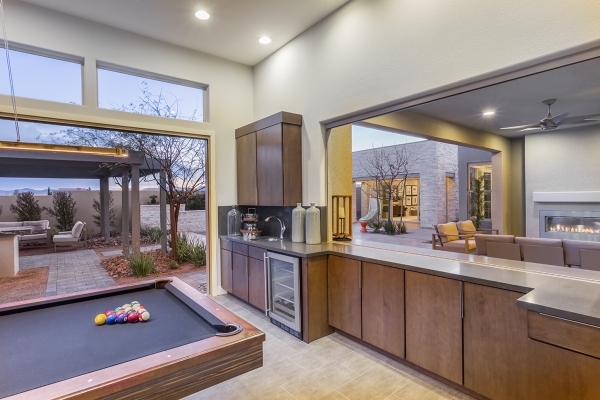 The way families are living is changing as adult children, older grandparents and parents are moving in.
"They need extra space to play and entertain," said Klif Andrews, division president of Pardee Homes. "Whether it's an upstairs loft, spacious game room on the main level or part of the indoor/outdoor experience, game rooms, bonus rooms and lofts are a big part of our space planning."
Andrews said 10 years ago, an upstairs bonus room was a big deal.
"It was a place where kids would play and close the doors when they had their friends over for sleepovers, and it could even be a home theater room, but it was more geared toward a kids play area," he said. "Now we're seeing it be much more flexible and they're not just a big box for kids to play in."
According to Andrews, a downstairs den, game room or lounge is very popular and the amount of space doesn't have to be excessive.
"Years ago, televisions were bulky and large and required a lot of room," he said. "While today's televisions are low profile and not as bulky, kids are connected on their smartphones or laptops, so having a big television space isn't necessary."
Andrews added that game rooms are now often being incorporated into the outdoors by having a door that leads to the patio.
"It's more important that they're fashionable and part of the design of the house," he said. "They're very popular when we offer them."
At the Las Vegas-based Pulte Homes community, Mateo, on Diggy Avenue, Andy Lee, director of sales for PulteGroup's Las Vegas Division, said a flex space can be easily transformed into a game room.
"Game rooms are very popular and all of our communities showcase a model home that highlights a game room or theater room feature," he said. "Homebuyers can often opt for flex or suite, depending on their needs. Families often combine game spaces with other uses to make the most of the space. "
Danny Welsh, vice president of American West Development, said building for families has been the central point of the family-owned company.
"Families want to spend a lot of time in the game room and we've found that the game room has become one of the focal points of a home," he said. "In each of our models, we have a variation of a bonus or game room."
Though Welsh said the kitchen will always remain the heart of the home, the game room isn't far behind.
"It's definitely a close second," he said. "It's a place for the family to gather, where homework can be done, children can have their friends over for slumber parties, the big game or the Super Bowl."
Over the years, Welsh said he has seen game rooms expand in size.
"They've gotten bigger," he said. "We've created these grand ballroom type areas for families, which can be cut off in sections so someone can be watching a movie while someone else is playing pool."
In the future, Welsh said he anticipates game rooms will be included in every home across the country.
"In smaller homes it's so important that we've seen them take the place of formal dining and that's the way it's going," he said. "People are more plugged in than ever, and this is the area where they can be plugged in together."
Contact reporter Ann Friedman at afriedman@reviewjournal.com or 702-380-4588. Follow @AnnFriedmanRJ on Twitter.