Home to be showcased at January builders show in Las Vegas
October 31, 2015 - 10:24 am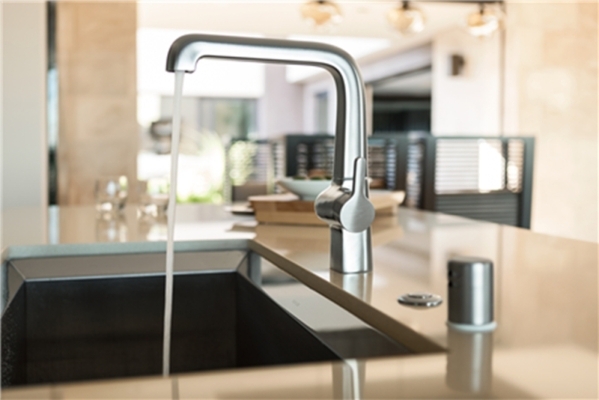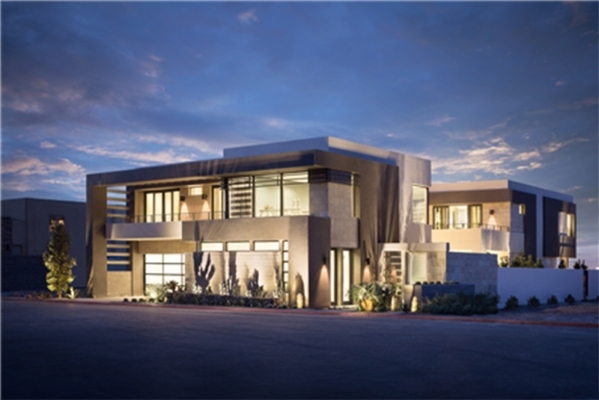 In Southern Nevada, a decade of drought and a devastating recession have challenged local residents to think about sustainable ways of living. Can a residential home continue to provide an economical shelter for a growing family within the harsh Mojave Desert?
How can a homeowner minimize energy and water bills each month, ensure fresh air inside the house and protect occupants from the sun?
To find the answers to these questions, new-home buyers and remodelers need to navigate through a maze of acronyms and jargon that have evolved with the developing energy-efficiency industry, such as LEED-H, NGBS, EnergyStar, RESNET, HERS, Net-Zero Energy, insulation R-value, low VOC and low-E.
• LEED-H: The Leadership in Energy and Environmental Design for Homes program was started by members of the American Institute for Architects through its U.S. Green Building Council. The program awards points for sustainable design practices within a building. Gold, silver and platinum ratings are awarded for designs that go beyond basic certification.
• NGBS: The ICC 700 National Green Building Standard is the only rating system in the building industry certified by the American National Standards Institute. The rating system goes beyond energy-efficiency measurements to also include site design, water efficiency, resource efficiency, indoor environmental quality, building operation and maintenance. Emerald ranking is its highest rating award.
• EnergyStar: The U.S. Department of Energy started the Energy Star program to encourage appliance manufacturers to create devices that use less electricity, water and other natural resources. A government-certified Energy Star appliance manufacturer can market that certification to add value to its brand.
• RESNET and HERS: The Residential Energy Services Network is a trade association of energy-efficiency auditors who created the Home Energy Rating System specifically for the home-building industry. Standard computer models provided by RESNET allow an auditor to compare a home to a base standard home built to today's building codes (2009 IECC) scored at HERS 100. Increased energy-efficient improvements to a home result in lower scores down to zero, similar to a game of golf that awards a minimum amount of club swings to navigate a golf course. Some extreme energy-efficient homes add renewable energy resources to go past zero to minus-rating scores by creating more energy and resources than they consume.
• Net-Zero Energy buildings create more energy than their occupants consume thanks to the addition of photovoltaic solar panels or other renewable resources.
• Insulation R-value: Developed as a mathematical reference by the insulation manufacturing industry for homebuilders, the R-value of insulation measures thermal efficiency as a ratio of the temperature difference across an insulator to the heat transfer per unit area per unit time. Higher numbers mean better efficiency.
• Low-VOC: Low volatile organic compounds is a certification for paints and coatings that rates the use of environmentally friendly chemistries in the product.
• Low-E: Low emissivity is a reference to glass windows that have a chemical coating to block ultraviolet and infrared light waves while allowing natural light to flow into illuminate a building.
The Southern Nevada Home Builders Association and the National Association of Home Builders have staged an International Builders Show at the Las Vegas Convention Center for the last several years. Next year's event is scheduled from Jan. 19-21.
The trade associations provide educational outreach and support to local builders and designers, some of whom have been featured internationally in The New American Home program while building a showcase home for the International Builders Show.
The 2016 New American Home is underway at the Sky Terrace community in Henderson. Josh Anderson of Element Building Co. is leading an army of contractors, designers, materials suppliers and tradespeople to build a showcase home in the desert in time for IBS.
Energy-efficiency and sustainable building practices have been a primary focus of The New American Home program over the last 33 years. Innovative Las Vegas designers and builders who have contributed to the program include Element Building Co., Blue Heron, Sun West Custom Homes and Merlin Contracting. They were challenged to push the envelope even further during the last decade.
To help these developers prove out and test their designs on the real world, an energy resource auditor is often used.
Drew Smith of Two Trails LLC in Florida has been an energy-efficiency auditor with each New American Home project since 2012. He uses computer models developed by the Residential Energy Services Network, or RESNET, to predict how architectural designs will affect the quality of the living space, as well as the consumption of local resources like electricity and water.
Once construction of a New American Home design begins, Smith then tests and inspects each phase of the development effort, from the rough trades to the finished wall insulation, plumbing, wiring, air ducting, appliances and landscape irrigation.
"Each New American Home project is different," Smith said. "Usually you start with the orientation of the home to the land and sun. Then you look at who is coming to the table to promote HVAC and insulation solutions. This year we are looking forward to evaluating a new insulation material from Owens Corning."
"We looked at lighting systems with the intent to use 100 percent LEDs this year. We also look at the electrical demand from motorized appliances to evaluate the best candidates. We try to make the home as energy-efficient as possible to minimize the amount of solar panels needed to offset electricity consumption."
This year's building design by architect Josh Moser will be notable for its extensive use of low-emissive glass from vendor Sierra Pacific. Low-E glass uses a special coating that blocks ultraviolet and infrared light waves but still allows natural light to flow into the home. Double-paned windows also contain inert argon gas fill to provide insulation.
Retractable glass pocket doors allow the indoor and outdoor spaces to merge, but still provide an airtight seal when the doors are closed.
This is important to the overall design of the interior living space, to include built-in shields of insulation that protect residents from the external heat of the Mojave Desert, as well as its dry and dusty air.
Last year, the 2015 New American Home was also built at Sky Terrace, with a special emphasis on energy and resource efficiency. Design and building efforts were led by Tyler Jones at Blue Heron, who partnered with Smith to achieve new energy-efficiency standards.
The team created a finished production model home that has been certified with a Platinum rating by the Leadership in Energy and Environmental Design for Homes program at the U.S. Green Building Council, as well as an Emerald rating by the ICC 700 National Green Building Standard program certified by the American National Standards Institute.
Besides top awards from the U.S. Dept. of Energy's EnergyStar program and the Environmental Protection Agency's airPLUS program, the home received a record-setting HERS minus-13 rating from the Residential Energy Services Network, which meant that the home created more energy than it consumed.
The Home Energy Rating System attempts to gauge energy-efficiency and resource conservation when comparing a new home against the standard building codes as defined by the 2009 IECC regulations. The standard building code sets a benchmark score of HERS 100. Any home that exceeds code standards gets a lower score, similar to scoring a golf game for minimum strokes. A HERS 67 score is a respectable rating for an energy-efficient home as well as a golf game.
A net-zero energy home can push the HERS rating even lower by using photovoltaic solar cell panels or other renewable energy sources to generate as much daily electric power as its residents consume.
To achieve a HERS minus-13 score that dipped below zero on the rating system's efficiency scale, Blue Heron needed to envision the inside envelope as a cocoon for its inhabitants that would minimize the use of resources but also energy losses. The building design also added 15 kilowatts of solar cell arrays to the rooftop of the house to generate electricity from the sun. Blue Heron installed an electric vehicle charging station so that the homeowner's electric car could also be powered by the sun.
Smith calculated that a HERS minus-13 rating was 104 percent more efficient than a HERS 100 standard house built to the existing building code. Its features could also save its owner $4,700 annually in operational costs compared to a standard home.
"There is no silver bullet for this type of design," Jones said. "You need to come at net-zero from all different directions, to find the best solutions."
The desert contemporary design style of the home emphasized clean, horizontal lines with a flat roof, exaggerated overhangs, stonework, water features and the use of pocket glass doors to create a seamless line between the inside of the home and the outside courtyard, pools, and external living spaces.
Stone finishes included hand-laid gabion walls inside and out, travertine tile and a panelized system by Environmental Stone that evoked the texture and appearance of a dry riverbed.
Concrete slabs were poured to create the foundation and the basement walls were built with Insulated Concrete Form technology from Fox Blocks, to reduce heating and cooling requirements during the changing seasons. Fox Blocks ICF modules integrate insulation materials with an air barrier, vapor retardant and attachable structures that can be assembled quickly but are also durable and long-lasting within a desert environment.
Sierra Pacific supplied the coated, low-E window glass and the lumber framing products that were compliant with the Strategic Forestry Initiative.
Uponor Corp. provided flexible polymer tubing for the New American Home that was plumbed to replace PVC pipes in many applications. Because the PEX-E tubing is flexible, it did not require as many joints or fittings, resulting in fewer potential leak points over time.
Tankless water heaters were used to keep hot water flowing on demand to sinks, showers and energy-efficient appliances while also conserving daily water use.
Although the 2015 New American Home was designed with an abundance of water features, each pool or fountain has a self-contained water tank that catches and recycles overflow water sparingly.
The New American Home also featured innovative technologies like Resysta, a wood-substitute material made from rice husks, salt and mineral oil. The finished polymer product looks like hardwood lumber but does not splinter, rot or chip. The material is resistant to ultra-violet rays and does not absorb water, but can still be sanded and stained in the same way as wood.
Eagle Sentry laid miles of low-voltage wiring throughout the walls of the home to accommodate a security system, central vacuum system, entertainment systems and a Crestron home automation system. Every room in the house has the capability of connecting a touch screen tablet to access and control background music, streaming video, motorized shading mechanisms and lighting controls.
LED lighting systems were combined with passive solar systems to illuminate the home without consuming a lot of electric power.
To ensure air quality within the cocoon, filtered ventilation systems were coupled with an active ultraviolet air treatment system, carbon monoxide monitors, and a central vacuum cleaning system that evacuates dust and dirt through piping in the walls out to the garage.
Check out the progress of the 2016 New American Home to see if it will meet Smith's calculations to achieve HER-15 at www.tnah.com.
2015 New American Home FeaturesPassive Energy Efficiency and Water Conservation Features
• Effective orientation of the building to the sun and land
• Closed-cell foam insulation in a sealed attic
• Open-cell foam insulation for internal walls and ceiling
• Concrete slab foundation
• External walls with air barriers and vapor barriers
• Reflective coating on rooftop to block ultraviolet rays from sun
• Low-emissive glass windows that reflect UV and infrared light
• LED and compact fluorescent lighting fixtures
• Energy Star appliances
• Tankless water heaters
• Water-efficient plumbing fixtures
• Desert landscaping with irrigation control
Active Energy Generation Features

• Photovoltaic solar cell arrays on flat rooftop to create electricity

• Lots of glass windows to allow visible light to flood the interior of the home

• Home automation system with motorized shading and environmental controls

• Pocket glass doors that allow rooms to be opened up or closed to outdoor temperatures

• Smart thermostat for internal HVAC temperature controls
Air Quality
• Air tightness = 4.81 air changes per hour @ 50 Pa

• Energy recovery ventilator

• Ultraviolet light air treatment system

• MERV filters installed on central air system

• Central vacuum cleaning system piped through walls for dust evacuation

• Power-vented furnace and water heater

• Carbon monoxide alarm monitor

• Energy Star exhaust fans