Master suites: sanctuary of the home — PHOTOS
February 12, 2016 - 3:56 pm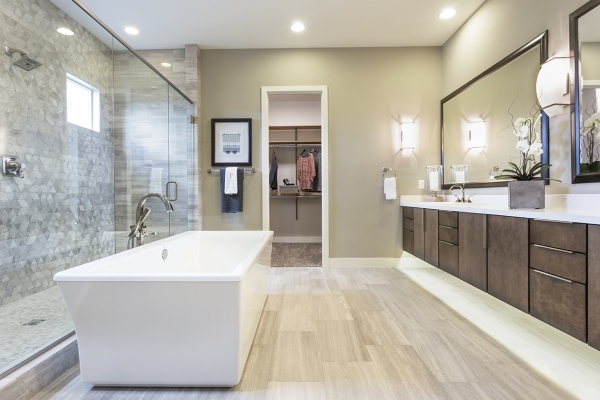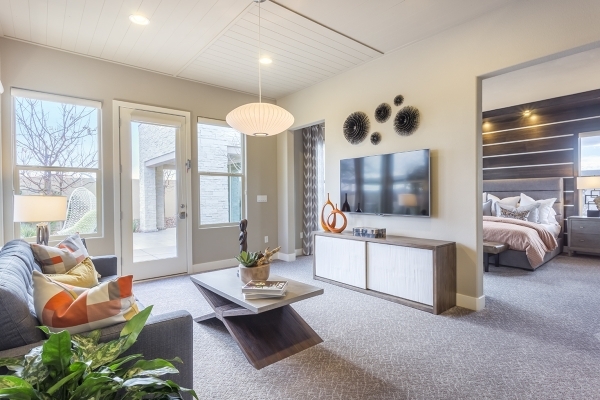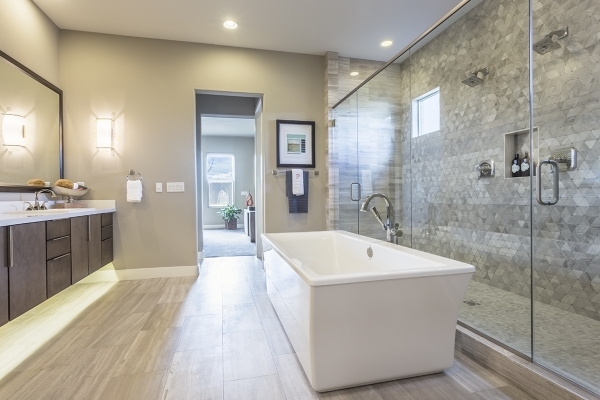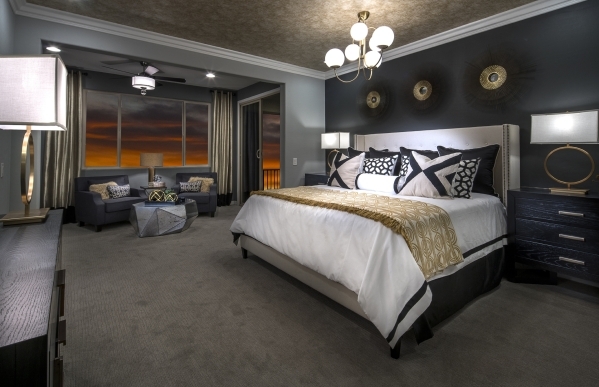 There's a big trend toward contemporary styling as freestanding tubs, floating cabinets and sitting areas are making their way into master suites.
Klif Andrews, Pardee Homes Las Vegas division president, said homebuyers are gravitating toward these trends as well as oversized showers in the master bath.
"There's a wide variety of price points and home styles we offer so we typically offer a combination of ideas, which we get from our architects and interior designer," he said. "The master suite is such a signature place where homeowners will spend a lot of time and it's also the most personal space in the whole house."
Andrews said in the past homebuyers sought to put furniture inside their master bedroom.
"Today, they want to furnish very little," he said. "Big dressers and armoires are out of style because they're not necessarily looking for spaces to furnish but more closet space to put more things in."
Younger generations, Andrews added, also don't own as much stuff.
"Overall, part of the trend is toward simpler lifestyles," he said. "People want to live more simply and less cluttered so as they declutter their lifestyle, they declutter their home as well."
Pardee Homes has begun offering more contemporary styles to meet the growing trend, Andrews said.
"We're now offering floor-to-ceiling windows in some of our communities to bring the outdoors in, which is a trend that's growing in popularity," he said. "I also think there will be more sparsely furnished and calming colors incorporated into master suites as the trend grows toward simpler lifestyles."
Aaron Alred, general sales manager for Pulte Homes, said the company's master suite designs are inspired by consumer feedback.
"We take people into focus groups and walk them through our model homes and warehouses so they can tell us what they want to see in their master bedroom," he said. "We've listened to that feedback and added more space."
Alred said more space has been dedicated to closets and baths in master suites.
"You're not necessarily seeing them get bigger in size, it's about having more room in closets and bathrooms," he said. "We're also offering owner retreats as a side room next to the master for a television or office space."
According to Alred, Pulte Homes' placement of the master suite will continue to evolve.
"You're going to see more downstairs master suites as we grow our business," he said. "There's a lot of popularity among downstairs master suites so children can have the loft upstairs."
Guy Melton, Woodside Homes director of sales and marketing, said homebuilders must create an environment that's relaxing and replenishing for today's busy lifestyles.
"What a buyer would expect to find at a high-end hotel is the kind of environment we need to create to promote relaxation," he said.
Melton said previously builders incorporated oversized master bedrooms, a concept in which they have since veered away from.
"Through our demographic research homeowners felt it was a waste of space and wanted to dedicate more space to another area of the home," he said. "We still offer a large living area in the master suite but it's not so oversized where it feels like a waste of space."
Woodside Homes offers master suites complete with lanai areas to watch the night stars, Melton said, as well as double walk-in closets with extra high ceilings for extra rack space.
"We offer master suites downstairs and upstairs as well as the option for one downstairs and upstairs, which is geared toward the multigenerational households we're seeing today," he said. "This market is still a master-down market but in a lot of cases we're seeing the master-up comeback."
Melton said we're experiencing an evolutionary time period in master suites.
"People have gravitated more toward that area of the home than in the last 20 years I've done this because of the more hectic lifestyle as both occupants are working fulltime jobs and don't have much vacation time available," he said. "We're incorporating more sitting areas within the bedroom with fireplaces, sitting areas with a television suite, wet bar and walk-out deck so it becomes a master retreat to separate from the rest of the hustle and bustle of the house."
In the future, Melton said Woodside Homes will continue to make the master suite the sanctuary of the house with a soaking tub, large shower with a multitude of shower heads and upgraded lighting fixtures.
"We're putting more thought as homebuilders into the flow of the home, especially the flow of the suite areas," he said. "The master bedroom and bathroom has been so generic for decades but buyers have accepted because there were no alternatives but we're going to be seeing new aspects of the master come into play and the industry is ready for it."
Contact Ann Friedman at afriedman@reviewjournal.com or 702-380-4588. Find her on Twitter: @AnnFriedmanRJ.