Using the right words is key to sales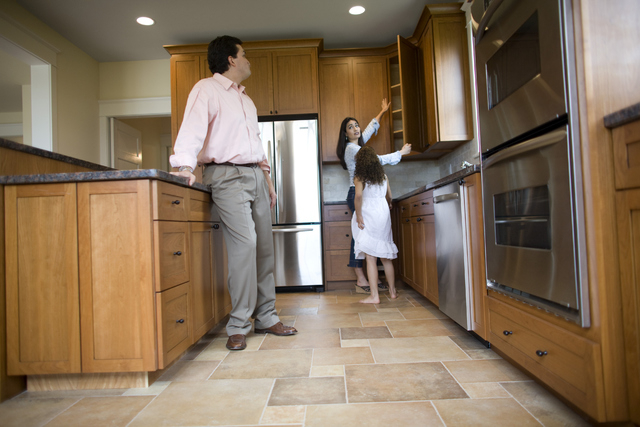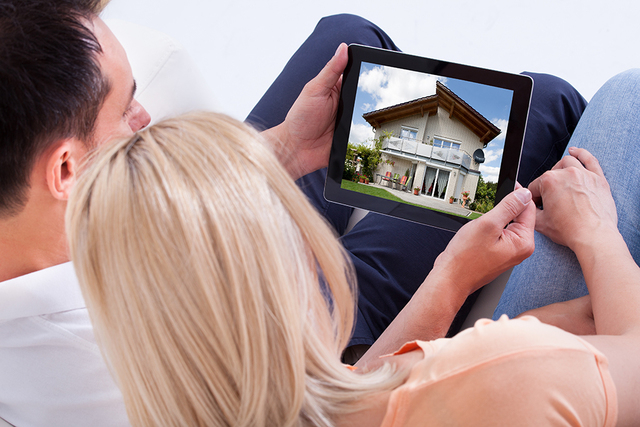 Are you selling a house with subway tile on the walls, or stainless-steel appliances?
You might want to mention that in your listing. A new report from Zillow ranks those among the top 15 features that are likely to boost a home's sale price when included in a description.
Buyers are going gaga for a modern rustic style, according to Zillow, with amenities like barn doors, Shaker cabinets and farmhouse sinks topping the list. Homes with listings that referred to barn doors sold for 13 percent more and nearly two months faster than comparable homes in Zillow's database of sales nationwide from January 2014 to March 2016.
There's just one problem for Las Vegas Realtors: Good luck finding a house with barn doors in the valley. As for "craftsman," which beat out "contemporary" and midcentury' as the most popular style in the Zillow rankings, those homes first became popular around the turn of the 20th century—when Las Vegas was still a dusty desert hamlet.
"That's craziness," says Mark Sivek, a broker salesperson at Realty One Group, when asked how the report's findings might apply in Las Vegas. "Here if a client's asking about barn doors, they're talking about a horse property."
So which words do help sell homes in Sin City? Sivek and other Realtors say Las Vegas buyers appreciate clean, simple lines, and respond to features they're already familiar with because developers have incorporated them into higher-end tract homes. There's some overlap with the Zillow rankings.
"The big keywords are still granite and stainless and designer kitchens," Sivek said. "I find that 'oasis-style backyard,' 'outdoor kitchen' and 'move-in condition' also make a difference."
Stone surfaces of any kind lure buyers better than tile, which is seen as dated and high-maintenance, Realtors say. While quartz, a more expensive material for kitchen counters, drew a higher premium in the Zillow study, granite reigns supreme in Las Vegas, appearing more often in local real estate listings than any other keyword surveyed by the online real estate company.
Buyers weaned on a diet of HGTV are also becoming more fluent in real estate buzzwords, Sivek said. "As soon as they walk in the door, they say they want an open floor plan."
'Wood floors' and 'two-tone paint' are hot items as well, said Dave Tina, president of the Nevada Association of Realtors and broker-owner at Urban Nest Realty.
Tina said his firm sells about 200 homes each month and has identified a formula for a successful remodel. "We tell (sellers) to paint the walls beige, get some wood floors in the main living area, and … do some travertine in the bathrooms in the tub surrounds. That will be your success path."
"No matter if it's a $50,000 condo or a $2 million house, everybody wants the exact same things," Tina added. "If it's a $2 million house, you're putting in the real wood, high-end stone and appliances. If it's a $50,000 condo, you're painting it beige and putting in man-made wood, but it's the same look at a different level."
That points to a problem with relying on keywords in a listing — their meanings can vary. 'Wood floors,' for example, could mean vintage hardwood, a cheaper engineered wood or even faux wood options like laminate or tile. And some Realtors admit that they use terms like "designer kitchen" loosely.
"Trendy words are great, but if they mask the true property, that's a problem," said Scott Beaudry, president of the Greater Las Vegas Association of Realtors. Top-quality pictures are just as important to the success of a listing, Beaudry pointed out. And he has his own pet peeve when it comes to Realtor jargon.
"One phrase that drives me crazy is 'open concept.' It's just an open floor plan. Why do you have to make it so glitzy?"
Even Zillow senior economist Skylar Olsen cautions against taking her report too literally.
Sellers shouldn't expect to swap out their ordinary tile for subway tile and immediately reap an increase in sales price, she said.
The home with a premium feature that sold well "probably has other things about the home, too — a better design sense, a better layout. There's something more intentional about this home than the other one," said Olsen, who controlled for things like a home's age, size and location.
But the report does hint at trends in home design that could trickle down to the mass-market consumer — even in Las Vegas. Kerrie Kelly, a California-based interior designer who also serves as a home design expert for Zillow Digs, said her firm is working on model home kitchens for a major manufacturer incorporating farmhouse-style sinks with stainless-steel fronts, Quartz countertops and subway-tile backsplashes. (For those counting at home, that's five keywords from Zillow's top-15 list.)
"Subway tile is not expensive and it's low-maintenance for families," Kelly said. "It has that versatility and timelessness but the price point is such that builders can wrap their heads around it."
Shaker cabinets, too, offer a simple design that can be customized later with hardware or pops of color so it doesn't feel dated, she said.
So if you've got such features in your home, "flaunt them," Olsen said. "Put your best foot forward."
Because after all, in real estate — as in any kind of marketing — it's all about the spin.
"I had a home on Rancho Circle with a pink kitchen that was hideous in my opinion. It looked like it was in a time warp," Sivek said. "So I decided to call it midcentury modern. I got a ton of showings."