17,268-square-foot home lists for nearly $7.7M
Updated June 5, 2017 - 3:18 pm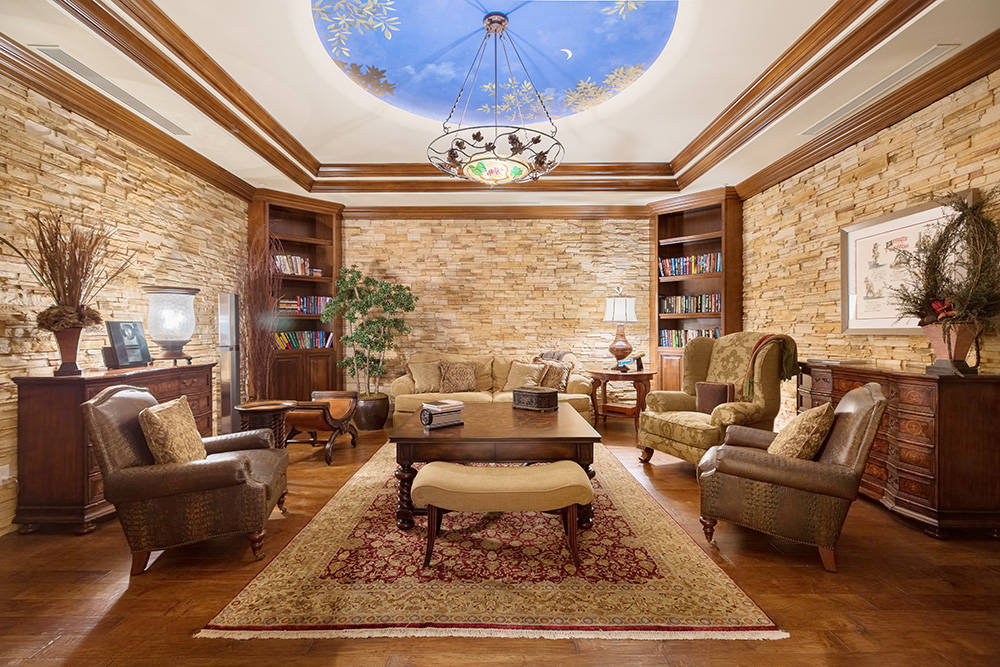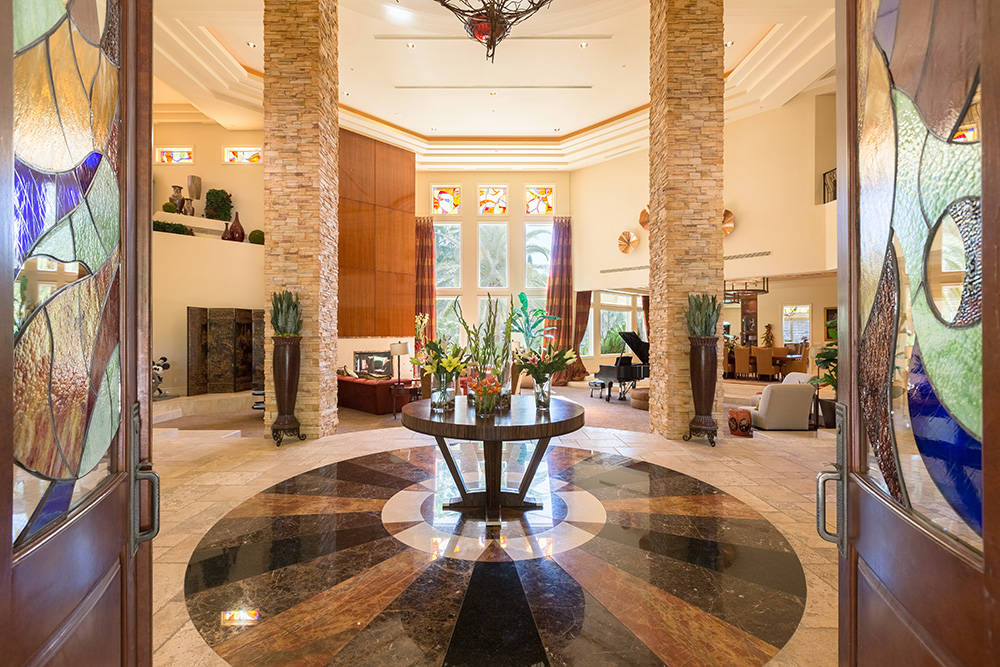 A multimillion-dollar estate for sale in MacDonald Highlands in Henderson is the star of its own mini-movie, a short film with a script, actors and an original musical score. The 4 1/2-minute mini-movie is being used as a marketing tool by the homeowner's Realtor to try and sell the $7,695,000 home, which spans 17,268 square feet and sits on 1.3 acres at 1187 MacDonald Ranch Drive.
Gretchen Lychuk, the Realty ONE Group Realtor who listed the property, sought out film industry veteran Curt Hahn, CEO of Film House Real Estate, to direct and produce the mini-movie. Film House is based in Nashville and is one of the largest film production companies in the United States.
Lychuk said they created a mini-movie because it can help bring a luxury home to life and make a difference when someone is considering several properties.
"For instance, we can actually show the family floating in the lazy river surrounding the beautiful pool, or stage a play in the theater room or dancing in the dance room," she said.
Five principal actors and 33 extras were hired to be in the mini-movie, which was filmed over the course of one day.
"We wanted to fill up the house and not have it look empty," said Hahn, whose company has produced films for the United States government, scores of commercials and major motion pictures. "We want people with families to be able to picture themselves living in and enjoying the home to the fullest."
The premise of the mini-movie is a surprise birthday party for a 10-year-old girl, according to Hahn, who collaborated with the homeowner and Lychuk to develop the family-centric storyline.
The three-level home features five bedrooms, eight full baths and three half baths, along with several elements that cater to a family. A home theater with a 133-inch projection screen that can be retracted to reveal a stage for performing and a dressing room is a focal point on the lower level. Plus, there is a dance studio and a game room. A two-level pool and spa with a lazy river, slide and wading pool reside in the heart of the backyard, while a separate pool house with a full kitchen is ideal for parties or gatherings.
"The key is we are making something that creates an emotional attachment with a prospective buyer," said Hahn, who has been making mini-movies for more than 4 1/2 years. "If a mini-movie resonates with a target buyer, that's what sells the house."
Kristen Routh-Silberman, a Realtor for Synergy Sotheby's International Realty, said using high-quality video to help market a home is vital in today's digital age. Routh-Silberman was instrumental in the making of a mini-movie that marketed the 10-acre Primm Ranch home at 7000 Tomiyasu Lane that sold in partnership with Concierge Auctions in 2015.
Routh-Silberman, the real estate agent who transacted that deal, said there is a difference between a production-scale mini-movie with a script, actors and a director and a less expensive version with a storyline. She recommends doing a production-scale mini-movie on homes listed for more than $5 million.
"Mini-movies or high-level productions can't be a trend in Las Vegas because the price point (of the homes) doesn't justify it," she said. "We don't have $25-million houses for sale multiple times a year like Aspen, Los Angeles, New York and San Francisco."
The cost to make a mini-movie can start at $10,000 and goes up from there, according to Hahn, who said this is the first mini-movie he has produced in the Las Vegas market. The mini-movie is paid for by the real estate agent, the seller or a collaboration of both.
Marketing the mini-movie is essential to help attract prospective homebuyers, who are often using the internet and social media first to search for a new home.
In 2016, 44 percent of prospective homebuyers searched for properties online first, according to the National Association of Realtors' Real Estate in the Digital Age report. The report also said that 72 percent used a mobile or tablet website or app to look for a home.
Hahn and Lychuk will each help market the mini-movie via company websites and send an e-blast to their databases of Realtors. Plus, Hahn will upload the mini-movie to his company's YouTube channel, and Lychuk will share it with social media sites and include it in the property's MLS listing.
Buyers for multimillion-dollar homes make up a small segment of the market, so "we're looking for a very particular buyer you can reach out to and connect with," Hahn said.
He hopes the mini-movie does just that with its compelling storyline and inspired video of some of the home's key selling features.
The custom Mediterranean-style estate was built in 2005 by the current homeowners and designed by local architect Richard Luke. It features one-of-a-kind, stained-glass inserts, blown glass and art installations by local master glass artist Leslie Rankin.
Focal points include a 60-foot balcony outside the master bedroom that offers views of Dragon Ridge Golf Course and the Las Vegas Strip. The kitchen features two-tone European-style exotic wood veneer cabinets and Viking appliances. Plus, sliding retractable walls in the family room open for indoor-outdoor living near the fully equipped outdoor kitchen.
French-patterned, tumbled white Travertine flooring runs throughout the home, which has two executive offices, a playroom, a separate den and an exercise room off the spacious master bedroom. An eight-car tandem garage with plug-ins for several electric cars comes in handy for car enthusiasts.
"We have created something that has value, that brings something new to the property and is a better way of marketing luxury homes," Hahn said. "Over a period of years, this will become the standard way of marketing a luxury estate."
See the movie at 1187macdonaldranch.com.
About the Mansion
Price: $7,695,000
Location: 1187 MacDonald Ranch Drive
Size: 17,268 square feet, 1.3 acres, five bedrooms, eight full bathrooms, three half bathrooms, eight car garage
Features: Home theater with a 133-inch projection screen, dance studio, game room, elevator, two-level pool and spa with a lazy river, slide, wading pool and fire pits, pool house, two-tone European-style exotic wood veneer cabinets and Viking appliances, executive offices, playroom, den, exercise room off the master bedroom.