Brett Raymer of 'Tanked' spends $1M on remodel on Vegas home – PHOTOS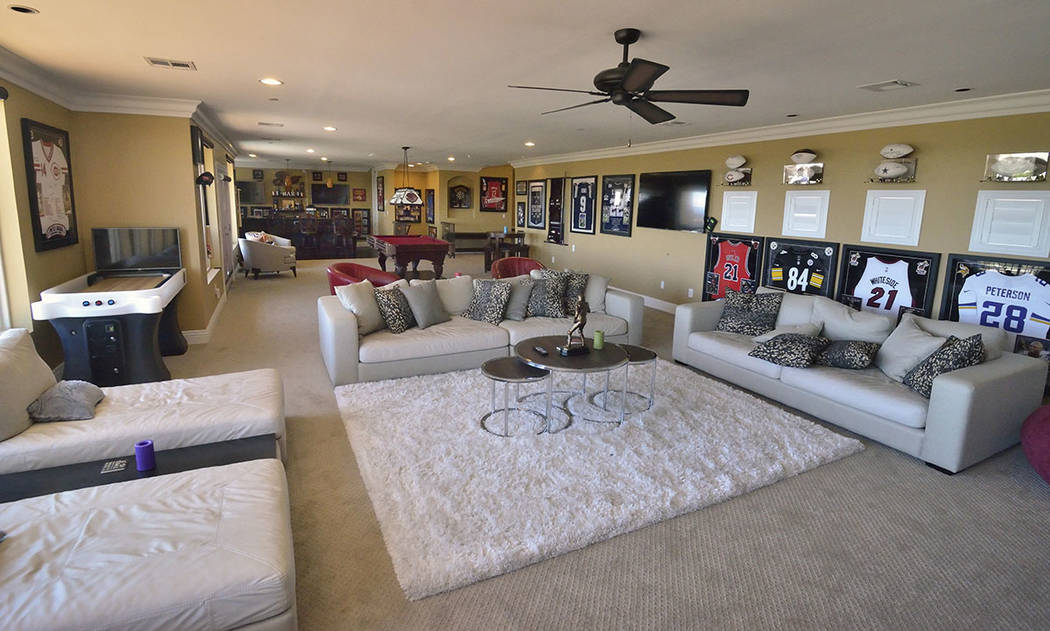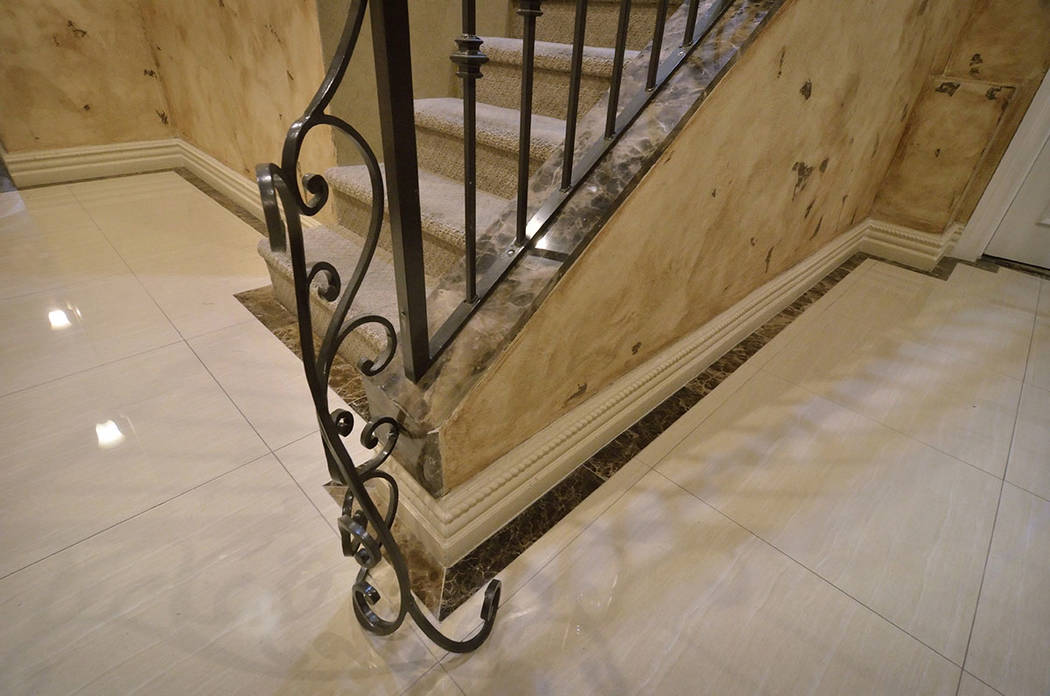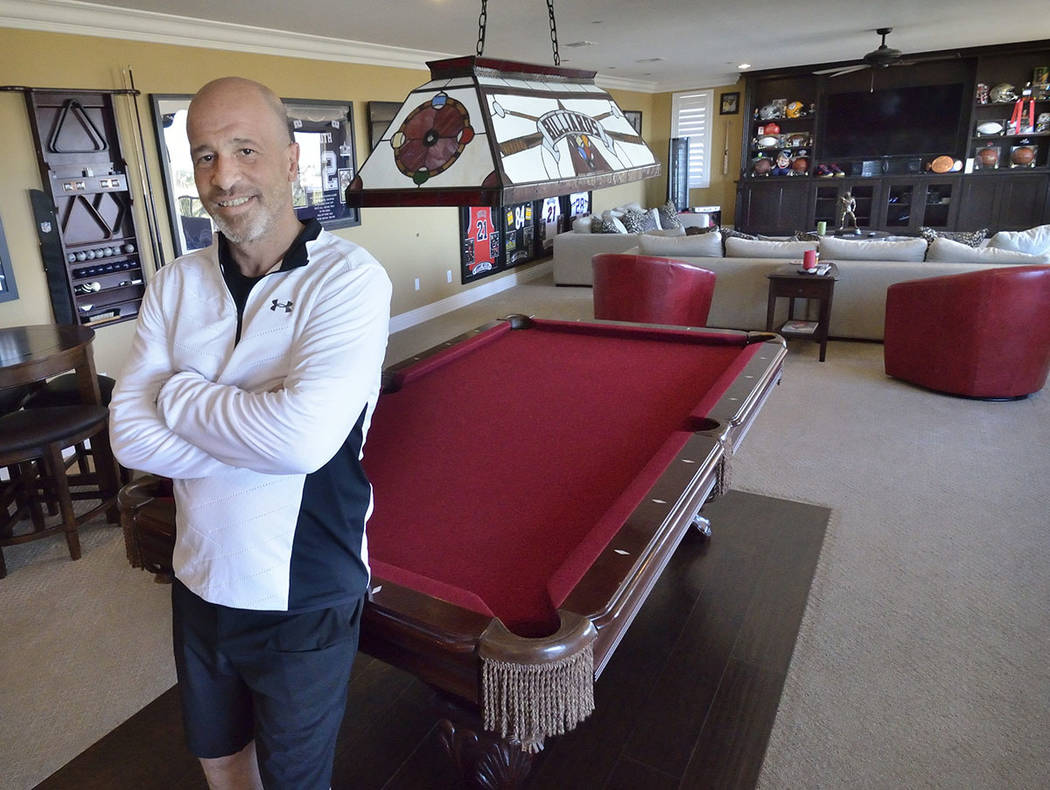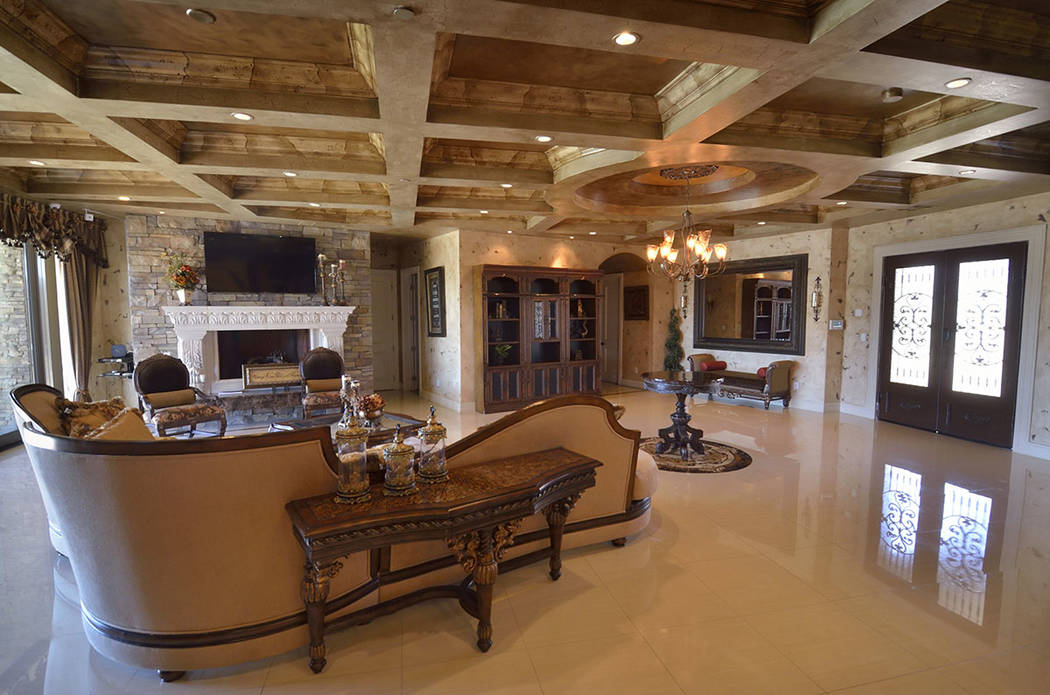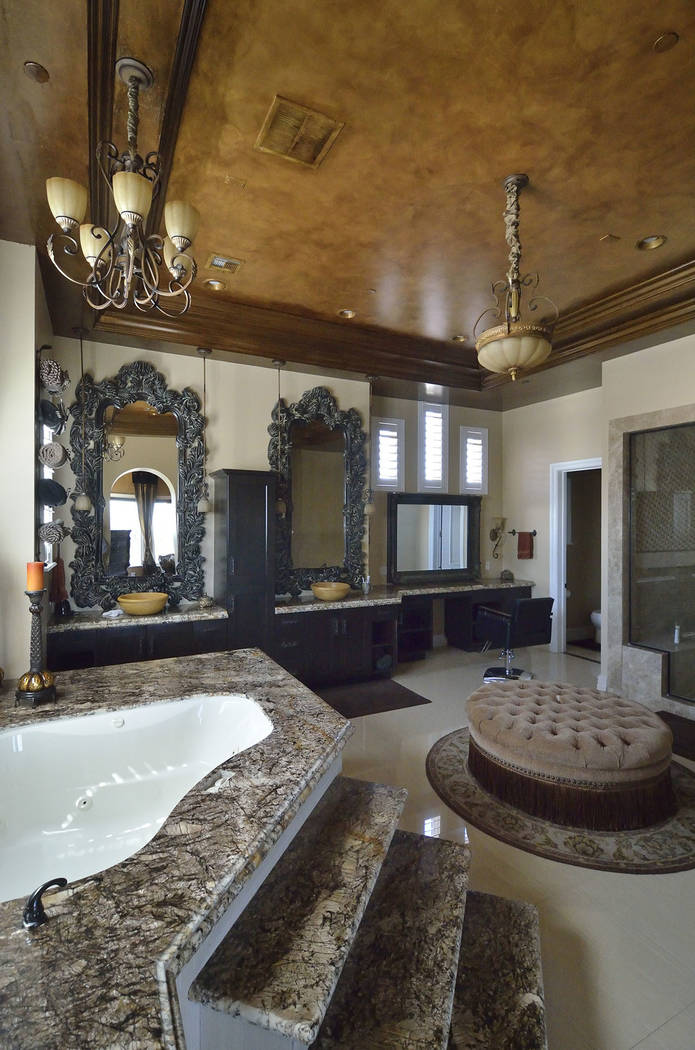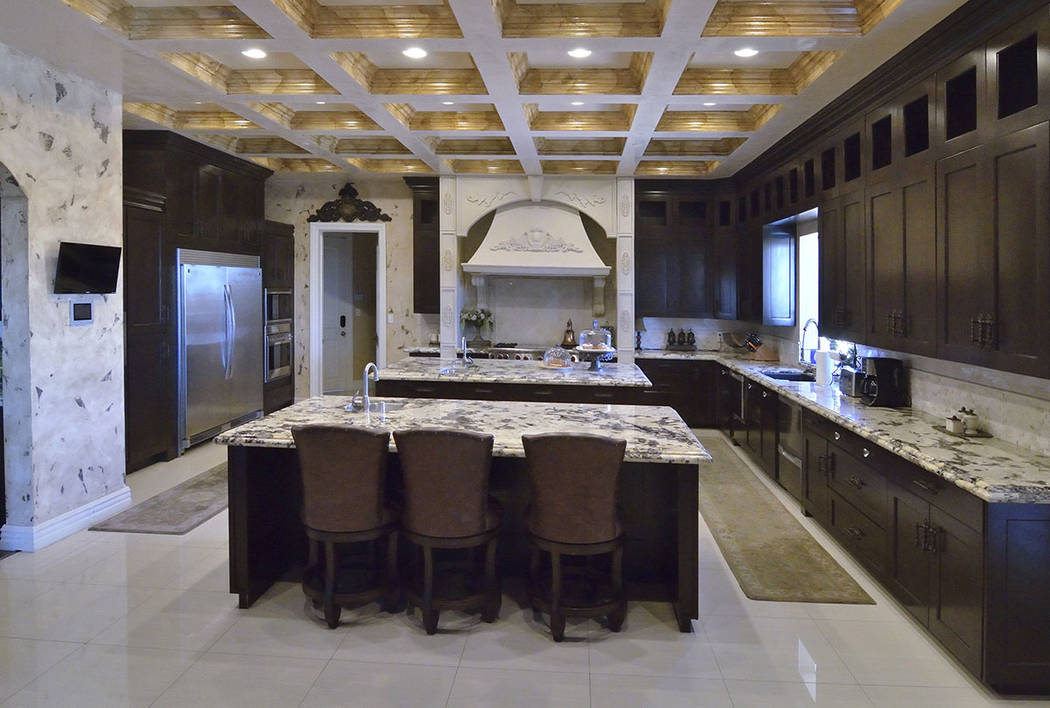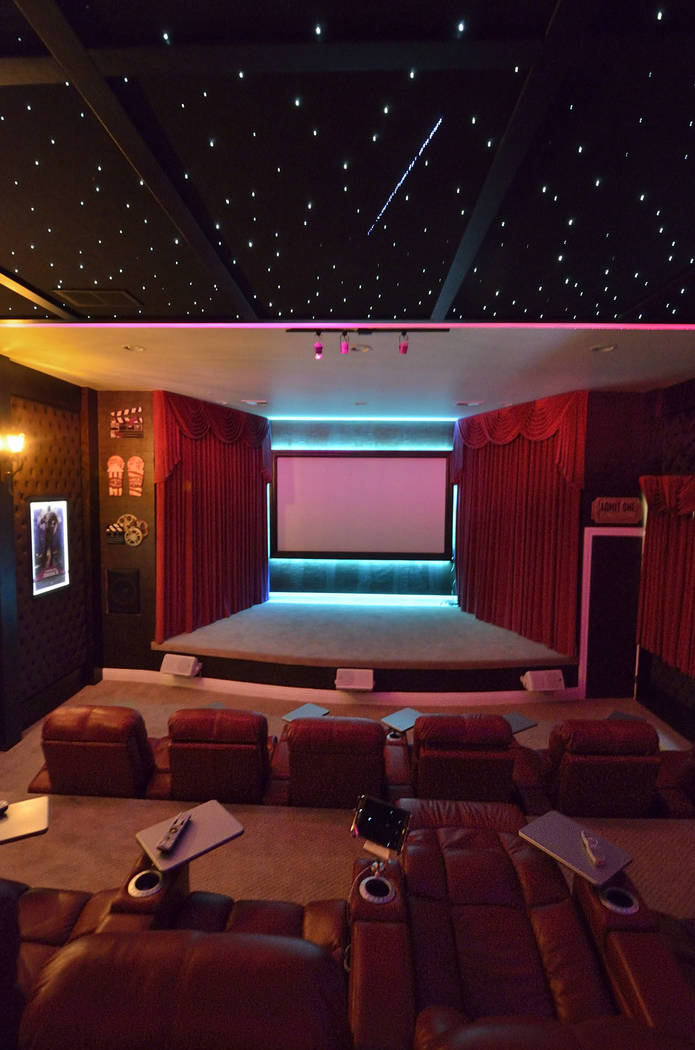 Brett Raymer's home in northwest Las Vegas is such a sanctuary for him that he when he is away, he often feels like a fish out of water.
The co-star of the popular reality TV show "Tanked," which is in its 14th season on Animal Planet, built his 12,000-square-foot, three-story-plus-basement, Tuscan-style villa with comfort in mind. It contains areas with rich details, such as coffered ceilings, Old World plaster effects, ornate iron stairways and inlaid detail in the marble tile floors, as well as more casual entertaining spaces.
"Everything's going modern. I spend a lot of time in hotels all year, so when I come, I wanted it to be different," the entrepreneur said a recent interview at his home. "I'm a very lodgey, homey guy (who likes) a comfortable fireplace, so that's what we decided to do."
Raymer lives with his fiancee, Trisha Chamberlain, and their four teenagers. The house has every amenity imaginable, and on his down time, it's a place he can settle into for days without leaving. It includes seven bedrooms (one is a gym), 11 baths, an 18-seat theater, office, multiple fireplaces, a resort-like backyard, and what he calls his man cave, although it's hardly cave-like, sitting atop the house, with dual balconies.
"I really never have to leave the house because I have everything here, between the gym, the pool, the theater and my man cave," he said.
Raymer bought the home near Lone Mountain in 2014 for $1,150,000, about double what the previous owner paid for it two years before.
It was almost a gray shell, with rooms framed out but not much else except the kitchen cabinets and a first-floor office cabinetry installed. Since then, he estimates, he has spent $1 million finishing the house, including landscaping, pools, ornate finishes and, of course, an aquarium. The balconies, on the top two levels, provide excellent views of the Strip.
He didn't use any designers, opting to select the contractors and materials himself. He searched on social media to find the artisan responsible for the home's lush palate of Venetian plaster and specially textured wall applications. An Italian artist is responsible for the aging effect on the ceiling.
"It's funny. My whole life, I've spent most of my money (on) my home. I always wanted to make sure that the place I would spend the most time at would be the place I could enjoy the most," Raymer said. "That was really important to me, so even as a kid, when I started making money and had my own apartments, I started designing and decorating them myself, making them over the top. My house was always the entertaining place (for friends). Then when I decided to buy this house, I fell in love with it and wanted to make it something really special for me and my family, something I wanted to come home to every day."
The first level has an open living room, formal dining room and expansive kitchen with two islands and a butler's pantry. The Wolf appliances include an eight-burner stove, four ovens and four dishwashers.
The living room is anchored by a carved stone fireplace, and glass doors provide a view of the pool, spa and outdoor pond and waterfall, which was featured on an episode of the show in 2017.
The indoor aquarium, mounted in the kitchen, has a "lost city of Atlantis" motif, with custom inserts created by Raymer's company, Acrylic Tank Manufacturing.
The second floor contains the master suite and a series of not clearly defined rooms. Outside of the master is a large open area with balconies, a fireplace and desk. Then through another door, you're in a lounge, with a wet bar and TV. Keep going, and you enter the elegant master suite with a fireplace, coffered ceilings and a spacious master bath.
There are spaces reserved for an elevator, which is in the works, but for now, access to the cool room on the top floor is via a stairway in the master suite. It has something for everyone and enough natural light to make everyone happy, whether or not their team is winning. A bar anchors one end and a 75-inch TV the other. In between, guests entertain themselves with billiards and foosball tables.
Clearly designed to be a cool hangout for game watching, the room could double as a sports memorabilia museum. Dozens of framed autographed player's jerseys, balls and helmets encased in acrylic and other collectibles line the room — many acquired through working with the athletes on home fish tanks on the show. Raymer is planning to open a bar on the Strip called Get Tanked, which will become home to many of these items, he said.
"It's a sports bar theme, so whatever I have left over will be transferred to the restaurant."
He said he expects it to open sometime in the last half of 2019.
Recently, he became a partner in a local doughnut shop chain, Donut Mania, which has four locations in the Las Vegas Valley.
In the basement, a bedroom was used for a gym. A wine cellar is being built, and there's space for a future snack station outside the home theater. A pile of framed swag from celebrities, including Steve Aoki and Betty White, who were guests on "Tanked," awaits placement, just outside the room. The theater walls are red velvet-tufted fabric, and one wall features faux leather paper. LED lights in the ceiling mimic stars.
Before this, Raymer lived in a 1,700-square-foot, three-bedroom house in Desert Shores for 20 years.
"It was a model. I gutted it and redid the kitchen, made it very Tuscan-looking," he said, adding that it sold quickly to the first buyers who toured it.
He picked the location because of its proximity to the 215 Beltway, because the lots are a half acre or more and because no commercial development is allowed within 3 miles, he said.
Although they have no plans to sell the house, the future buyer was a factor in his overall design,
Raymer said: "Anything I do, especially with what we have going on in our city with all the athletes and people coming with big money, I look to see what a young person with a lot of big money would want in their house."
When their children move out, it would make sense to downsize, he said.
"Once, the kids are gone, which is not too far off, what do I need with a 12,000-square-foot home?"
And when that time comes, it won't be into a high-rise building.
"High-rise living is cool, overlooking the Strip, but I don't know if I could do it for a long period of time. Especially having bad knees. … but I could see myself building another house. I learned from this house, and I enjoyed doing it and I'm still working on projects. So once this is done, I'm going to start looking for property in this area."
About the House
Location: Near Lone Mountain
Size: 0.53 acre, 11,894 square feet, seven bedrooms, 11 baths, four-car garage
Features: Hardwood and marble floors with inlaid details; coffered ceilings, chefs' kitchen, theater, gym,custom plaster and paint, pool, spa, pond, pool bath, vegetable garden, spacious entertaining areas inside and out, Strip views, multiple balconies, multiple fireplaces, dual laundry rooms, dog run.
History: Bought as vacant land by Daniel Kovachev, 2012 for $515,000. Sold to reality TV star Brett Raymer in 2014 for $1,150,000.