Conservationist builds modern country retreat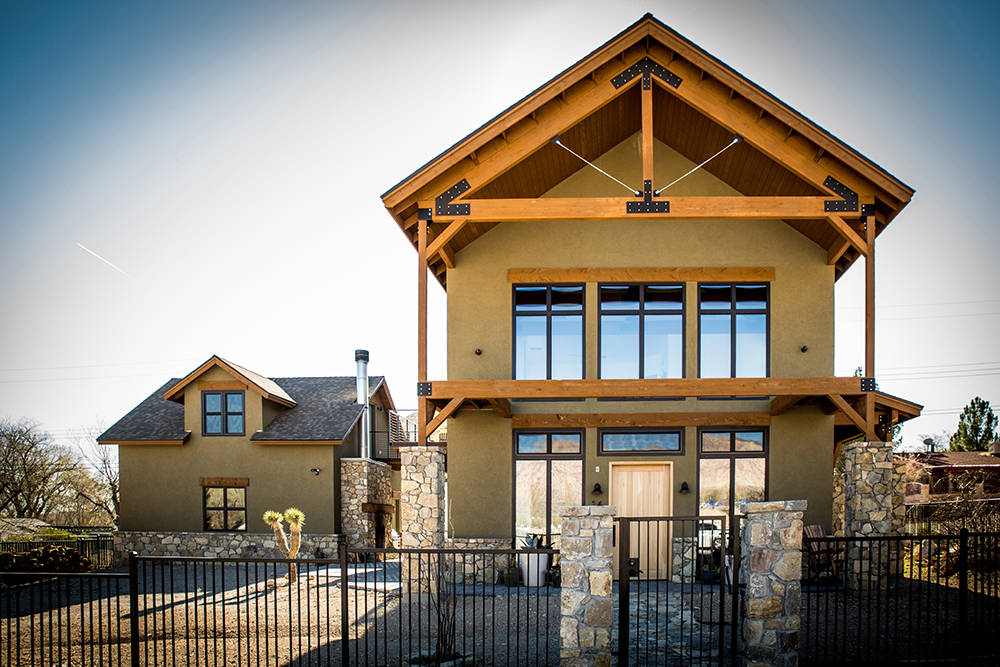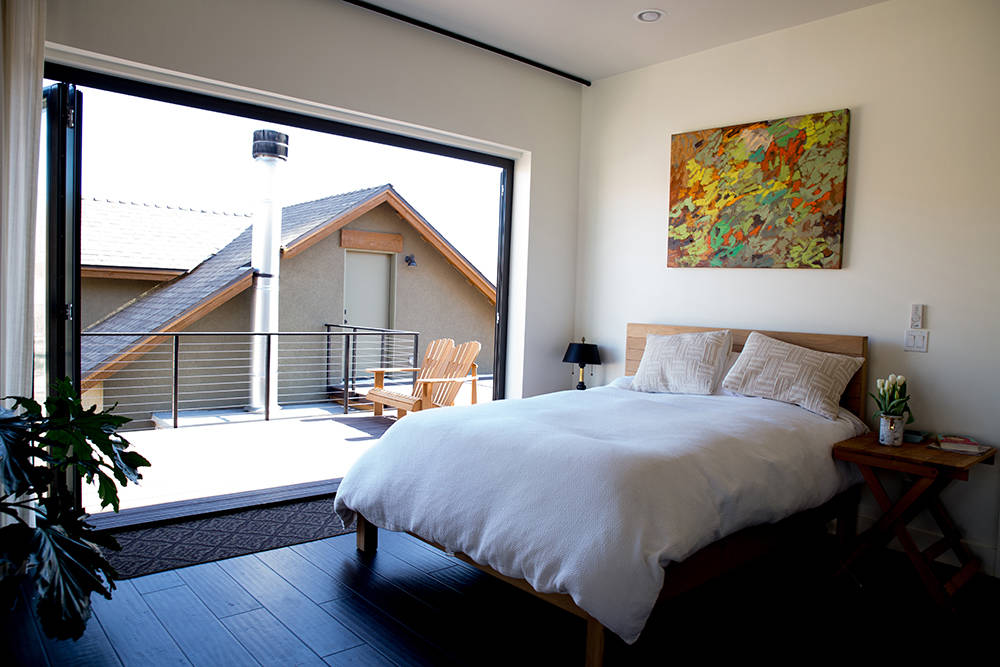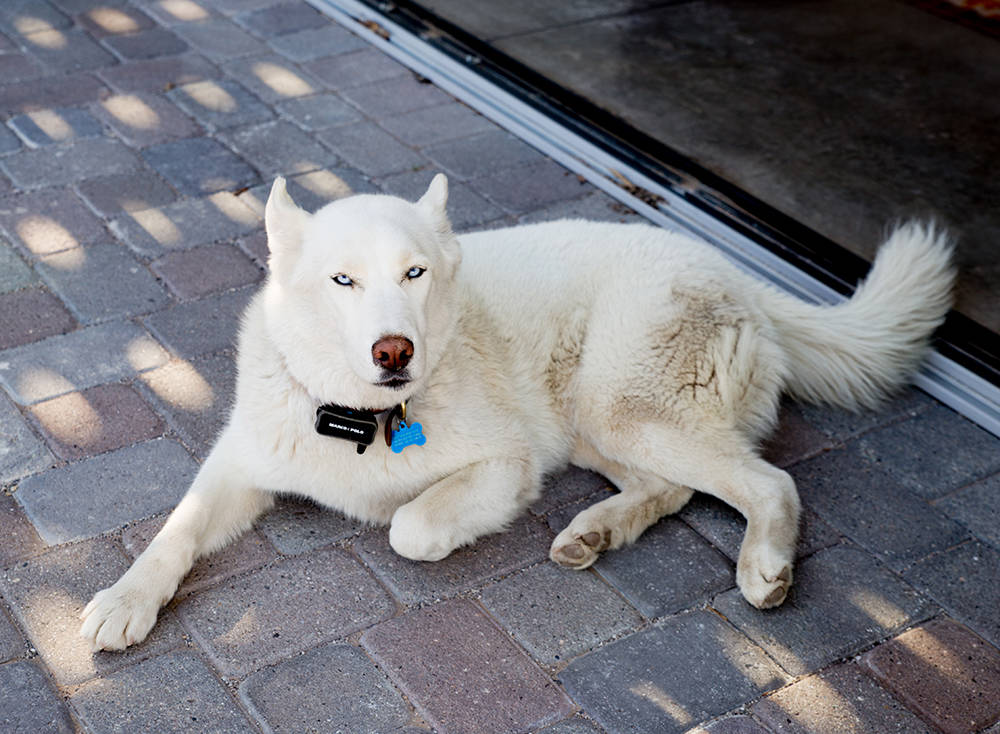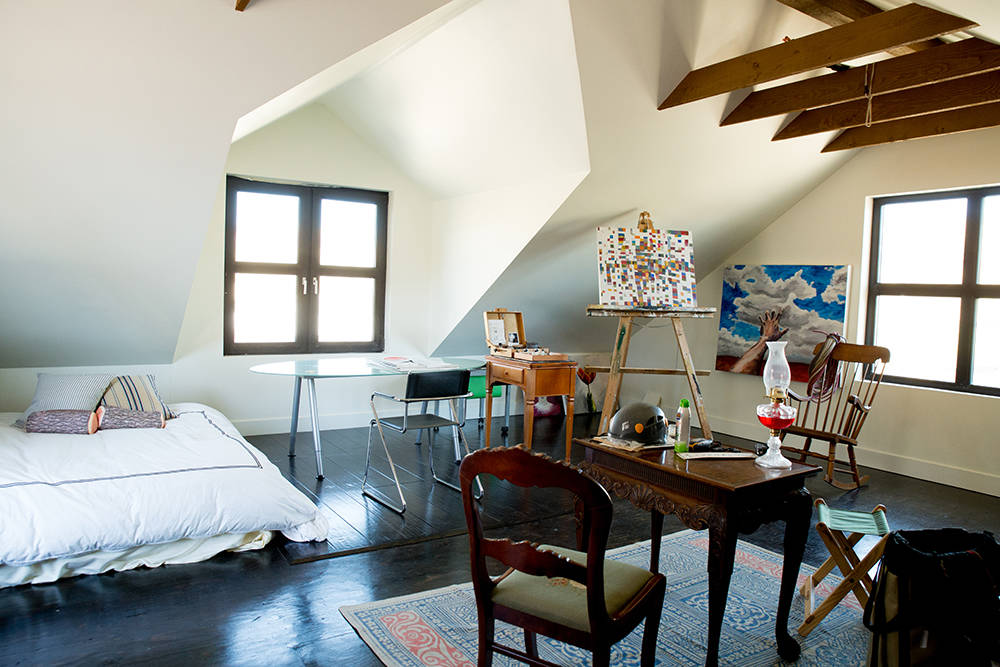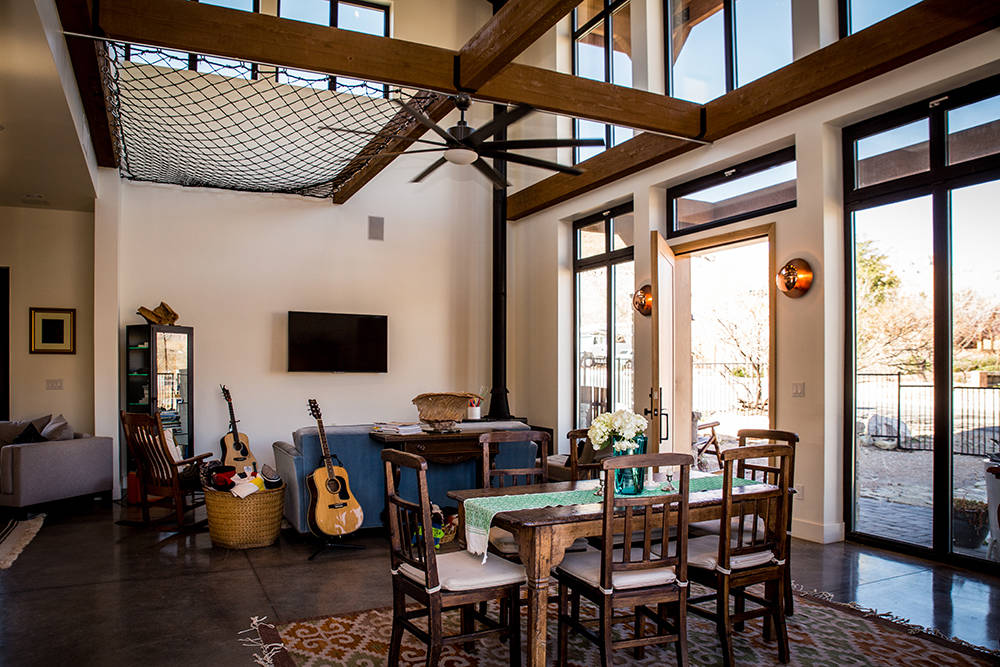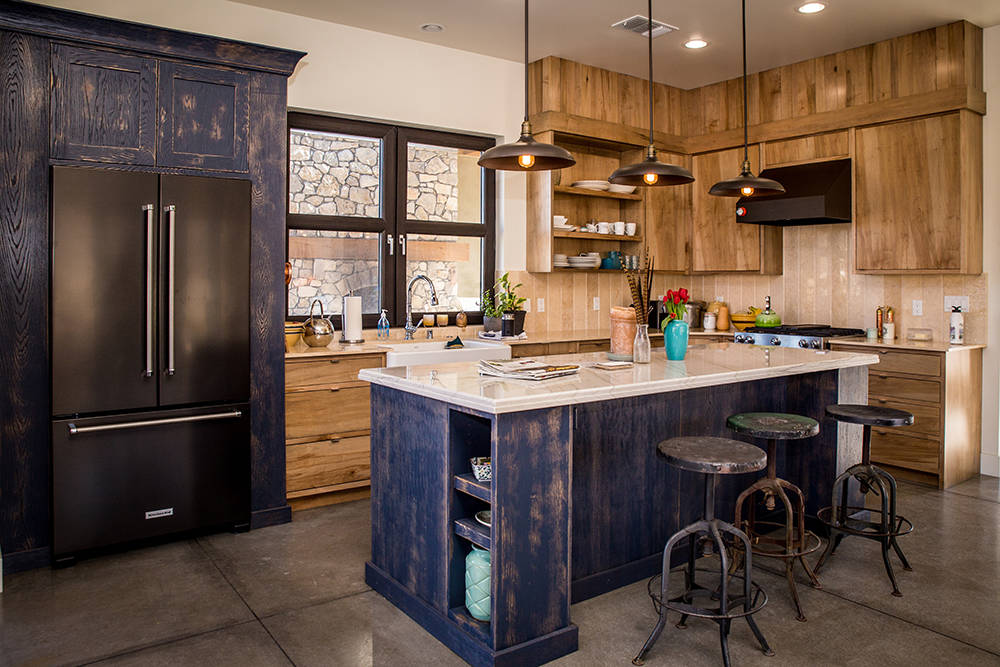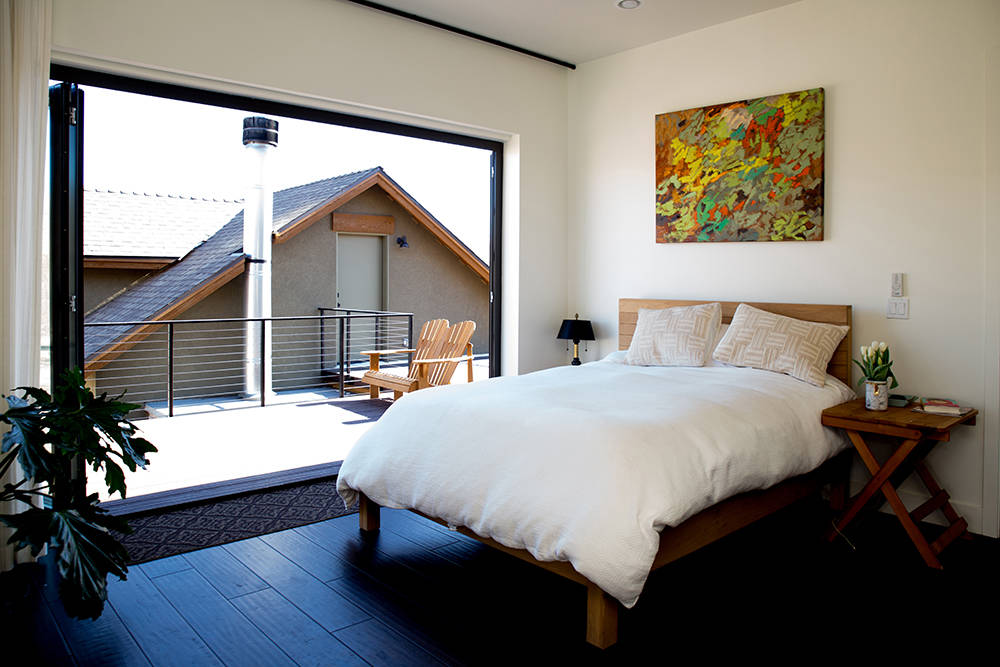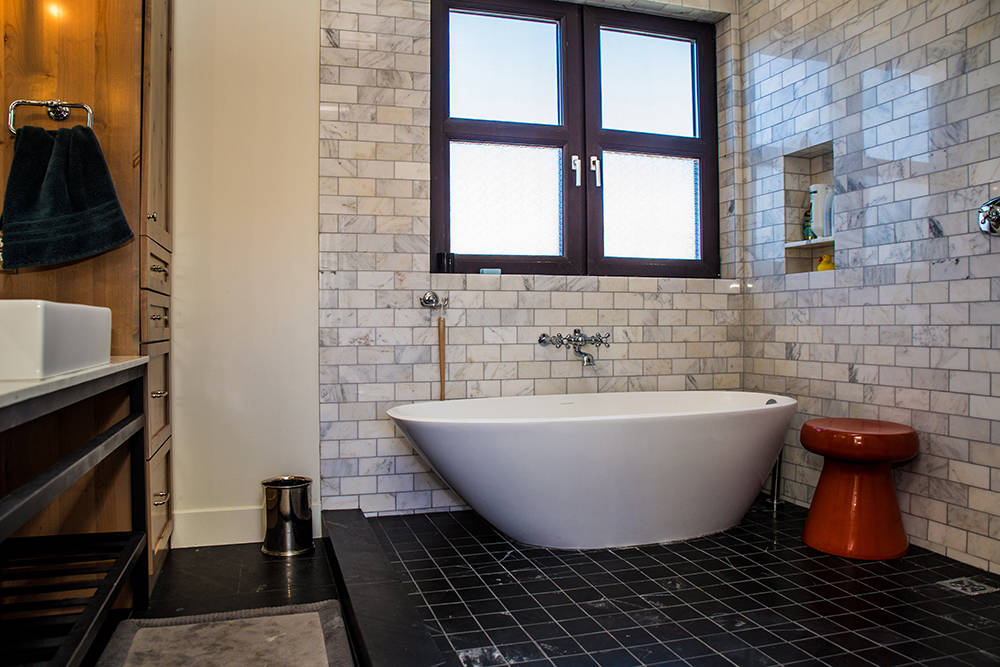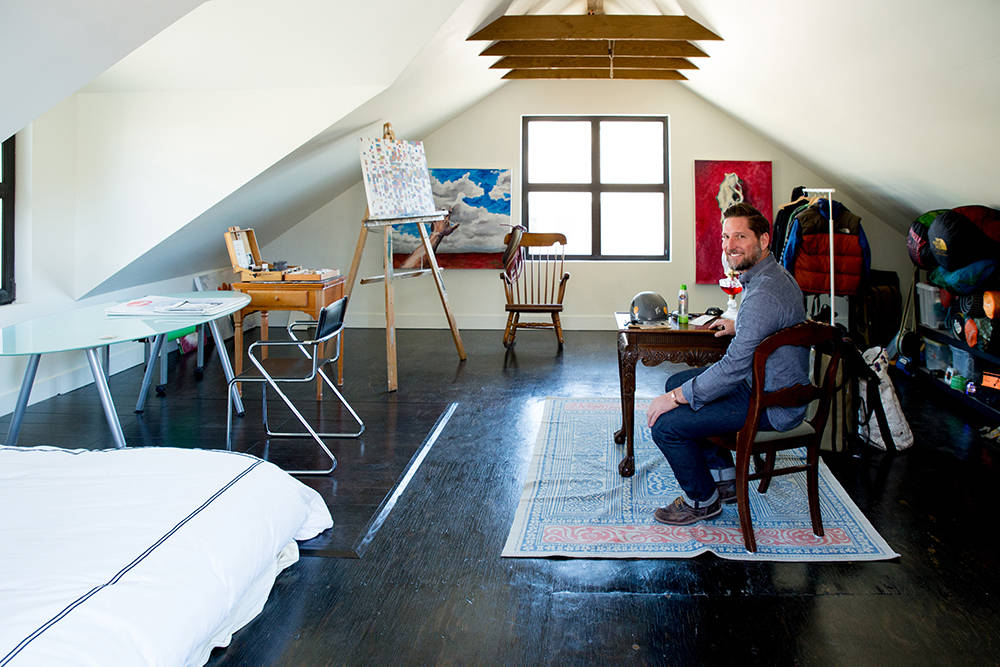 The coolest component in Guy Pinjuv's Blue Diamond house is a rectangular ceiling hammock that stretches above one corner of the living room. It serves as conversation starter and defines the homeowner's character — someone who is the opposite of a couch potato, and not afraid to take a leap of faith. Literally. To access it you have to climb over a 3-foot railing and jump diagonally onto its springy surface.
Pinjuv, a third generation Las Vegan, has deep roots in the Las Vegas Valley. In Nevada terms, that's the equivalent of having family that came over on the Mayflower.
His mother was raised on a ranch that was near downtown, and her family owned Opdike Dairy and the first ice plant in the valley. His father's family opened the first filling station in town. When attending Bishop Gorman High School, he commuted from his home in Calico Basin, where his mother still lives.
Pinjuv is a Ph.D. forest carbon scientist at an environmental services company working to slow down deforestation in the Amazon and the tropics.
"If someone wants to slow down deforestation, I'm the guy who goes and checks to make sure they calculated everything correctly. And if there's a tribe there, I'm the guy who goes and meets the chief and makes sure they're not planning a revolution… that sort of stuff," he said.
When he decided to return to Las Vegas after living in Flagstaff, New Zealand and Portland for 20 years, the avid hiker knew he wanted to live near Red Rock Canyon. He lucked out in finding an acre-lot and paying $150,000 for it in 2014, about half of today's list price. Two half-acre lots for sale on his block are listed at $299,995 and $399,000.
Pinjuv was able to complete the home with a budget of $600,000 by "calling in a lot of favors" and extensively using reclaimed materials, something he would have done anyway. He praised his friends and family who pitched in to bring the project to completion. "There're a lot of people who loved me. I should have come back a long time ago," he said.
The builder was his brother-in-law Chi Chi Bengochea, president of Bentar Development, a general contractor who has completed many high-profile commercial projects in the area.
His sister Dorothy Bengochea, of DP Bengochea Designs came up with features like the hammock and the choice of finishes and fixtures.
A friend with a salvage yard let him have his pick of countertop materials.
"All the countertops were leftover pieces, either broken or with chips or were taken out of large hotels, Pinjuv explained. "That's why nothing matches."
In fact, it has an eclectic mix of finishes and funky, history-laden components that add up to a charming home unlike any other. Equal parts playhouse and modern country retreat, the house is an example of rustic style-meets-devoted-conservationist, from the sage green exterior to the ultra-high-efficiency toilet.
"The outdoor dining room was the inspiration for the whole place," Pinjuv said.
It's in the center of the property, between the garage and the house, beneath a walkway leading from the master bedroom to an extra space above the garage. It features a showstopper brick hearth made from native limestone tailings deposited at the side of town by construction crews.
"I had a guy go and pick that up and he hand-shaped it, but it's stuff that people threw away."
The entire base of the house is wrapped in it as well.
Pinjuv recycled pavers from the patio of a Ridges of Summerlin) homeowner who no longer wanted them. "It was a big place, and this lady thought they were dirty, so I paid to have them moved here … sandblasted and they look brand new," he said.
The two-story, 1,900-square-foot house has an open living room with a ceiling that peaks at 32 feet, which he calls "a crazy little church."
"We didn't do that on purpose, but that's what it turned out to be. I just wanted it to be a cool place to hang out."
And so it is, when the 40-something owner and his girlfriend, Laura Rosmann, host friends who stop by after a visit to the canyon for a beer, and to enjoy his self-described "campfire level-guitar playing ability."
A loft-style master bedroom overlooks the open first floor, with ceiling-mounted curtains and a railing separating the spaces. From either floor, visitors can enjoy an up-close view of Mount Wilson, (part of Red Rock Canyon's Spring Mountains) through the massive, triple-paned, energy-efficient windows.
Pinjuv says the hammock, which is capable of holding 5,000 pounds, was installed with the help of "riggers who work the shows in town … I sleep in it sometimes. Like a baby."
Two full baths and a second bedroom take up the rest of the second floor, along with a deck that stretches to the man cave above the garage. It has no power or water but has a large window with a mountain view. Pinjuv uses it to store his climbing equipment and surfboards, and as a painting studio.
The first floor has an open concept, with a marble-topped kitchen island on a distressed wood base. This oyster-like marble also appears in some of the baths. The kitchen cabinets were built in place and extend to a custom shelf-desk unit in the dining room.
The powder room, laundry room and winding iron staircase meet at the back of the house. The laundry room is lined with knotty pine cabinets, and a couple of insulated room service delivery bins recovered from the Debbie Reynolds Hotel serve as storage.
The star of the powder room is a smart toilet that recycles water by allowing users to wash their hands with fresh water that then drains into the toilet tank, powering the ensuing flush. It's from an Australian company called Caroma.
Pinjuv would have liked to outfit the home with a gray water recycling system, but his effort to do so was blocked by authorities, he said.
"We wanted to recycle all the water in the house, but the county actually would not let us, which was shocking to me, because there are gray-water systems that (take all household water and hold it in a tank) and funnel it to the toilet tank filled with gray water. However, the county would not allow that, because they currently don't know how to deal with it. I told them, 'you should be begging me and everyone else in the desert to install them,' " he said, adding that regulations for such systems should be given a high priority. "It's just something new. They don't really have rules for it, but they need them."
The solar-powered home is peppered with treasures gathered from Pinjuv's many visits to other cultures, like a spear from Africa's Maasai tribe hanging above a door.
"When you're 14, they traditionally would give it to a boy, who can then become a man if he can kill a lion with it," he recalled. "I'm pretty sure if I were in that tribe, I'd still be a boy," he added, under his breath.
His dog likes to lay on the dining room rug, woven from wool that came from his the alpacas his mother raises nearby.
Said the humble homeowner, "There are so many people who put so much love into this house. I just didn't know until I got home."