Construction begins on Ascaya Inspiration Homes
August 2, 2016 - 11:11 am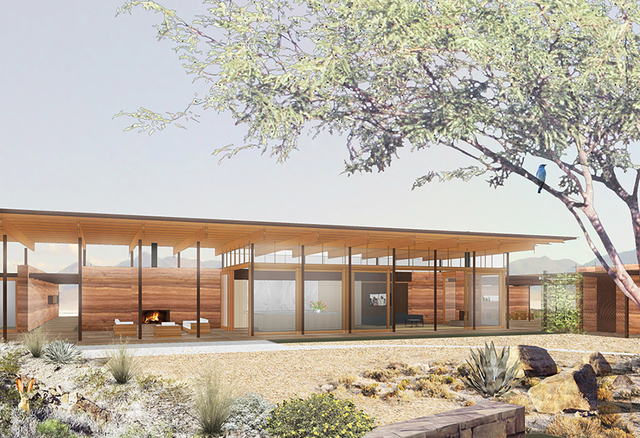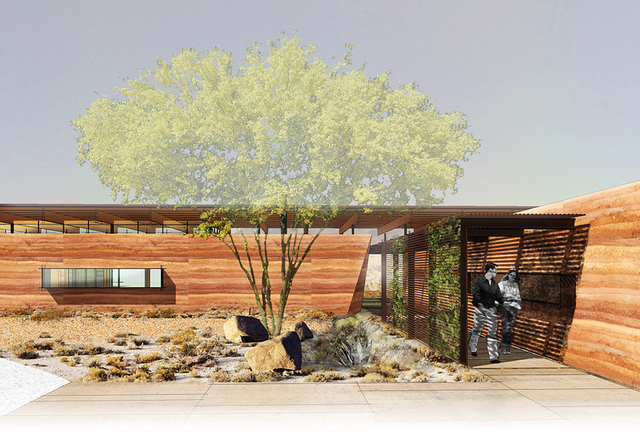 Ascaya has started construction on its third of seven Inspiration Homes in the Henderson hillside community.
The community's developers have invested $35 million in Inspiration Homes that will be located throughout Ascaya and provide future residents with architectural and design inspiration. The home was designed by renowned architecture firm Lake|Flato.
The single-story residence measures approximately 9,000 square feet and seamlessly blends with its desert context. The combination of thick, rammed-earth walls, light steel structure and high-performance glazing creates an environmentally sensitive modern home.
The house includes four bedrooms, guest suite, media room and a four-car garage anchored by a large convertible living space that can fully open onto a series of courtyards and patios.
Each of the home's four bedrooms and guest suite offers unique views into courtyards or the broader desert landscape. The master bedroom connects to a private patio and has views of the Las Vegas city lights.
"Our Inspiration Home design for Ascaya creates a modern home that embraces sustainability without compromising refinement," said Andrew Herdeg, FAIA, partner at Lake|Flato and lead architect for the home.
"The design reaches out to connect and blend with the surrounding site to form a series of intimate landscaped courtyards all of which provide amazing views of the city and surrounding mountains."
The rich color and texture of its 2½-foot-thick, rammed-earth walls seamlessly connect the home to its desert environment while providing high-performance insulation against the intense summer heat. High-performing mechanical systems, strategically placed windows and a series of covered patios provide energy efficiency and engagement of the natural landscape in the home.
The main living space in Lake|Flato's Inspiration Home at Ascaya is a large indoor-outdoor room that can be fully enclosed and conditioned or fully open to the adjacent courtyards and patios.
"Our overall goal was to create a home that allows its residents to engage and enjoy Southern Nevada's amazing climate and landscapes," Herdeg said. "All of the materials, spaces and views are thoughtfully designed to be very contextual in a truly modern design."
For more information, visit www.ascaya.com.