Illusionist David Copperfield buys Las Vegas Summerlin home for $17.5M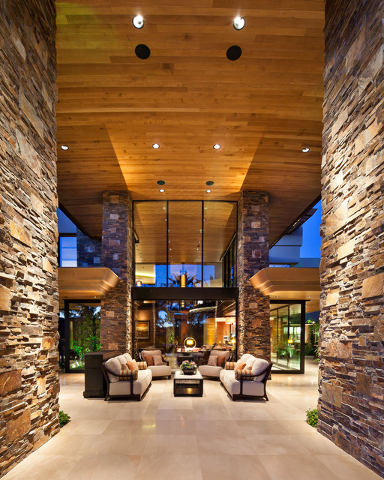 David Copperfield now has an asset he probably won't saw in half or levitate or make disappear, although he might disappear into it.
Clark County assessor's office records show the famous illusionist bought a 31,000-square-foot house at 1625 Enclave Court in Summerlin for $17.55 million. Berkshire Hathaway HomeServices Nevada Properties' luxury team, Shapiro & Sher Group, which represented both the buyer and seller in the purchase, announced the home's sale Wednesday.
The Greater Las Vegas Association of Realtors said the price was the highest ever paid for a Las Vegas home. For perspective, the same $17.55 million could buy about 76 homes at the $229,250 average median price the association said local existing single-family homes sold for in May.
The four-story house, designed by Swaback Partners of Scottsdale, Arizona, hadn't been listed for sale. It includes eight bedrooms, an office, a gym, a wine cellar, full-service spa, a nightclub, three antique arcade exhibit rooms, a golf simulation room, two commercial elevators and a movie theater, Berkshire Hathaway HomeServices said in a statement.
The 1.58-acre property also includes a resort-style infinity four-edge pool, interior Zen garden, tropical landscaping, and a 6,177-square-foot garage with a detailing room.
The seller was health care executive Kevin Hooks, who bought the land for $2.575 million in 2005 and built the house around 2011.
Copperfield, who performs his magic at the MGM Grand on the Strip, and has amassed an $800 million fortune according to Forbes, was unavailable for comment. But Ivan Sher, who brokered the deal for the Shapiro & Sher Group, said the deal closed in a matter of weeks after Copperfield and his fiancée, Chloe Gosselin, saw it. It offered the perfect mix of grand luxury and privacy.
"It's in an enclave with some of the most impressive homes in all of Las Vegas," Sher said. "A lot of people who sell luxury houses don't know about this little neighborhood. It's sensational and David and Chloe felt an instant connection with the home's style and its surroundings."
Real estate observers said though the deal might sprinkle more stardust on Las Vegas as a celebrity home site, it would have little effect on the larger housing market.
"These kinds of transactions are unique in any given market," Brian Gordon, principal at Las Vegas research company Applied Analysis said. "And the quoted price point is reflective of a willing buyer and a willing seller.
"But this kind of deal is more of an anomaly and will have little impact for someone who's searching the market for a more moderately priced home."
Scott Beaudry, the Greater Las Vegas Association of Realtors' president, agreed with Gordon. Deals like Copperfield's are rare and unlike much anything else.
"It's great that properties like this in the upper price range are able to sell," he said. "And that may help sales of properties like them. But overall, I'm not seeing an effect on the overall economy. $229,000 is a far cry from $17.55 million."
Mark Stark, Berkshire Hathaway HomeServices Nevada Properties CEO, said despite the eye-popping price, the deal was straightforward: Supply met demand.
"Given the amenities involved, it's a reasonable price," he said. "This property is a win-win for the buyer and the seller."
Even if the midmarket shrugs, Forrest Barbee, corporate broker with Berkshire Hathaway HomeServices California Properties, said deal shows the luxury market has shaken off its housing crash doldrums. And given the space and amenities for the price, Copperfield's deal might look like a relative bargain. The same money probably wouldn't fetch quite as much in other U.S. destination cities like San Francisco or New York.
Sher said the deal sends a message about Las Vegas' desirability for ultrawealthy homebuyers. If resales near $20 million happen once, he reasoned, they might happen again.
"I expect it to raise the bar for what very ultrahigh-end homes go for in the city," he said. "They're such a small fraction of the overall deals, but if two or three of these happen every year or every couple of years, it changes the face of Las Vegas."
According to the statement, Copperfield's other real estate properties include a four-story Manhattan penthouse, the world's largest museum of magic history, and Musha Cay at Copperfield Bay, an archipelago of 11 islands in the Bahamas.
Contact Matthew Crowley at mcrowley@reviewjournal.com Follow @copyjockey on Twitter.