Inside Las Vegas' most over-the-top kitchens — PHOTOS
December 9, 2014 - 9:59 am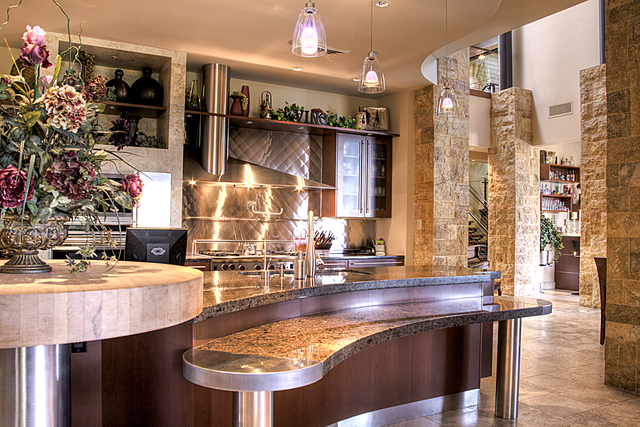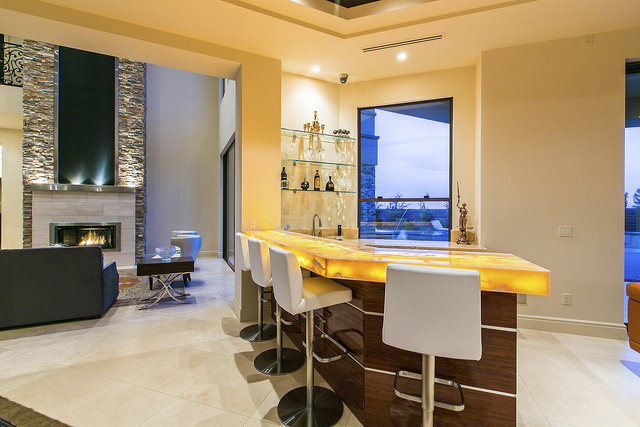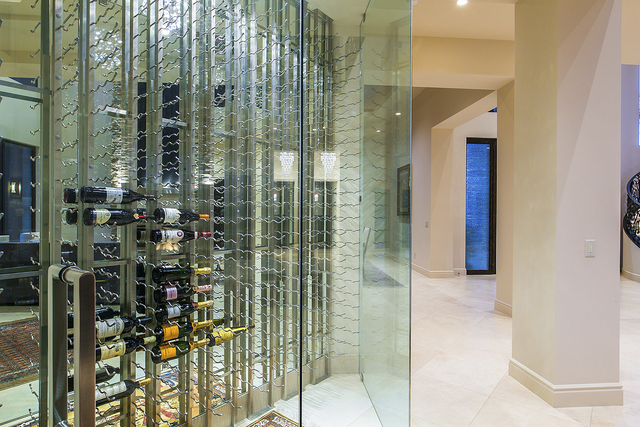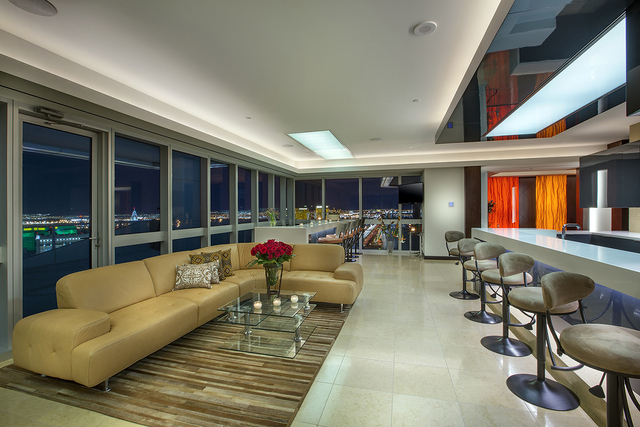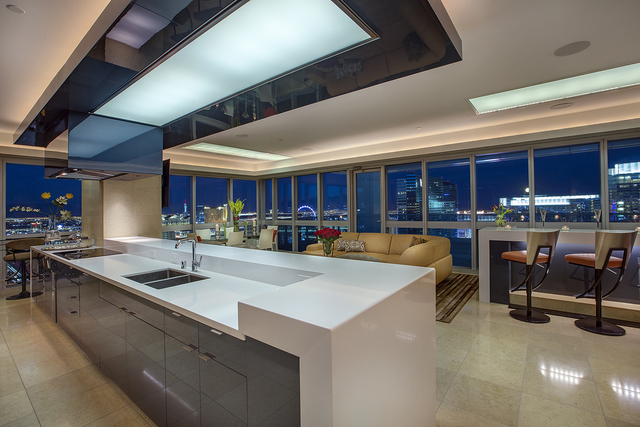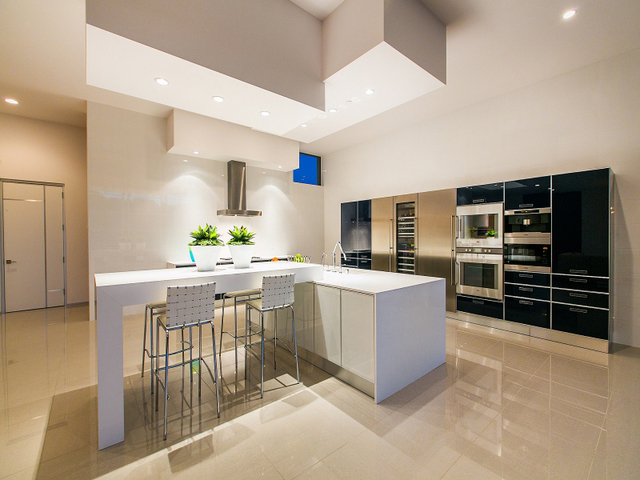 The kitchen. It's where the scent of Thanksgiving is created. Family and friends gather around, tasting holiday appetizers and sipping wine. Then it's off to the formal dining room to carve the bird. Maybe later, more wine from the wine cellar, or wine wall, as it's called these days. The kitchen is the star this week as everyone prepares for Thursday's feast.
Jon Sparer and his partner of more than 30 years, John Klai, built their commercial-grade kitchen around their favorite holiday, Thanksgiving.
"We always do Thanksgiving," Sparer said.
The two men, who are resort architects, built their unique desert contemporary residence at 7 Stable Ridge Court , which they call J2, with entertaining in mind. It's currently on the market for $13. 9 million, down from $15.9 million this summer.
The kitchen was created by Italy-based Arclinea and equipped with metric European appliances, shipped to Summerlin and installed in the luxury home. The men's resort design experience is evident in the service kitchen, which has a laundry area, commercial-grade sink, dumbwaiter, 3½-feet-deep counters, ovens, warming trays and refrigerated drawers.
"The caterers come in, and they love it. They can start coffee and dessert for 250 people. It really works," Sparer said. "We think the back of the house is as important as what the guests see. That's what makes the house so easy for entertaining."
In December, it will be one of several scenes shot throughout the Las Vegas Valley for an unnamed movie staring Michael Shannon ("Boardwalk Empire") as a Las Vegas chef. Local Lola Pictures and New York's Parts & Labor ("Love Is Strange") are producing the film, which also stars Imogen Poots ("Need for Speed").
Sparer and Klai have hosted more than 400 people at fundraising parties for local charities in their home. Sparer said they have hired seven professional chefs from Michael Mina and Guy Savoy groups and Serendipity, Caesars Palace's casual restaurant with an ice cream parlor theme.
"It's great to see them use the kitchen the way it should be used and not the way we do," Sparer said.
Come Thanksgiving the men will host about 20 or so family members and friends, who will, like most of us in the valley, hang out in the kitchen, drinking wine and inhaling the aroma of family favorite dishes being prepared.
Cool kitchens can attract buyers
Realtors, interior designers and contractors say it's not just Sparer and Klai who have lavished attention on their kitchens, it's a longtime trend that keeps skyrocketing.
Luxury home Realtor Tom Love with the Tom Love Group said luxury homeowners are spending more money on their kitchens not only because they spend a lot of time in them, but because it is a good investment and adds value to their home.
Love said he just sold a Seven Hills luxury home to an out-of-state restaurateur who fell in love with the kitchen's wood-fire pizza oven.
"To sell for the right price a luxury home has to have an over-the-top kitchen with all the amenities and a wine room," Love said.
Kitchen design trends
Robyn Yates a principal of Windermere Real Estate Nevada, which does about 30 percent of its business in the luxury-home market, said she sees the trend of upscale appliances increasing. Many homes, especially luxury homes, have Sub-Zero refrigerators with the freezers on the bottom, refrigerated drink drawers, warming trays and Wolf ranges. She said the current kitchen designs in Las Vegas favor clean, simple lines.
"The kitchens are just so sleek and clean," she said. "Everything is put away. There is space for everything."
Florence Shapiro with Berkshire Hathaway HomeServices Nevada Properties specializes in luxury-home sales.
"Granite is out," she said.
Instead, luxury homeowners are preferring the square or rectangular look of natural quartz surfaces that companies such as Caesarstone provide.
Although some experts say homeowners keep the kitchen in neutral colors to blend with the expensive appliances that they tend to keep for a while, Shapiro said she sees Italian cabinets with lots of color — navy and light blues, yellow and red.
In addition, she said most luxury homes have at least three ovens.
"I don't know why," she said. "But they want three ovens."
Kristen Routh-Silberman with Synergy, Sotheby's International Realty agrees that over-the-top kitchens usually have an abundance of upscale appliances, such as double islands, double dishwashers, double gas burners, double electric ovens, warming drawers, refrigerated drawers just for drinks, drink dishwashers and built-in espresso machines.
"There is more emphasis on the kitchen," she said. "Everyone is coming home to the kitchen."
Although she said she sees a lot of classic, clean lines and white marble, she also has noticed more color in the kitchen with jewel tones such as greens, blues and maroon.
"We are definitely moving away from Las Vegas beiges and tans. We've had enough of beige," she said. "Everyone is getting stronger, bolder more confident."
Longtime interior designer Cary Vogel said he sees color being used more as an accent to spark neutral colors in a contemporary design.
"Because of the cost of the appliances people usually stick to neutral colors," he said. "It's the adventurous soul that is going to add colors."
Not your dad's wine cellar
In addition to the kitchen going modern and sleek so is the wine cellar, which is now called a wine room or wine wall. Gone are the wooden slates, in is the back-lit glass or acrylic that displays the wine bottles horizontally. Some of these refrigerated structures can take up the whole wall in the dining room. Some of the precious vintage bottles are still kept in a darken area behind the wall or room. The structures often include inventory programs so homeowners can keep track of their labels.
"It's like a piece of art," Love said of the wine walls he has seen in luxury homes.
Routh-Silberman said some these modern wine rooms include a tasting table. She said homeowners want the ability to heat the floors while they are inside the chilly room tasting their wine.
"It keeps their tootsies warm," she said.
Dennis Wiley, who manages Xtreme Contracting, has been helping to build luxury homes in the valley for 20 years. He said for the past couple of years he has been doing high-end remodeling jobs. Some homes that he built 12 years ago are ones he is remodeling now.
He said a lot of people want wine rooms. One client wanted one near the dining room, but the cost of an addition to the house, about $45,000 to $60,000, would be too great. Instead, the client chose to install a 7-foot refrigerated wine cabinet that could hold 100 bottles in a custom cabinet configuration. Total cost was around $14,000.
Vogel agreed there are a lot more options to wine rooms these days, but said they can still ring up the remodeling tab.
"It still ain't cheap," he said.
He is working on a $35,000 wine room in a home in The Ridges in Summerlin. Another house at McDonald Ranch in Henderson is in the process of installing a custom piece that will house 3,000 bottles.
In addition to wine walls and rooms, Vogel said many of his clients have wine captains throughout the home — in the kitchen, master bedroom, formal dining room and movie theater.
After dinner movies and TV
Several Realtors say home movie theaters are losing their formal seating and replacing it with comfy couches, sofas and overstuffed chairs. Yates said she sees the theater replacing the living room. Some new luxury homes have a bar and small kitchen in the theater room. She said families are eating a meal or snack or sipping on wine while watching a film or movie.
"The theater room has become the family room," she said.
Some designers and Realtors have said they see a trend for more audio and visual features throughout the house instead of being confined to a home theater or media room. Companies such as Crestron Control Systems provide the systems that control the electronics in these areas and throughout the home.
Still, some like to keep the fun all in one place. Sparer's and Klai's tri-level home has an elevator with three buttons that read "Eat," "Sleep," "Play." Their small movie theater is on the Play level, the 5,750-square-foot basement, which also houses the wine room and a two-lane Brunswick bowling alley and a full bar featuring an entire South American maple tree as a table top.
The men used hotel-grade acoustic materials to enhance the sound quality and designed the theater to have some theater seating and comfortable casual couches.
Sparer said it's a favorite place for the family to gather after a holiday meal.