Las Vegas home in Southern Highlands lists for $3.2M — VIDEO
Updated April 9, 2018 - 9:27 am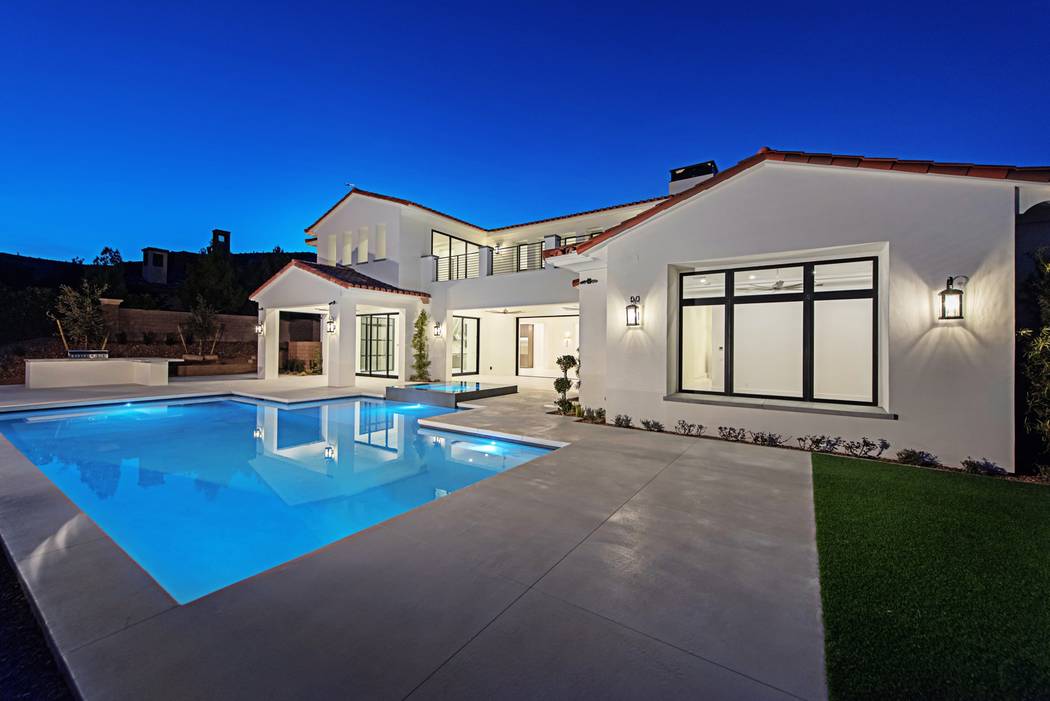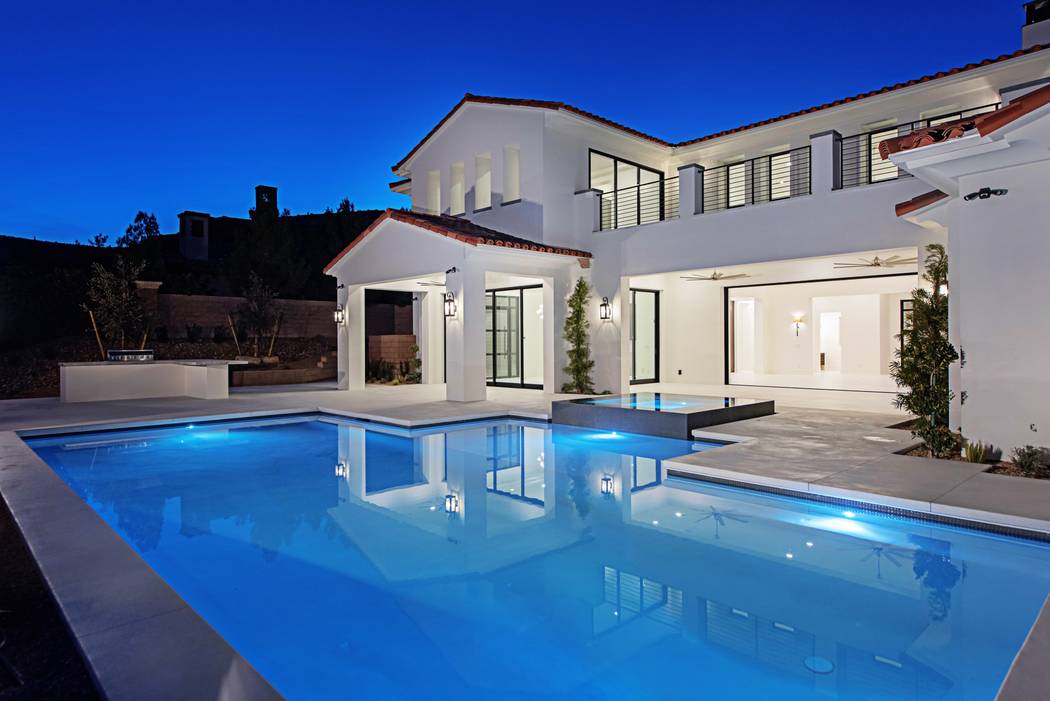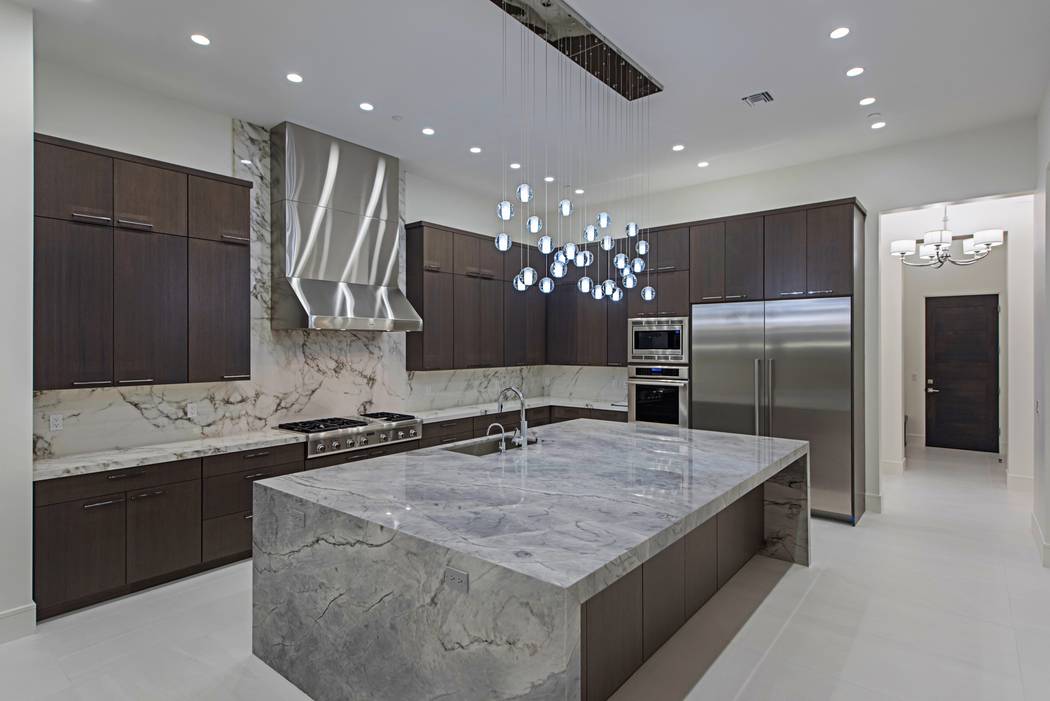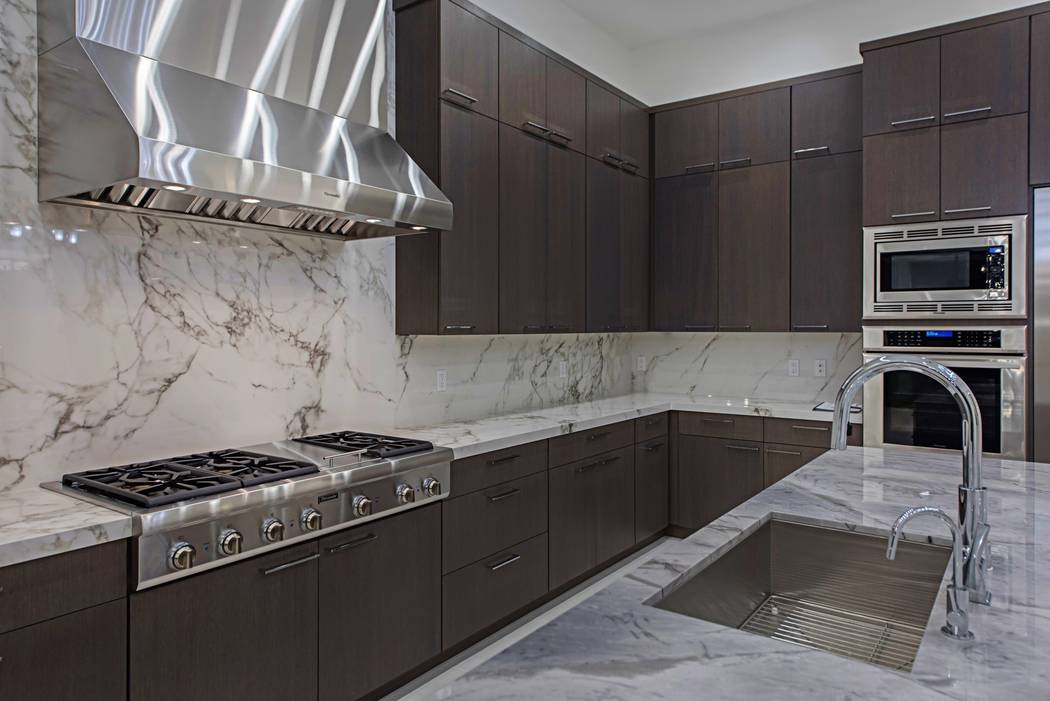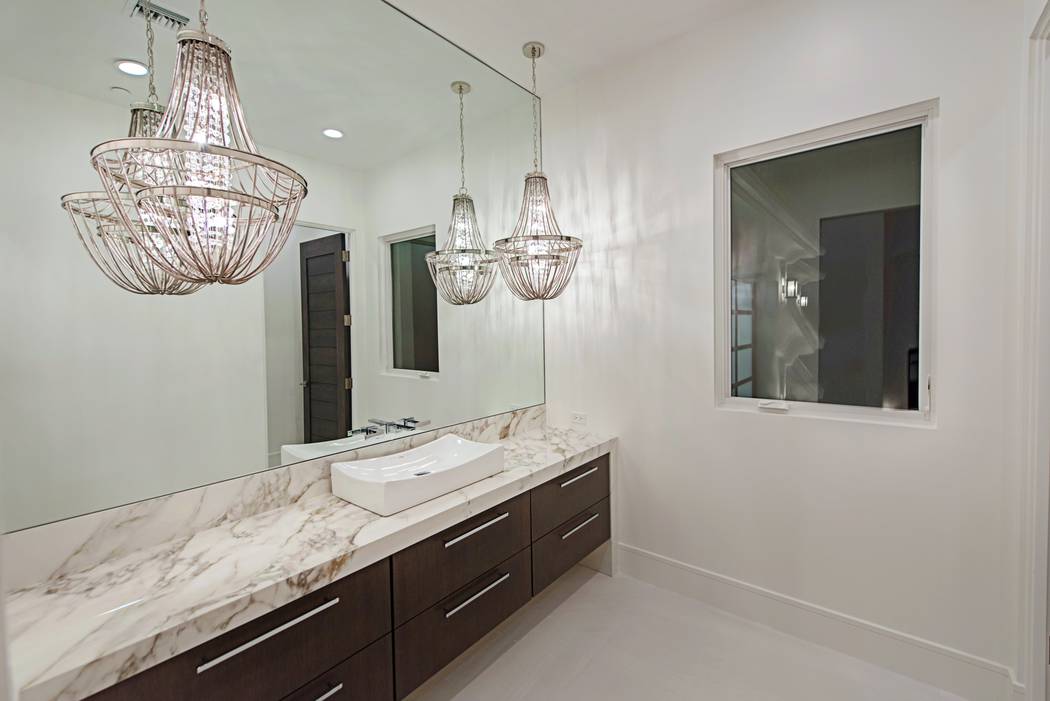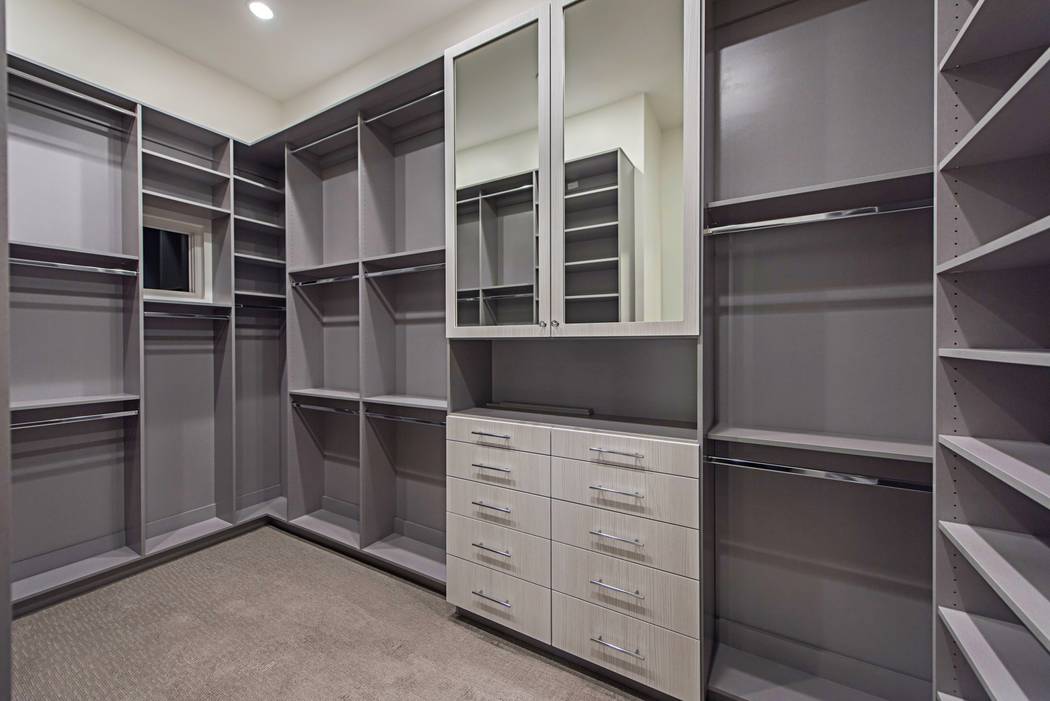 A new custom spec home in Southern Highlands is trying to change the perception that the community is an enclave for Tuscan- and Mediterranean-style homes.
Luxury builder Canyon Creek Custom Homes has finished construction on a home that measures nearly 6,500 square feet and is a California Santa Barbara-style with a more contemporary look and feel. The five-bedroom, seven-bath home on a .59-acre lot is on the market for $3.195 million, according to company founder John McDonough.
"We collaborated on finding a lot that works inside Southern Highlands," said Mitch McClellan, president and broker of Southern Highlands Realty and a partner in the custom-home project.
"What's unique about it is we have historically traditional home styles. We tried to create an environment where we could broaden that and be fresher with our design concepts. We worked closely with the architectural review committee to do things that haven't been in the past in this community."
McDonough, who has built a dozen homes in the master-planned community at the south end of the valley, said Southern Highlands has been Tuscan-heavy in architecture, and the community is trying to revamp that image and be more contemporary.
"They won't allow flat roofs out here, and they have a lot of architectural guidelines, but we were able to push it as far as we could to make the inside match the outside," McDonough said. "It's Santa Barbara with a twist to get modern elements to it. Everything is going more contemporary everywhere."
Including the dozen homes it's built in Southern Highlands, Canyon Creek has done 85 homes valleywide in 21 years, McDonough said. In Southern Highlands, there have been Tuscan, Old World Mediterranean and a few Santa Barbara styles, and the prices have ranged from $1 million to $15 million, he said.
Santa Barbara-style homes are known for their red tile roofs and white stucco walls, a Spanish-derivative architecture, and date to the 1920s and 1930s.
McDonough's home has the white finish and red roof, but he said it's more linear with no surrounds around the windows and more modern doors.
"Some people still love traditional architecture, but in a traditional setting," McClellan said. "HGTV has changed the world of what people look at and what is fresh and new. The garages, for example, are smoked-glass garage doors. We kept it as close to the style as possible but making it fresh."
The two-story home has two of its five bedrooms on the lower level, including the master suite. The second bedroom has access with its own exterior door geared for guests. It can be used as an office.
The laundry room is next to the bedrooms, so no one has to walk through the home.
The great room has a kitchen with a 12-foot ceiling and family room with a 27-foot ceiling and oversized fans. The kitchen has an oversized waterfall island in which the edge comes down on both sides of the granite surface. There is an oversized sink, high-end appliances and many cabinets, McDonough said. The wine room has stainless-steel pegs and can hold 750 bottles.
There's no formal dining room, which people are getting away from, but the home has an oversized kitchen nook, McDonough said.
The great room has large windows to allow light in, and its tile flooring is the same inside as it is on the back patio, which opens with a large pocket door as part of the indoor-outdoor living experience.
The patio has ceiling fans, a spa, barbecue area, outdoor kitchen and seating area. The pool measures 40 feet by 17 feet.
Behind the home, there is gate access to a quarter-mile long park and walking trail.
The upstairs has three bedrooms, but one could be used as a game room or video room with its wiring, McDonough said. The upstairs has a balcony that provides views of the east valley.
McDonough said there is a mix of people looking at the home from young couples to those in their 50s and 60s. McClellan said there is a lot of interest in the community from Californians looking for a second or third home and who see tax advantages in living in Nevada.
Both said that's why it's important to have more contemporary-style home that buyers want these days. It's definitely a project unique in Southern Highlands, and McDonough said it's important for buyers to have options.
"This is why we pushed it as hard as we could, and why we're trying to break that image," McDonough said.
In meetings with executives from the Olympia Cos., the developer of Southern Highlands, Canyon Creek has stressed the need for "architectural guidelines to get some more contemporary-style homes in here because that's what people want," McDonough said.
Other luxury communities such as The Ridges in Summerlin and MacDonald Highlands in Henderson don't allow Mediterranean-style homes.
"There have been people building homes that are very contemporary modern, but the exteriors don't match," McClellan said. "So you are a looking at houses that externally were Tuscan, and you walk in and it was like this (modern). This is the first one built where how it looks on the outside is how it feels on the inside. By doing something that's a little unique here and fresh, the response has been great."
McClellan said he doesn't expect Southern Highlands will move to a more modern approach and suggested most people aren't into either extreme in style. They want timeless architecture with a modern twist, he said.
"When we get all modern, I think people would get tired of that quick," McClellan said. "It's a fad, but transitional fresh works. You come in and it's not hard-core modern but fresh and transitional that you can decorate how you like."
The home is at 36 Olympia Canyon Way.
Canyon Creek Custom Homes is a boutique builder that constructs three to four homes a year, McDonough said.
"We're a smaller company and want to stay that way," McDonough said. "It allows me to be on my jobs every day and look at them and get the attention to details as needed."
McDonough said building a spec home means he is building it for himself. That allows him to design the home and pick all the elements inside.
"The market is good for specs right now," McDonough said.
McClellan said there have been few spec homes constructed in recent years because the financing wasn't available. It's a reflection of how the luxury market is recovering, he said.
"The housing market has been improving over the last several years, but the high end, particularly in Southern Highlands, has improved dramatically over the last 12 months. There's a lot happening in the south market not only with the Raiders practice facility (being built in Henderson) to the Costco coming in. People have always liked the look of the community and the location, but the services were lacking. The market is starting to grow and do very well."
McClellan said that because Canyon Creek is a boutique builder, the company can focus on details and have quality workmanship.
"Some builders have so much going on that quality control is not nearly what it needs to be for homes of this price point," McClellan said. "Some look to cut corners to save cost, and it may look great but isn't as solid as it looks. As people will come to see, it's a home that's not only fun but well-built."
Steven Taylor served as the architect, and Stephanie Evans worked as the interior designer on the project.
About the Home
Price: $3.195 million
Location: 36 Olympia Canyon Way, Southern Highlands
Size: 0.59-acre lot, 6,500 square feet, two stories, five bedrooms and seven baths
Features: Santa Barbara-style, wine room, pocket doors, pool, Jacuzzi, outdoor kitchen
History: Custom spec home built by Canyon Creek Custom Homes