Las Vegas' Park Towers undergoes multimillion face-lift — PHOTOS
November 10, 2017 - 3:19 pm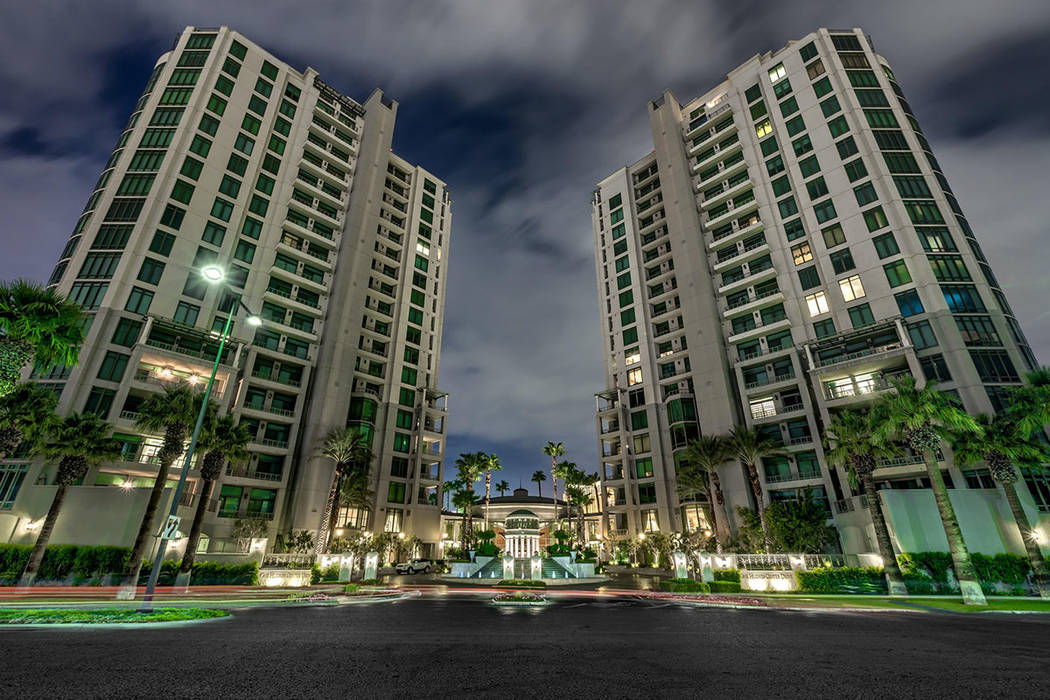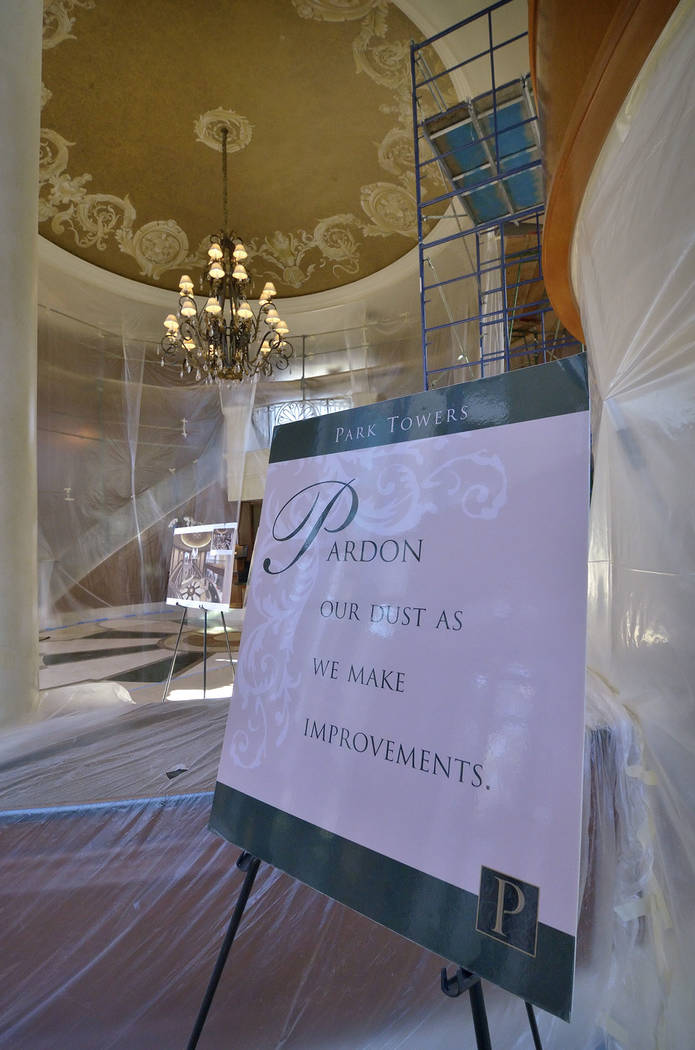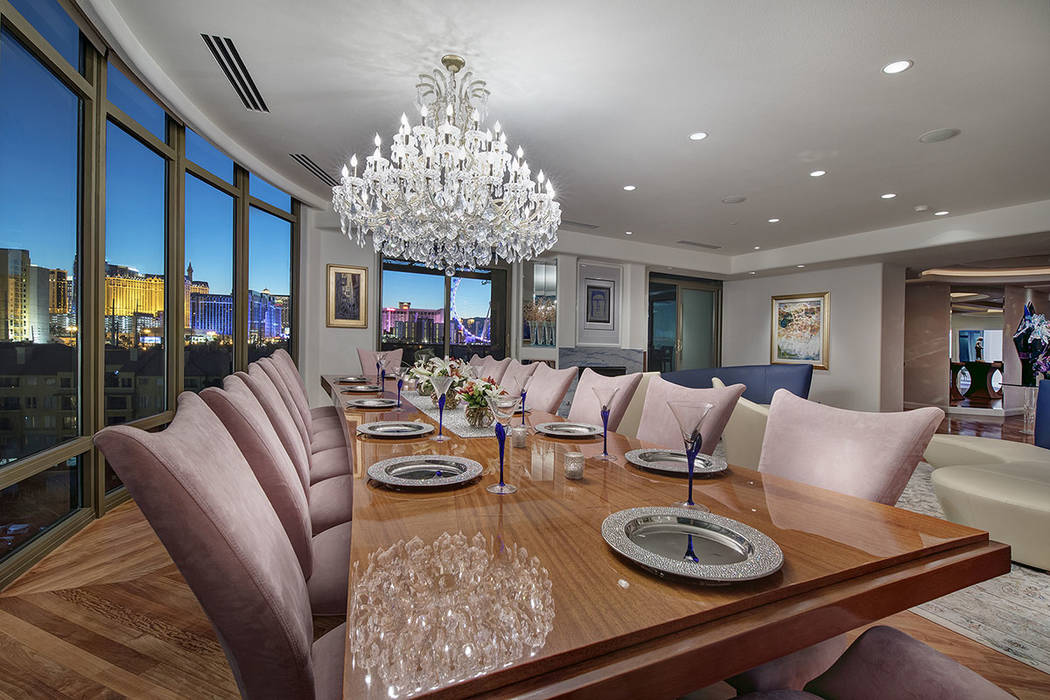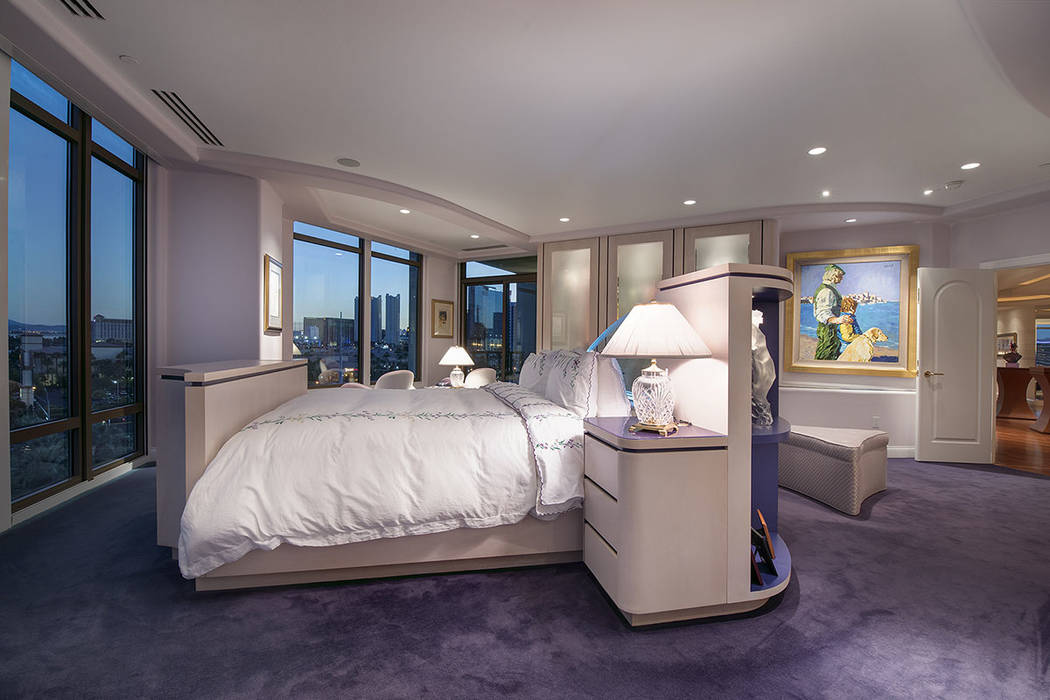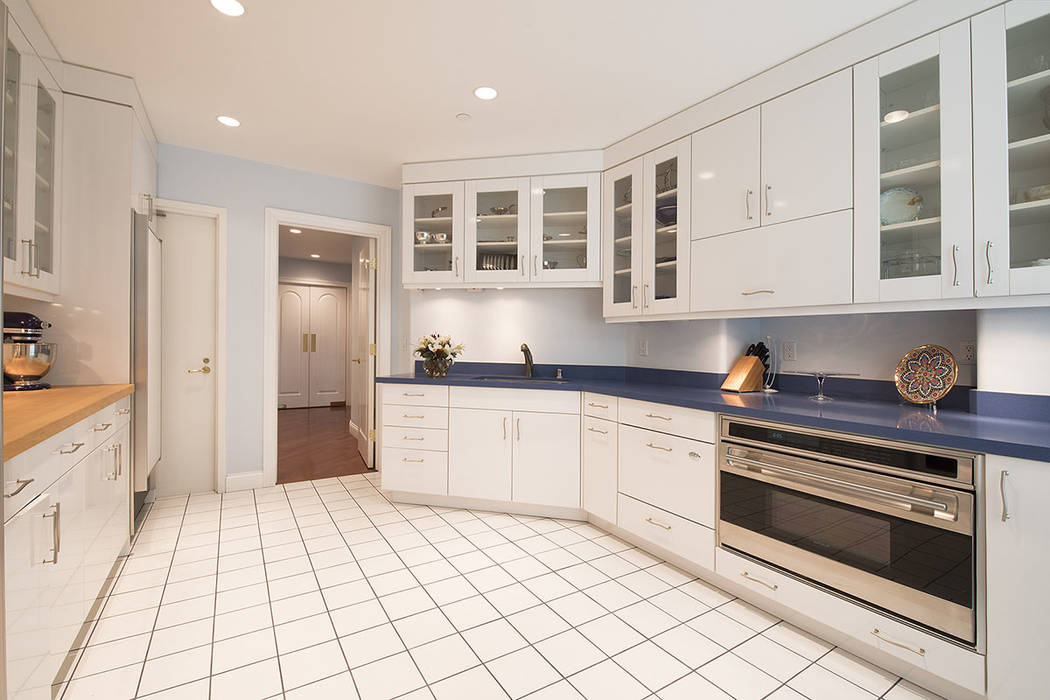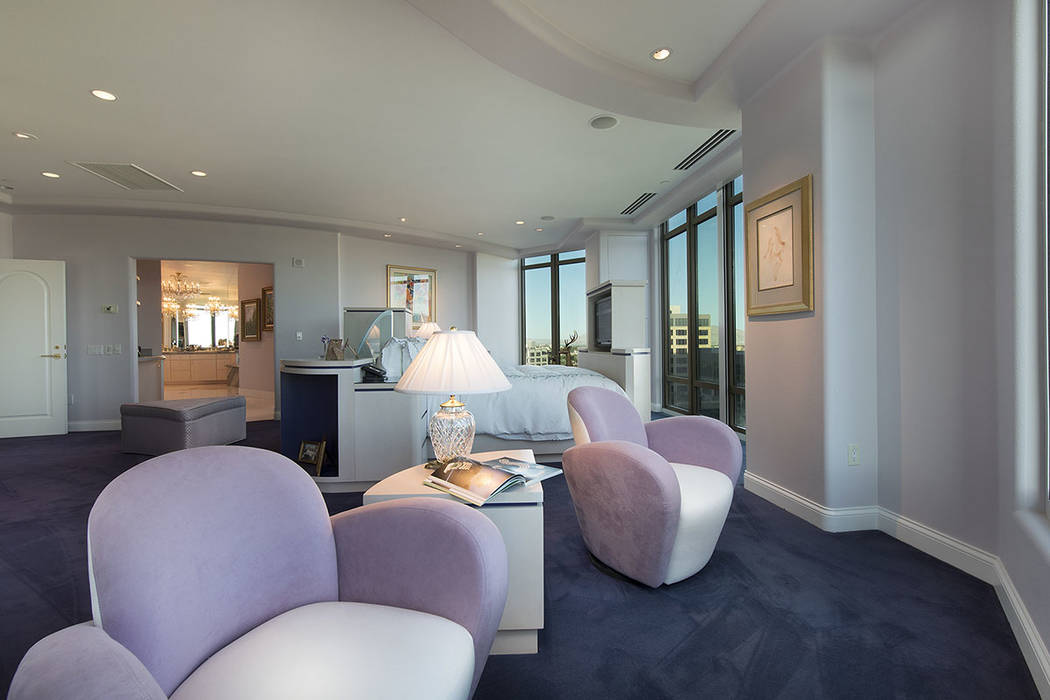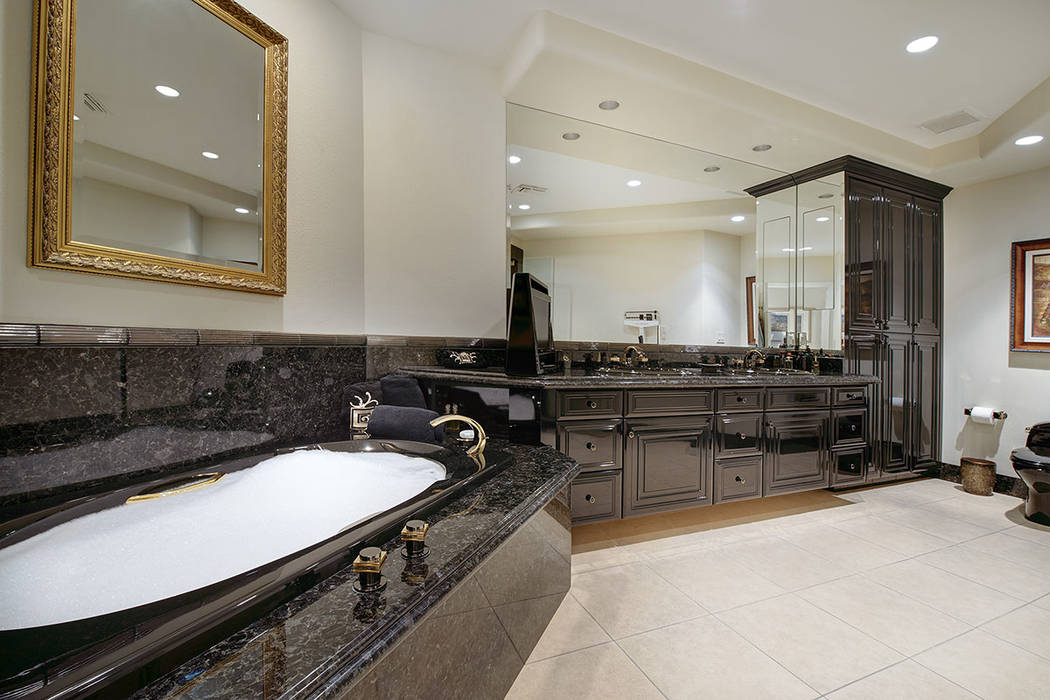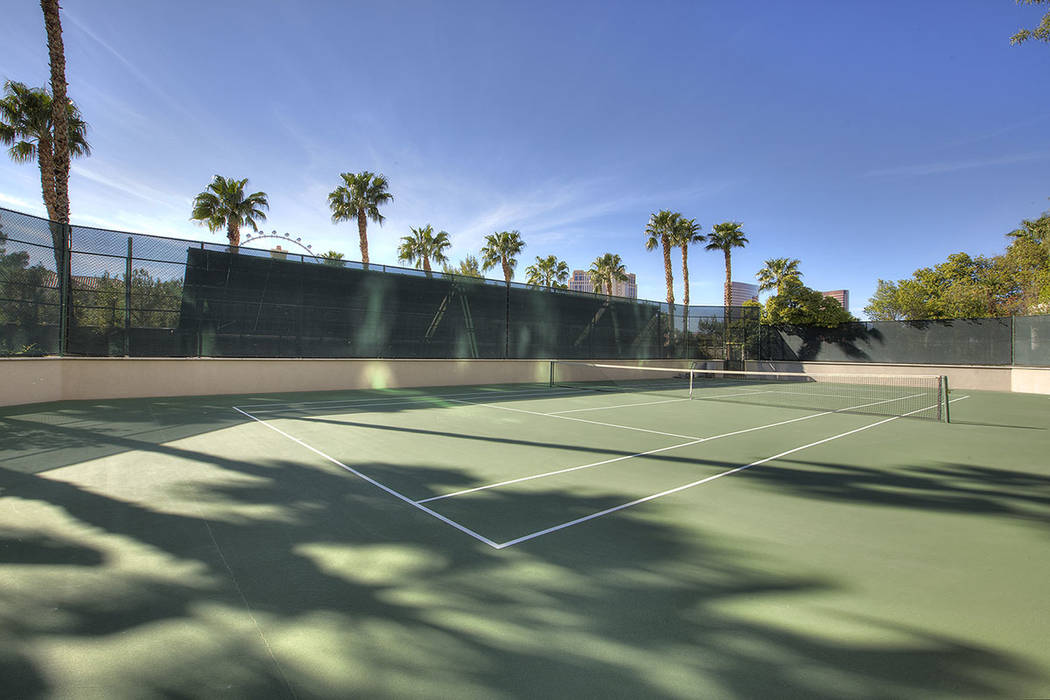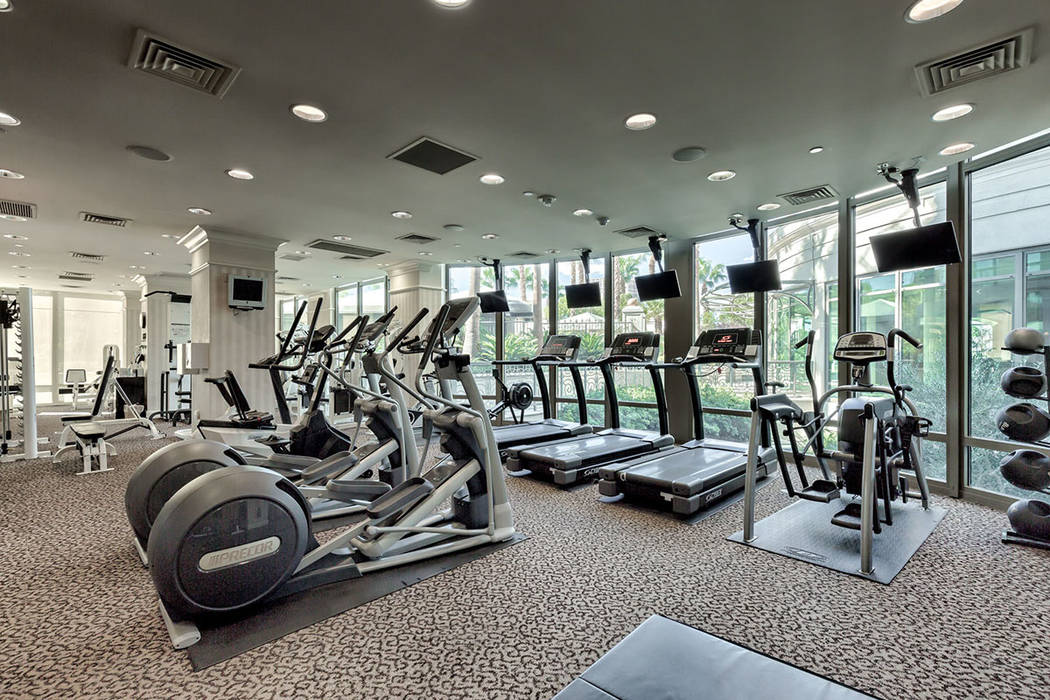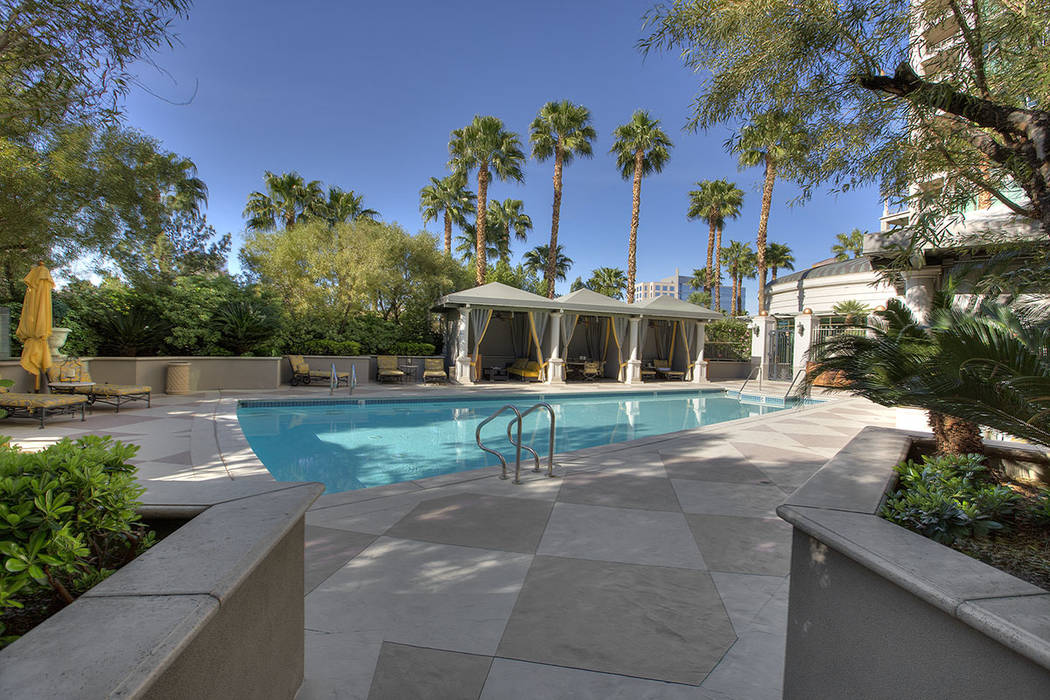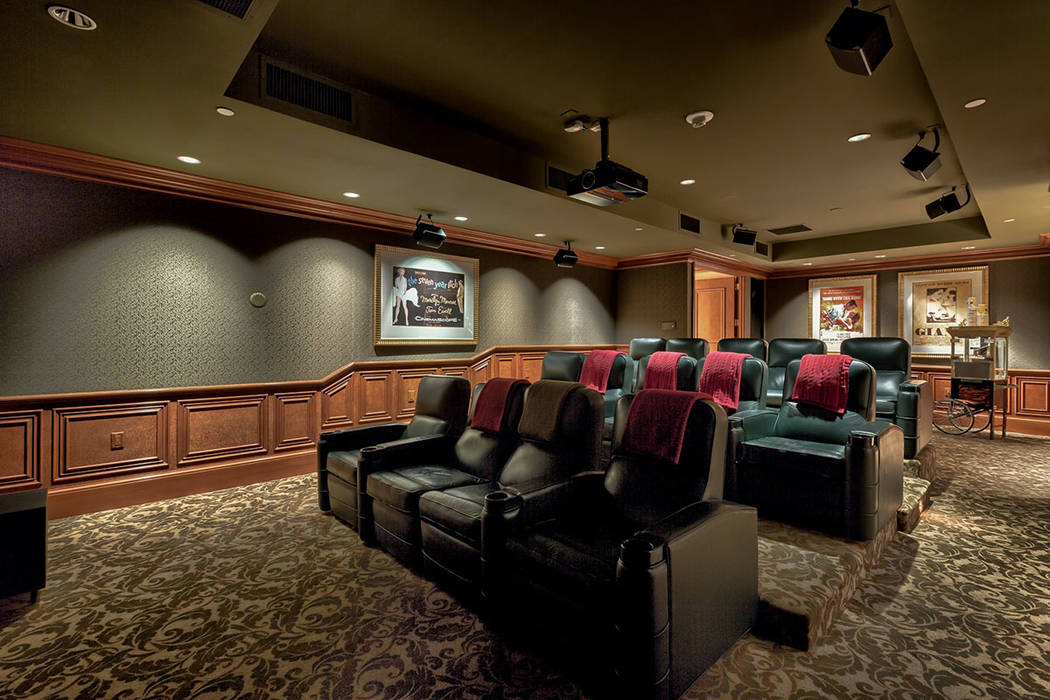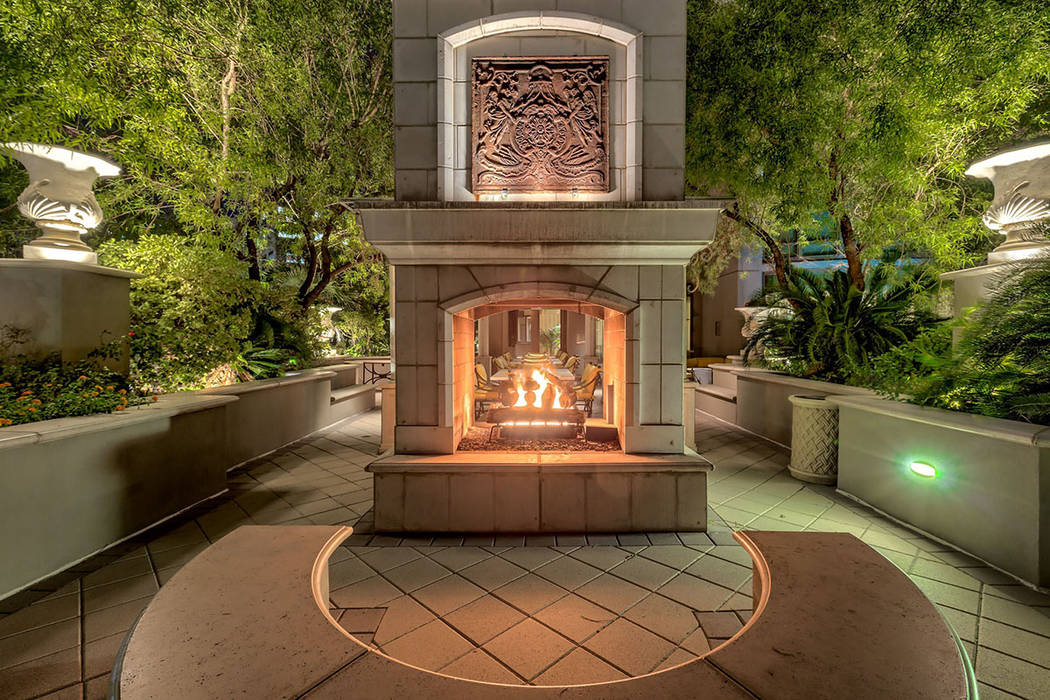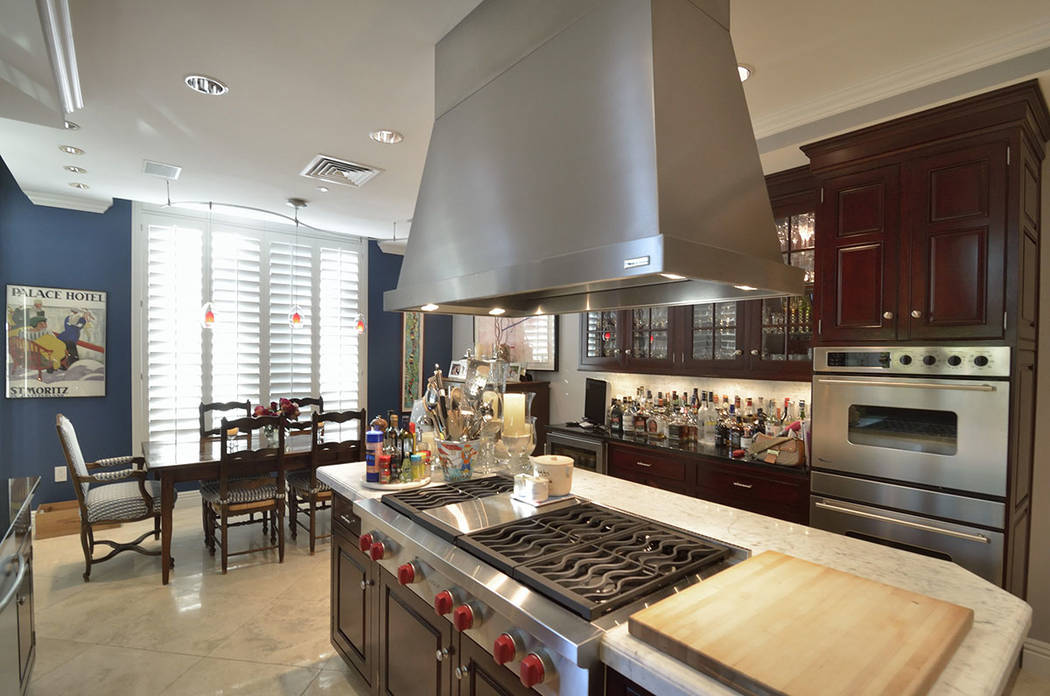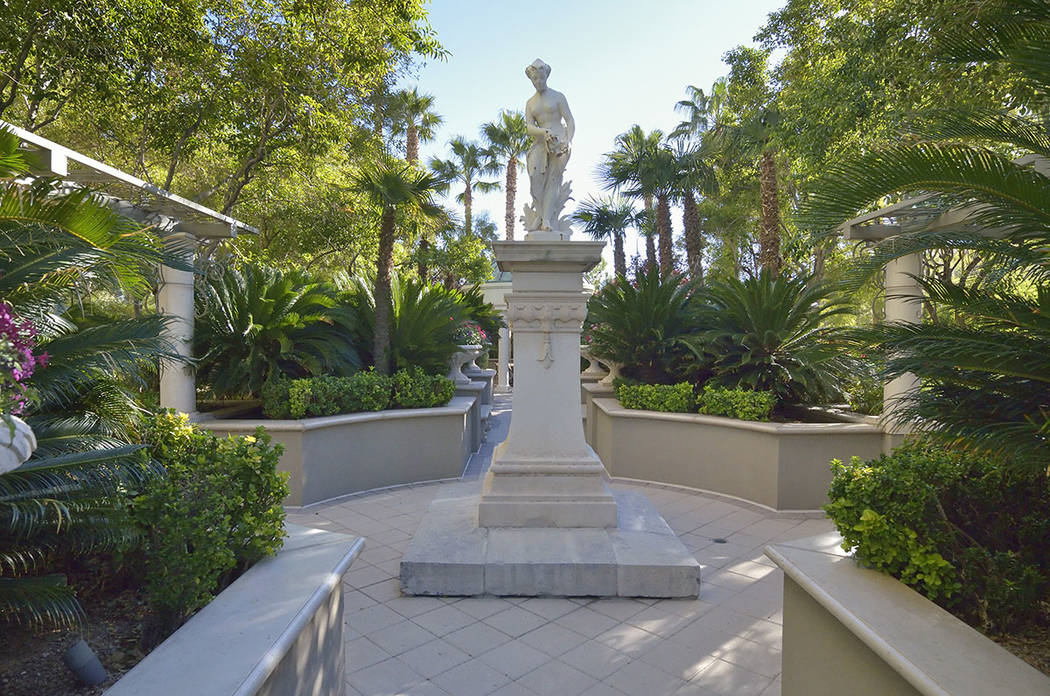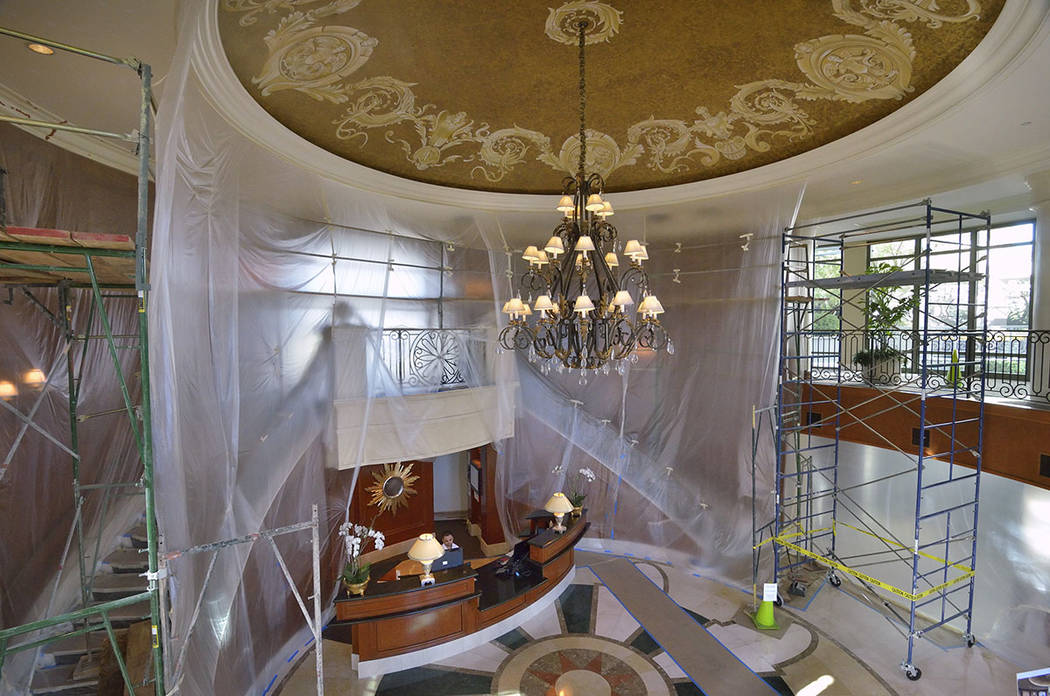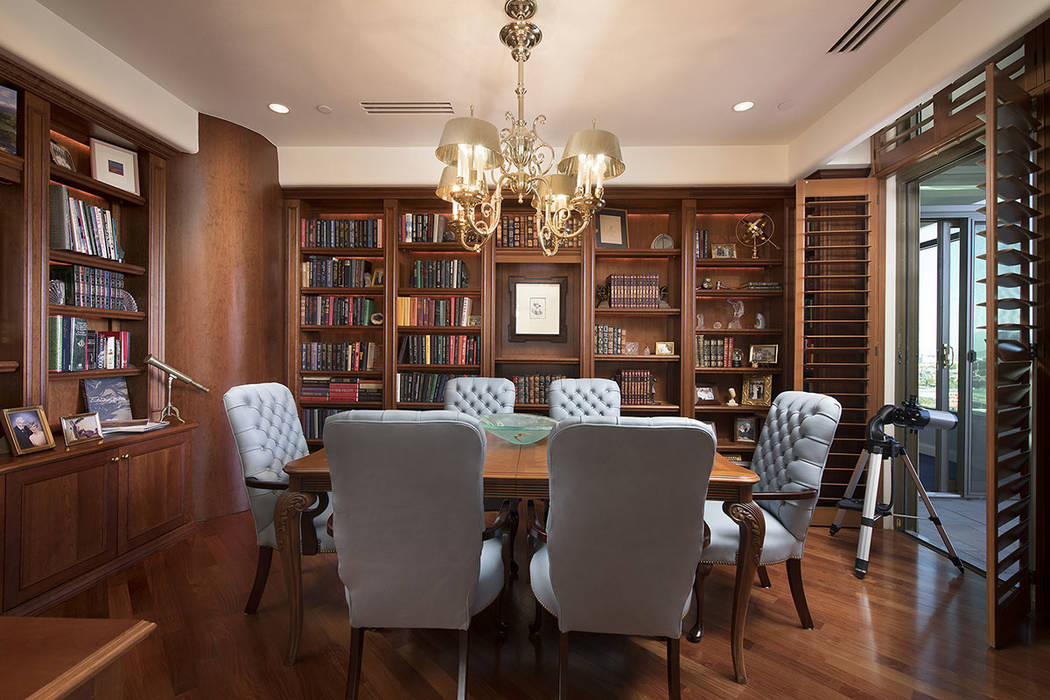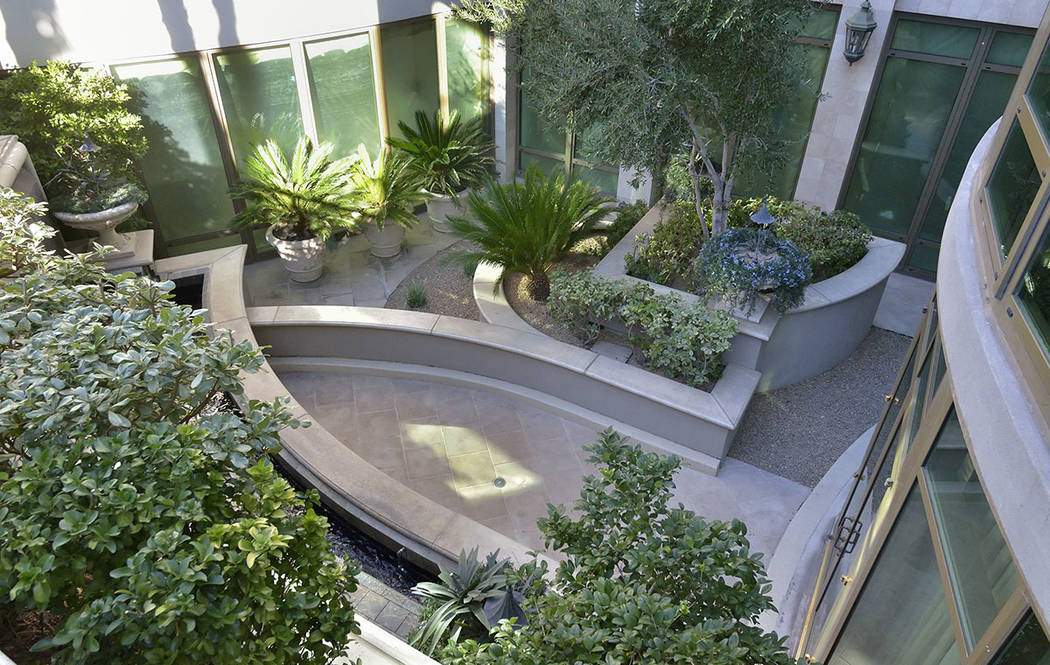 Park Towers, a high-rise condo adjacent to the Hughes Center office complex east of the Strip, is undergoing a multimillion-dollar face-lift, 16 years after it opened.
The first phase of the interior remodel started in August and is expected to be completed in December. A second phase will start 18 months from now, according to Richard Worthington, president of Park Towers Homeowners Association.
Park Towers opened in April 2001 with 84 units in two towers of 19 stories each. It was a $135 million joint venture between the Molasky Cos. and casino magnate Steve Wynn. Worthington, president of the Molasky Cos., served as project executive in charge of development. He was one of the original buyers in the building and recently put his two units known as the garden residences on the market.
The complex is updating its look in its common areas to a more modern design, similar to what you would see at a Four Seasons, Worthington said.
"Anything that's 15- to 16-years-old in the design world needs to be refreshed," Worthington said.
"We're keeping the Old World charm but give it a contemporary refresh in order for the building to remain at the pinnacle of the Las Vegas market."
Wallpaper starts to look tired for people who've live in Park Towers for 16 years, Worthington said. The building is switching to paint and refreshing furniture, rugs, lamps, lighting and fixtures, he said.
"When we live in a market like Las Vegas where we have magnificent properties like the Wynn and Bellagio, you need to stay attuned to the local market," Worthington said.
The Park Towers complex, which is situated on 3.3 acres, has 36,000 square feet of common area that includes a billiard and game room, gym, ballroom with seating for 100, library, business center, meeting room, wine cellar and movie theater stocked with popcorn, candy, soda and water.
The complex has a tennis court, spa and pool with cabanas that have refrigerators stocked with soda and water.
The first phase of the remodel will exceed $1 million and will include the lobby, ballroom and hallways, while the second phase will cover the gym, library and other common areas, Worthington said.
The goal in building Park Towers was to make it "special and unique" with not only the limited number of units that offered intimacy but with the services offered and lifestyle, Worthington said.
There is a staff of 30 at the no-tipping residences, and they bring up groceries, dry cleaning and packages to the homes, he said. And there is 24-hour security. It's compared to a having a home with a doorman and concierge.
"We have an amazing resortlike service," Worthington said. "We have a spa director, concierge, trainer in the gym and activities director to do activities like wine testing and cooking demonstrations."
What also helps set the residences apart though the competition has grown since 2001, according to Worthington, is its location just east of the Strip at the Hughes Center.
"What's unique about this building over the others is its neighborhood," Worthington said. "The Hughes Center is gorgeous with all of this grass that you can't do anymore and these palm trees that cost a fortune."
Among the 1.2 million square feet of Class A office are seven restaurants and a hotel. And it's three blocks from the Bellagio.
"The location appeals to folks over the other high-rise locations in town," Worthington said.
As for the competition, Worthington said he's a fan of the Mandarin Oriental and called it an amazing project in CityCenter. It's larger and more hospitality-oriented, however, rather than suited for full-time residents like Park Towers, he said.
"When you start assessing the high-rise landscape in Las Vegas, there are some really nice buildings, but it's not quite the demographic of this building," Worthington said.
"You get to know all of the neighbors here. They're very nice people and they're similarly affluent and share a bunch of common interests. They like intimacy and are very exclusive. The price point here is high, and that appeals to them as well. If you have a multimillion-dollar unit, do you want to be surrounded by places that cost $300,000 to $400,000? That sounds elitist, but that is reality."
There are about 20 original buyers still living in Park Towers, who bought between 2001 and 2003, Worthington said. Some units like his are a combination of two properties, so there aren't 84 owners in the building.
Planning for Park Towers started in late 1997. A focus group with potential high-end buyers resulted with each entering into a contract before the building was constructed, Worthington said. Many of the buyers were prominent local families and business owners, and it ended up that 50 percent were local residents.
"It was a unique proposition in that we had a lot of people in very large homes and they had outgrown them," Worthington said. "The kids had matured and gone to college or moved out, and they wanted a lower maintenance — close-the-door-and-go lifestyle."
Production homes at the time sold for about $100 a square foot. Custom homes sold for about $200 and square foot, and Park Towers started selling units for $360 a square foot, he said.
"The bankers thought we were nuts," Worthington said. "But it was the high levels of service and the amenities that differentiated us."
Some 21 units were sold before the project was built and 42 when the project opened. The Sept. 11, 2001, terror attack five months later created an economic shock so that the remaining 42 units didn't sell for another two years, Worthington said.
A unit sold for more than $1,300 per square foot before the recession and housing crash, and units today sell in excess of $600 a square foot and are approaching $800 a square foot, Worthington said.
The condos start at 2,055 square feet and go as high as 11,000 square feet with the largest two penthouses. There are two penthouses that measure 7,500 square feet each.
Some 60 percent of the Park Tower residents today live in the building full time, Worthington said. Many of those full-time residents even have homes in other locales, including Hawaii.
"We have one owner from Scotland," Worthington said. "He comes here three times a year and prefers a private residences than stay in a hotel. This appeals to him because he likes to gamble, and he likes to get away from the hotel and quietness of this."
There's a founder of a Fortune 500 company, other entrepreneurs and even someone who sold a company for several billion dollars, Worthington said. Nevada, with no state income tax, is a state for people to relocate, especially if they're selling a business. Park Towers continues to have a few gaming executives as it has had since it opened, he said.
"They love the proximity to the Strip and because there's no traffic," Worthington said. "It's far enough away that it's quiet and close enough to enjoy the view. Most of the towers have views looking back on the Strip and lights."
Worthington has listed his two units on the second floor that can be sold as one as he has it now or as two units. A wall would be added. One measures 2,251 square feet with two bedrooms and three baths and the other measures 2,913 square feet with three bedrooms and four baths.
The price is $1.89 million for the larger unit and $950,000 for the smaller one.
The two were developer units held back from the initial sale and offered to Worthington who moved in the building in May 2001. He is selling to relocate to The Ridges in Summerlin, where he's building a 9,000-square-foot home that will have the amenities he said he will miss at Park Towers with a gym, wine cellar and movie theater.
"It is hard for me to leave because it has everything I want," Worthington said. "My family situation has changed. We have young children that go to school in Summerlin, and that's a 35-minute drive each way. They have friends and after-school activities and felt it would be more conducive to their academic and social lives if we lived closer to their school."
Worthington's units at Park Towers are the only two on the second floor of his building, and he said he likes that he can walk down the hallway to the gym where he works out regularly.
Worthington has a private outdoor patio and by walking through the gate he can access a common area garden and gazebo, tennis court and pool and spa area.
"I feel like I have my own 2-acre garden out back," Worthington said. "This is an intimate project and with only 84 units, it feel like I live on an estate maintained by someone else."
Worthington's Realtor, Kristen Routh-Silberman of Synergy|Sotheby's International Realty, said the combined unit has wide-plank wood flooring stained in rich tones, French-style windows, baths clad in marble and mosaic tile. It has an all-white contemporary kitchen with an oversized granite island. There's a wine chiller adjacent to a walk-in temperature-controlled wine cellar.
The living and dining rooms "flow seamlessly" to the gardens, and the master retreat features another private terrace. The glamorous marble spa bath features double vanities, a luxurious jetted tub and an oversized shower, she said.
The HOA fees are $2,796 a month for the larger unit and $2,582 a month for the smaller one. Worthington's units are among a handful for sale in Park Towers.
Two units: one home
Price: The 2,913 square feet unit is listed for $1.89 million. The 2,251 square feet unit is listed at $950,000.
Location: Park Towers, adjacent to the Hughes Center office complex east of the Strip
Features: The units can be sold separately or together. They have direct access to the garden, tennis courts and pool area. One of the units has a private outdoor patio. They are the only two on the second floor in that building.
History: The two were developer units held back from the initial sale and offered to Richard Worthington, president of Molasky Cos., which helped developed the high-rise. Worthington, who is the homeowners association president, moved in the building in May 2001.
HOA fees: $2,796 a month for the larger unit and $2,582 a month for the smaller one
Listing: Kristen Routh-Silberman of Synergy|Sotheby's International Realty