Liberace Mansion opens doors to fans
November 9, 2016 - 9:27 am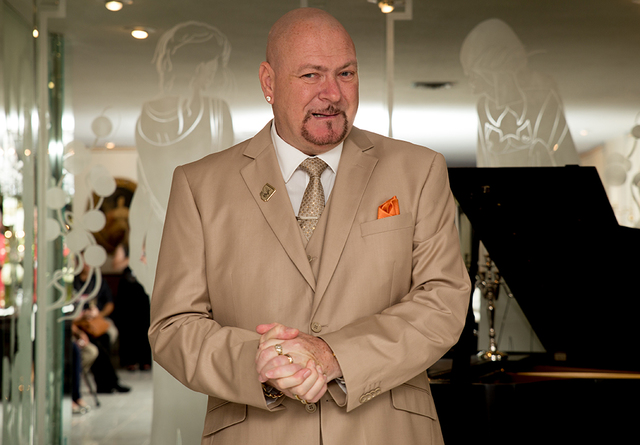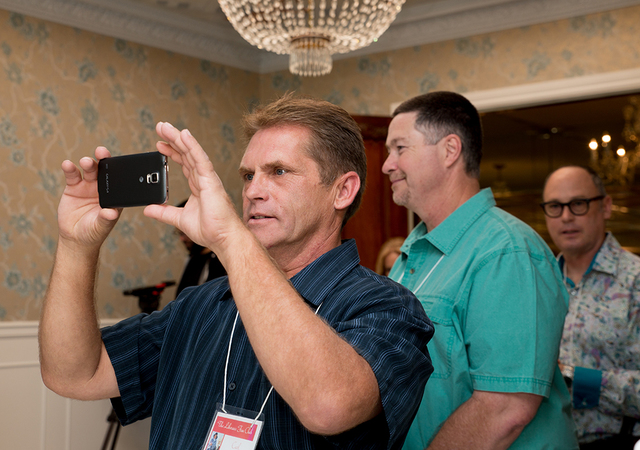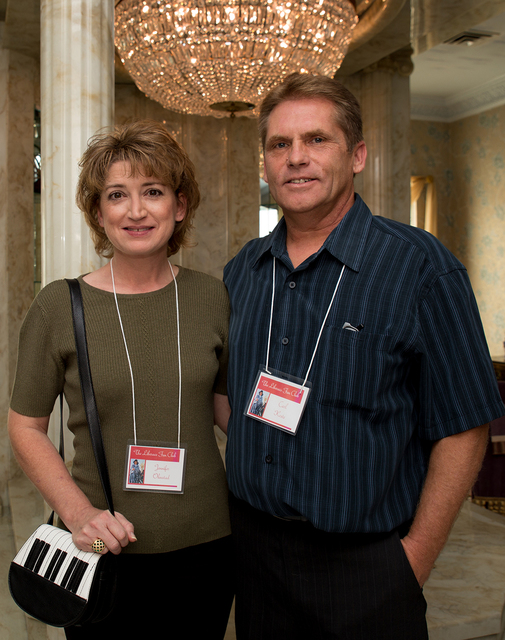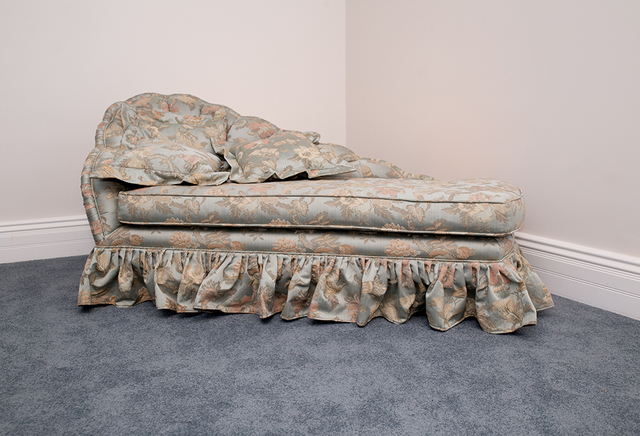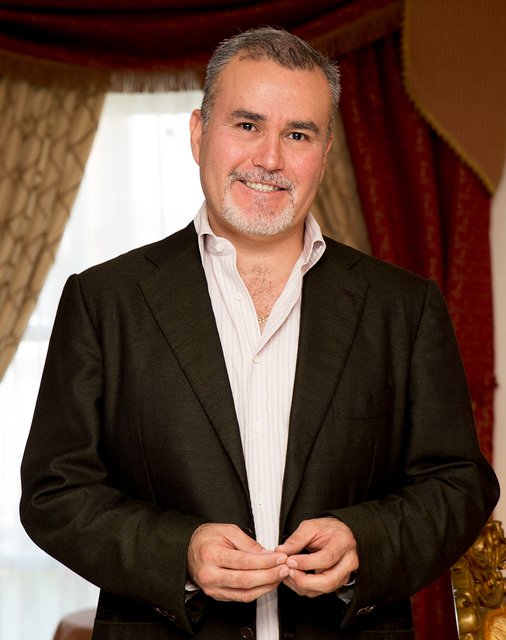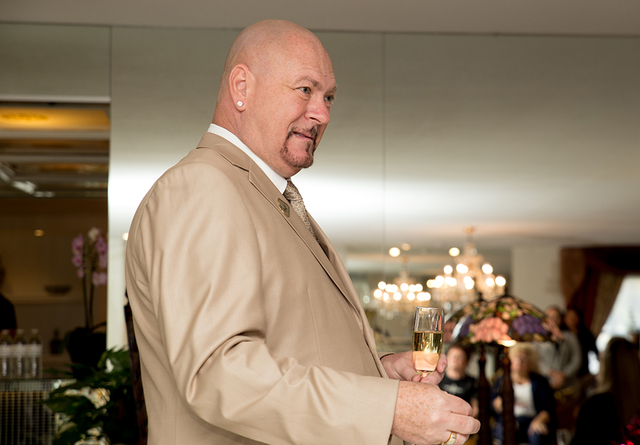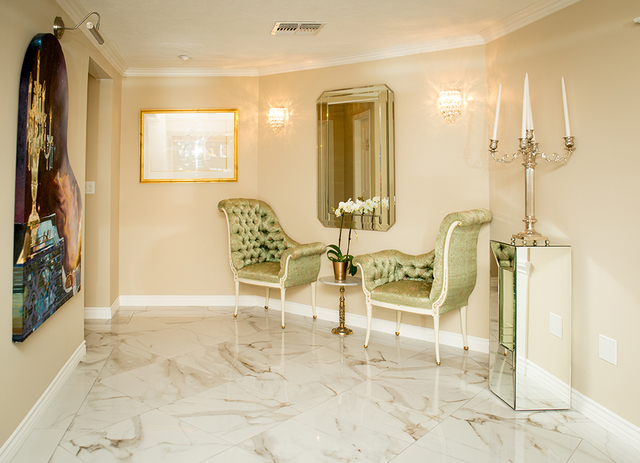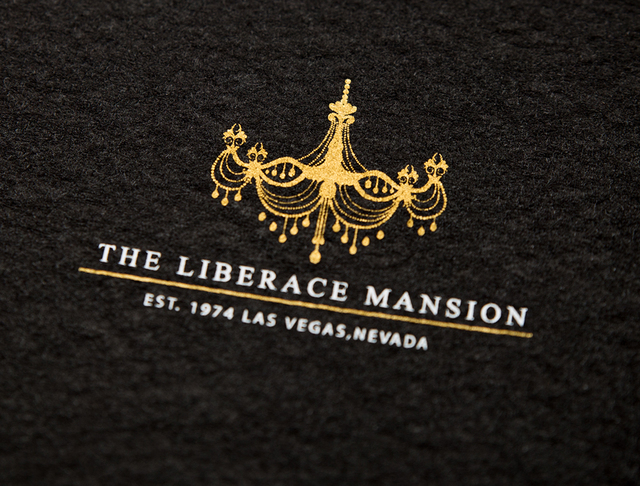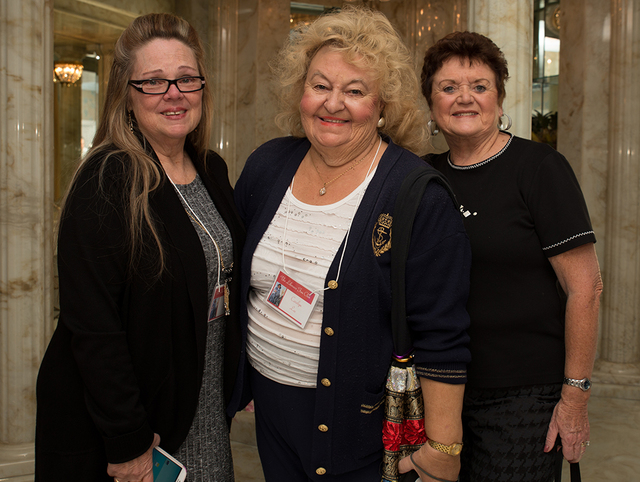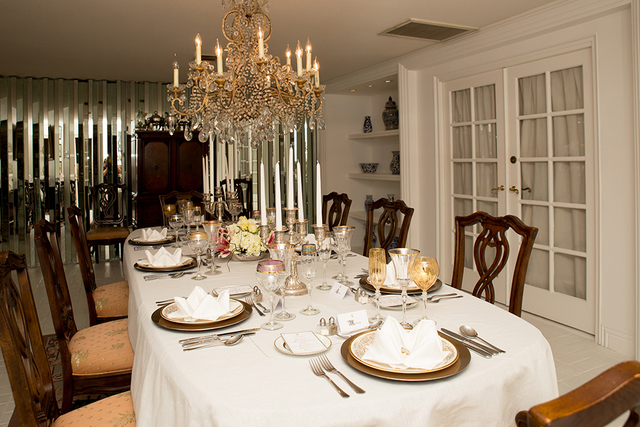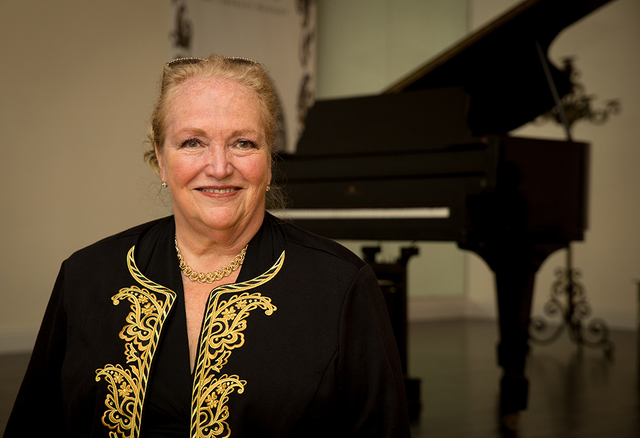 "Aah!" "This is gorgeous!" "I can't believe I'm actually here!"
These were the expressions of Liberace Facebook fan club members passing by the grandiose curved staircase of the Liberace Mansion last week. The nearly 30 visitors who traveled from far and near share a deep appreciation for iconic piano virtuoso Liberace and were excited to tour the first floor of his part-time, 14,393-square-foot residence at 4982 Shirley St.
Wladziu Valentino Liberace (1919-1987) created this home south of the University of Nevada, Las Vegas, in the mid-1970s by connecting two smaller homes into the biggest one on the block and designing an interior reflective of his glitzy, opulent persona.
For most fan club members, it was their first time walking into their beloved entertainer's former home. Most had only seen photographs and news reports of its glory days of glitz and glamour when Liberace was alive, its deterioration when it went into foreclosure in 2013, and then its extensive renovation and restoration by current owner Martyn Ravenhill.
Ravenhill greeted the busload of fans one-by-one with his English accent. Many knew Ravenhill's story. He is the U.K. businessman and Liberace fan who bought the mansion for $500,000 in summer 2013 after seeing the dilapidated home on YouTube. He invested well over three times that amount in making the home structurally sound, filling in sinkholes and restoring and renovating its unique interior and exterior.
In March 2016, the Liberace Mansion received the first Clark County Historical Designation by the Clark County commissioners. The historical designation brings accessory uses to the single-family residence like private fan club tours, charity fundraisers and private events.
The fan gathering was not happenstance.
"We started planning this a year ago, and it's been years since we have all gotten together," said Gerald White from North Carolina, who organized the three-day get-together with Hilde Lindstrom from Pennsylvania and Karen Libby of Las Vegas.
"This is a perfect way to pay tribute to Liberace, his music and his legacy. We hope that Liberace's legacy will continue to live with the mansion. He was a strong pillar in the entertainment industry of Las Vegas. … We are here to celebrate the showmanship and his music," White said. "This is also a way to pay respect to one of our friends, Pauline Lachance (an archivist with the closed Liberace Museum), who passed away and would have loved to have been here."
Some in attendance had known Liberace, like Lindstrom. Lindstrom first saw Liberace perform when she was 11 years old and met him after "chasing him down at a parade for an autograph" when she was 15 years old. They later became friends.
Cameras were aimed in all directions when Ravenhill directed attention to Ryan How, a Liberace fan from the U.K. who helped lead the tour. How led the group from the front living room surrounded by decoratively etched mirrors in the style of Aubrey Beardsley and sparkling chandeliers, past a decorative mirrored bar with etchings of Liberace's name and music notes, and to a formal dining room.
They then walked past pillars imported from Greece, down a white marble floor and mirrored hallway lit by ornamental sconces, and into master suite wing, under which were the sinkholes Ravenhill inherited with the home purchase.
An intricate ceiling mural painted by a descendant of Michelangelo depicting the Sistine Chapel is featured in the master bedroom with a mirrored fireplace and bar.
The adjacent master bath features a ceiling mural of Liberace's face and cherubs surrounded by clouds and a marble tub with 14-carat gold swan fixtures and a decorative fountain.
The group then headed to a large meeting room that an owner who bought the home after Liberace's death had built on top of what was once a swimming pool. The home had exchanged hands a few times before Ravenhill's purchase and had been used for events including high school proms.
Standing out in the crowd taking photos was Michael Orsini from Orlando, Florida, who was wearing something that Liberace might have liked — a sequined green, gold and black jacket. As perhaps the youngest in the group, Orsini said that he became a Liberace fan through videos.
"There's just something about Liberace that I like. He's classy, and he's talented. He brings a certain entertainment factor and style. We need to carry on his legacy as a great entertainer."
The group settled back to the living room to enjoy conversation, champagne and water and piano music performed by Gary Sanders. Fuchsia-and-black sequined jacket pianist Bryant Olender from Vancouver then took over the grand piano to play Liberace's famed arrangement of "Chop Sticks" and a fancy version of "Beer Barrel Polka."
After the performances, Ravenhill answered questions about the mansion's past, present and future. He described the restoration process as a "magic carpet ride" filled with "so many highs and not so many lows." A journey well worth it. A journey that is continuing.
"At the moment we are restoring the Moroccan Room and repairing the tile walls," Ravenhill said of the second-floor atrium nicknamed for its copper tiles imported from Africa. This room is where Liberace reportedly entertained celebrities after performing on the Strip.
Some memorabilia featured in the home were donated by Liberace fans — pianos, jewelry, ashtrays, furniture and even a television. Items have been acquired through auctions.
According to Ravenhill, Friends for Liberace Mansion has gained nonprofit status.
Soon after, the group headed back to the bus with other "Liberace things" on their agenda. These included a meal at the Peppermill Restaurant where Liberace used to eat after shows on the Strip and a visit to the Liberace Garage, a museum that houses vehicles driven by Liberace, plus a gift shop at 5115 Dean Martin Drive.
Also, fan club members attended a private dinner at Thriller Villa: Michael Jackson's former rental home, where they saw some items from the closed Liberace Museum and on private display by the Liberace Foundation in its basement.
Thriller Villa is not open to the public. But the 16,122-square-foot residence at 2710 Palomino Lane is for sale for $9.5 million and listed by Kristen Routh Silberman of Synergy Sotheby's International Realty.
The Liberace Mansion is a private residence, and private tours like that of the fan club are by arrangement only.
"I was excited when I saw this fabulous piece of Las Vegas history was for sale. I hope to share Liberace's legacy with others," Ravenhill said.