Look inside some of the valley's sweetest suites — PHOTOS
February 16, 2015 - 12:55 pm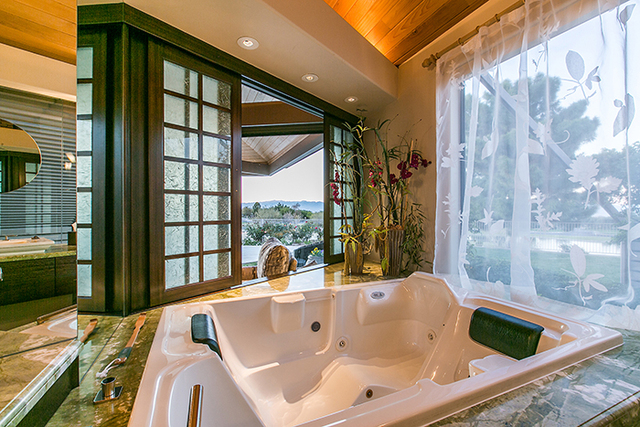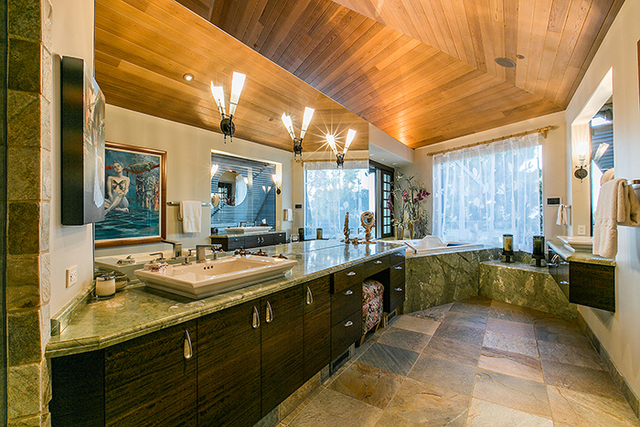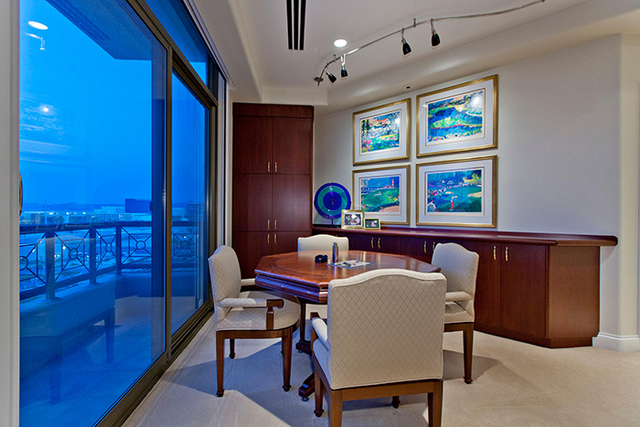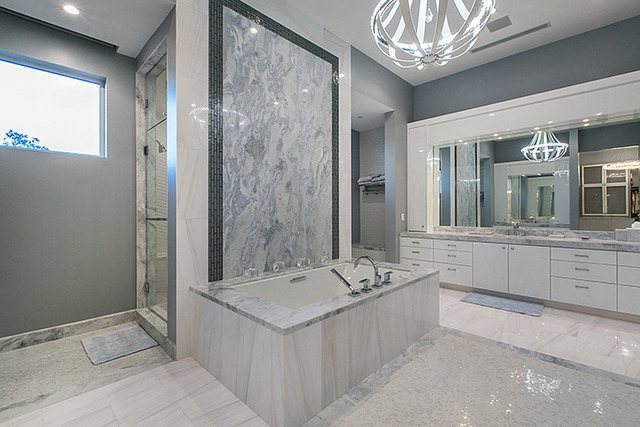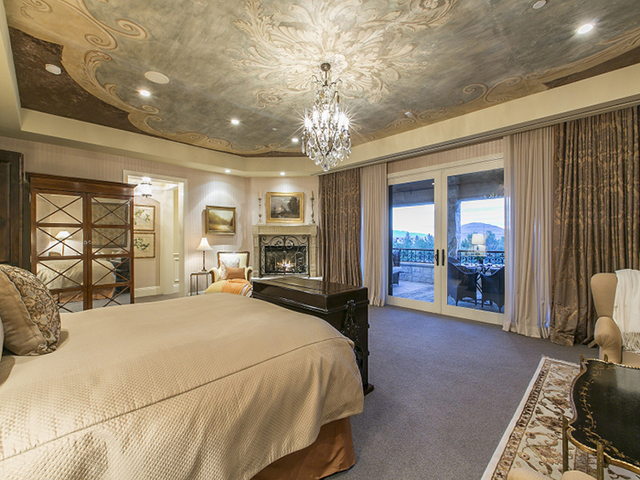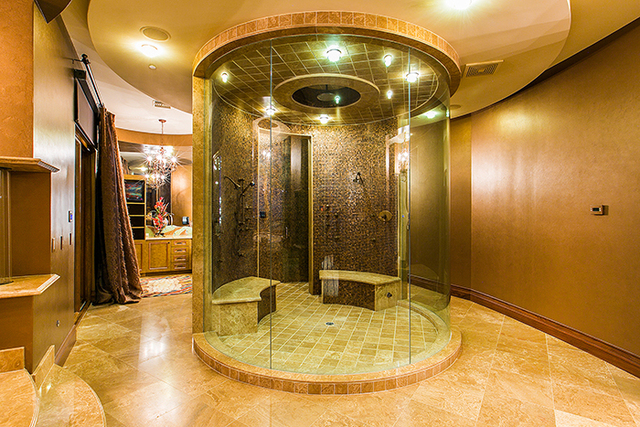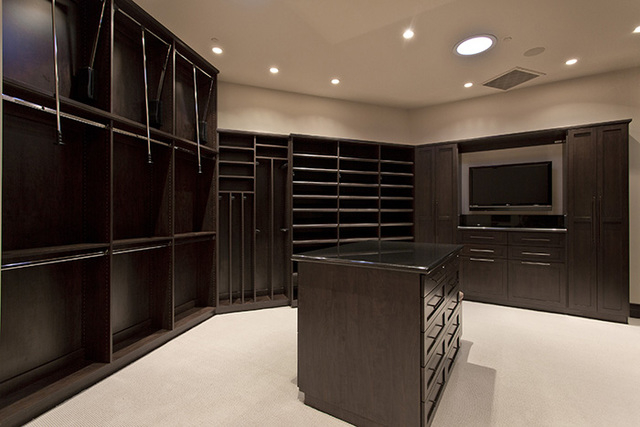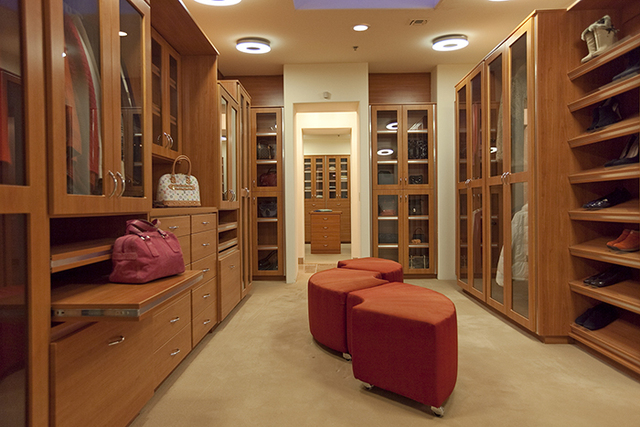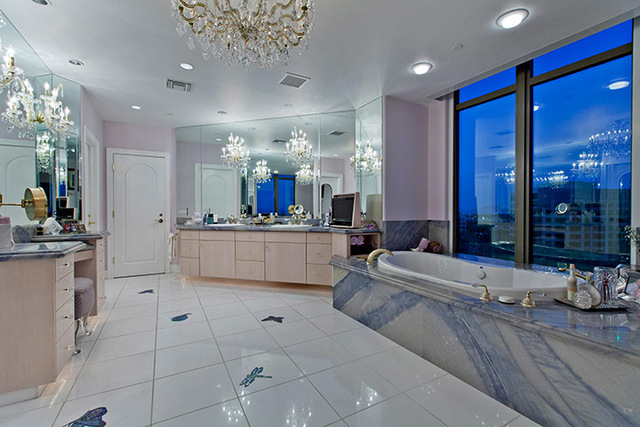 John Curtis has been building custom homes for years, so the first thing he tells people before blueprints are inked is to — carefully —design the kitchen, and second, know exactly what amenities will be in the master suite.
"These are the areas you are personally going to live in," said Curtis, owner of Tyler Construction and Development Inc. "When I build a master bath, you should look at this as your own personal spa."
Curtis and his wife, Ronell, took this philosophy to the max when they built their 9,318-square-foot, $3.6 million home in The Ridges, a Summerlin luxury community. Boasting five bedrooms and seven baths, it features a master suite with African sapele wood embedded in the ceiling, a cozy sitting room fireplace, a his-and-hers 15-by 20-foot walk-in closet, a negative-edge aroma therapy tub with heaters and a massive 16-by-14-foot shower.
The shower features 15 massaging heads, surround sound and full steamers on both his-and-hers side to blissfully sooth the day's troubles away.
"You fire up the steamer and put a little eucalyptus oil in there, you can really clear up your head," Curtis said. "You get the benefits of all that steam and take a shower at the same time. These are really unique to use. Once you start using a steamer you will use it all the time."
As a successful custom homebuilder, Curtis tells his clients that upscale master suites are what increase the value of their home. For his home in The Ridges, he spent $30,000 on the bathroom. The negative-edge tub alone cost $6,000.
Realtor Florence Shapiro of the Shapiro & Sher Group Berkshire Hathaway HomeServices Nevada said having an over-the-top master bedroom suite can make or break a sale. Clients want the master bedrooms to be large and separate from the other bedrooms. They like having the bedroom opening onto a balcony and overlooking a whirlpool bath outside. Steam features are a must in the adjoining bathroom, as are multiple shower heads. Clients also want double master closets and double master bathrooms.
Technology plays an important part, with some master bedroom mirrors having built-in televisions for keeping up on the morning news while getting ready for work. Also, clients want to be able to program their smartphones to control audio and video devices, and temperatures and security.
"The new look in the bathrooms is very light with inlaid marbles," Shapiro said. "It's an evolution that's taking place because the materials are changing. Before it was Tuscan or Old World and now people are into contemporary and lighter."
Ivan Sher, Shapiro's business partner, said homebuyers don't necessarily want the largest home anymore, they want the best home for their money with very large master bedrooms and master bathrooms. Also, he said some clients want two master suites on multiple levels of the home with the second master suite built out to about 70 percent of the primary suite. Homes in the $3 million to $4 million range will all have these over-the-top master suites, he said.
"Well furnished, unique homes sell," Sher said, adding that he recently put an $8 million home on the market with all the new features including large master suites, and it sold within a week.
"When I'm showing the master bedroom it's like the Academy Awards," Sher said. "It's usually shown last because it can make or break the house."
Susan Rowland, a sales agent with European Bath, Kitchen, Tile & Stone, said her upscale clients are looking for state-of-the-art fixtures such as chromotherapy lights in tubs and showers for mood enhancements and crystal chandeliers in bathrooms. Depending on the size of the shower and other bathroom amenities, costs could easily ring in at $10,000, Rowland said.
Another trend is that some clients are requesting oversized free-standing tubs, mainly as a showpiece for visitors. One of her clients recently had a 66-by-42-inch, $25,000 tub shipped from Paris. The designs on the tub were ordered to match designs on all the faucets in the master bathroom.
"I've seen where you have two-way mirrors in the master baths where lights shine out from behind for putting on makeup," said Rob Jensen, broker and president of Rob Jensen Co. "Some have heated floors in the bathroom and heated towel racks."
For master bedrooms, Jensen has seen windows left bare of blinds and curtains. Metal particles are embedded in the glass so when lights are turned on the windows frost making them opaque. He estimates this movement toward larger and more elaborate master suites began about 2005. Homebuyers started demanding his-and-hers bathrooms with his-and-hers closets and customized toilet features such as urinals and bidets.
A Park Towers luxury condominium listed for sale at One Hughes Center features double 24-by-30-foot his-and-hers master suites with palatial features in the bath that includes leaded crystal chandeliers, full-slab marble countertops in the bathrooms and a cedar-lined fur closet in her master bedroom. Adjoining executive offices feature Brazilian cherry floors.
According to Tom Love, whose company the Tom Love Group has the listing, the 4,903-square-foot condo was designed with a heavy involvement of the owners who wanted to ensure that the unit provided panoramic views of Las Vegas. A large window illuminates her master bath, as does ceiling-to-floor bay windows in the bedroom. His master bath is furnished with black marble countertops and trim around the shower.
If you have $38 million lying around, you might want to put a bid in for Palms Place founder Phil Maloof's penthouse on the 59th floor of the iconic tower. The master suite features a retractable glass roof over an 8-by-9-foot custom bed, double master baths, automated blackout shades from ceiling to floor, Brazilian wood floors and fully automated Crestron remote controls that run everything. It even has a Picasso painting in the enclave leading to the master bathrooms.
One floor of the 27,000-square-foot Founders Penthouse takes up the entire rooftop of Palms Place.
"The master suite has huge bay windows facing the entire Strip," said Lisa Sutton, co-listing real estate agent with Synergy Sotheby's International Realty. "Very busy businesspeople will like this. When you come home, you want to relax and decompress and unwind."
Sutton believes the Southern Nevada luxury home market is making huge strides since the recession, and she is noticing a lot of international buyers purchasing residences in Las Vegas. Buyers are picky about what features the master bedrooms and master baths have to offer.
"They want marble floors and marble finishing, double-master bathrooms and closets, large (whirlpool) tubs and televisions in each master suite," Sutton said. "Las Vegas is still an undervalued luxury market. What you buy here is a lot more than what you could buy in New York or Los Angeles."
Sitting atop the Sky Las Vegas at 2700 Las Vegas Blvd. South, above the penthouses, are four three-story residences called the SkySuites. These 5,000-square-foot, four-bedroom, five-bath units feature nearly 800-square-foot master suites. At an asking price of $4.5 million, they offer some over-the-top amenities.
"All the furniture, headboard on the beds and walls have some elements of Swarovski crystal," said Kristen Routh-Silberman, a Realtor with Synergy Sotheby's International Realty. "Go into any room and it sparkles and dances with light.
The hallway entrance into the master suite is an art gallery. The master lounge, or sitting room, overlooks the downstairs living room. An outdoor spar off the master suite overlooks the Strip.
"These SkySuites are the equivalent of what would be a high-roller villa atop a luxury hotel," Routh-Silberman said. "These are three stories sitting above the penthouse on the 43rd floor with sparkly master suites floating above the Las Vegas Strip."