Rat Pack-era home once housed celebrities — VIDEO
Updated August 3, 2018 - 1:08 pm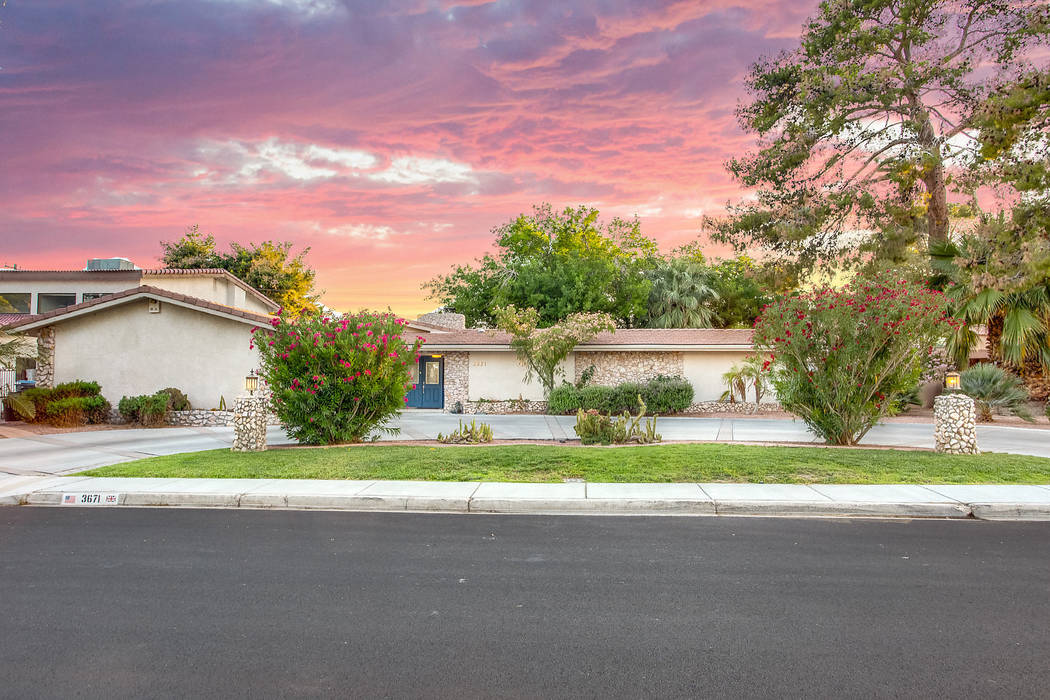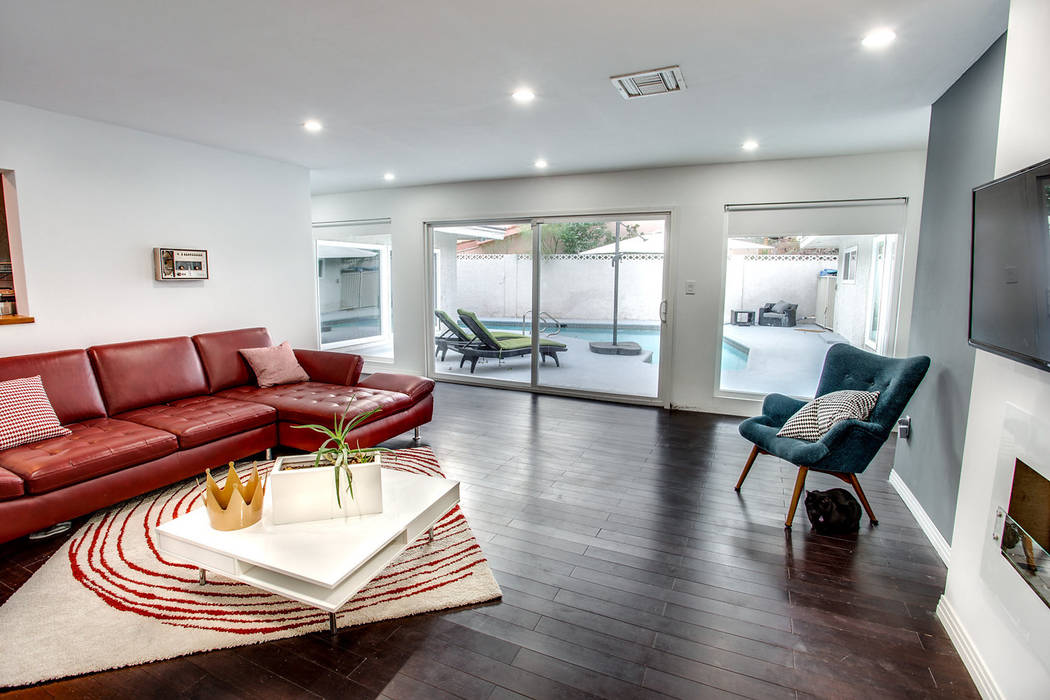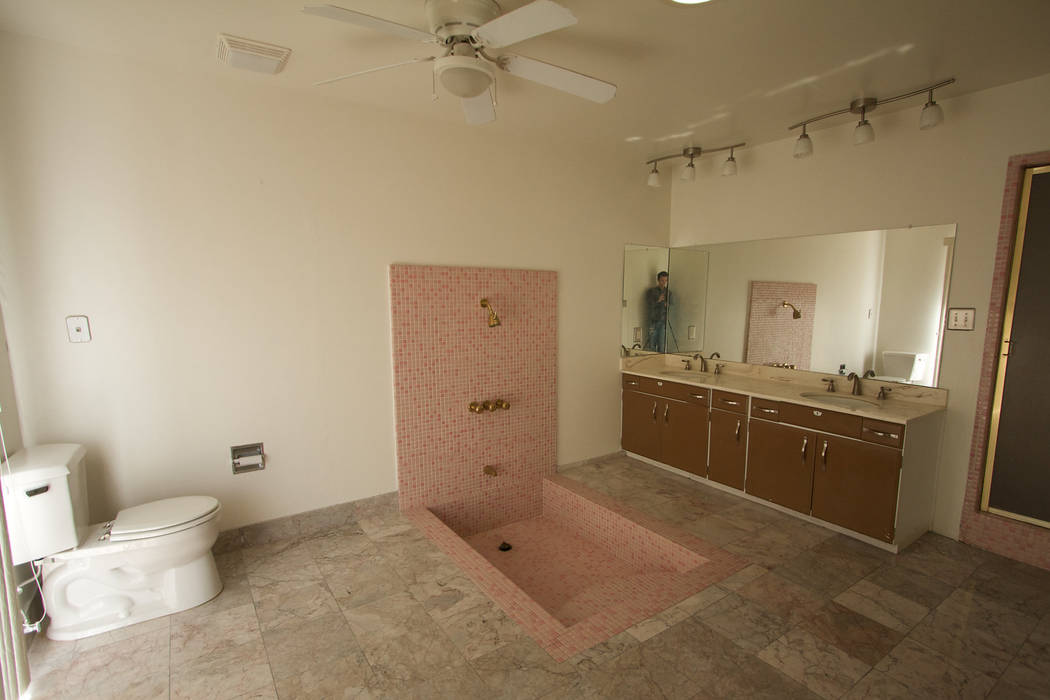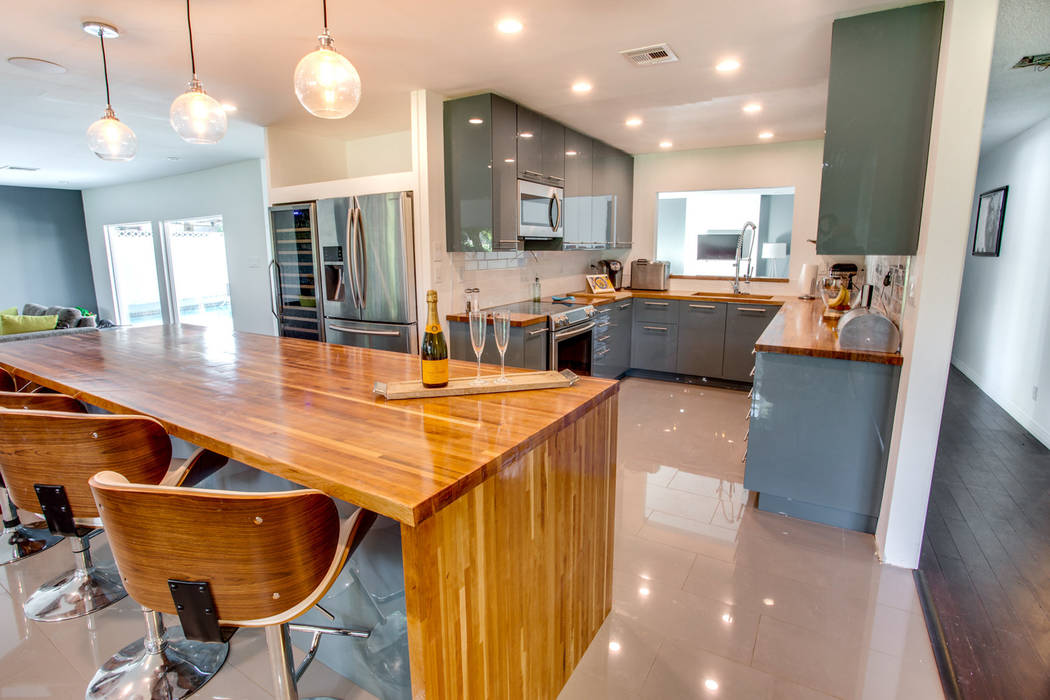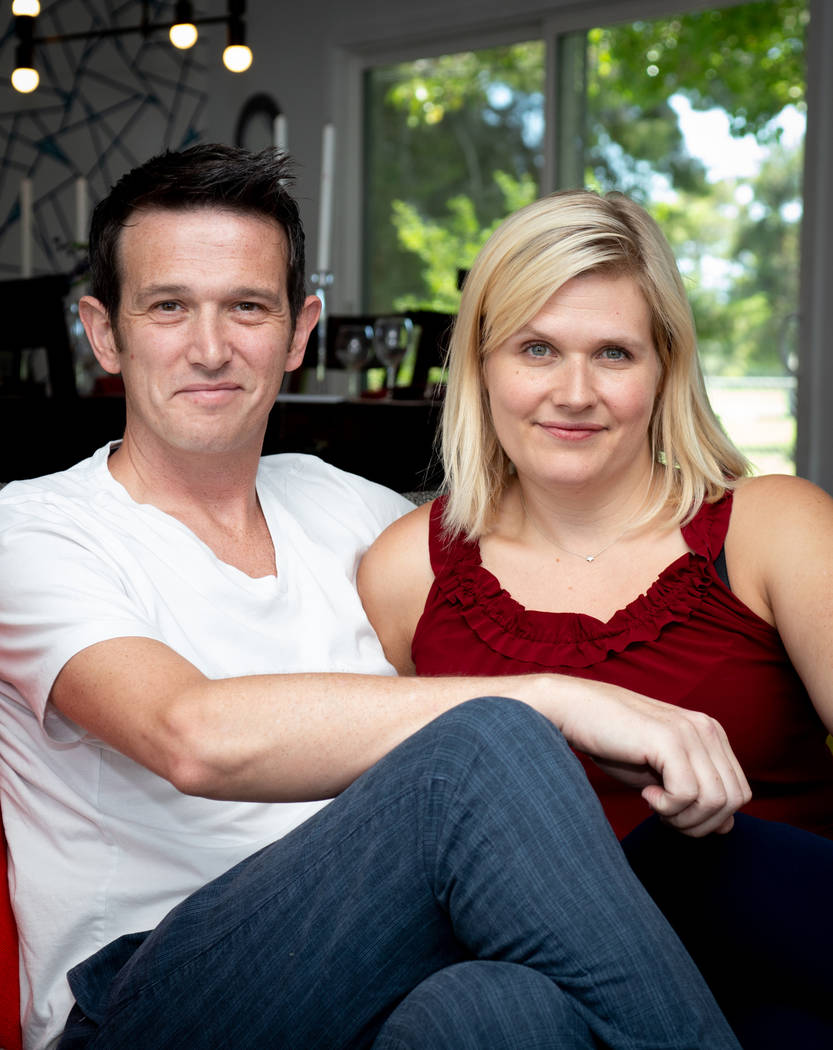 A 1963 east Las Vegas home that once housed entertainers for short stints as they were performing on the Strip is on the market. The 3,724-square-foot, midcentury, ranch-style home at 3671 Tioga Way is adjacent to the second fairway at Las Vegas National Golf Club in tree-lined Paradise Palms neighborhood. It's listed for $650,000 by the owners. Professional photographers Mark and Sarah Gascoine who bought the home in 2014 and extensively remodeled it.
The home has a history of housing celebrities when they were performing in Las Vegas decades ago. The original owner was restaurateur Fred Glusman, who rented it out to casinos.
Celebrities who stayed in the house included Cher, Don Rickles, Diana Ross, Raquel Welch, Tom Jones and Engelbert Humperdinck.
"One of the neighbors, who grew up here, remembers as a kid, watching limos drive up and celebrities get out of the car on the circular drive," Sarah Gascoine said.
The single-story home, which is listed by Avi Dan-Goor, a Realtor with Berkshire Hathaway HomeServices, has four bedrooms and four baths. Walls of glass allow for a lot of light, and there are skylights throughout, Dan-Goor said.
The lot measures more than one-third of an acre and has lemon, pomegranate and plumcot trees. It has a saltwater courtyard pool.
"The cool thing about this house is it's a true midcentury modern property," Dan-Goor said. "It's very unique and what is more unique is it has a lot of history. And what I love about it is a great location and not your cookie-cutter neighborhood or master-planned community. It's open and lush."
Sarah Gascoine said she became interested in living in the neighborhood a decade ago when she took a friend home from the party. She said she thought that the homes looked "amazing" and joked that she had been "stalking the neighborhood for a decade," waiting for an opportunity to buy.
"We were looking around the neighborhood for quite some time and even when we were living out of state," Mark Gascoine said. "Homes in the neighborhood never seemed to come up very often. People are very attached to them."
The couple paid $380,000 for the home in 2014, and Mark Gascoine said it looked like it hadn't had any money put in it for 30 years.
"It was a labor of love to restore it," he said. "We didn't know what we were getting into when we bought it."
They said they spent about $160,000 on improvements that include removing carpeting and putting in bamboo flooring through much of the house. New windows and doors were installed. The kitchen was small and antiquated and had a bar placed at an angle that took up space. It now has custom cabinets, cherry wood counters, new appliances and a 160-bottle wine refrigerator.
"Every house has a character, and this one had character, but a dated one," Mark Gascoine said. "When we overhauled it, we thought about how we could upgrade it without imposing too much of a modern feel, even though it feels modern in here."
They have maintained the integrity and character of the house without compromising the style, and if anything it complements it more with modern touches, Dan-Goor said.
"It just feels like a house in the 1960s that lives in 2018," Dan-Goor said. "I love them for seeing the vision in it. They did it themselves, and it's really cool and well-done."
Dan-Goor said the prospective buyer is someone who appreciates the home's style and aesthetics and likes the eastern part of the city. He said he could see the buyer as being someone who works on the Strip or has relocated from California and enjoys midcentury modern homes.
"I definitely think it will be somebody who either likes the history of old Las Vegas and that stars have stayed in the house," Dan-Goor said. "Somebody will fall in love with the house."
Sarah Gascoine said one of the selling features about the house is its open plan where she can see from the bedroom out to the golf course when she wakes up. She can see from the kitchen into the bedroom and out to the courtyard pool and both living rooms. It's also made for entertaining.
"I think the wow factor is the open layout, which is uncommon for houses of this era," Sarah Gascoine said. "And I have lived in Las Vegas for nearly 15 years, and of all the places I have lived, this is the only place I have known all of my neighbors up and down the street. It's a community."
The couple said they are selling the home because they plan to travel to visit her family members on the East Coast and his family in England.
"We're just downsizing to do more traveling and focus on family," Sarah Gascoine said.