Ridges golf course home in Las Vegas lists for $4.2M
November 17, 2017 - 5:11 pm
Updated November 21, 2017 - 2:11 pm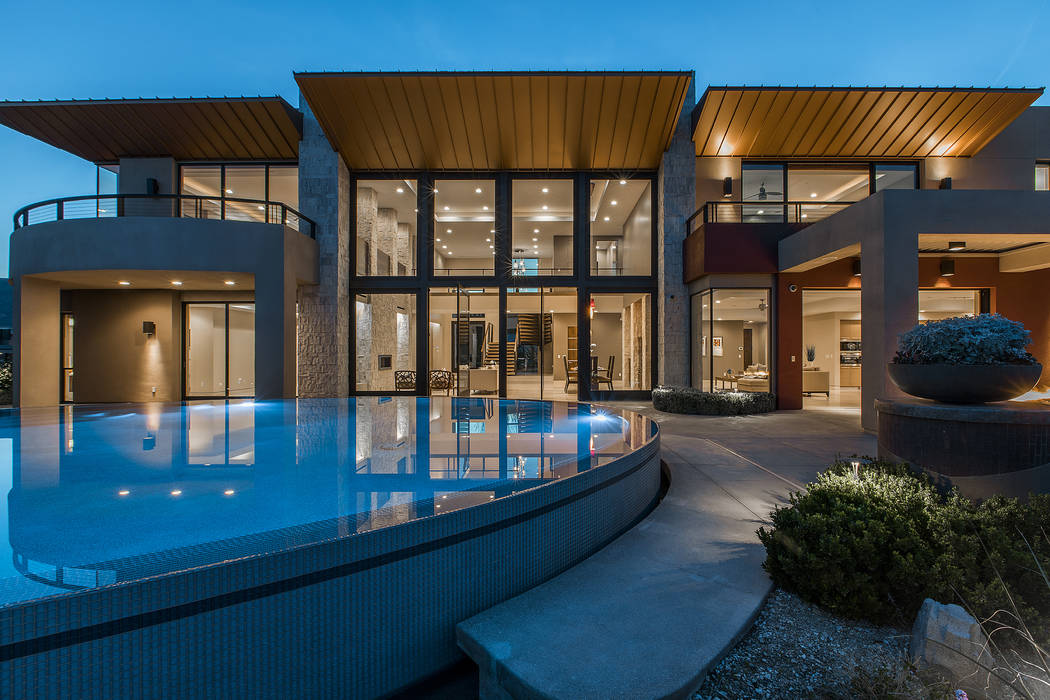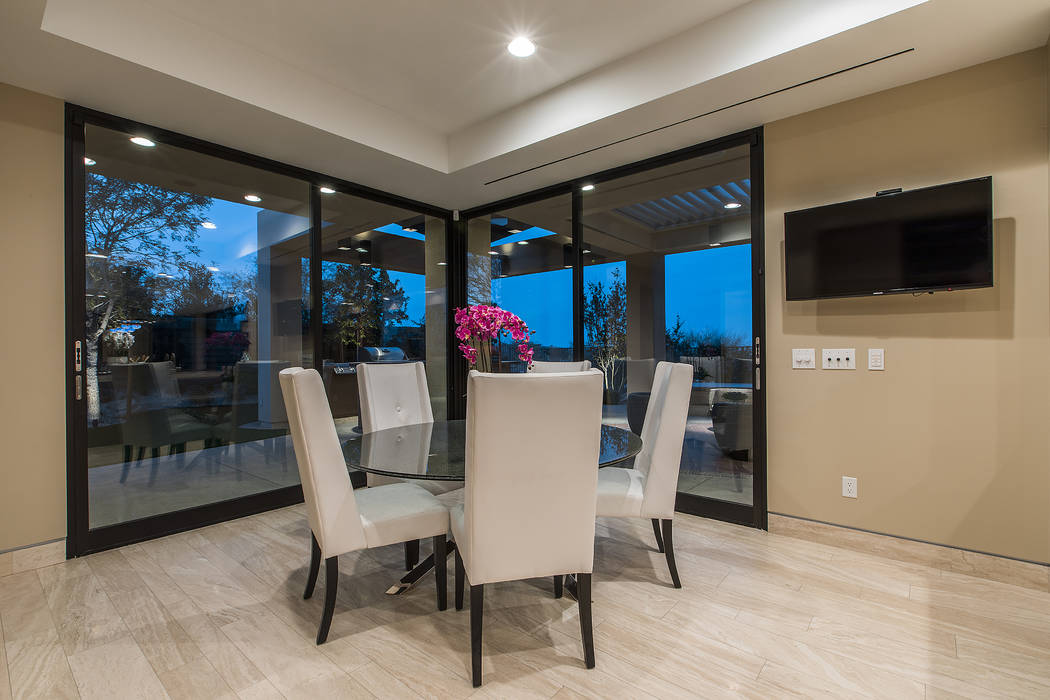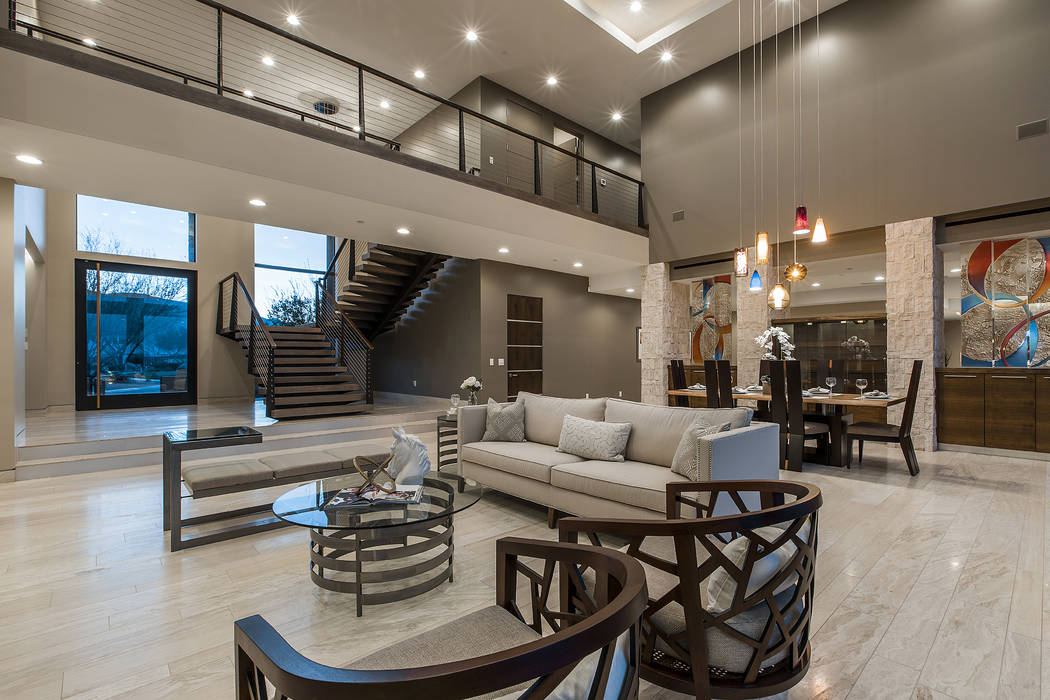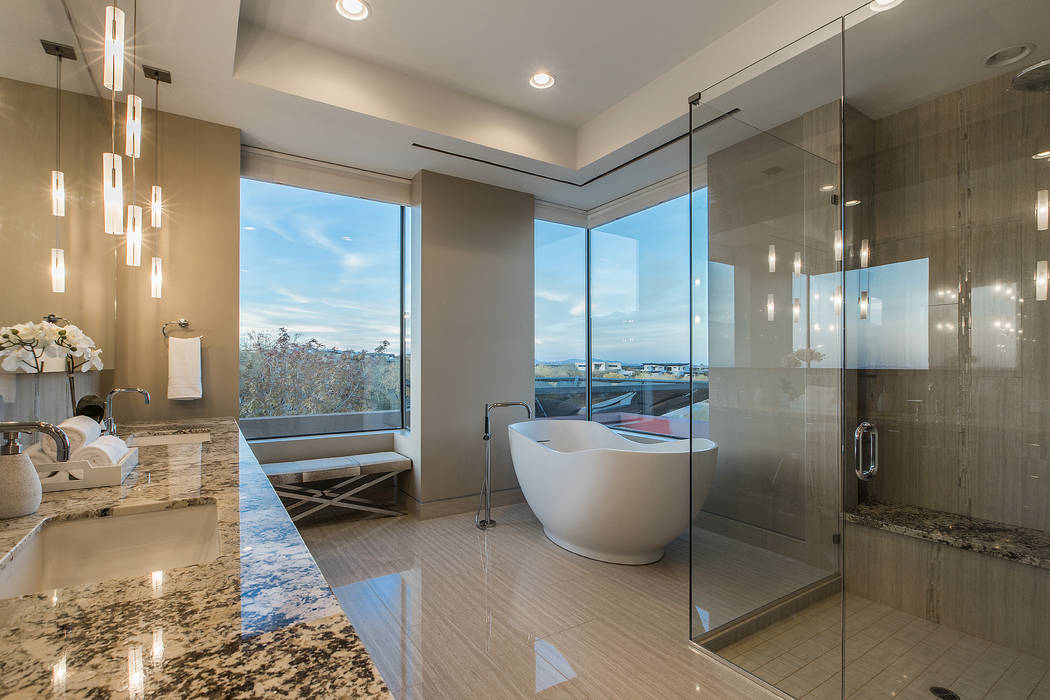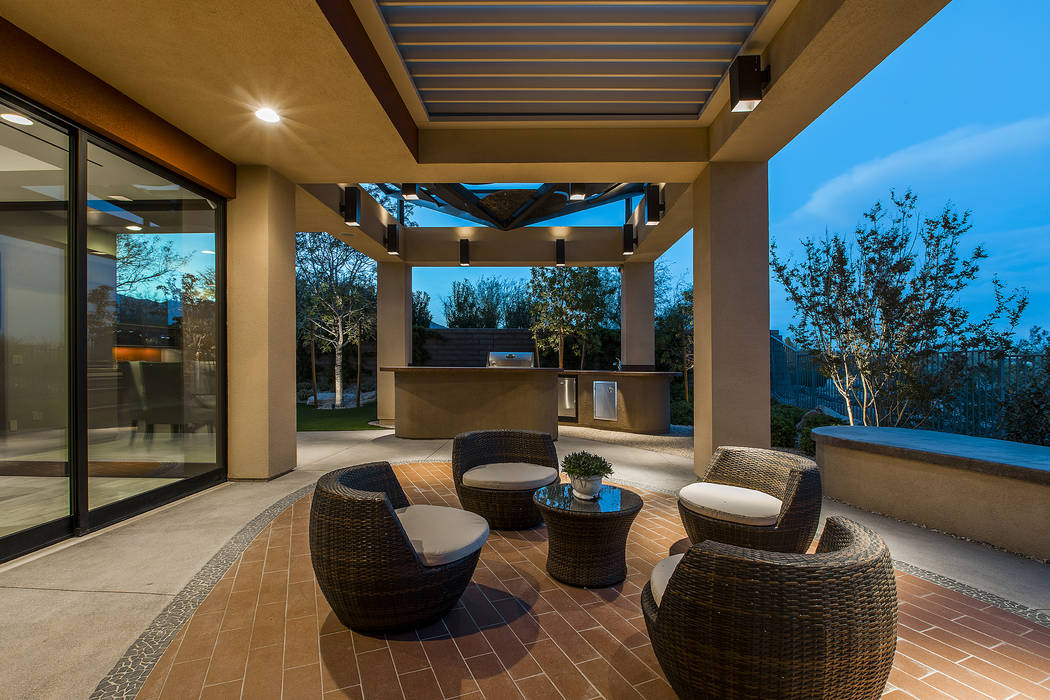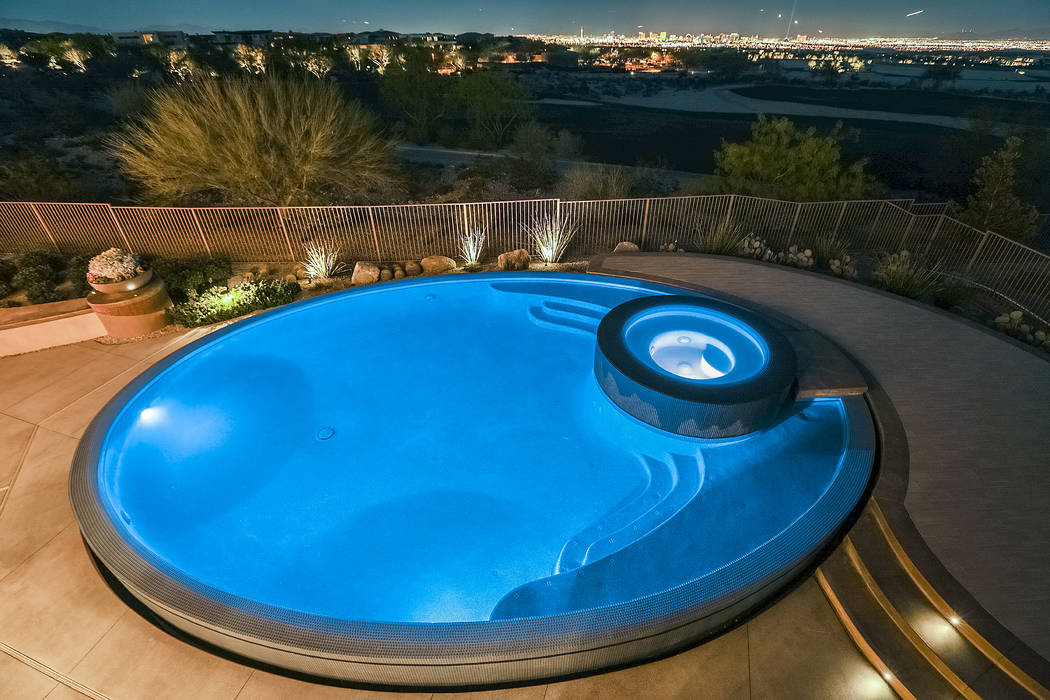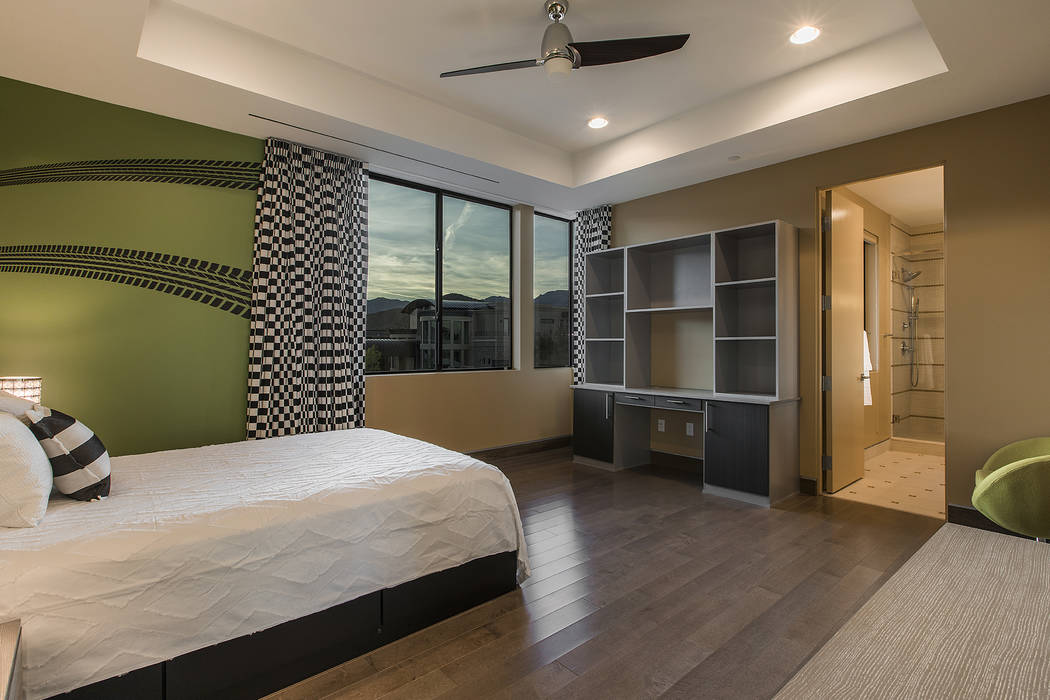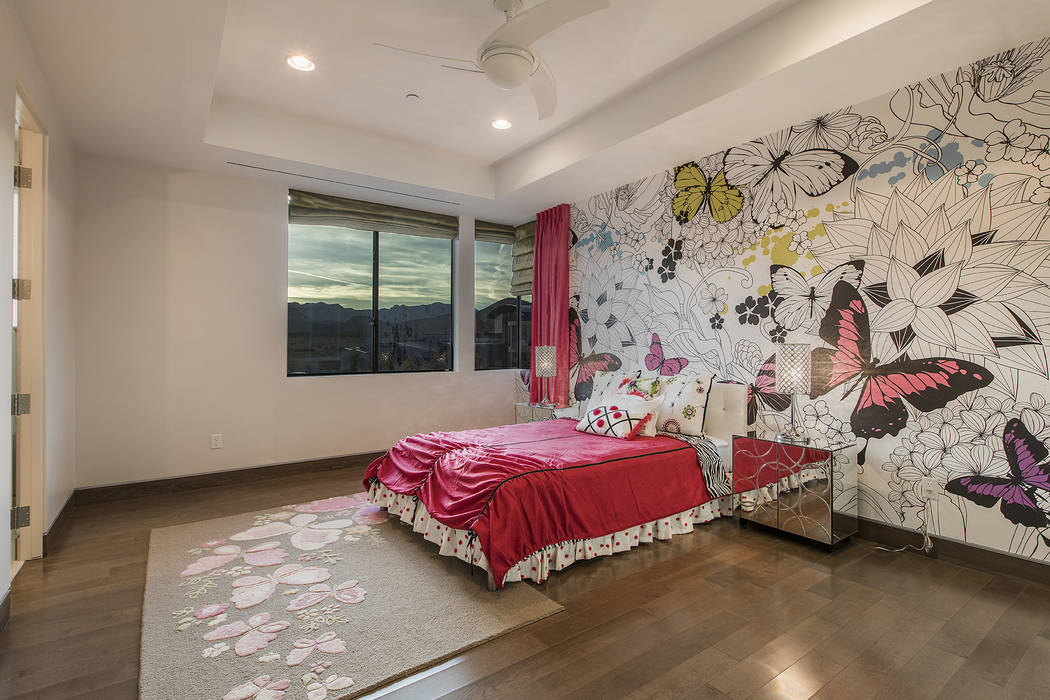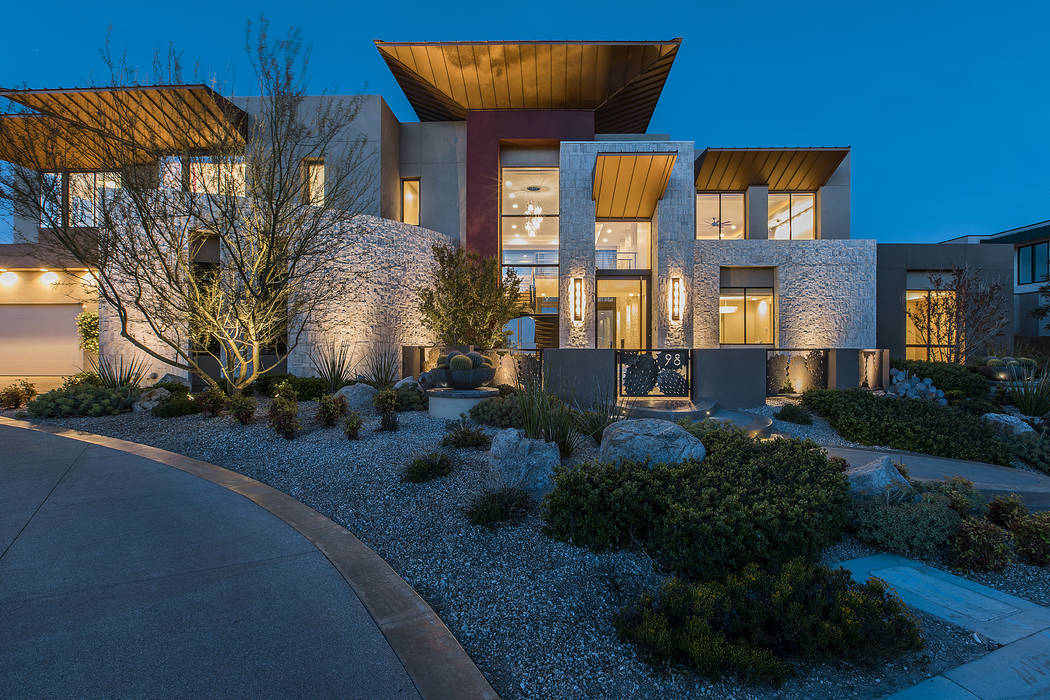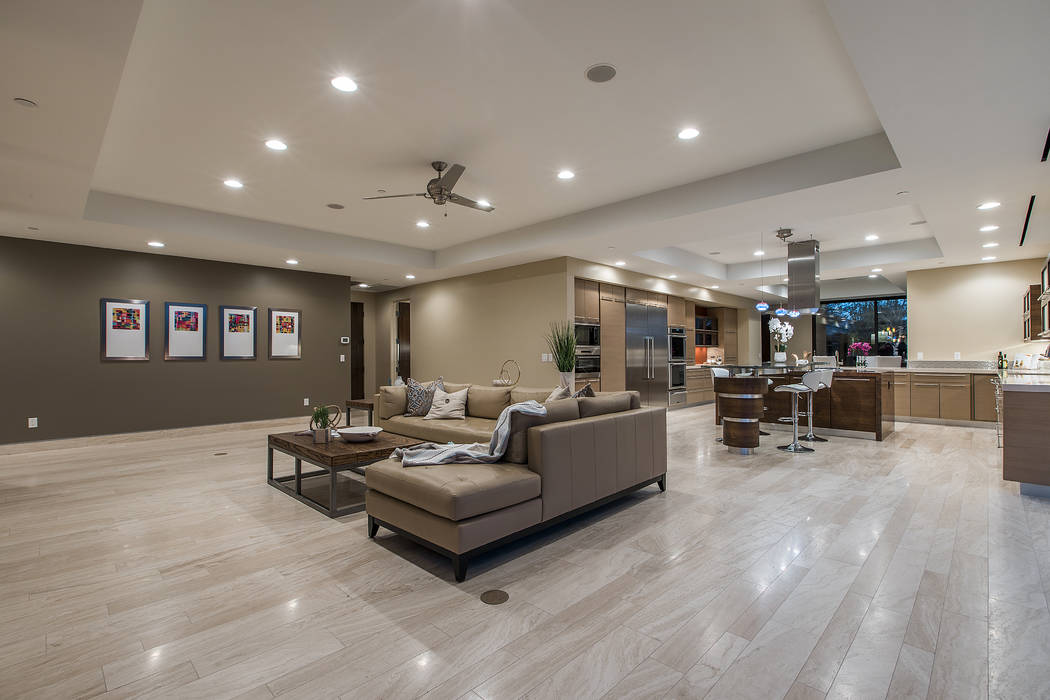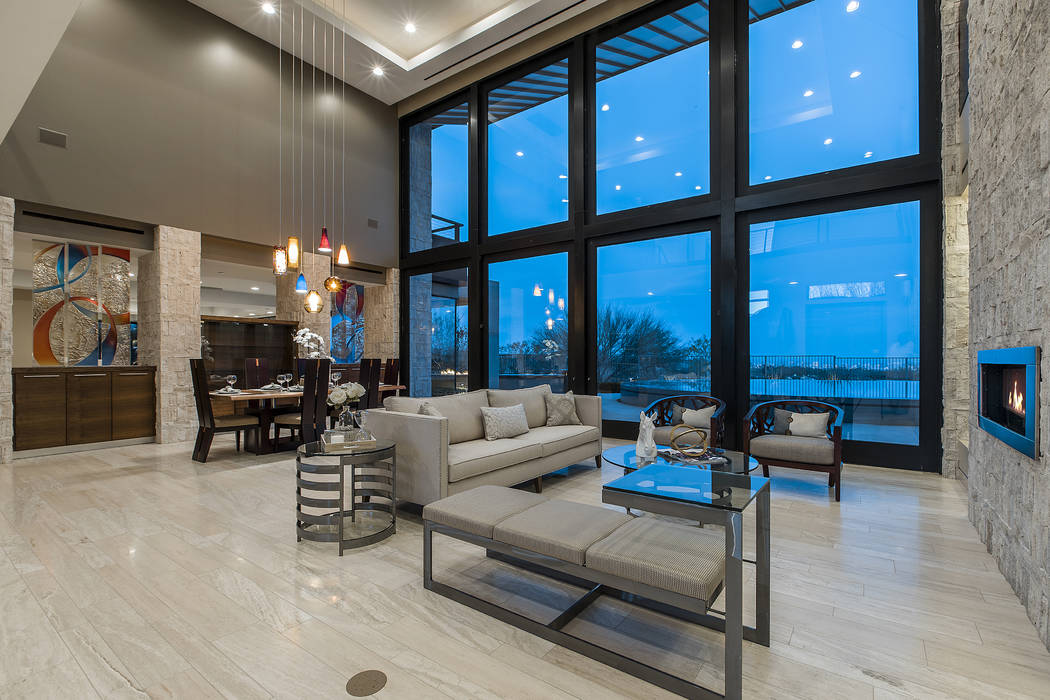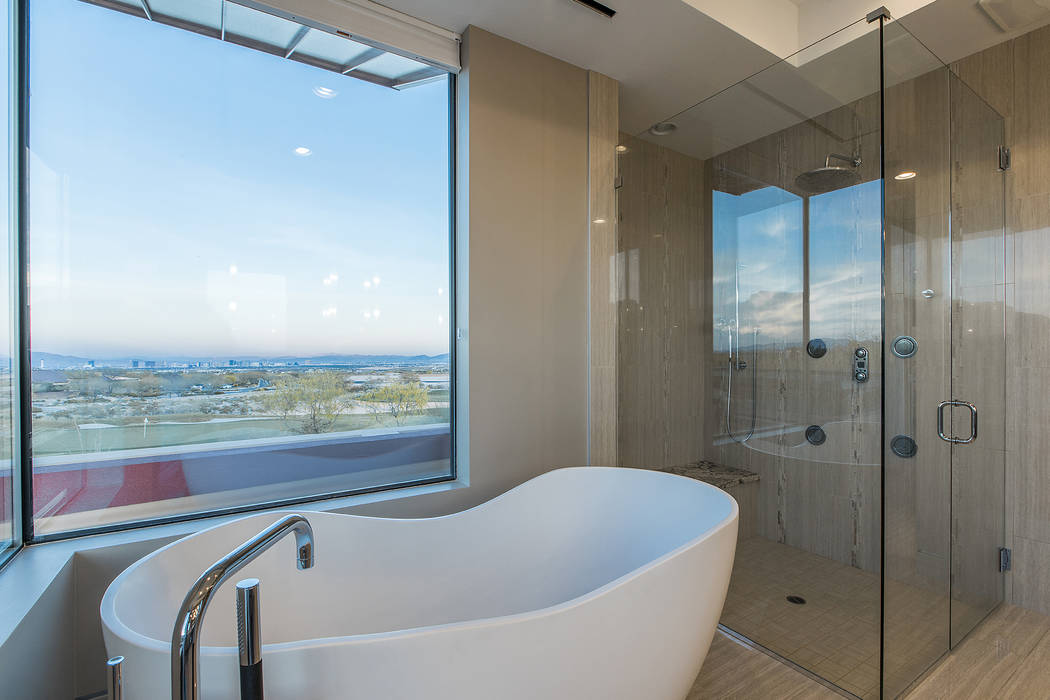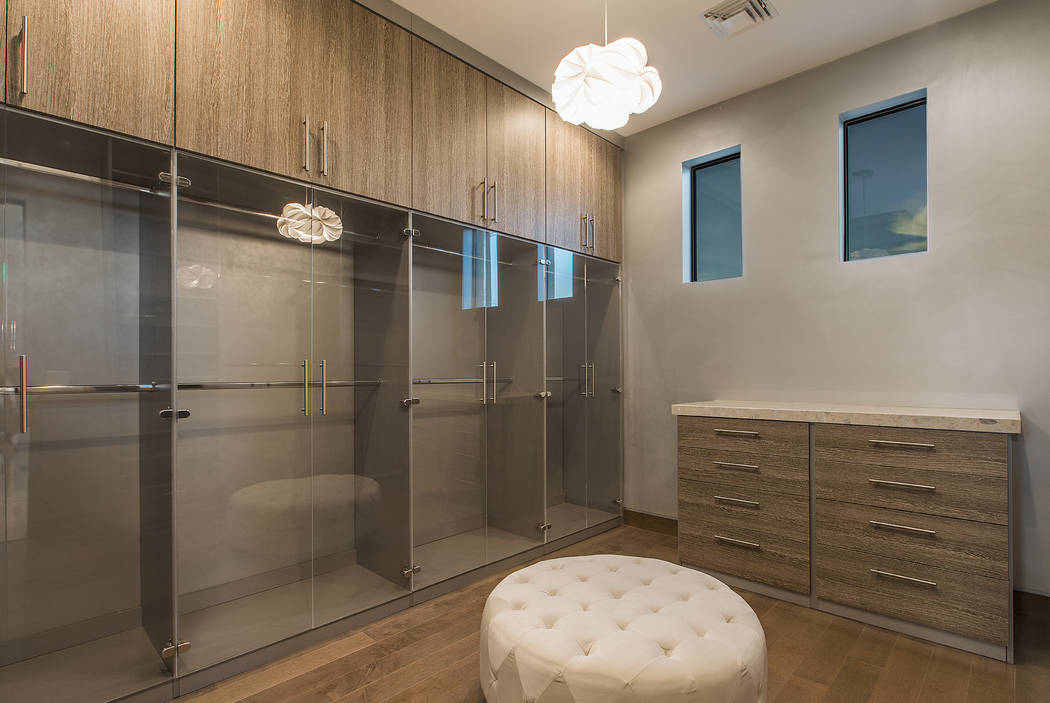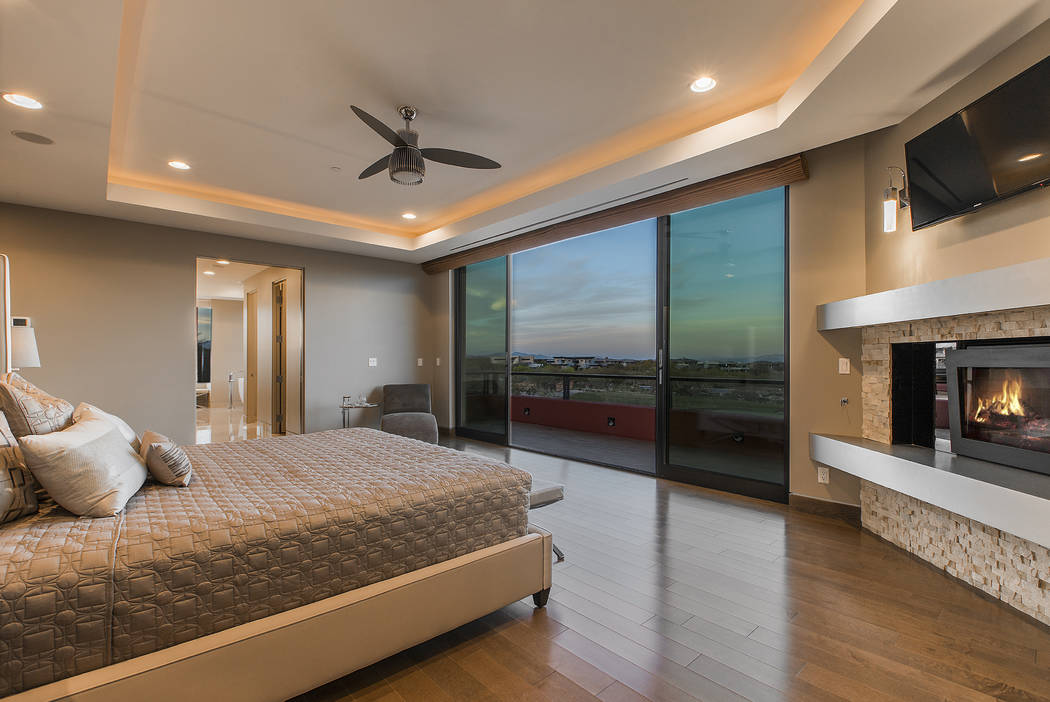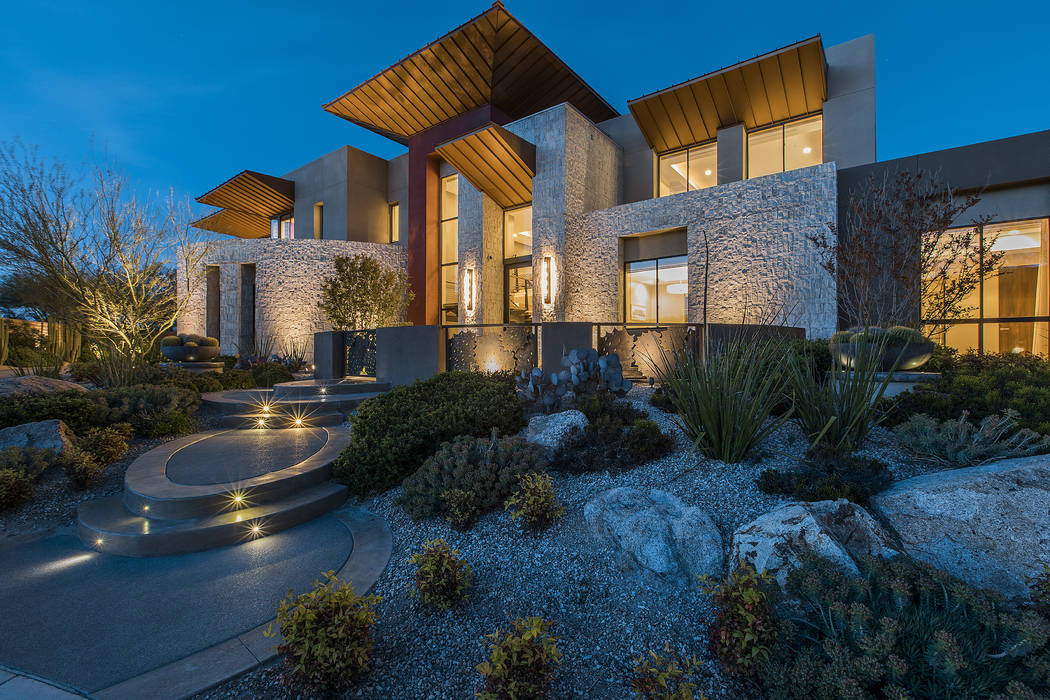 Inspired by incredible 360-degree views, 98 Sun Glow Lane in The Ridges in Summerlin is a visually captivating retreat.
"You've got incredible views of the Strip, golf course, mountains and the park," said Ivan Sher, owner of Shapiro &Sher Group, Berkshire Hathaway Home Services Nevada Properties. "When you walk in you can't help but notice the Strip."
The 7,138-square-foot, two-story desert contemporary home is listed for $4,199,900 through Sher. It features five en-suite bedrooms, seven bathrooms, an expansive office, family room, gourmet kitchen and raised infinity-edge pool and spa.
"The whole house has a cool vibe to it," Sher said. "Its very open with lots of light."
Designed by architect Marc Lemoine, AIA, the sophisticated home showcases a timeless design, incorporating architectural elements in the interior and exterior.
"The (owners) were looking for a family-oriented home with a lot of openness," Lemoine said, who's been designing home in Las Vegas for over 30 years. "They also wanted a unique exterior character.
"The major statement is the copper colored metal roofs," Lemoine said. "Warm desert tones are used for the exterior paint colors with copper colored roofs, medium bronze colored metal work and limestone tile."
Entering through its a grandiose glass front door leads to the home's expansive main living area with formal living and dining areas. A natural stone hearth surrounding the room's gas fireplace reaches the 22-foot high tray ceiling.
"The house is open from one end to the other, allowing visibility from the kitchen to the game room on the second floor," Lemoine said. "Because the lot is wide I was able to orient all of the main rooms to the views."
The east-facing, ceiling-to-floor glass wall serves as a visual focal point, drawing attention to a stunning panoramic Strip view. Two 10-foot glass pivot doors lead to sprawling exterior entertainment spaces complete with a fire pit and stunning raised infinity-edge pool and spa.
"They wanted to do something different," Sher said about the pivot doors. "It really creates an architectural feel for the home."
Alice Roussos of Interior Motives worked with Lemoine and the owners to select all the interior finishes, including travertine flooring for the main living area and Canadian maple wood flooring on the upper level. She selected unique glass light fixtures, home furnishings and art work to enhance the contemporary design.
Incorporating key artistic elements throughout the home, Roussos added dramatic interest by designing significant walls throughout the home. Her design includes a stack stone wall at the end of a main level hallway and an entry wall composed entirely of similarly colored shells lit from above.
"Monochromatic can be boring unless you add a lot of texture," Roussos said, who's been in business for 30 years. "In small doses it makes a statement."
Roussos worked with the contractors to design baseboards flush with the walls. The design uses a linear reglet metal in between the dry wall and baseboard for a refined, yet modern look.
Separating the dining from the formal sitting room are six custom colorful glass art pieces created by local artist Leslie Rankin. The pieces are mounted on each side of a large cabinet, staggered in a series of three. According to Roussos the custom-made art pieces cost $10,000.
"I told her I wanted bold jewel tones," Roussos, who hired Rankin, said. "We had this neutral palette so I wanted some color."
Using the glass art as a starting point, Roussos designed a colorful light fixture to hang over the formal dining table. She selected several different shaped and colored Murano glass pendants, mounting them on one canopy.
The contemporary gourmet kitchen, adjacent to the formal sitting area features professional-grade stainless steel appliances. It incorporates a combination of quartz and granite countertops, giving the room a sleek modern appeal and functionality.
The kitchen's island provides an artistic flare, featuring a black, cracked-glass countertop, created by using a piece of cracked glass sandwiched between two pieces of regular glass. The countertop is anchored with steel pins to a circular walnut tower. A series of three blue glass pendants hang over the cracked glass island. The cabinets are a mixture of light gray washed rift-cut oak set against a walnut island.
"It is cut in that way so the grain is lineal," Roussos said about the rift-cut oak. "It's a wonderful look for modern kitchens."
Instead of a traditional backsplash, Roussos chose to paint a piece of glass the same red as the exterior for one side of the kitchen and incorporate stainless steel on the other side.
"The kitchen is unbelievable," Sher said. "They did such a great job on this house."
Two large glass pocket doors frame an intimate kitchen eating nook, open to sprawling entertaining spaces. One unique feature is its outdoor kitchen shielded by an artistic metal canopy. Covering the outdoor patio are large adjustable louvers mounted on the ceiling to control incoming sunlight.
For a powder room adjacent to the main floor guest bedrooms, Rankin designed a unique artistic glass mirror by mounting a separate carved glass piece over a mirrored wall. She also created a deeply back-carved glass countertop under a layer of smooth glass, mounted on a custom stainless steel cabinet.
"The whole bathroom is about glass," Roussos said. Roussos added a small Swarovski crystal light to reflect off all the glass elements and integrated glass-beaded wallpaper to enhance the design.
Leading to the second level is a custom staircase rising out of the entry way.
"The stair design is unique to this home," Lemoine said. "The stair seems to float in front a two-story window and incorporates a painted steel structure, wood steps and stainless steel aircraft cable as the guardrails."
Upstairs a grand, master retreat showcases a corner gas fireplace and custom finishes. The large walk-in closet boosts custom built-ins. The room's sliding glass doors open to a private balcony with breathtaking Strip views.
A unique black wallpaper comprised of a natural mica stone provides a striking design element behind the master bed's headboard.
"The wallpaper is called Granite," Roussos said. "Its made out of all natural products."
The luxurious and indulgent master bath features an oval soaking tub and granite countertop. Glazed porcelain is used on the floor and in the glass enclosed shower along with nature etching stone accents. The shower's built-in digital control provides the ability to turn it on remotely and maintains a desired water temperature memory.
Two additional en-suite bedrooms, decorated for each gender, are located near the master.
"It is always important to think who the buyer is," Sher said. "I think this is definitely a family home with a park next door and the children's bedrooms close to the master."
A 28-foot open walkway connects the bedrooms to a family room on the south side. The room offers stunning views from both sides of the room.
Located in Azure, a Ridges location, the property is sited on a just over half-acre corner lot at the edge of the sixth hole of the world-famous Bear's Best Golf Course, developed by legendary golfer Jack Nicklaus.
"The Ridges is one of the premiere communities in Las Vegas," Ivan said. "(Azure) is one of the Ridges' top two newest communities."
With only one neighbor on the south side, the home faces a lush park and offers golf course and Strip views from the rear. The extended driveway winds around the front to a four-car garage.
After a fall 2011 groundbreaking, the home was complete in 2013.
The general contractor was Larry Ventimiglia, from Lawrence Homes and Development. Attanasio Landscape Architecture designed the exterior landscaping, incorporating a rich palette of water efficient shrubs and trees.
About the home
Price: $4,199,900 million
Location: Azure at the Ridges, 98 Sun Glow Lane
Size: 0.43 of an acre, 7,138 square feet, five ensuite bedrooms, seven baths
Features: Stunning 360-degree views of Strip and Spring Mountains with views from almost every room. Situated on the sixth hole of the Bear's Best Golf Course, the private corner lot has a park across the street. Other features include: high tray ceilings, custom architecture elements, gourmet kitchen, custom cabinetry, travertine and Canadian maple hard wood flooring. The home also has prewired elevator shaft, two gas fireplaces, office, family/game room, extended drive-way, Creston home system controlling security, lights and window treatments and a four-car garage. Its exterior amenities include a raised oval infinity-edged resort pool and spa, outdoor kitchen and fire pit.
History: The home was built in 2013. It was designed by architect Marc Lemoine, AIA. The interior designer was Alice Roussos of Interior Motives. Larry Ventimiglia, from Lawrence Homes and Development, was the general contractor. Attanasio Landscape Architecture designed the exterior landscaping
HOA fees: $360 per month
Listing: Listed with Ivan Sher, owner of Shapiro & Sher Group, Berkshire Hathaway Home Services, Nevada Properties.