Seven Hills $6.75M estate has indoor basketball court — PHOTOS
Updated July 6, 2018 - 3:18 pm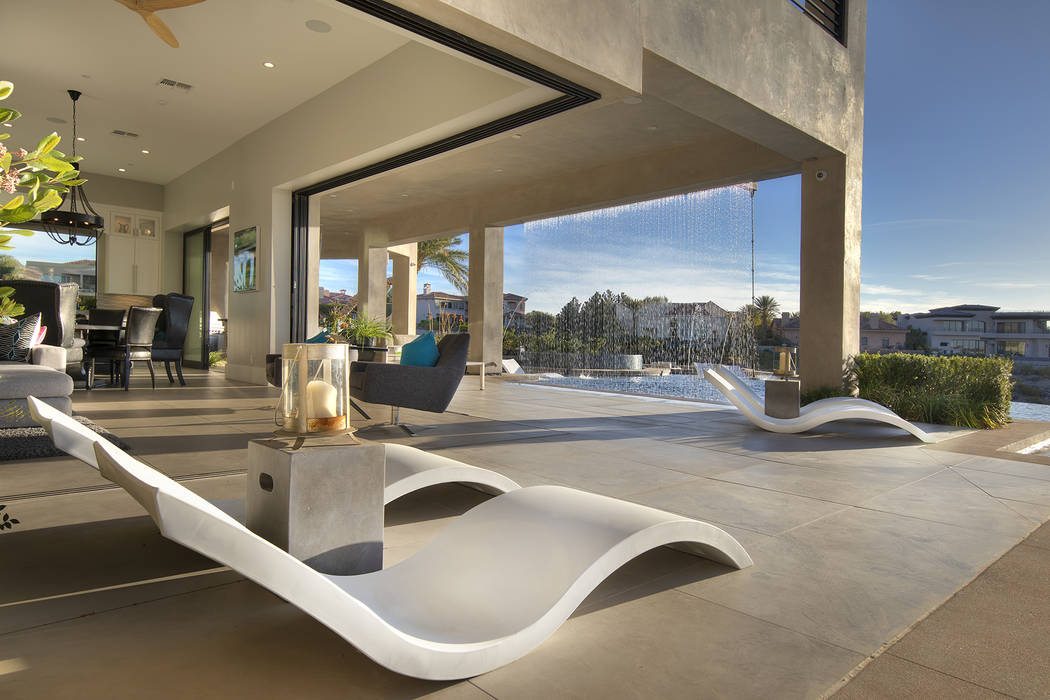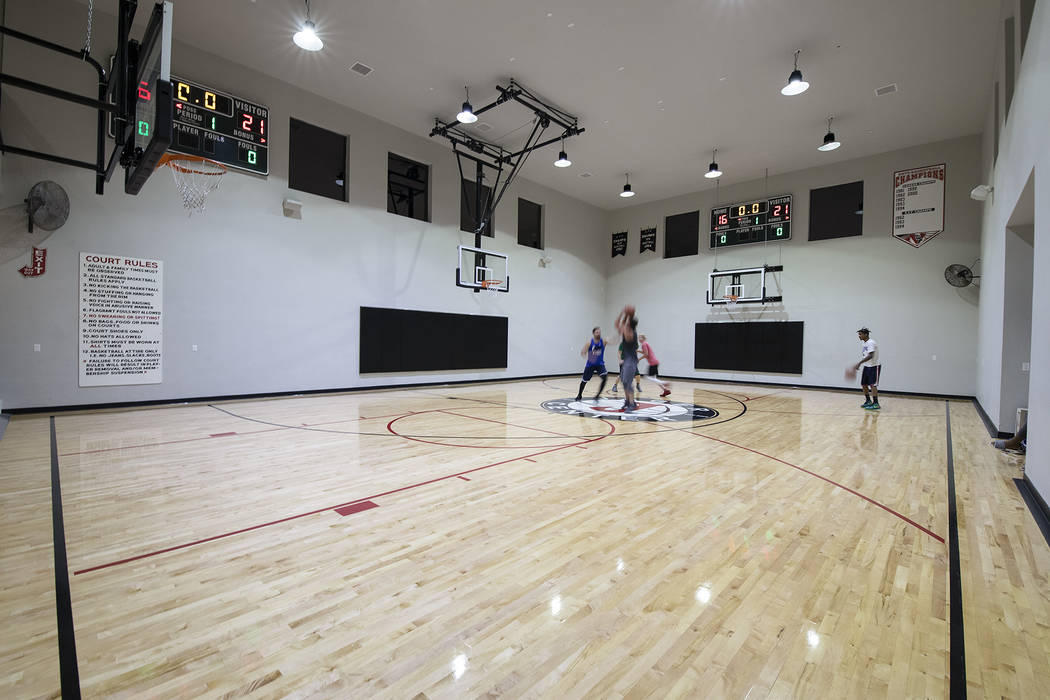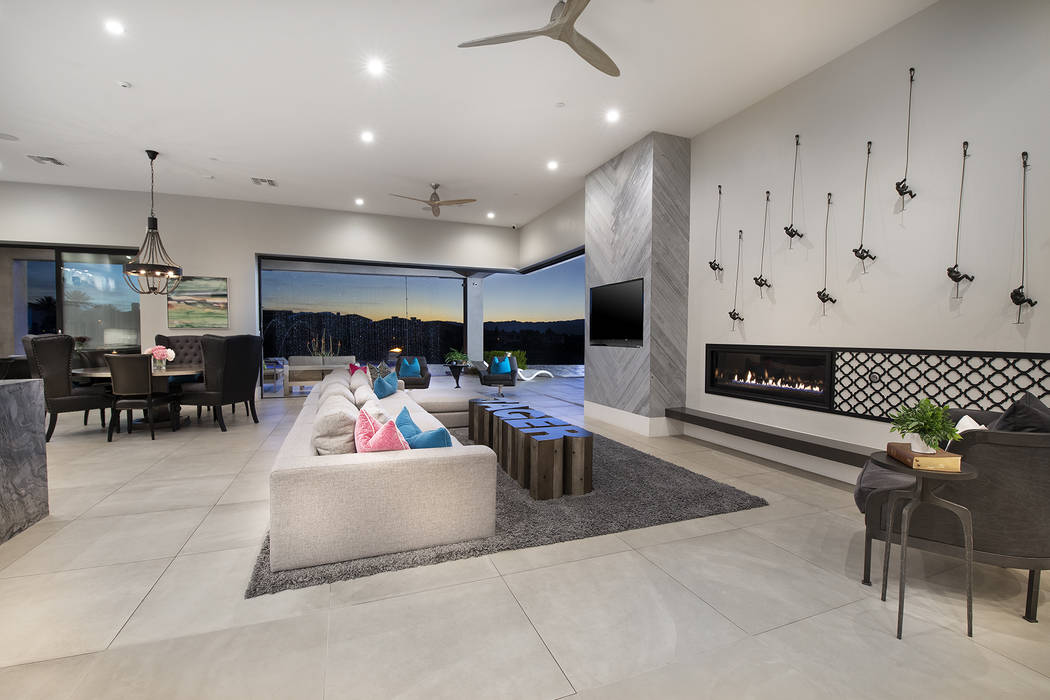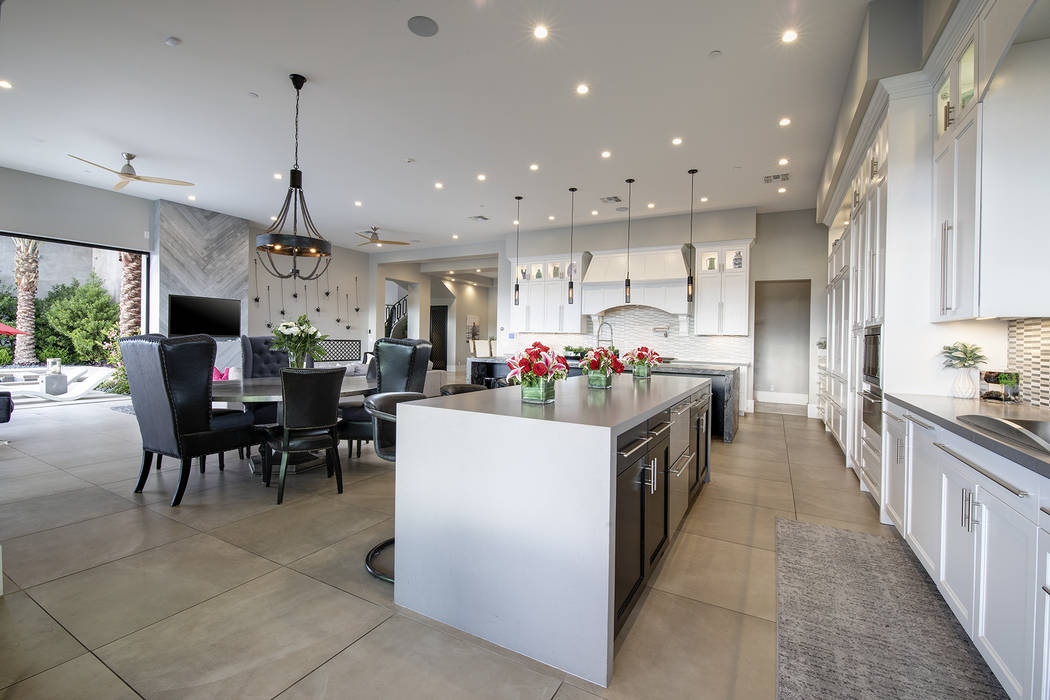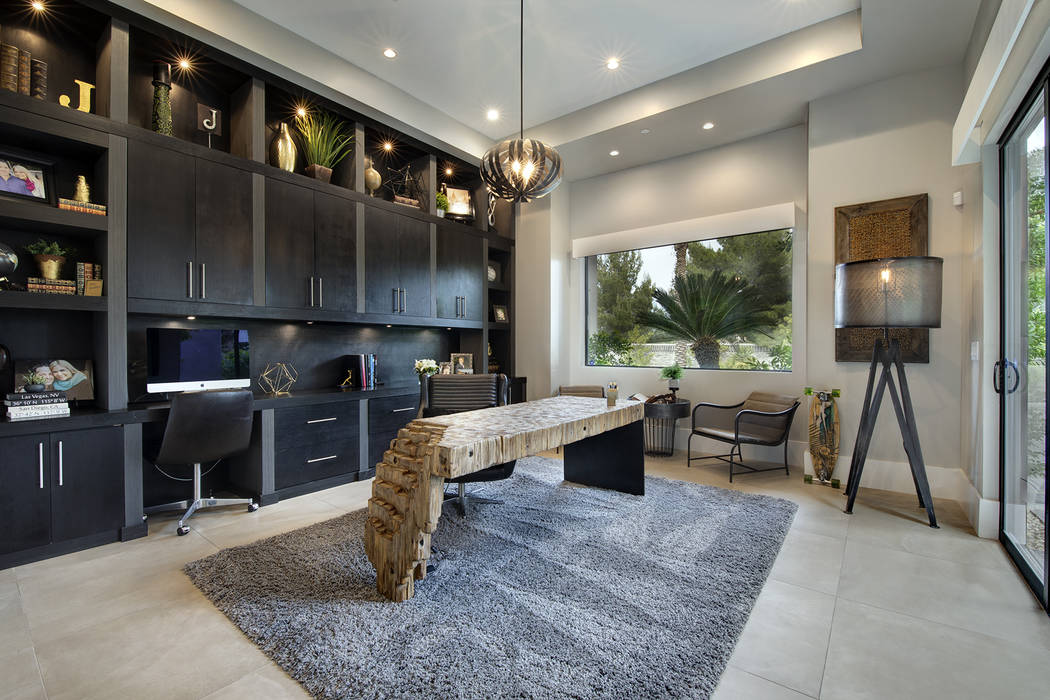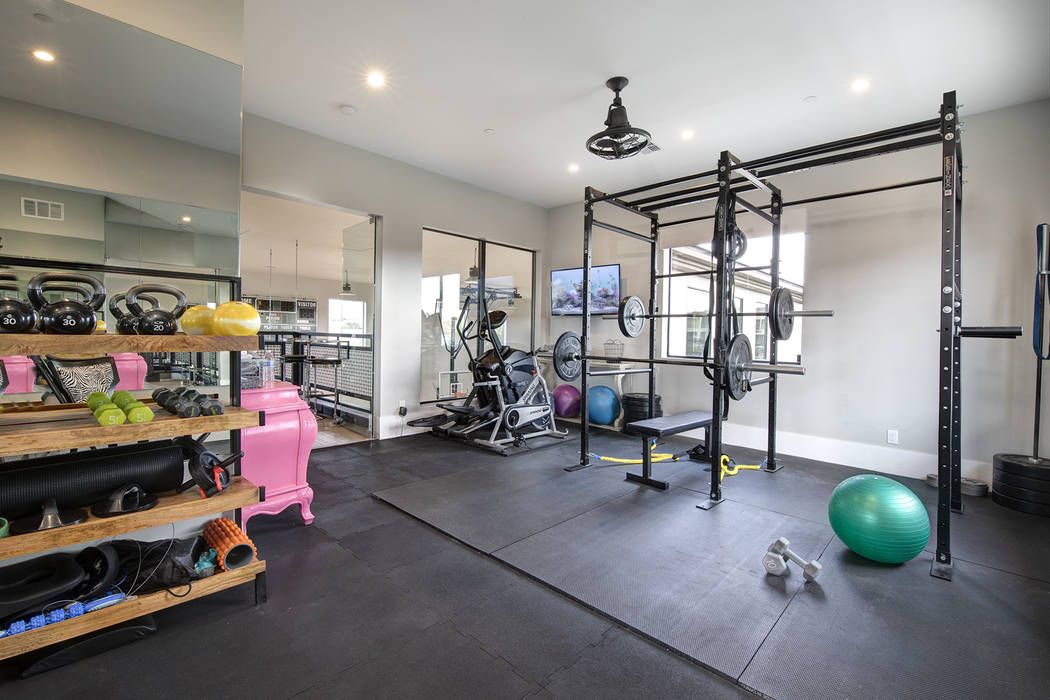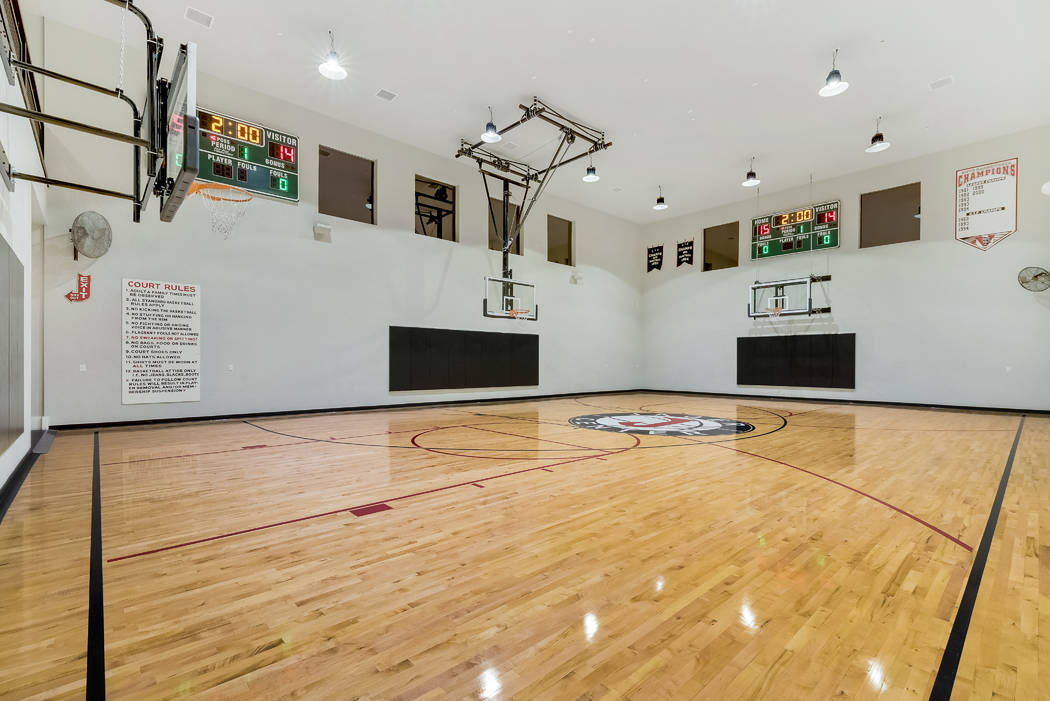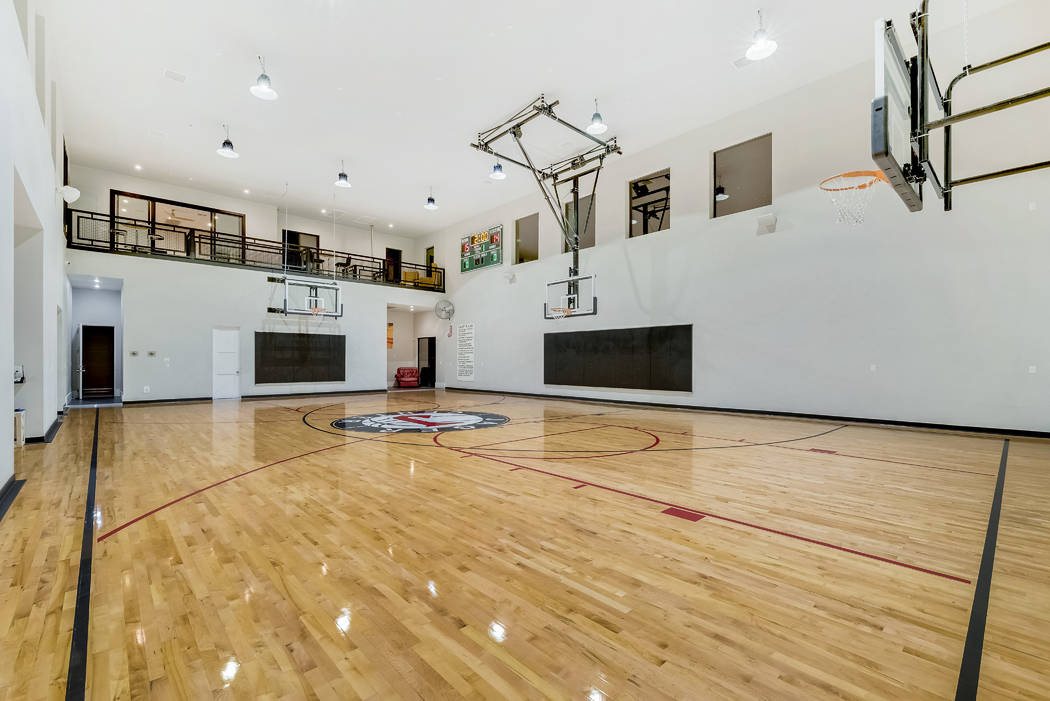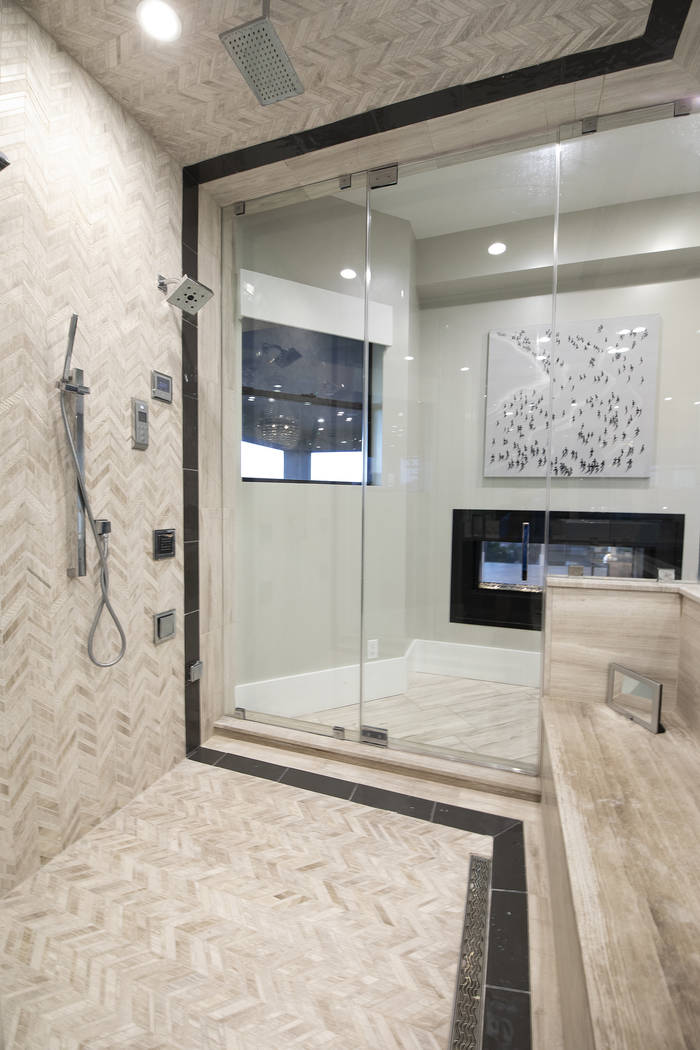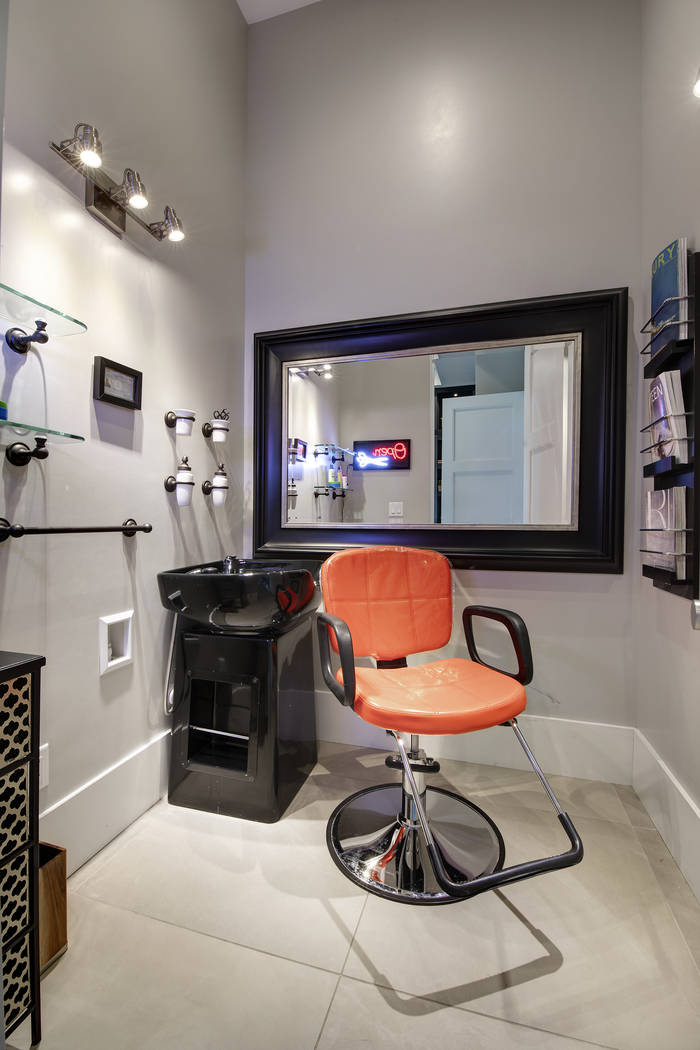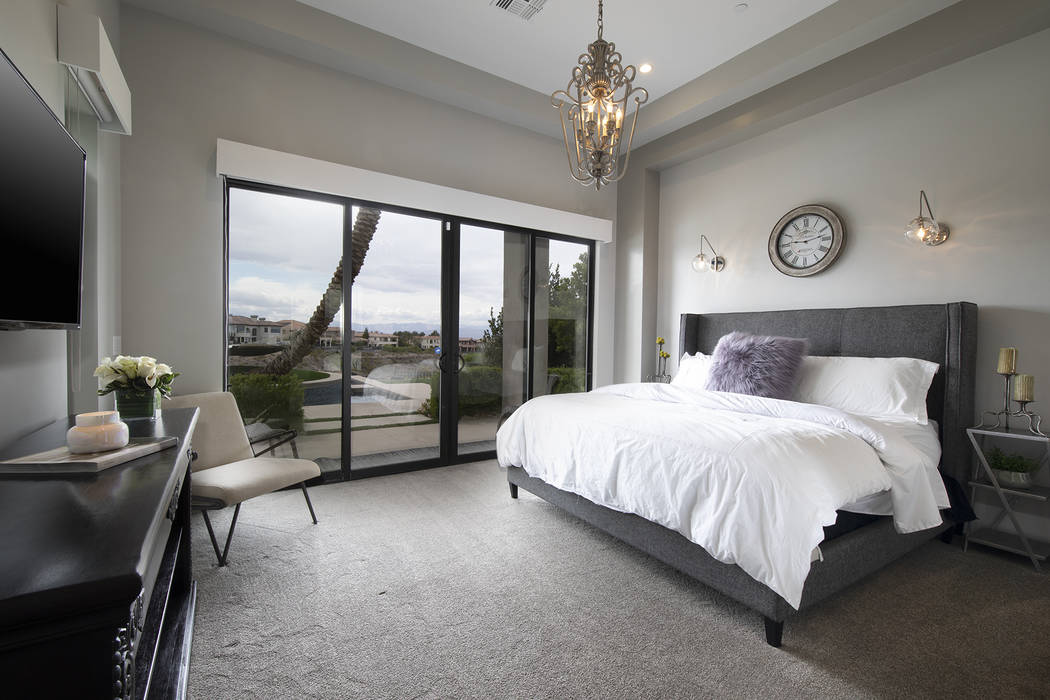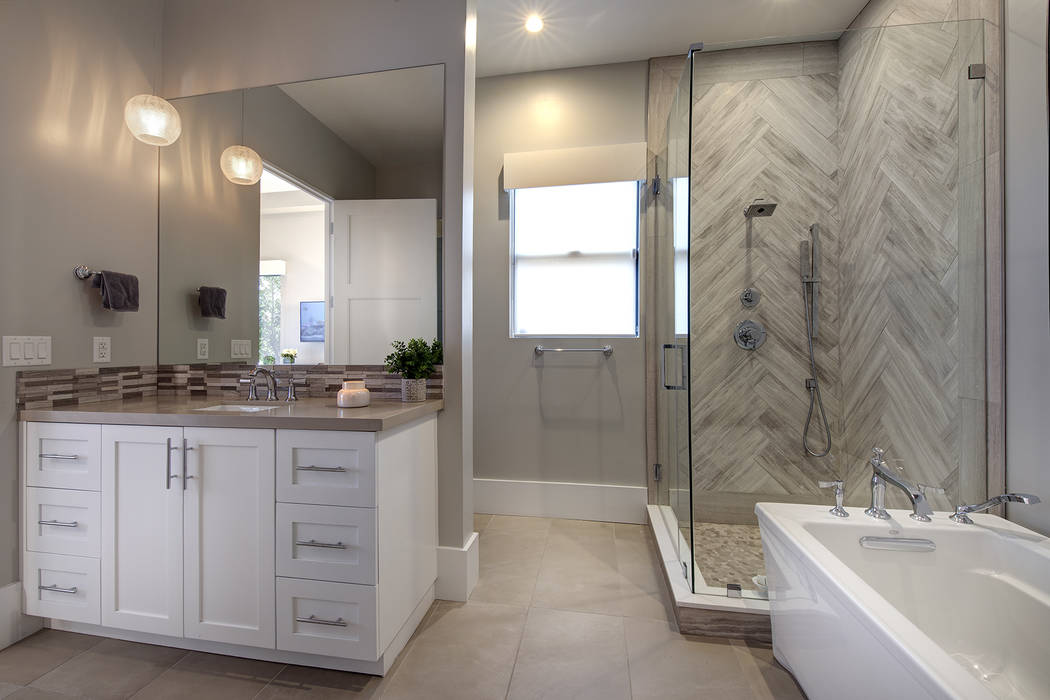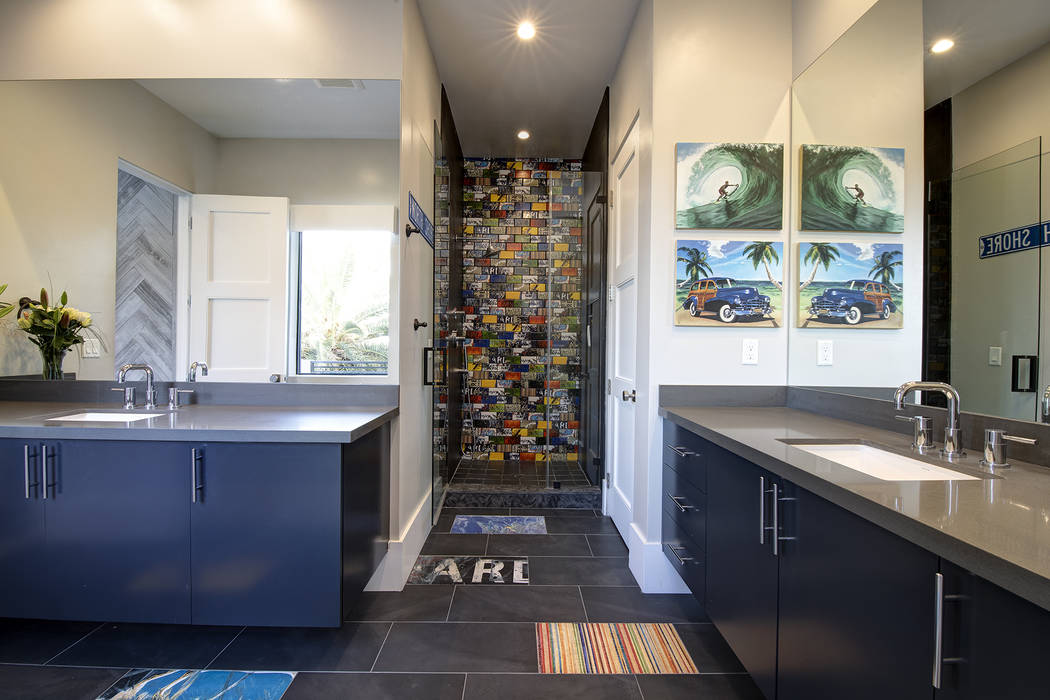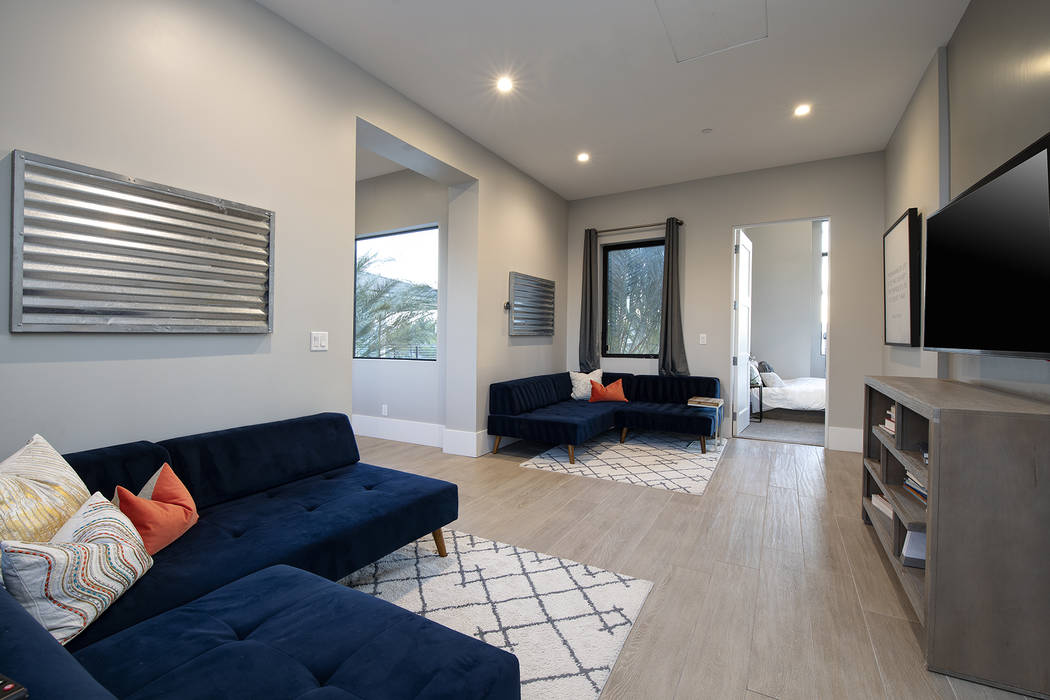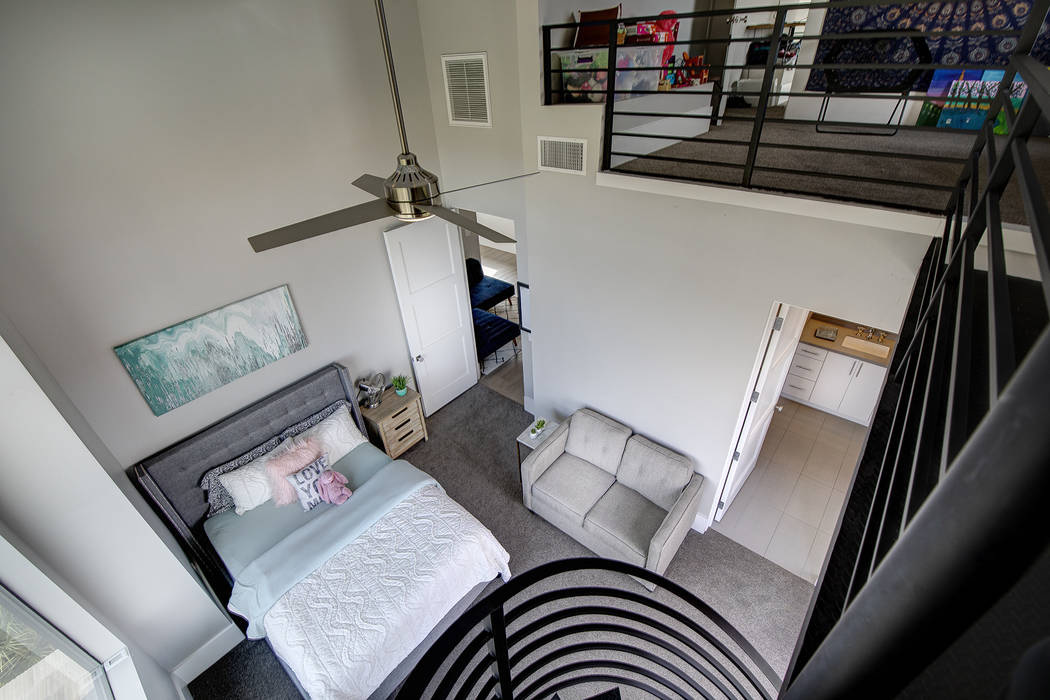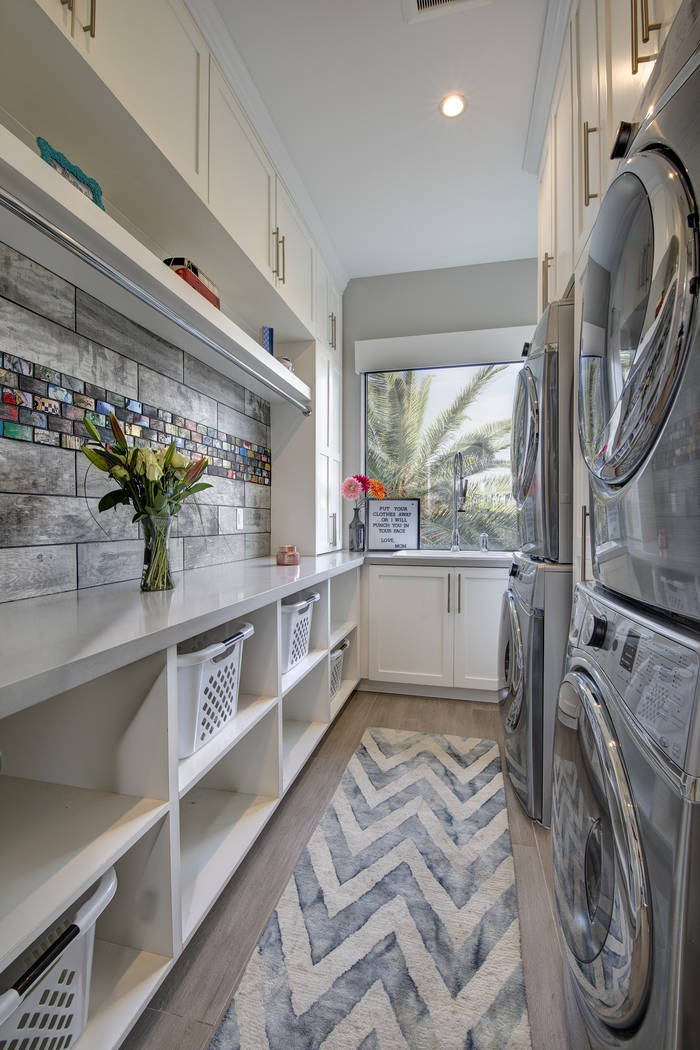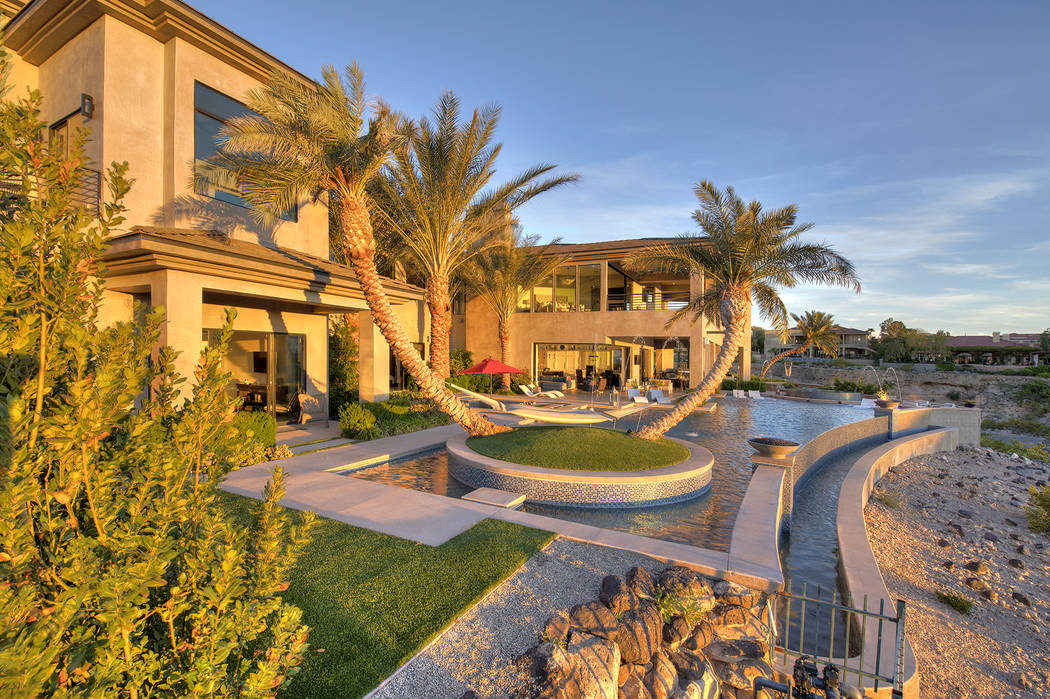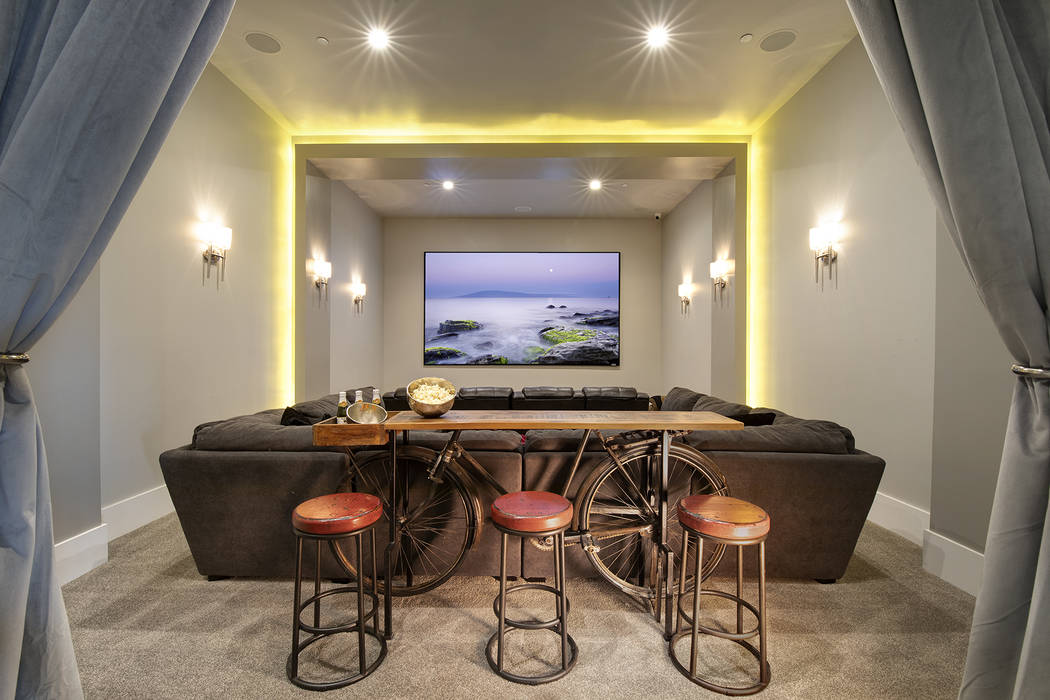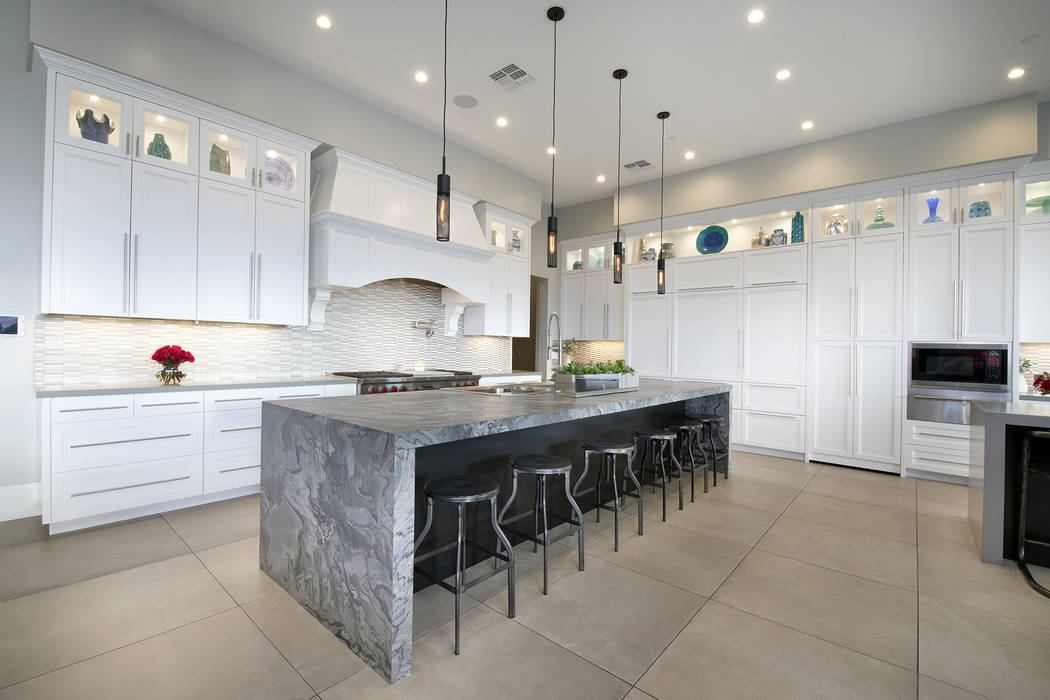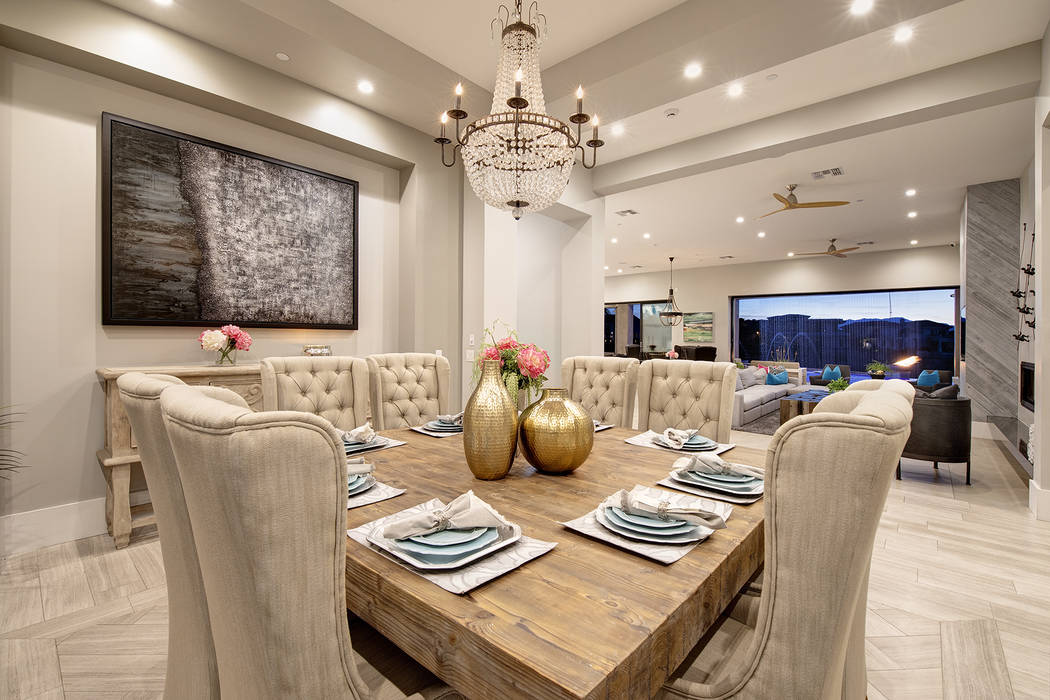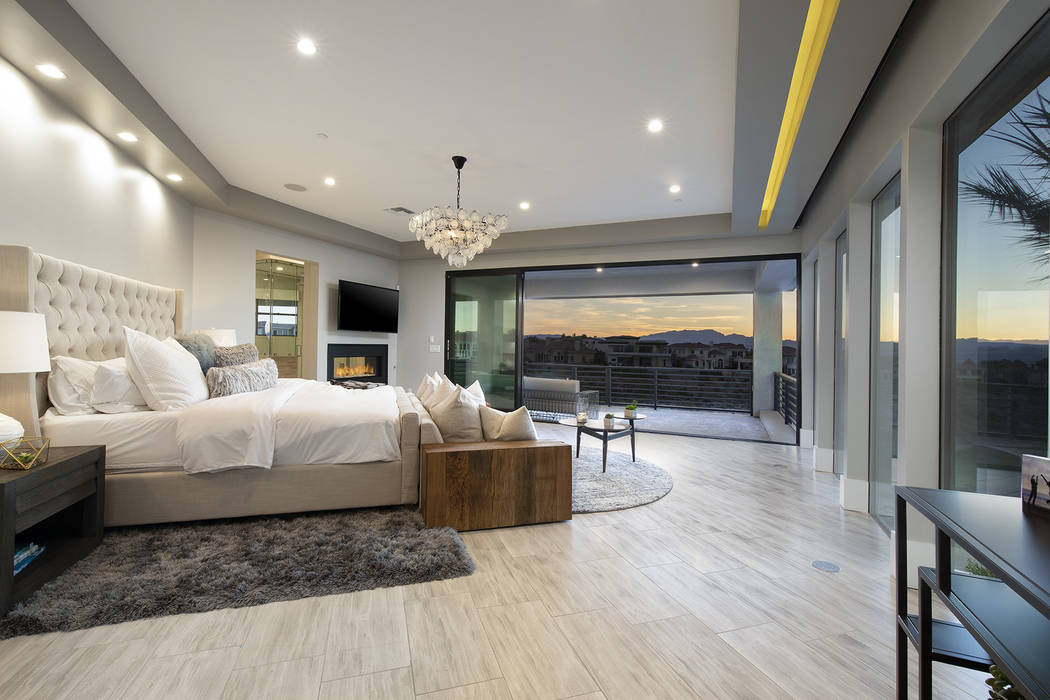 Shane and Willow Jager are right out of central casting, and so is their Seven Hills home.
The Henderson couple, the owners of Elite Pest Control and whose 100-foot-long pool — three times the normal size — was featured on HGTV's "Pool Kings," have listed their home, which was made for entertaining and kids, and includes an indoor basketball court. It's on the market for $6,750,000.
NBA superstar LeBron James, who recently signed with the Los Angeles Lakers, has shown interest in the home when he spoke with the couple, according to their Realtor, Kristen Routh-Silberman with Sotheby's International Realty. Shane Jager is also a luxury Realtor with Sotheby's.
The 11,718-square-foot, two-story home at 1353 Dilevante Drive is part of a 25-home, gated community called Portofino with it's own private gate and 300-foot driveway. It's like an estate on 1-acre lot on a bluff above Rio Secco golf course.
It has six bedrooms, an office, nine bathrooms and a four-car garage. The outdoor area has a cascading waterfall, swim-up fire lounge and rope on the second story where people can swing into the pool.
"The pool is a killer, and it is such a resort atmosphere," Routh-Silberman said. "That house would be $20 million-plus if it were California. It's a wow house and a lot of fun."
The idea behind building the home was to bring California to Las Vegas since the couple are from Southern California, Willow Jager said. They set aside palm trees and planted them a year before they built the home.
"If we can't be at the beach, we wanted to feel like we are at the beach," Willow Jager said. "That is why there is so much water, and the pool is so big. It's part of the indoor and outdoor, and the closest thing we can have at a real beach."
There's a stairway to a skydeck where people can watch the sunset and views of the Strip.
"The third-story sky deck views are insane, and you can sleep out there with the stars and feel completely safe and watch the sunrise and listen to music up there," Willow Jager said.
While it's not unusual for homes to have a theater, gym and game area, this one has an indoor basketball court where you can play half-court or full-court games. And, you can access it by stairs or by a fire pole or a slide.
Las Vegas architect Richard Luke designed the home and Shane Jager oversaw the construction. It was built in 2016.
"I feel like it's my rock star listing because it couldn't be a better house at a better time for Las Vegas with all of the professional sports coming in town and all of the mad rush from California people," Routh-Silberman said. "It's a beautiful estate loaded with so many amenities. There's not that many houses that have all of those things together — modern architecture, that beautiful backyard and a basketball court. It has something for everyone. It has a fantastic kitchen and super-fun amenities for the kids. The house doesn't take itself too seriously, but it's a serious house."
The Jagers are high school sweethearts who grew up in Southern California and moved to Las Vegas in March 2000 in order to start what would become their pest control business.
"We moved out here without any kids and moved into an apartment and now are living the American dream," Shane Jager said. "We went after it."
"We thought we would stop in Vegas on our way back to California (from Utah), and we stopped in Vegas to see what it was like to start a business and never left," Willow Jager said. "He would sell, and I would run the office."
This is the couple's fourth home in Las Vegas. Their last home they bought was 4,000 square feet and had five bedrooms.
"We always wanted to build something," Willow Jager said. "We had a home in Roma Hills that was nice, but it was not our style."
They looked for the perfect site and found it. It took more than six months of negotiations and the couple eventually worked out a deal for $385,000 and in December 2012, acquired two-tenths of an acre from Caesars Entertainment that would house the basketball court.
"We were in and out of all of the neighborhoods looking at land, and this one caught our eye because it was so secluded, private and hidden," Shane Jager said. "We loved it where it was in proximity to the golf course, and the Strip and city views it had."
With four children whose ages are 17, 15, 12 and 8, Willow Jager said the purpose behind building their own home was to provide a place for their children to bring their friends, and they could watch over them.
"We've hosted proms, dances, after-school parties and we have teenage parties every single weekend," Willow Jager said. "That's why we have the game room, movie theater and basketball court. We have most of everything a kid would want with a fire pole and slide. We made this a kids' home so that the kids will spend time with us here and not go someplace else."
Shane Jager said it's not unusual to have more than 50 kids over playing basketball or dodgeball in the gym.
"It's been nice because it gives us more nights with the kids and that extra supervision that may keep them out of trouble," Shane Jager said.
Willow Jager said she grew up with eight kids in her family and her home was a hangout, and she wanted to provide that for her children.
"Sometimes, the house feels really big, but a lot of times it feels just right," Willow Jager said. "It doesn't sound right to say 12,000 square feet sounds normal, but the way it was laid out everything feels super cozy. Most people would pack up and head to the park, but we've played an indoor soccer game as a family, and it feels awesome. And we have this huge grass area so we don't have to take the dog to the park because I have a park in my backyard."
Shane Jager added: "we don't have much space that doesn't go unused, which seems surprising given that size of a home on that size of a lot."
He said they thought this would be a great time to put the home on the market with the gains in residential real estate. The arrival of the Golden Knights to Las Vegas and the relocation of the Raiders in 2020 will create even more demand for luxury housing, he said.
"I would love to build again if I found the perfect lot," Willow Jager said. "This is a great lot, and they're hard to find. It's secluded and private because it's on the end of a cul-de-sac."
Shane Jager played high school basketball as a shooting guard and won a college scholarship and loves the sport. He hosts full-court basketball games two nights a week featuring ex-UNLV and ex-professional basketball players.
"I think because of the gym that it's likely a professional athlete will buy the home," Shane said.
If it's not an athlete or business owner, the couple said an entertainer with a family would be the other option to buy it.
The couple considered building the home in a Tuscan-style but opted for a more contemporary feel instead and are glad they did because that's what's in demand today.
"This house kept getting bigger and bigger," Willow Jager said. "We didn't think someone would buy a house with an indoor basketball court, but they are going to want all of the extras. A balcony became a workout room. This house is designed for our family but with the intent of resale."
There's a lot of "little things" that make the home special, such as a lounge outside the girls' bedrooms, Willow Jager said. The boys had a game room, and the girls needed their own area to hang out, she said. The kids' bedroom also has a loft.
Price: $6,750,000
Location: 1353 Dilevante Drive, Seven Hills
Size: 1-acre lot, 11,718 square feet, two-story, six bedrooms, nine baths, four-car garage
Features: 100-foot-long pool; indoor basketball court accessed by stairs, fire pole or slide; theater; game room; cascading waterfall; swim-up fire lounge and rope on the second story where people can swing into the pool; skydeck; gym; and private gate and 300-foot driveway.
History: Shane and Willow Jager, owners of Elite Pest Control built the home 2012
Listing: Kristen Routh-Silberman, Sotheby's International Realty