Vacant lot sells for $2.6M in Henderson's Ascaya community — PHOTOS
October 30, 2015 - 1:27 pm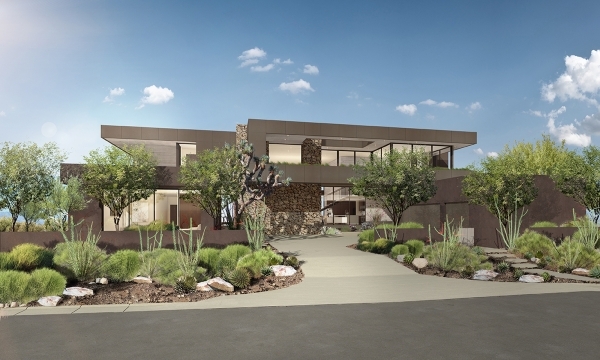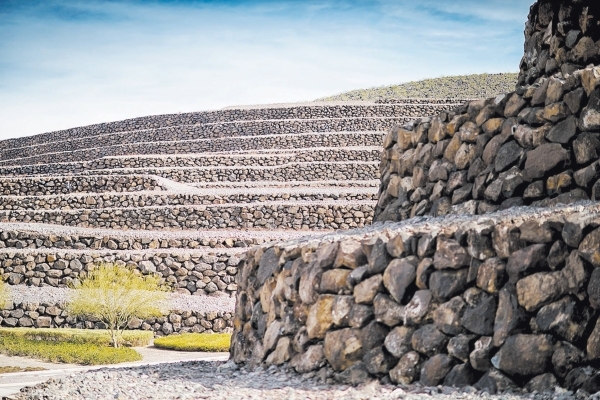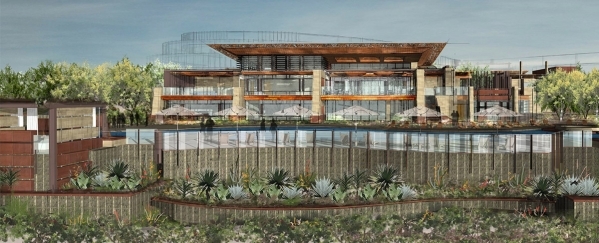 Some very expensive dirt just changed hands in Henderson's newest luxury homes community, Ascaya.
A vacant lot at just over 1.1 acre sold for $2.6 million and it is the most expensive local lot sale in the last year, if not longer, according to Darin Marques, Ascaya's sales manager. A second lot is scheduled to close Nov. 5 for nearly $2.5 million.
"It's a very open lot with an incredible view, almost a 360-degree view of the whole valley. And it's the highest in elevation of any of the lots in the community that we have right now" Marques said. "There are just a handful of those premier lots, but all of our lots are incredible."
So incredible that he anticipates "that at some point (the lots on the very top of the community) will easily be in the $10 to $15 million dollar price range."
An entry-level home in Ascaya, if such a thing exists, would be around $2.5 million. Some lots have no city view, and those start at $500,000.
"The land cost is usually about a quarter of what the finished cost is of the home, so the starting price here is in the high- to mid-twos," he said. "Realistically, the average homes in here are going to be in the $3 to $4 million dollar price range."
The community plans date back to 2005, but were put on hold during the Great Recession; then last year the company began selling lots. They broke ground on their "inspiration" or model homes Oct. 20 for which they selected seven architects.
"These are truly unique, one-of-a-kind designs being done for us, and the reason we hired those world-renowned architects is to set the bar as to what we expect in the community," Marques said. All are from outside Las Vegas, with the exception of Pinnacle Architectural Studio, which specializes in residential design. Its principal Quinn Boesenecker will be designing and building the home on the lot that sold for $2.6 million.
The design will have an Asian flair, Boesenecker said, "kind of a Balinese, travel book feel; lots of water, breakaway doors that open onto a private courtyard, and the lot is already very private. In their backyard they'll have complete privacy but even in areas where they might not, we will create privacy for them, so a lot of indoor-outdoor areas that will blend into the house."
Bamboo, limestone, some Venetian plaster and other materials typical of Asian-style homes have been chosen for the house, which will have five bedrooms, formal living room, family room kitchen, study, media, game room and several courtyards and a five-car garage. It will be two stories but will "live as a single-story," Boesenecker said. "They want to live on the main level and leave the upstairs for guests."
The lot is called a "flag lot," which is positioned between two other lots and then opens up and extends beyond the others, and will be able to accommodate its own entrance and private gate. "The lot itself creates privacy for the backyard. There are lots behind them, but the house will create privacy for the yard."
Michael Gardner, principal of studio g Architecture has designed the first private residence on lot No. 4. Sun West Custom Homes and Blue Heron are also contracted to build some of the private residences, according to Marques.
Homeowners Association assessments will be the same for all homes; initially $403 for the first few years, then up to $597. All designs for homes in the community have to be approved by the design review board.
The community will have a two-story clubhouse that will measure 23,000 square feet and "just about every room you go in will have these incredible Strip and valley views," Marques said.
It will include an 8,000-square-foot "resort-style" pool with seven cabanas and incorporating lap swimming lanes. Construction is expected to begin by the end of the year.
"In the beginning, we won't have a fully functional full-service restaurant… but we're in talks right now with a company about limited food services offered, but there will be a full-service spa that's functional for massage, nails and hair," Marques said. The clubhouse will also have a full fitness center with the latest equipment.
A designated arts studio will be provided for parents to arrange lessons for their kids.
"We want this to be a place where everybody in the community gathers, so we're going to be incorporating a lot of community programming so there will be many activities in the clubhouse, whether art classes or wine walks, small concerts, those are the things that will be programmed" he said.
There are 313 lots, of which 5.5 have been sold. The community will also include seven inspiration homes, which they hope to delay selling for at least a year or so "to establish the criteria of what we're looking for," Marques said.
"That's the great thing about this community; I think we're going to bring in a level of wealth that this community doesn't have yet, just because of the price of the homes that will be built here."