Chris Bishop named 2018 GLVAR president
December 18, 2017 - 8:46 am
Updated December 18, 2017 - 8:51 am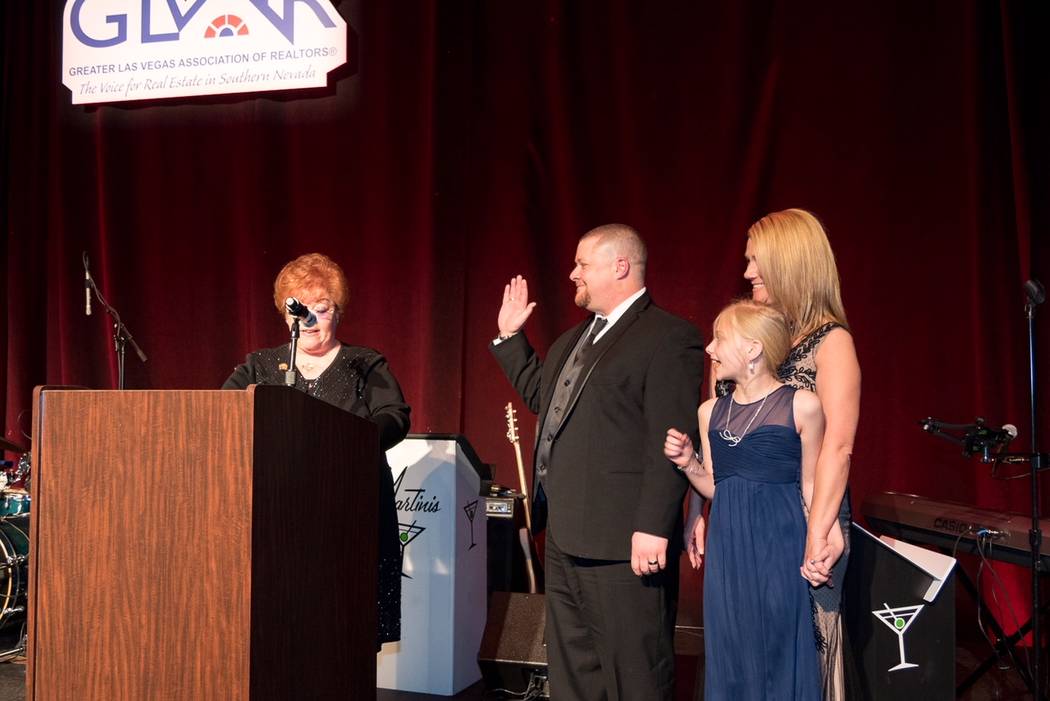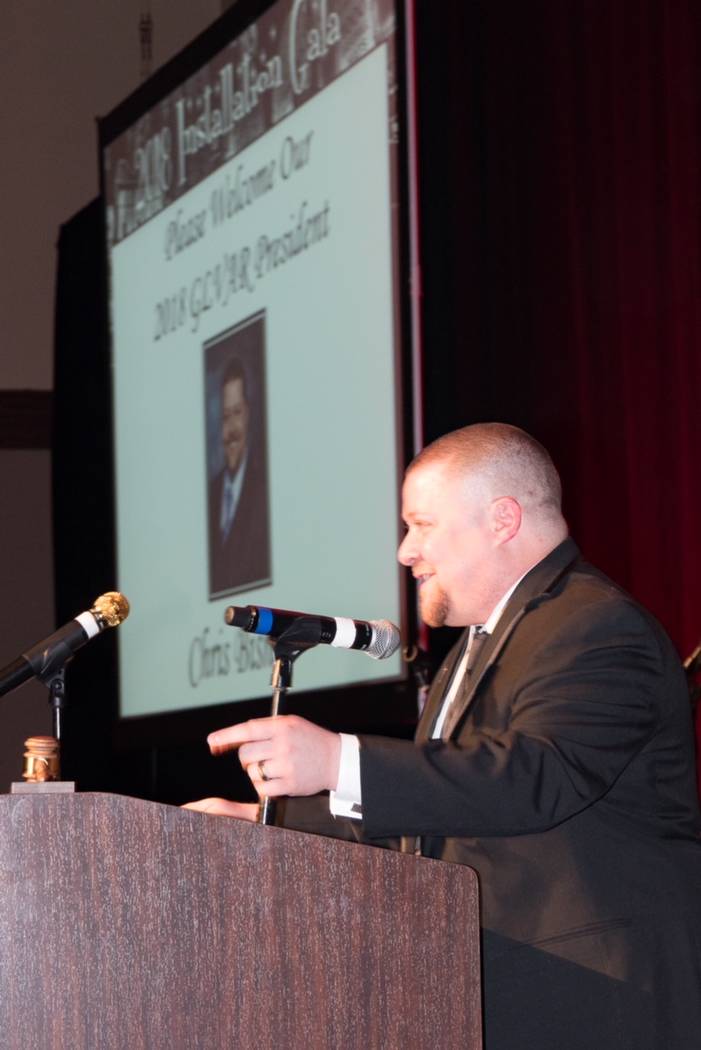 Chris Bishop assumes the mantle as president of the Greater Las Vegas Association of Realtors on Jan. 1, but the origins of his feat started more than two decades ago.
The 34-year-old Bishop is the youngest ever to hold the position, but no one is surprised he has made it to this point in his career so quickly. He is the stepson of Keith Kelley, GLVAR president in 1997, and son of Patty Kelly, GLVAR president in 2008.
Bishop grew up around real estate and has it in his blood. After finishing his school day at Trinity Christian High School,, Bishop would walk a few buildings over to his mom's real estate office and hang out until it was time to go home.
"They have been in the business my entire life, and it's second nature for me," Bishop said. "I didn't really know I would be doing it as a career, but I was part of it. They had a training room, and I would watch movies and hang out and talk to the agents."
Upon graduating from Trinity, Bishop worked as a bank teller while attending UNLV when his mom suggested he apply for a recruiting assistant position at Dyson &Dyson Real Estate Associates. Because she could not hire him, he said he applied without telling human resources that Kelley was his mom as she requested. He got the job.
His first year in the business in 2003 was successful as he was named Rookie of the Year for the firm. Two years later, while working in support services, Bishop obtained his real estate license.
"My parents loved what they did, and I Iiked the career," Bishop said. "I didn't think I was going to do that when I started out going to school at UNLV. I studied political science, but I saw how lucrative the market was and seeing all these agents making good money and do the things they were able to do. I wanted to be in a job without limits and make as much money as I wanted and write the schedule that I wanted. I knew it required hard work, but I grew up watching people do it. I figured with my background and mentorship, I could do pretty well at it."
In 2006, he went to work for his parent's real estate company, Kelley &Associates before going to Keller Williams in 2010 and forming a team that worked on short sales and foreclosures.
Since 2013, Bishop has served as a Coldwell Banker Premier Realty branch manager. He is managing broker at the Centennial Hill's office, where he manages 75 agents.
Bishop got involved at the GLVAR a decade ago at the urging of his mom, who suggested if he wanted to be part of the industry, he should do so. He served on various committees and was elected to the GLVAR board of directors in 2011 and later to treasurer in 2014. At 26, he was the youngest ever to be elected to the board. He was later elected as vice president, president-elect and then president.
"I had made the decision I wanted to give back to the industry, and I kept running and luckily kept winning," Bishop said of his GLVAR involvement.
He has no uneasiness about being the youngest president in history. "I have been told I have an old soul, and I get along with everybody. I maybe the youngest, but much of the board is younger than me."
During his one-year term, Bishop said he will push to raise money for real estate charities dealing with homelessness and food banks. The GLVAR has set up a Realtor benevolence fund.
He will be president when the GLVAR moves into its new 40,000-square-foot headquarters in February after the organization outgrew its decades-old headquarters.
"Our facilities were pretty dated, and we have grown in such big size that we have 200 to 300 people for orientation and it only fits 145," Bishop said. "With the massive number of new agents and the way technology has changed, it's perfect to build a new location that fits our needs while having a way to leverage the location for non-dues revenues for the benefit of members for use of conventions or parties."
The GLVAR had about 17,000 members at the height of the market a decade ago, and that fell below 10,000 when the housing market collapsed, Bishop said. The membership today is just below 14,000 and growing.
"As the economy is improving, people are taking the chance of starting their own business," Bishop said. "Realtors are independent entrepreneurs that are starting their own company for the value of building the life that they want, and it's a big risk. Fifty percent of the members that are brand new that have never done it before don't make it. People think it's like on TV where we hold an open house and that's it. It's a lot of work and effort."
About 50 percent of members are part-time Realtors who do two or three sales a year to supplement their income, Bishop said. Some 2,200 to 2,800 agents are full time and earn 80 percent of the income in the industry, he said.
The housing market continues its recovery and "is in a great place" compared with where it was six years ago, Bishop said. The problem is the lack of inventory continues with fewer than 5,000 single-family homes on the Multiple Listing Service. The median price of existing single-family home sold in November was $261,150, and that's expected to rise as inventory remains low.
"Now is a great time to sell because there's such low inventory," Bishop said. "When people list their home as long as it's priced competitively, it's going to do very well very fast."
The concern is that lack of inventory and rising prices will mean first-time homebuyers are priced out of the market, Bishop said.
"If you are a first-time homebuyer, it's a rough market right now," Bishop said. "That's why people need a Realtor more than ever because the market is so tough."
Builders aren't able to construct homes fast enough to add to inventory, and there's even a return to lotteries for new homes that were prevalent last decade, Bishop said.
Properties acquired by investors remain in the rental pool and aren't being placed on the market because appreciation continues and their investment grows, he said.
Many longtime homeowners have seen their properties increase in value and are waiting to see what happens in the marketplace, Bishop said. Because there's a lack of inventory, it makes it more difficult for them to sell and move. Many enjoy their neighborhoods and where their kids go to school and don't want to move, he said.
"I don't think this will be the year (inventory levels increase)," Bishop said. "Hopefully in the next couple of years it will. We're seeing steady appreciation and the average MLS prices have increased. I'm not sure where it will end up, but it could jump steadily."
The real estate profession runs through Bishop's family not only with his mom and stepdad. His wife, Amy, is owner of A2Z Transactions, a vendor that provides administrative support services to real estate agents and companies. His stepdaughters, Brittany and Chelsea, work with her.
Patty Kelley said at one time she didn't think her son would pursue a career in real estate, but it was a profession he had been around a long time.
"He's always been around it and been involved and going to different functions, and he liked it," Kelley said.
Kelley said she's proud of his accomplishments and what he's done at his age. She called him his own person who has a desire to serve and is a natural at it.
"He listens and takes it in," Kelley said. "I think he will be one of the best presidents that we ever had because his vision and the way he works with people."