Commercial real estate markets improve in second quarter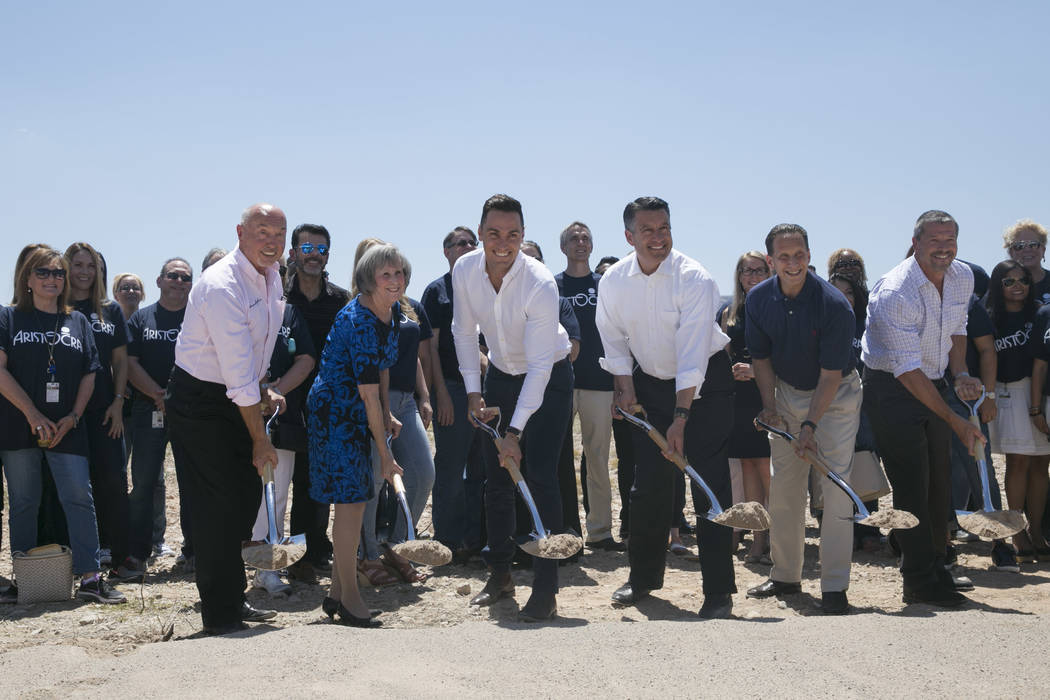 Commercial real estate in Las Vegas is showing signs of improvement in the retail and office sector, with industrial running at full speed. Absorption stayed strong in the industrial market, as millions of square feet of space came online in the market in 2017, a second-quarter report by Colliers International Las Vegas showed.
"I would say the state of the market is pretty good across all sectors," said Jay Heller, the 2017 president of NAIOP Southern Nevada and co-owner of Heller Cos. in Las Vegas.
The industrial real estate market had roughly 3.7 million square feet of space completed in the first half of 2017, with 3.6 million square feet of that space absorbed, Colliers' second-quarter report showed.
Other major announcements in the industrial sector included electric car maker Faraday Future scrapping plans on its 650,000-square-foot project in North Las Vegas — once pegged to be 3 million square feet — at the Apex Industrial Park.
The retail and office sector also had improvements in its net absorption over the same time last year and last quarter. All three sectors saw improved vacancy rates in the second quarter, the report showed.
One major sale, just outside the purview of the second quarter, was the announcement that New York-based Blackstone Group was acquiring International Market Centers, owner and operator of the 12.2 million-square-foot World Market Center, near the Symphony Park development.
The building, which features millions of square feet of home furnishing showroom space, was owned by Bain Capital and Oaktree Capital Management. Details of the deal were not disclosed.
Industrial
The industrial real estate market's vacancy rate fell slightly to 5.4 percent from 5.5 percent in the first quarter. That rate was also down from 5.6 percent in the second quarter of 2016, according to the Colliers report.
The industrial market, however, registered a 5.3 percent vacancy rate in the third quarter of 2016.
But that's a positive with the amount of industrial space coming into the market.
"I think there was some concern at the beginning of the year whether or not all the new supply would be absorbed," Heller said. "It seems like the demand is keeping pace with the supply."
Second-quarter completions were strong in North Las Vegas, where nearly 1.6 million square feet of space came online in that period. The remaining portion of completed projects was in the southwest, with 375,000 square feet of industrial space being constructed in the second quarter.
Valleywide, 4,9 million square feet is set to come online by the end of 2017, in addition to the 3.7 million square feet already completed in the first two quarters of the year.
One project of note is the Northgate Distribution Center, where 3.2 million square feet of space is planned. In May, Kansas City, Missouri-based developer VanTrust Real Estate announced construction had started on a project covering more than 191,000 square feet.
That is building five of eight at the 170-acre site in North Las Vegas at 4410-4490 Nexus Way.
Some setbacks for the market happened in the second quarter, with Faraday Future announcing the company would not be moving forward with its manufacturing facility at Apex Industrial Park in North Las Vegas that it originally planned.
As a whole, Hayim Mizrachi, president and principal at MDL Group, said he didn't think Faraday's exit will have a "material negative effect."
"However, there will be people/suppliers that may get hurt, and that is unfortunate," he said.
Mizrachi added that Las Vegas has already received a lot of positive press from Faraday's entrance into Las Vegas, which came at a "more critical time," he said.
"Right now, there is so much positive momentum with the Raiders, Resorts World, Wynn's Lagoon, etc., Las Vegas will continue, and Faraday will be replaced with another dream. Hopefully, one that materializes," he said.
Smaller industrial users
Megaprojects aren't the only part of the Las Vegas industrial market.
LaPour Partners Inc. is planning a 207,000-square-foot industrial project, across seven buildings, near Henderson Executive Airport at the northeast corner of Bruner Avenue and Executive Airport Drive. LaPour also has another 125,000-square-foot project in North Las Vegas at Craig Road and Walnut Street.
The Henderson project has divisibility down to 7,000 square feet or up to 100,000 square feet of contiguous space.
Demand exists in the local market for industrial product with low divisibility, according to Mike DeLew, executive vice president in Colliers International Las Vegas' industrial division.
The smaller product type, which DeLew said was referred to as mid-bay, has a higher pool of tenants for landlords or building owners to choose from.
"In our market, oftentimes, because we've been successful with these 400,000- to 700,000-square-foot tenants, we kind of lose sight that in our market, a 50,000-square-foot building is a significant tenant," DeLew said.
He pointed to an 80,000-square-foot development in the southwest by Brass Cap Cos., which had divisibility down to 20,000 square feet. That project was preleased before it was completed.
A premium exists for rents in the small product types.
DeLew said a big-box project that goes down to 50,000 square feet might go for 60 cents a square foot in the Southwest, where a building that goes down to 15,000 square feet might tender 80 cents a square foot — a 33 percent premium.
Marketwide, for all product types in the industrial sector in the second quarter, the average was 64 cents a square foot — an increase over the 62 cents during the same period last year.
The amount of construction going on for smaller product has been much lower than in the big-box sector. DeLew said 300,000 square feet of space is under construction, and only 150,000 square feet is currently planned.
Office market
The office sector had strong absorption rates in the second quarter, with 545,955 square feet of net absorption. That is the strongest demand in nine quarters, the Colliers report said.
Comparably, the average net absorption per quarter in 2016 in the office market was 163,000 square feet, according to the report.
The high absorption rates led to a decrease in vacancy to 16.1 percent in the second quarter — compared to 17.6 percent in the same time last year and 17 percent in the first quarter of 2017.
Building activity has been on the rise, industry experts said.
Ed Vance, founder and CEO of Las Vegas architectural firm Ed Vance and Associates, said his firm has been working on several new office projects in the southwest and Summerlin.
One of those projects is the planned three-story, 180,000-square-foot campus for Australian slot-machine maker Aristocrat Technologies. That project, by Summerlin developer Howard Hughes Corp., is pegged for delivery in late 2018 and sits at Hualapai Way and the 215 Beltway.
Howard Hughes is working on a 152,000-square-foot-plus, six-story office building in Downtown Summerlin, which is speculative.
Ryan Martin, senior vice president at Colliers International Las Vegas' office division, said that building is being raised as demand from companies wanting to be in the Summerlin area and along the 215 Beltway has grown. Howard Hughes announced One Summerlin, a 200,000-square-foot, eight-story office building, in 2014.
"Due to the demand for high-rise, Class A office space, they went ahead and built another 150,000 square feet there," Martin said.
Gardner Co. is developing speculative office buildings along the highway. The company is the master developer of the UNLV Harry Reid Research and Technology Park, which is set to break ground in the fall on a 122-acre site at Sunset Road near Durango Drive, just off the 215 Beltway.
Projects such as Aristocrat and Credit One Bank, which is developing a 152,000-square-foot, build-to-suit project in the southwest for its headquarters, are another part of the office sector that's thriving.
"It definitely has created a niche in the marketplace," Martin said. "Aristocrat, Credit One and some of these other groups really haven't been able to find what they need available today, so they've gone out and built it for themselves or found a developer to build it for them and are willing to pay that freight in order to do that."
UFC delivered its 184,000-square-foot campus headquarters in the second quarter, also along the Beltway. No other completions were registered in the second quarter, according to Colliers.
Building activity is up from the second quarter of 2016, when 121,405 square feet of office came online. There were no completions in the first quarter of 2017.
Developers have roughly 645,000 square feet of office space planned for 2018.
Lease rates have been a bit slow to grow, Martin said.
In all classes of office space in the valley, the asking rent average, full service gross, was $2.02 a square foot — up from $1.99 in the second quarter of 2016. There was no change in the second quarter from the first quarter of 2017.
During the recession, rates for the entire office market went down to $1.88 a square foot. Martin estimated the growth rate since then at about 8 percent, or roughly 1 percent a year.
"That is a very stagnant growth," he said.
Rents could see a spike in the future.
"They'll continue to rise, as long as they don't overbuild and we're able to compress down on the vacancy rates," Martin said. "It's simply the supply and demand factor."
Retail sector
The retail sector had a sluggish first quarter, but it's recovering, according to the Colliers report. The sector had a negative net absorption of nearly 18,000 square feet in the first quarter of 2017.
Al Twainy, a vice president at Colliers International Las Vegas, said the lag was "mainly due to closures of some of the big boxes."
Many large retailers pulled out of the Boulevard Mall as one example: J.C. Penney and Macy's announced they were pulling out of the mall at Maryland Parkway and Desert Inn Road in the first part of 2017.
A report by Fung Global Retail &Technology, which does research on the sector, predicted that more than 9,400 retail locations would close by the end of 2017. Several brands, including Payless Shoes and Rue21 Inc., entered Chapter 11 bankruptcy and made plans to close more than 1,000 stores.
Other names shutting down retail locations include Guess Inc., Abercrombie &Fitch and Bebe Stores Inc., as e-commerce sales increase across the nation.
Despite that negative news, the local market had a decrease in its vacancy rate — from 9.2 percent in the second quarter of 2016 to 8.3 percent in the second quarter of 2017.
According to the report by Colliers, that rate could fall to 8 percent by the end of 2017. That's due to strong preleasing activity on 606,000 square feet of space that's under construction in the valley.
Retail has several reasons to expand.
"The fundamentals in the retail market that we tend to focus on — population growth, employment growth, income growth — all of those are in positive territory," said Brian Gordon, a principal at Applied Analysis.
The unemployment rate sat at 4.8 percent in May, according to the Nevada Department of Employment, Training and Rehabilitation. That's a decrease from May 2016, when the rate was 6.4 percent.
Between 2012 and 2016, Las Vegas saw an average wage increase of 0.8 percent per year — a match to the national average in that period, according to data from Las Vegas-based RCG Economics.