January 10, 2017 - 8:59 am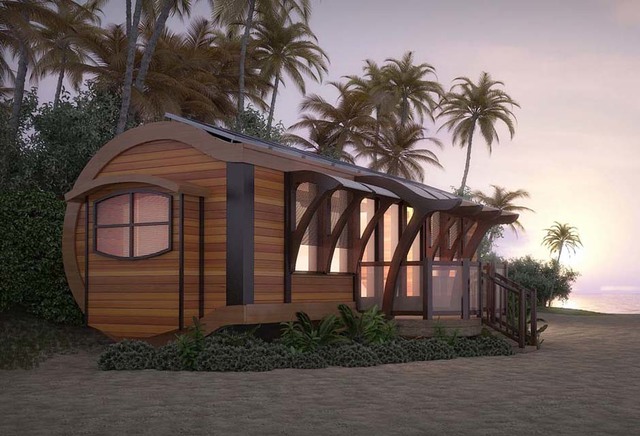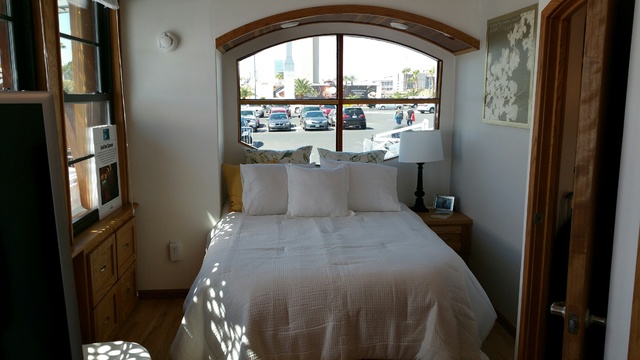 Tiny homes and DC power systems are emerging as architectural design practices that might provide new housing solutions for both baby boomers and the growing millennial generation.
Occupying less than 600 square feet, tiny homes provide enough living space for two people to live lightly but comfortably.
The small structures require minimal energy resources and maintenance, integrate ergonomic appliances with every available inch of storage space, and free up a homeowner's residual income and time to better enjoy an unburdened lifestyle.
Solar Power International was staged at the Las Vegas Convention Center in September. A Smart Energy Microgrid Pavilion featured the Arc House exhibit, designed by Jim Gregory of Shelter Dynamics Inc.
Gregory had honed his homebuilding skills by constructing communities of "stick-frame" production houses as family dwellings.
"After living on a sailboat, I realized that traditional homes waste a lot of internal space," Gregory said. "I wanted to create a living space that was small and efficient but still comfortable."
The Arc House is a land schooner priced at $125,000. Like a ship in drydock, the dwelling has a rounded hull underbody that nestles on top of stationary pillar pedestals ranging in height from 3 feet to 15 feet in elevation.
Although the living space occupies just 432 square feet, the Arc House seems bigger inside, because of its outward-curving sidewalls and lines of receding wooden arches that support a rounded, 10-foot high ceiling.
A modern kitchen at the rear end of the home includes a vented cooking range. An energy-efficient refrigerator and dishwasher are cleverly hidden behind wooden pantry doors that blend in with the rest of the storage spaces.
The living room faces the "back door" and a long glass wall along the side of the house, with a stylish bookcase that blends into a curved wall behind the couch.
The single bath is modern and water-efficient, with a tiled shower space that features a seating area and wide showerhead fixture.
A traditional hand-carved "front door" and covered entry are accessible from an outside staircase while a covered patio area extends outside the "back door," allowing residents to merge the outside spaces on either side of the home with the inside living space.
When the weather outside becomes colder or hotter, closed-cell spray foam from Covestro insulates the insides of the roof, floor and walls. The living space is enveloped inside a tight cocoon that retains air and heat flow. A compact Carrier HVAC system provides 9,000 BTUs for heating, cooling and air ventilation.
The outer wall surfaces are built with fiber cement siding and an acrylic roof coating that protects the structure from weather and fire damage.
Compact, artisan homes can be pre-manufactured and transported to housing sites like sailboats but still retain the beauty and details of craftsmanship found in a furniture factory.
Another design movement in the homebuilding industry is a shift away from the AC power provided by a centralized utility grid to DC electrical power supplied by both photovoltaic solar panels and lithium-ion battery packs mounted on the exterior of the home.
The 1.5 kilowatts of solar panels on the rooftop of the Arc House are coupled with six kilowatt-hours of battery storage capacity to provide enough direct current power from the sun to support all the appliances, HVAC systems, LED lighting, and electronic devices inside the structure, without the need to connect to a utility grid service.
Adara Power, a company with an office in Las Vegas, has provided battery systems for the Arc House during its road show tour. Mercedes-Benz also demonstrated a home battery system at the Arc Home exhibit in the Smart Energy Microgrid Pavilion.
NXP, formerly Phillips Semiconductors, showcased its product line of low-power computer chips that are embedded into many of the electronics systems found inside homes today.
The semiconductor industry has made great strides over the past five years to design low-power, silicon-based chips that operate normally at 3.3 Volts DC but also have an ultra-low-power mode that run at 1.7 Volts DC. Smart energy management features also include several layers of sleep modes that consume just a few milliamps of current when the chips are not being used.
Every consumer electronics device that doesn't run on batteries normally has a step-down transformer that converts 110-Volt AC into low-voltage DC. The AC-to-DC conversion process consumes heat when power to the device is connected, including common "wall warts" that can be power parasites in today's homes.
LED lighting, power-efficient home electronics systems and energy-efficient appliances allow architects and electricians to consider hybrid wiring systems in a building that have outlets for both 110-Volt AC power and low-voltage DC power.
The National Electrical Code defines low-voltage wiring as any cable system carrying less than 60 Volts. Ethernet and USB cables are routinely embedded into the walls of today's production homes to carry data signals and DC power between rooms and electrical appliances.
Nonprofit organizations like the EMerge Alliance are urging the homebuilding industry to expand low-voltage, DC-power infrastructure and product lines into their building designs. More information can be found at this website: www.emergealliance.org.