Luxury real estate company Shapiro & Sher Group has opened a new Henderson office at 3185 St. Rose Parkway. It is on the corporate campus of Berkshire Hathaway HomeServices Nevada Properties, the company's parent company.
November 14, 2016 - 9:49 am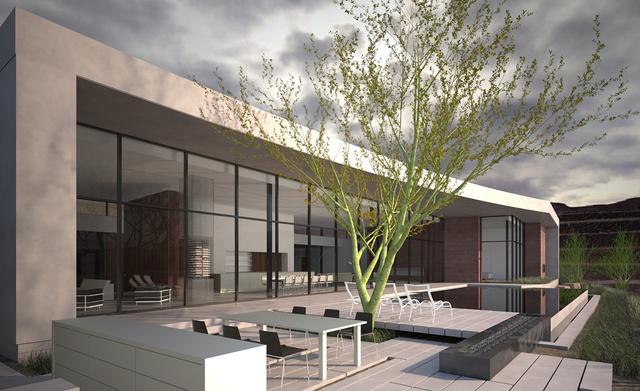 Southern Nevada Housing market cools in October
The Greater Las Vegas Association of Realtors reported the local housing supply remains tight as Southern Nevada home prices and sales cooled a bit from previous months but remain ahead of last year's levels.
GLVAR reported the median price of existing single-family homes sold during October through its Multiple Listing Service was $233,250. That was down slightly from September, but still up 5.1 percent from $222,000 one year ago.
Meanwhile, the median price of local condominiums and townhomes sold in October was $117,550. That was up 18.7 percent from $99,000 one year ago.
"These GLVAR statistics for October show what a stable housing market we have. They also reflect some seasonal factors," said 2016 GLVAR President Scott Beaudry, a longtime local Realtor. "The housing market tends to slow down in the fall as kids go back to school and the weather cools off, so it's no surprise to see local home sales and prices cool off a bit in October. Our housing supply has been very tight for many months now, and I don't see that changing anytime soon. As for local home prices, they continue to appreciate at a slower rate year over year."
According to GLVAR, the total number of existing local homes, condominiums and townhomes sold in October was 3,225. That was down slightly from September, but up 5.5 percent from 3,057 one year ago. Compared to the same month one year ago, 6.7 percent more homes, and 6.1 percent more condos and townhomes sold in October.
So far in 2016, Beaudry said Southern Nevada is on pace to sell more existing homes than during 2015 and during 2014, but fewer than during each of the previous five years.
By the end of October, GLVAR reported 7,693 single-family homes listed for sale without any sort of offer. That's down 29.7 percent from one year ago. For condos and townhomes, the 1,245 properties listed without offers in October represented a 45.8 percent decrease from one year ago.
Beaudry said Southern Nevada has been hovering below a three-month supply of homes available for sale, when a six-month supply is considered to be a balanced market.
Homes have been selling faster this year. Compared to one year ago, the number of days single-family homes stayed on the market before selling during October decreased 20.7 percent, from 58 days on the market in October 2015 to 46 days in October 2016.
The sales pace was even faster for condos and townhomes, which saw a 35.7 percent decrease in the number of days these properties stayed on the market during October 2016 compared to the same month one year ago, going from 70 to 45 days on the market.
These GLVAR statistics include activity through the end of October 2016. GLVAR distributes such statistics each month based on data collected through its MLS, which does not necessarily account for newly constructed homes sold by local builders or homes for sale by owners.
Shapiro &Sher Group opens new Henderson office
Shapiro &Sher Group, a luxury real estate team, has opened a new Henderson office at 3185 St. Rose Parkway in Seven Hills. The office houses four luxury real estate sales professionals and additional support staff to serve the firm's Henderson and southside clients.
"We are thrilled to open this new office that is dedicated to serving our clients who are buying and selling fine homes in the Henderson and south side communities," said Ivan Sher, principal of Shapiro &Sher Group. "The office is staffed by longtime Henderson residents who know its communities extremely well and are passionate about luxury Henderson real estate."
Sher said Southern Nevada's luxury real estate market, especially in Henderson, has been growing steadily in 2016.
"Part of our success with our clients is a deep understanding not only of their needs and interests, but the communities in which they are joining," he said.
Shapiro &Sher Group's Henderson team includes sales executives Gretchen McNamee, Ida Doman and Denise Reichartz and Harvey Tadmor.
Shapiro &Sher's new office is on the corporate campus of Berkshire Hathaway HomeServices Nevada Properties, its parent company. The office is open Monday through Friday from 9:30 a.m. to 5:30 p.m. For more information, call 702-315-0223 or visit www.ShapiroandSher.com.
Shapiro &Sher Group is an affiliate of Berkshire Hathaway HomeServices Nevada Properties.
Ascaya's Inspiration Homes break ground
Construction has begun on one of Ascaya's most unique Inspiration Homes. These homes are being built by the Henderson luxury community's developer to inspire residents in building their own homes. Five are currently under construction with the first completion scheduled for early 2017.
"There is no greater collection of renowned Desert Contemporary architects than at ASCAYA," said Darin Marques, sales manager. "Our Inspiration Homes have been designed by some of the brightest architects of this genre, and will help our owners envision the possibilities for their residences."
Ascaya's Inspiration Home, "Cloud Chaser," has begun construction. Cloud Chaser was designed by Las Vegas-based architecture firm Hoogland Architecture. The 8,678-square-foot home is on a half-acre site.
"We continue to push the envelope on Desert Contemporary design, and with this home have commissioned architect Daniel Chenin to design its interiors," Marques said. "Mr. Chenin is also based in Las Vegas, making this home completely designed and built by local firms."
Other firms designing Inspiration Homes include Swaback Partners of Scottsdale, SB Architects of San Francisco, Lake|Flato of San Antonio and Marmol Radziner of Los Angeles. An Inspiration Home from Richard Meier &Partners will start construction in early 2017.
Cloud Chaser includes four bedrooms, an office and 5½ baths. The entire residence includes energy-saving design elements.
"We utilize a more passive strategy on energy-saving design," said Hoogland Architecture principal CJ Hoogland. "This home includes deep shading with more aggressive day lighting. In the main living areas, the home has light shelves that bounce light from a ribbon of windows toward the ceiling that light the entire room from the ceiling."
Guests to Cloud Chaser are greeted by a central courtyard with a water feature that emits soothing trickling sounds, along with a majestic Coppertone Loquat tree to provide shade and color.
Inside the home, interior architect Daniel Chenin creates an environment that anticipates its residents' needs by offering functionality and luxury in a resort-style living approach.
"It is classic and timeless, setting the stage for the residents' personal expression," Chenin said. "A major driver of this interior experience and its organization of space is drawn from luxury hospitality. It's about the experiential side of design. The bathroom becomes a spa, the bedroom a corner suite, the master closet mirrors a Rodeo Drive fashion boutique and so on. But they are lavish only in the sense of user experience, which will carry a much more meaningful impact on the life of its inhabitants than anything extraneously decorated for decorations' sake."
The home's kitchen overlooks its expansive rear covered sun deck with views of the city and Las Vegas Strip. A centerpiece of its outdoor amenities is a 16-foot long fire feature that overlooks an infinity edge pool. An expansive outdoor kitchen and dining area complete this home's breathtaking outdoor amenities.