A day in the life of … an EDC-goer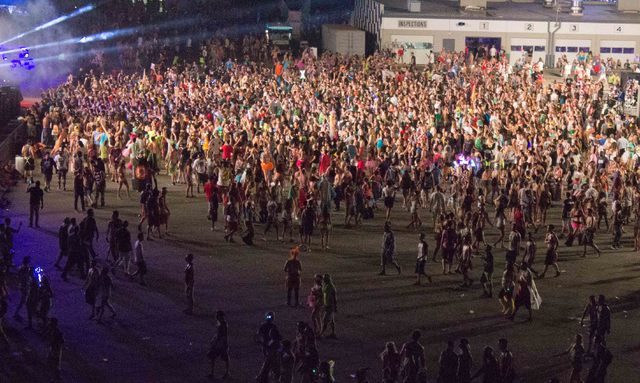 Take a stab at exactly who was at EDC.
Twenty-somethings? Check.
Old school ravers? Check.
Circus performers? Check.
Locals? Not so much.
There's a big chance that all 478 cities and towns of California were represented at least once at the Electric Daisy Carnival. At least every major city in the United States had someone at EDC and there were oh, so many Canadians. Young people spend a relative fortune traveling from far and wide for the three-day dusk-to-dawn festival.
If there's one unifying factor at the Electric Daisy Carnival, it's PLUR. For those not in the know, PLUR stands for peace, love, unity and respect. It's an old term — it's been around for at least two decades — that originates in early rave culture. The ongoing popularity of this love-one-another atmosphere and the things that surround it are definitely unique to just this genre.
Many avoid the electronic dance music scene and EDC not only for its reputation to fuel traffic woes, but because raves are often associated with drug and alcohol abuse, specifically with the club drug Ecstasy. Those who come out for EDC say otherwise.
"It's all about spreading love," says Krystel Torres, 19. Friday night was her first time at EDC, but she and her friends said it "feels like home."
Samantha King, 26, Andrea Cervantes, 23, and a few other friends, join Torres. They came dressed with the theme of "Carnival." Like many, many other festival-goers, they came from California — Torres from Hesperia and the others from Orange County, California.
A surprise you might find at one of the largest music festivals in the world is that music isn't the top priority. "I just want to spread the love," says Issiah Klumpp, 22, from Rancho Cucamonga, California. "Meeting new people, the whole thing. I just love it all."
Well, the posters for the festival do say "it's all about the experience."
Klumpp's newly made friend from Minnesota, Nick Frymet, 26, agrees. "It's just a good vibe, good place."
Ari Bulter, 19, was also at EDC for her first time. She says it's impossible to find someone who's having a bad time and high-fived a stranger and exchanged "kandi" (beaded bracelets) to examplify how friendly the crowd is. "That's what the (PLUR) culture means," she said.
The age of the crowd was primarily 18-24, no surprises there. To a group of barely legal girls, the festival was like a coming-of-age right of passage. The group had planned their trip to the west coast from Ohio for EDC during their freshman year of high school. "We planned on going to L.A., but I'm so glad it ended up in Vegas. It's a much truer party city," one said.
This year hosted an estimated 134,000 people, according to organizers at Insomniac Productions, many from southern California. The festival drew controversy in 2010 after a 15-year-old girl died of an Ecstasy overdose at the then-16+ event. Two deaths were related to EDC Las Vegas in 2012.
Saturday morning, the end of EDC's first night, saw the death of 24-year-old Californian Tsang Montgomery. On Monday, the coroner's office confirmed that they were looking into a second death, that of 25-year-old Anthony Anaya from Everett, Wash. Tsang died in the hospital after being transported from the festival. Anaya died at the Vdara resort late Saturday.
"With an event this size, unfortunately, tragedies are likely to happen," said an officer with Las Vegas Metropolitan Police Department. "We have plans in place for anything you could think to go wrong." He later said that despite the negative connotations, "I love EDC, I like the people, the atmosphere and the friendliness. The people are generally respectful and mostly just want to take pictures with us."
It's all about respect, not drugs, said local Lizzy Lynch, 23. "It's great. It's all about unity and PLUR. It's about the small experiences within the entire EDC experience."
The EDM community says they have a lot more to offer than drug abuse and kandi. All that the 134,000 people per night wanted was great vibes and an even greater party, many said.
Contact Kristen DeSilva at kdesilva@reviewjournal.com or 702-477-3895. Find her on Twitter: @kristendesilva