Artist uses paintbrush to tell valley writers' stories
Updated July 16, 2017 - 7:39 pm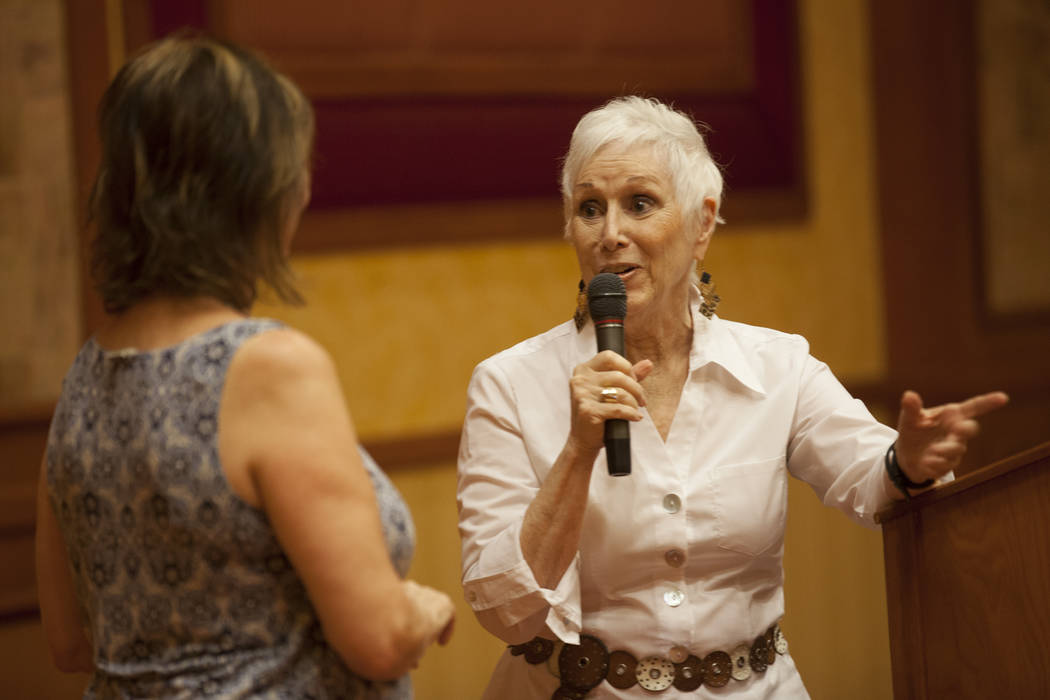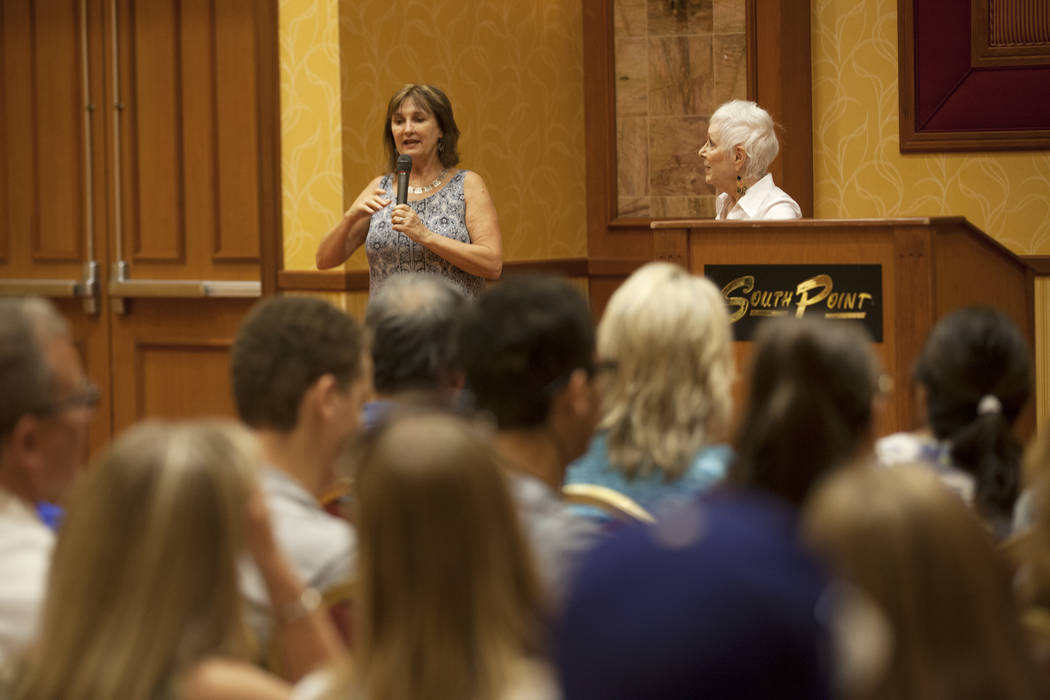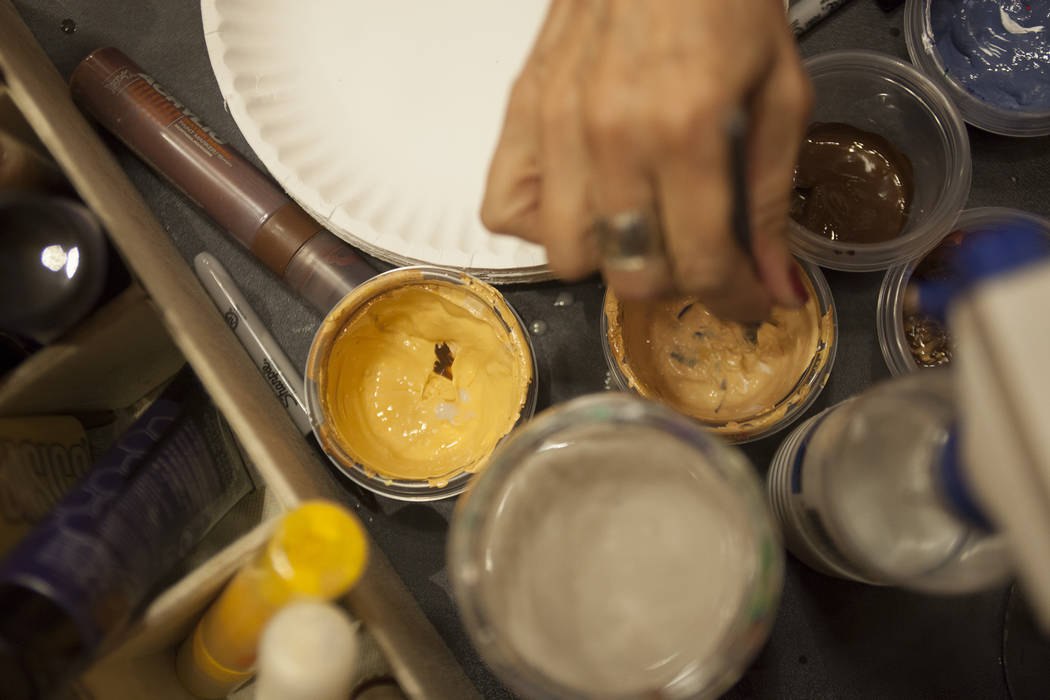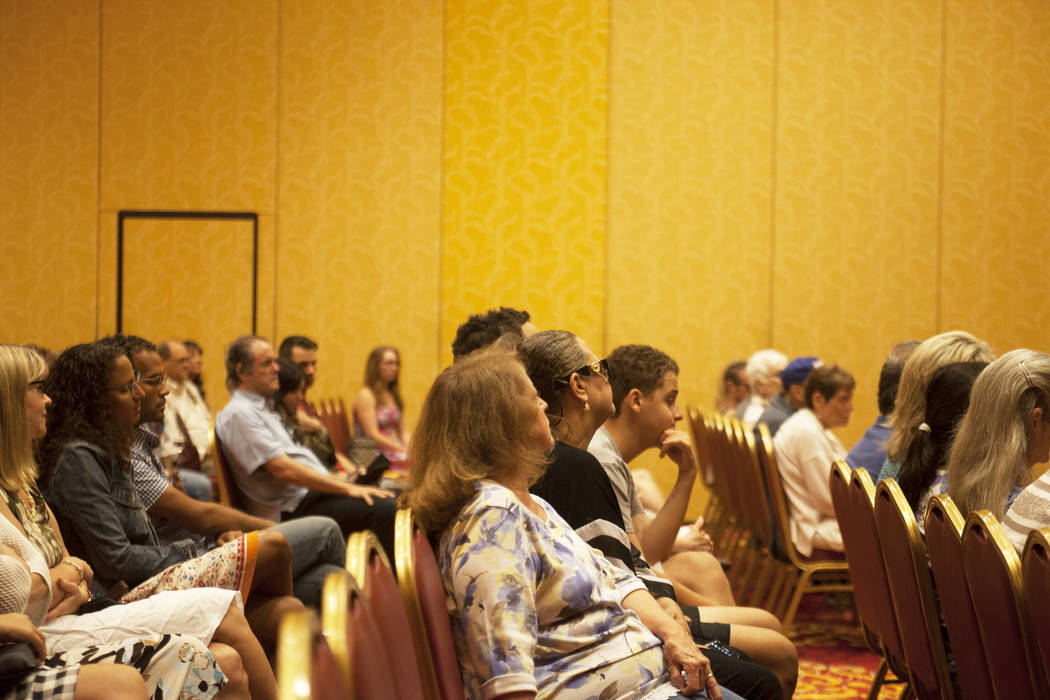 It's been said that a picture is worth a thousand words, but what if a thousand words were worth a picture?
That's the idea behind the Painted Stories series created by Eric Miller, president of the Writers of Southern Nevada. His goal is for artists to use the words of local writers to turn a blank canvas into a work of art.
"Every time you read a book you paint a picture in your head," Miller said. "It's interesting to see what a professional artist comes up with using the same set of words. The idea behind this concept is really to bring different arts together."
This month's Painted Stories "Endless Summer" featured local authors Megan Edwards, Linda Lou and Greg Blake Miller with guest artist Meegan Boiros Sunday at the South Point.
Each author chose a book excerpt that took roughly 20 minutes to read aloud, while Boiros rushed to paint a picture that she visualized after reading the story beforehand.
"I think creativity is a living thing that people can enjoy even after you're gone, so their stories will live on forever," Boiros said. "Think about what you can create — whether it's something that's a thought and you bring it out in words or visualize it out of nowhere — that's pretty cool. The challenge is that you don't know how it's going to turn out."
As Boiros rushed to get her creativity out, the first speaker, Lou, read from her book, "Bastard Husband: A Love Story." The memoir details her escapades as a recent divorcee living in Las Vegas.
Lou read an excerpt about a particular night where she met a bald Vietnam veteran who talked to her about his post-traumatic stress disorder and whom she went on to date despite red flags.
Boiros' end result was an image of a tough-looking tattooed man being embraced lovingly by a woman in a red tank top.
UNLV visiting assistant journalism professor and former Moscow Times journalist Greg Blake Miller read from his nearly completed book, "The Queen of Mars Field." The book merges his time spent in Russia with fictional work that crosses three eras, while offering a hint of politics, the supernatural and some cats.
"It's so much fun to see the work you created suddenly come to life on a canvas," Miller said. "Every reader sees your work in their own way, but you don't get to see it. Having it on a canvas offers an interesting sort of feedback based on your description of characters."
Lastly, Edwards read from her recently released book, "Getting off on Frank Sinatra: A Copper Black Mystery," a murder mystery book set in Las Vegas that follows an aspiring journalist.
"I try to pick something from the book that's really visual and would translate well unto a canvas," Edwards said. "I think this is a great event because it promotes two creative arts really nicely, and it certainly makes readings a fun spectator sport."
The nonprofit Writers of Southern Nevada has been organizing the series for two years.
It is the brainchild of Miller, who became inspired after he teamed up with a friend who is an actor and staged a reading of his first book in a theater with actors.
The nonprofit typically hosts three or four such events a year at different locations, Miller said.
At the end of each event, authors have a chance to sell signed copies of their books. The paintings also are auctioned off with proceeds going to the artist and the nonprofit.
Artists also receive a $100 stipend.
The next Painted Stories event is planned in October and will have a spooky autumn theme, Miller said. The nonprofit is currently accepting submissions.
For more information, visit nevadawriters.org.
Contact Sandy Lopez at slopez@reviewjournal.com or 702-383-4686. Follow @JournalismSandy on Twitter.
Writers of Southern Nevada Upcoming Events
Writer's Roundtable discussion group – Coffee Press is planned at Paseo Verde Library, 280 S. Green Valley Parkway, from 6:30-7:30 p.m. Aug. 1. The event is free for members and first-time guests, and $5 for nonmembers.
Writer's Roundtable discussion group – Coffee Press is planned at Paseo Verde Library, 280 S. Green Valley Parkway, from 6:30-7:30 p.m. Sept. 5. The event is free for members and first-time guests, and $5 for nonmembers.
Writers of Southern Nevada's Writers Retreat is planned at the historic Boulder Dam Hotel, 1305 Arizona St., Sept. 28 through Oct. 1.