Cosmopolitan, Downtown Summerlin open rinks for the holidays
December 3, 2015 - 10:49 pm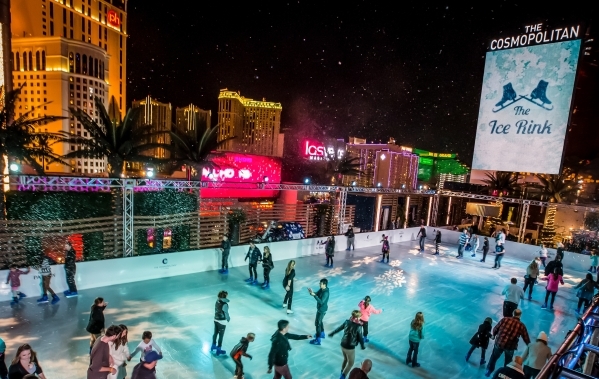 As unnatural as it sounds, the best place to keep cool this winter might be in the heart of Las Vegas.
While the ice rinks are starting to thaw out and become harder to find in Vegas, there are still trendy spots in town to sip hot chocolate and don some blades.
Caesars Palace and the Container Park decided to turn the heat up this year and stay away from the ice, just as The Venetian and Gold Spike did, but don't despair, there are both indoor and outdoor rinks to be found.
"It's an affordable and fun way to get out of the house and try a new sport and activity," said Camilla Nilsson, skating director at the Fiesta Rancho SoBe Ice Arena. "Ice skating is great for all ages — we have skaters from 3 years old to 80 years old that either are trying it out or enjoy the arena on a weekly basis."
The Cosmopolitan
When the Boulevard Pool freezes over, guests are offered a Strip-view rink with fire pits, s'mores and cocktails. The Cosmo even promises snow after 6 p.m.
For $15 ($10 for locals), plus a $5 skate rental, you can skate all day.
Skate sessions run weekdays 3 p.m. to midnight and Saturday-Sunday noon to midnight on through Jan.3.
If you're looking for a little something extra, check out their theme nights: On Mondays, there are holiday movies on the 65-foot marquee; Wednesdays are industry night with DJs; and Throwback Thursdays offer old-school music and a promise of some legwarmers.
Downtown Summerlin
Downtown Summerlin promises the return of Rock Rink, the shopping center's temporary outdoor skating rink that sits next to a large Christmas tree.
With music and a light show, Rock Rink offers a great atmosphere for a date night .
For $15, which includes the skate rental, you can hit the ice any day except Christmas through Jan. 18.
The hours are Monday-Thursday, 4-9 p.m.; Friday, 4-10 p.m.; Saturday, 10 a.m.-10 p.m.; and Sunday, 11 a.m.-8 p.m.
Fiesta Rancho
The Fiesta Rancho SoBe Ice Arena boasts a year-round NHL-regulation sized rink with daily public skate sessions and cosmic sessions on the weekends.
"During the holidays, we decorate the rink for a fun and festive environment," Nilsson said.
For $7, plus $3 skate rental, you can skate for two to four hours depending on the time of day.
The arena also offers a skate school. The four-week, $70 class includes skate rentals.
"If you've never tried ice skating before, come on down and give it a glide," Nilsson said. "It's a lot of fun for the whole family."
Las Vegas Ice Center
The Las Vegas Ice Center, 9295 W. Flamingo Road, brings Winter Wonderland again this year with props, lights, trees and holiday music from Dec. 19 to Jan. 3.
The $10 sessions ($6 for children 5 and younger) include skate rentals and offer three hours of skating.
If you're new to skating, catch a free class at 6 p.m. Dec. 21, 23, 28 and 30.
More of a spectator?
Local figure skaters will present "Destination North Pole," an annual ice show about the North Pole at Santa's Village at Fiesta Rancho's SoBe Ice Arena.
You can catch the show for $10 at 6 p.m. Dec. 12 or 1:30 p.m. Dec. 13.
Organizers are asking for canned good donations to benefit the Salvation Army. Bring three canned goods and receive $2 off admission.