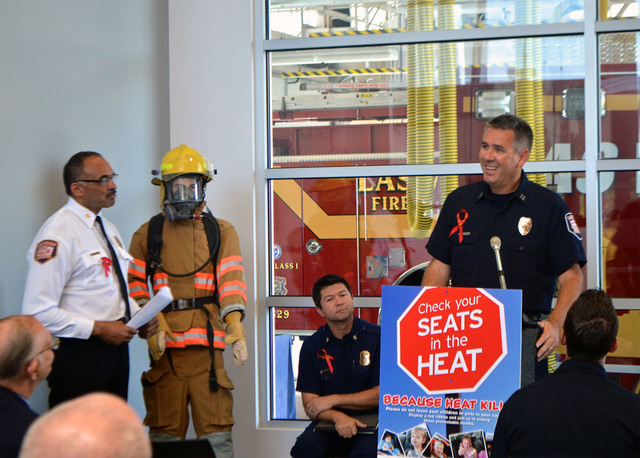 WASHINGTON AVENUE PROJECT TO INCLUDE NEW BICYCLE LANES, ROAD IMPROVEMENTS
The city of Las Vegas plans road improvements through August on Washington Avenue between Decatur Boulevard and Rancho Drive.
Work is slated from 6 a.m. to 4 p.m. Monday through Friday, with traffic restricted to one lane in each direction on Washington. Vegas Drive and U.S. Highway 95 are recommended as alternative routes for eastbound and westbound traffic.
Some work also is planned on Valley View Boulevard between Bonanza Road and Washington. Decatur and Rancho are recommended as alternative routes.
Preliminary work on the project was completed last year and consisted of improvements to sidewalks to meet federal Americans with Disabilities Act requirements.
Current work involves installation of a street light conduit, reconstruction of deteriorated pavement, traffic signal improvements at the Decatur and Washington intersection and the installation of new traffic delineations. Vehicle lanes are scheduled to be reconfigured, and bicycle lanes will be installed on Washington and Valley View.
Las Vegas Paving Corp. is the contractor, and the city is managing the project.
For more information, visit lasvegasnevada.gov.
FIRE DEPARTMENTS LAUNCH CHECK YOUR SEATS IN THE HEAT CAMPAIGN
Henderson and Las Vegas firefighters launched the fifth annual Check Your Seats in the Heat Because Heat Kills outreach campaign June 10 at Las Vegas Fire & Rescue Station 6, 1680 S. Torrey Pines Drive.
The campaign aims to spread awareness and remind motorists of the dangers of leaving children and pets in hot vehicles during summer. The campaign also includes the distribution of safety awareness ribbons to serve as reminders to motorists and posters to hang in local businesses.
For more information, visit hendersonfirefighters.com or lasvegasfirefighters.com.
HENDERSON POLICE SEEK RECRUITS
The Henderson Police Department is accepting applications for police and corrections officer positions through 5:30 p.m. July 10.
The applications are available at tinyurl.com/hepdrecruits. For more information, visit joinhpd.com.
FREE CLASSES TO FOCUS ON SEALING CRIMINAL RECORDS
A free class on sealing Southern Nevada criminal records is planned from 3 to 5 p.m. Wednesdays through July 22 at the Las Vegas Urban League, 3220 E. Flamingo Road, Suite 50.
The classes are being offered by UNLV's William S. Boyd School of Law and Nevada Legal Services.
For more information, call 702-386-0404.
WEBSITE, HOTLINE OFFER INFORMATION ON ROAD CONSTRUCTION
State and local officials recently launched the Seeing Orange campaign to provide residents with a resource for gathering construction information to help them plan their commute.
Residents can visit seeingorangenv.com or call the hotline at 702-928-2663 for details about area construction projects.
The Regional Transportation Commission of Southern Nevada launched the campaign in partnership with local jurisdictions, the American Traffic Safety Services Association and the Associated General Contractors.
FREE TENANTS' RIGHTS CLINICS SCHEDULED
Tenants' rights clinics are scheduled from 3 to 5 p.m. June 26 and July 10 and 24 at the North Las Vegas Justice Court, 2428 N. Martin Luther King Blvd., Building A.
Nevada Legal Services and the UNLV William S. Boyd School of Law are slated to host the free clinics, set to address common landlord-tenant issues and be followed by a question-and-answer segment.
For more information, visit nlslaw.net or law.unlv.edu.
MEDIAN ISLAND CONSTRUCTION SET ON CHARLESTON BOULEVARD DOWNTOWN
The city of Las Vegas plans to construct center median islands along Charleston Boulevard between Sixth and 11th streets, with work set to be completed in August and cost $700,000.
Work also will include adding a pedestrian crosswalk with a solar-powered flashing beacon at 11th Street. Three of the median islands are slated to be landscaped with trees and shrubs, and one median island is set to feature decorative rock.
Construction is scheduled primarily between 9 p.m. and 5:30 a.m. During daytime hours, all travel lanes will be open except for one eastbound and one westbound lane on Charleston Boulevard.
For more information, visit lasvegasnevada.gov.
DONATIONS SOUGHT TO BENEFIT SAFETY EVENTS IN HENDERSON
The Henderson Police Officers Association Charitable Foundation is seeking donations for its annual safety outreach campaigns, charitable initiatives and community programs.
Donations are set to benefit Cross With a Cop, S.A.F.E. House's annual Run for Shelter 5K Run and 1 Mile Walk and Shop With a Cop, among others.
Tax-deductible donations can be made online via PayPal at hpoa.us under the "Charitable Foundation" tab or can be mailed to the Henderson Police Officers Association Charitable Foundation, 145 Panama St., Henderson, NV 89015.
Donors will be invited to a Donor Appreciation Luncheon as a way of recognizing them for their contribution.
For more information, visit hpoa.us.
FREE LEGAL ASSISTANCE AND EDUCATION CLINICS SET FOR SENIORS
Clinics for free legal assistance and free legal education are planned for seniors in the coming months.
— Legal assistance clinics at the West Charleston Library, 6301 W. Charleston Blvd., are set from 1 to 3 p.m. July 15, dealing with debt collection; Sept. 16, covering identity theft; and Nov. 18, focusing on estate planning basics.
—Legal assistance clinics at the Green Valley Library, 2797 N. Green Valley Parkway, are scheduled from 1 to 3 p.m. Aug. 19, addressing debt collection; Oct. 21, identity theft; and Dec. 16, estate planning basics
— Legal education clinics at the West Charleston Library, 6301 W. Charleston Blvd., are slated from 5 to 6 p.m. Aug. 26, addressing fundamentals of landlord/tenant law; and Oct. 28, dealing with sealing criminal records.
For more information, contact Carmela Reed at Nevada Legal Services at 702-386-0404, ext. 140, or creed@nlslaw.net.