Crime-scene cleanup requires technical, personal skills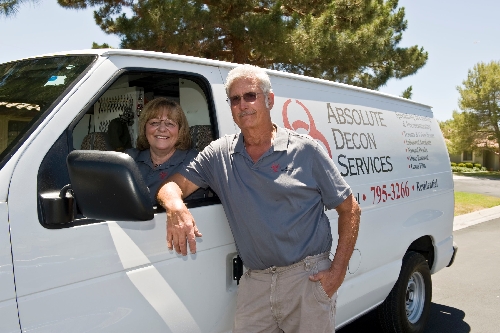 It's a question nobody ever wants to have to ask.
What happens after the homicide, or the suicide, or the death that nobody notices for days or even weeks? There's no way to put it delicately, but who cleans up the mess?
The answer: People such as John Gardner and David O'Brien, Southern Nevadans who own companies that specialize in the unusual, technically difficult and, well, just plain icky job of cleaning up crime scenes and other situations beyond the capabilities of traditional cleaners.
Most people "think the police will clean it up or the first responder — the fire department — will clean it up," says O'Brien, owner of Crime Scene Clean Team. But it is the survivors who must make the arrangements.
Specialized cleaners are required because blood, bodily fluids, bodily material and other residues are biohazards that can transmit infectious diseases. Consequently, cleaners must treat everything they come into contact with as potentially infectious, either to themselves or to a home's occupants.
The cleaners' workplace attire includes gloves, protective eyewear and booties at a minimum to disposable hazardous materials suits and respirators. After the job, those materials, along with paper towels and other contaminated items ranging from bloodied bed sheets to stained mattresses have to be treated as biomedical waste.
In addition to technical expertise, the job requires empathy and interpersonal skills. Cleaners work with people who have suffered a traumatic experience and, O'Brien says, the first thing his employees do on a job is to offer "our sincere condolences for their loss."
"It's not about the bucks. It's about helping those who need our services," says O'Brien, who has worked in the field for about eight years.
Particularly in cases of suicide or other deaths, "you have to have compassion for people," adds Gardner, owner of Absolute Decon Services.
The cleaners' work begins after receiving a call from a property owner, if the crime or cleanup scene involves private property, or a law enforcement officer or similar official if it involves a street or another form of public property.
Barbara Morgan, a Las Vegas Metropolitan Police Department public information officer, says the department has contracts with two companies for crime scene and building cleanups and another for cleanups that involve motor vehicle accidents.
But, she notes, officers don't recommend specific cleanup companies to the public because such a recommendation could be seen as an endorsement. So, finding a service falls on the survivor, via the phone book or Google.
After police officers, crime scene investigators and coroner's officials have finished with their jobs, a cleaner will assess the damage and offer a cost estimate. Costs vary, but Gardner says most jobs begin at about $400. Homeowners' insurance often covers the cost, he adds.
The cleaners' arsenal includes disinfectants, disposable towels, high-pressure cleaners, vacuums, a few specialized chemicals — one that, for instance, can reveal hidden blood on surfaces — machines that remove smoke and odors, and ample elbow grease.
It requires a subtle eye. For example, Gardner says, "you have to make sure there's no blood under the flooring. If there's blood on the carpet, you have to take the piece of carpet up, and if there's blood in the subfloor, you have to take that piece up."
"You have to look for the invisible, because if you don't get the invisible, eventually it's going to start stinking in the house and be a health hazard," Gardner says, adding a typical job takes from one to six hours.
"We get a lot of people who pass away of natural causes and are left unattended, and several weeks go by," O'Brien says. Then, the cleaning job involves removing products of the body's natural decomposition process, and can include handling insect infestation.
Ideally, the work is done with little or no damage to the home. Ultimately, O'Brien says, "we bring it back to its pre-existing condition as if (the incident) never happened."
Gardner estimates that about 40 percent of his business is crime-scene cleanups. The remainder involves cleaning up after suicides, industrial accidents, floods or fires and auto accidents, or dealing with what he describes on his business card as "gross filth."
"We clean up (after) hoarders," Gardner explains. "You'd be surprised. You have a lot of biohazards in some of those."
And, yes, Gardner says, "we work with some of the casinos. There are scenes their people can't clean up."
O'Brien estimates that 95 percent of his company's work involves trauma, albeit not all of the crime-related kind. He also operates a school for prospective crime scene cleaners that includes an online course and two days of hands-on training. The curriculum includes classes in such areas as hazardous materials, blood-borne pathogens and even terrorism, he says.
It's a specialized industry. There is "a lot of work out there, but there are also a lot of companies out there now," Gardner says, noting he has seen an increase from four companies when he started six years ago to "at least 10 others" now.
But it's not a job for everybody. Gardner says he has had hires who "decided they couldn't do it."
The intensity of the job can be difficult. "I guess the hardest ones for me is teenage suicide," Gardner says, "because it's a teenager, and I just feel that it's a life that shouldn't be taken."
The job can be rewarding, too, O'Brien says. "People with tears in their eyes, they come and say, 'Thank you.' That alone is priceless."
The satisfaction, Gardner says, lies in doing a job nobody wants to do, but which somebody has to, and doing it well.
"You get satisfaction that you're helping people through a dilemma they don't care to face," he says. "Whether you like it or not, it's got to be done."
Contact reporter John Przybys at jprzybys@ reviewjournal.com or 702-383-0280.