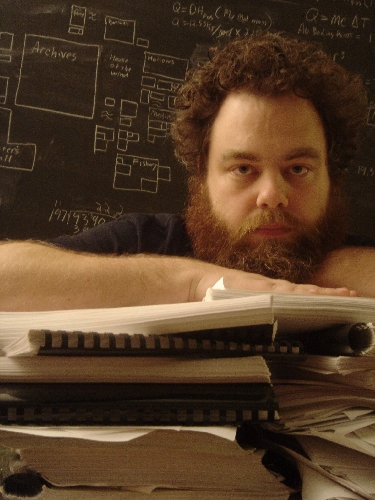 Despite overwhelming success, Patrick Rothfuss considers himself somewhat of a fluke.
"At this point I am the flavor of the day," he says.
The 37-year-old author embarked on a roller coaster ride of success in 2007 when his debut novel, "The Name of the Wind," launched him into the ranks of J.R.R. Tolkien and George R.R. Martin in the hearts of many fantasy readers.
On Tuesday, the ride begins again for Rothfuss, when "The Wise Man's Fear" hits shelves.
It's an unnerving time for a man who once wrote as a hobby.
"I'm still pretty new to this whole game," he says.
The central Wisconsin resident has followed a winding path. He spent nine years in college, first focusing on chemical engineering, then psychology until finally completing his degree in English. He went to grad school and eventually wound up teaching creative writing at the university level for several years, a job he was forced to give up to concentrate on writing full time.
Rothfuss has hit a few stumbling blocks during his career as a professional writer. The success of "The Name of the Wind" brought not only excitement and fame, but more pressure. Suddenly there was a deadline and more expectations.
"It was a huge shake-up. It makes a huge difference in terms of how you mentally approach a project," he says. "Your entire mental angle on the whole thing changes."
He was determined to have the second book out in a year. But that turned into a four-year wait for his fans. For Rothfuss, the delay was necessary to revise and ultimately produce the best story he could.
"I know that I do more revision than probably 90 percent of other authors," he says. "I added a little subplot in this book that was 60,000 words long. And then I spent a year and a half making sure it was seamless."
With the delay came harsh criticism and mean-spirited comparisons to other writers of epic fantasy such as Robert Jordan, who died before he finished his series, and Martin, who has kept his fans waiting for years for the next installment.
Fans have been particularly critical of Martin, who they say is too involved with side projects. Rothfuss, though, comes to his defense.
"Martin is kind of a strange phenomenon where there's that contingent of vitriolic, vile-filled people that love his books, that just hate him. … They're just being assholes," he says. "I thought that before I was ever a writer. So it's not like I've come on this new perspective."
Rothfuss understands the need for other creative outlets and says it makes him excited to write again and teaches him more about the craft.
"You can't always be productive in the same project again and again for year after year and have it be fresh and good," he says. "Sometimes it's really mentally invigorating to step to the side and play around with something else."
Rothfuss took on a short side project with the picture book "The Adventures of the Princess and Mr. Whiffle," a dark tale meant for adults. But he has passed on other opportunities, such as a chance to be in an anthology alongside writers such as Neil Gaiman and Jim Butcher.
"All that it did was make me really resent my second book. All that it really did is made me feel like I was trapped in some sort of loveless marriage," he says. "That's not a good mental place to be in."
Rothfuss soldiered on. Even after his son, whom he lovingly refers to as Oot, was born. He continued his revisions, hoping to craft a second novel that would transition easily from the first, offering enough recap of the previous novel without becoming tedious.
"I didn't want to pander to the reader. I didn't want to write a book that was kind of insulting to people. I wanted to write a book that was smart because I figure fantasy readers are smart," he says. "If I can write an intelligent book and not recap the plot every 40 pages … I can be subtle and I can use good language, and people out there will enjoy it."
And the people are hungry for it.
"The Wise Man's Fear" already has cracked Amazon's top 10 preorders. The trilogy, which began with "The Name of the Wind," recounts the life story of the legendary hero Kvothe, told in his own words to a scribe. It follows his path to University where he studies to become an arcanist, as well as his many adventures. All along the way he hunts for the elusive Chandrain, the mysterious creatures who killed his parents. It's a layered tale of epic fiction that captured fantasy fans' attention from the start.
Rothfuss has been surprised by the reception.
"What I did not expect was there to be so many people who'd enjoy it," he says. "My fans are incredibly smart and, by and large, they're incredibly gracious, kind and generous people."
Rothfuss, a meticulous writer, immerses himself in his craft, and he hopes his fans realize the complexity of the revision process.
"It takes a long time to write 400,000 words, but it takes a lot longer to actually massage it into something that is a really well-crafted, smooth story with good language and good character development, that isn't all full of weird little mistakes and plot holes," he says. "Revision isn't like getting a haircut, it's like invasive surgery. Sometimes you have to go in and really do substantial changes to a book."
And it's a book the author seems destined to write.
Growing up, Rothfuss was fully immersed in fantasy, through television, reading and even gaming.
"I didn't realize there was anything but fantasy. I never cared about anything but fantasy," he says. "It's absolutely where my heart lies."
He's a fan of Gaiman and "Last Unicorn" author Peter S. Beagle, both of whom he's now met. He also has admiration for Joss Whedon, creator of the "Buffy the Vampire Slayer," "Angel" and "Firefly" television shows.
Since the success of the first book, rumors have circulated of a movie deal, but none has been made as of yet. If that were to come to fruition, fans, as well as Rothfuss, already have dreamed about a possible collaboration with Whedon. Rothfuss, though, says it's a pipe dream.
"I doubt very much he's ever heard of me or knows who I am. I would be very surprised," he says. "Who am I? I'm a guy who wrote one book. I'm nobody."
With the second book about to be released, Rothfuss feels a bit nervous, but he's optimistic, as initial reviews have been positive.
"If the second book does well, then I might start being an actual real author. If I can prove that I can do it twice, then I might be a real professional," he says. "Up until that point, I'm just kind of a fluke."
And of course, he still has to finish book three. But Rothfuss has learned from his initial mistakes.
"The main problem with the second book isn't that it took a while to come out, the main problem is that I said it would be out in a year. And it just wasn't true," he says. "I had no idea what I was getting into. I had no idea what being a professional writer meant. I had no idea the amount of improvement that I could actually do on the second book. Now I'm smarter, and I know that it will take a good couple years to get this third book where I want it. There's absolutely nothing to be gained by rushing it. I want to get the reader the best story possible."
For Rothfuss, his new level of success was never something to which he aspired. Though he wanted his book to be successful and make money, he knew it was a long shot.
"I knew that the odds of a writer, especially a fantasy writer, ever making enough money to support himself is absolutely miniscule. I mean, it's like winning the lottery," he says. "Planning your life around winning the lottery is not a sound financial strategy."
Rothfuss remains down to earth, charming and humble. He has stayed true to his "Dungeons & Dragons" roots and remained loyal to the fantasy genre he enjoyed as a kid. He's not afraid to wave his geek flag.
"I was the kid who was so geeky that the other D&D kids wouldn't play D&D with me," he says with a laugh.
But now is a time for Rothfuss to relax a little and enjoy some time off with girlfriend Sarah and baby Oot.
"These last six months … there was no happy medium involved. I was getting writing done. But, some days I wouldn't get to see my baby at all. Because I just needed to get the book done," he says.
"Now I'm making up for some of that lost time. But, I know that I'm going to regret that in the years to come. You know, when he's 14 and we're screaming at each other, I'm gonna think why didn't I spend more time with him when all he wanted to do was sit on the ground and play with a cardboard tube."
So along with Oot and Sarah, Rothfuss will see how his fate unfolds, whether book two will reach the success of book one, whether there will be hurdles to finish book three.
"This degree of success was never really my dream," he says. "I'm not saying that I don't appreciate it to a certain degree, but it's still a little overwhelming from time to time, and I'm still coming to grips with it."
Contact Lindsey Losnedahl at 702-383-0292 or e-mail her at llosnedahl@ reviewjournal.com.
Vegas VISION
Patrick Rothfuss' ideal Las Vegas vacation:
"I catch at least one showing of Cirque du Soleil. That was one of the cooler things that happened in Vegas last time I was there. I have three good solid cups of coffee and spend a couple hours successfully counting cards while playing blackjack. And then I meet up with Penn and Teller for Thai food. Yeah, that would be my ultimate Vegas experience."
Rothfuss says he was impressed by Penn after seeing him on a television home show: "Dude has a copy of the Oxford English Dictionary in his bedroom. I knew I liked him before, but now I know that at some point we really need to hang out."
LAS VEGAS REVIEW-JOURNAL