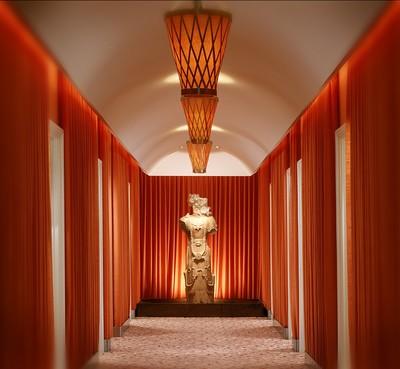 I fell in love recently. It was brief, it was deep and it was beautiful. But now it seems to be fading very fast and it doesn't look like I can get it back. Unless, of course, I decide to whip out another $95. My lover may be sweet, but he's not cheap.
"He" is known as the airbrush tan. Actually, I should be more specific: the airbrush tan at the Spa at Wynn Las Vegas. He's different from the others. No, really. I've had other airbrush tans and they were fast, sloppy and left me feeling unsatisfied.
Not with this one, though. I had to go swimsuit shopping while the tan and I were still going strong and I didn't once see the pre-diet Monica Geller in the full-length mirrors. If that's not love, I don't know what is.
My former flame and I were introduced by Amy Dunn, a tanning specialist, but I prefer to refer to her simply as the matchmaker. Dunn has a library of 32 different shades to mix and blend together to create the perfect match for your skin rather than just "tan," "medium tan" and "dark tan." The variety creates a believable bronze as opposed to the look Pink choked on in her "Stupid Girls" video.
If that's not enough, Dunn can also contour your body, adding a six-pack or defined arms, with her spray gun. I ultimately decided against that option. I just didn't see the six-pack getting along with the spare tire too well. Plus, the tan alone works as well as a stint on "Dancing With the Stars;" it's an instant slimmer.
The only part of my tan that had me worried was the initial meeting. Surely you've heard the tale of the fabulous barber with the bad haircut. Well, consider Dunn the equivalent in the airbrush tanning industry. She's tall, thin and almost as pretty as she is pale. And she's very pretty.
"This can't be the lady who's doing my tan," I thought when she called my name as I lounged with 17 other robed women in the waiting area. When we shook hands the contrast of my Hispanic skin against her pigment-free palm could have been the next Benetton billboard. I found it odd, but couldn't ponder the subject too long; Dunn's auctioneer-like verbal skills wouldn't allow me to.
By the time we made our way to the tanning room — which was larger than I expected and has a very sanitized, doctor's office feel to it — Dunn had managed to conduct a full interrogation. I don't mind a lot of questions from beauty specialists. In fact, it really is a sign of someone who values customization. What I did mind, however, was the fact that the questions distracted me from fully appreciating the beautiful corridor we passed through. It was red and lavish but had a tranquil quality. It looked like a hallway you'd expect to find at the Dalai Lama's house, sans the airbrush tanning room, of course.
As Dunn began mixing up the concoction she found suitable for a "deep tan but nothing orange" that I requested, I put a clear shower cap on my head and applied a protectant lotion to my hands and feet. All the while Dunn was still setting Guinness records with her fast tongue. She told me how the spray would feel, look and smell (see sidebar for more) and I tried my best to retain it all. I remember that she told me the spray would be cold but didn't take her seriously until I actually felt it. Let's put it this way, it's the coldest in the spots that are usually the warmest. Yes, she sprays you there. She sprays you everywhere.
Dunn's thoroughness rivals the IRS. She put me in all kinds of poses to make sure every nook and cranny was covered. When she finished spraying, she powdered my naked bottom. Again, very thoroughly. The baby powder locks the tan in, the same way loose powder sets liquid foundation.
By the time she finished, I would have felt violated 20 different ways by Dunn if it weren't for the glow I could already see forming on my arms and legs. Dunn recommended I shower very late that night to let the tan fully develop, which is exactly what I did. I have the brown-stained towel to prove it. Apparently the longer you wait to shower, she told me, the longer the tan will develop. (Finally, the answer to why Tara Reid and Fergie always look so dirty.)
Even after the shower, my body and face still looked very tan to the point that my teeth and the whites of my eyes looked extremely white, much like Dunn's skin.
Although I tried to hold onto it for as long as it would stay — even holding off shaving for several days — the airbrush tan finally decided to leave me on our week-and-a-half anniversary. Maybe if I had treated it better (L'oreal Sunless Sublime Glow Daily Moisturizer, $10 at local drugstores, is supposed to stretch it to two weeks) I could have enjoyed a few more days with my beloved. I even threatened to go back to my old flings, the tanning beds, but it couldn't make the airbrush tan stay any longer.
Other than listening to our favorite songs and looking at pictures of us together, I've been OK with the split. Why wouldn't I be? It's been so sunny and bright outside, I'm sure to have a much more genuine lover very soon.
Amy Dunn takes appointments for airbrush tanning Fridays and Saturdays, 10 a.m. to 5:30 p.m. Airbrush tanning is $95 without body contouring and $115 with contouring at the Spa at Wynn Las Vegas, 770-3900.
XAZMIN GARZABeauty QueenMORE
COLUMNS
tanning truths
The airbrush tan at the Spa at Wynn Las Vegas is supposed to be free of pungent odors. Mine wasn't. The smell went away after a couple days and wasn't too bothersome, but it was definitely there.
The receptionist who took my appointment (who was so educated on airbrush tans we conducted a 101 session) told me my appointment would last 45 minutes. It lasted more like 25.
tanning tips
Some spas in Vegas will send you out the door with nothing more than a smile and a pat on the back after an airbrush tan. This is a great way to have a tan last less than the amount of time it took to get it.
In addition to going over all the necessary follow-up steps as she sprays and powders you down, Amy Dunn, tanning specialist, provides a post-tan tip sheet:
1. During your daily showers, use only your hands and liquid soap, no washcloths or nylon poufs.
2. Shaving with bar soap or shaving cream is not recommended. Use a very sharp razor and hair conditioner. It sounds odd, but works great.
3. Submerging your skin in water will shorten the length of your tan. Do not take baths. When swimming, apply a waterproof sunscreen to seal your skin and protect your tan. Jacuzzis are strongly discouraged.
4. You must keep tanned skin moisturized. Apply a thin coat of L'oreal Sublime Glow every other day to extend the length of your tan.
5. Baby powder will prevent fading in the areas you sweat the most if used daily. Target areas such as between and underneath breasts, underarms, the bends of your arms, behind the knees and on your feet, especially before wearing socks and shoes.